Meta Score – 965.1
Win Royal Spins
Weekly Bamboo Bonus
Unique blackjack promotion on 21st
10 extra spins and

100% match bonus to £100 t&c apply

Please note Royal Panda is currently not accepting players from the UK
Royal Panda Casino Overview
The world wide web is packed with online casino reviews, and not all of them are very trustworthy. This one, however, is 100% genuine as I have played at Royal Panda Casino, and it has been quite a pleasant and smooth ride. Indeed, this premium virtual casino adds a new dimension to the exciting world of online gambling. Wondering why? These are some of the major reasons that justify the qualification 'royal':
Entertaining promos loaded with stunning giveaways
Impressive gaming repertoire, which is updated on a weekly basis
The ability to enjoy Royal Panda's games on the go
Excellent support team
Lots of rewarding bonuses
Live online casino games with real dealers
One account for both casino and sports betting
So, it's not much of a surprise that Royal Panda has such a large customer base!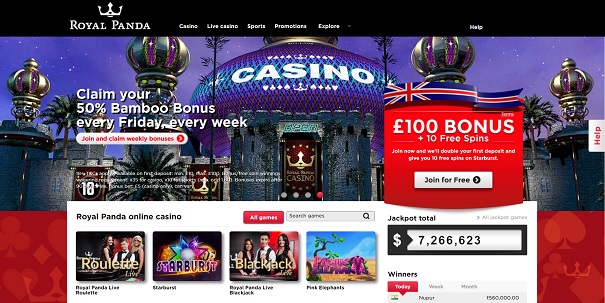 Panda-themed casino goodness
What makes Royal Panda UK Casino a great online casino for UK players?
Royal Panda is a, well, it's a panda-themed casino that's been plugging its wares in the UK market since 2014.
It was launched by a team of industry veterans who looked around the industry and said, "We could do better than that!"
We think they've done a pretty good job, and we think there are five reasons why Royal Panda UK casino is a great online casino for UK players!
1 – Royal Panda Casino Customer Support
One of the biggest claims Royal Panda made when they launched was that they wouldn't offer the "customer care that doesn't care" that they said they saw in the industry.
Their system opens with live FAQs that you can really interrogate. Then you move on to live chat options. Or send your number and wait for a callback. There's also an email address.
That's a good set of options and we've seen reports that they work very well. There's also a lot of good advice on the site that's easy to access.
2 – Royal Panda Casino Legal and Licensed
Players in the UK need to play only at UK Gambling Commission licensed sites.
This is the first check you should do at any site you're considering playing at. Royal Panda UK casino waltzes through that test. The site is licensed by the UK Gambling Commission.
The company is based in Malta, and they're also licensed there, with the licence number: MGA/CRP/237/2013. Their UK licence, which is nice and clean is 000-039221-R-319351-012.
3 – Royal Panda Casino has the Games You Love
To leave the serious stuff aside for a moment, a site that doesn't entertain is no good at all, and the meat of the entertainment is great games.
Royal Panda UK casino has hundreds of games in all the categories that slots and casino players love so much.
There are popular slots like Book of Dead, Starburst, Rainbow Riches, Wild Rails. They also have classic slots, and a lot of big progressive jackpot games like Grand Spinn Superpot, Mega Moolah, and Mega Fortune.
Once you've checked out the slots sit down at a table and check out the roulette, blackjack and more, and if you enjoy those then there's the option of live casino play.
Oh, and sports betting too!
4 – The Welcome Bonus at Royal Panda Casino
Welcome to the zoo! Royal Panda help you feel at home by chucking a load of money at you.
Their first gift is a 100% boost to your first deposit that could be worth up to £100. They also throw in a set of free spins on Starburst, the UK's best-loved slot game.
That's the way to get your Royal Panda journey off to a great start.
5 – Royal Panda Promotions Keep Coming
Royal Panda also promised that they would offer imaginative promos and they've kept their promise.
There's a 21-themed blackjack promo – with a £210 prize – on the 21st of every month, plus a couple of extra deposit bonuses that keep on giving, to keep you coming back for more.
Royal Panda online casino don't just welcome you aboard, they make you comfortable and suggest you stay!
Royal Panda Casino Bonuses
It's not a bad idea to name your site after the Panda. Everyone loves pandas. Apart from people who know them! But we'll leave the fact that Pandas can be bad-tempered and lazy and focus on the fact that they look lovely – whether they're royal or not.
So Royal Panda online casino, which was launched in 2014, have a nice name.
They also launched making a fair number of promises, including more transparency about promotions, and more imaginative promotions.
Are they delivering?
Let's take a look.
Royal Panda Sign Up Offer
The big selling point for any casino site is its welcome bonus. They tend to change quite regularly, so when you read the details on a site like ours you should also check out the site.
Royal Panda Casino currently offers to double your money on your first deposit, up to a maximum of £100, and will also give you 10 free spins on the biggest game in the UK, Starburst, a fantastic sci-fi themed classic slot that remains hugely current years after its release.
Royal Panda No Deposit Bonus
No deposit bonuses are the rara avis of the online casino world. If you see one, most sites tell you to grab it. We don't. We tell you to probably grab it – after you've checked out all the restrictions. Some no deposit bonuses sometimes come with so many limits on how you can use the money that claiming one is more trouble than it's worth.
The question doesn't arise here as Royal Panda has no no-deposit bonus.
Royal Panda Promotions
A site that lures you in with a shiny welcome offer and then forgets about you is as useless as a crown for a panda.
But we want a crown for our panda, and Royal Panda online casino are coming up with more than just a welcome mat for their customers.
Currently, the site offers a Bamboo Bonus for a single redeposits made on a Fridays that can be worth as much as £150.
There's also a free sport betting deposit if you sign up at the site through that route. This gives you a free £20 sports bet.
There's also a blackjack themed promotion called Lucky 21 that kicks in on the 21st of each month. This puts blackjack players who win with a blackjack into a draw for a prize of £210. There are three prizes up for grabs.
Royal Panda Promotions Changes
Royal Panda promised great customer service and imaginative promotions when they launched. They seem to be keeping to their side of the bargain, so it's fair to assume that more casino promotions will be along shortly. Most casinos offer occasional seasonal promotions too, based around things like major holidays, Christmas, summer and so on.
But Royal Panda online casino is about more than its promotions, and it has the hundreds of games, the huge variety of game style and genre, the quality design, great service and more that make it worthwhile sticking around beyond the welcome bonus to explore this nice looking site in detail.
Range of Royal Panda Games
Royal Panda has been around in the UK since 2014, and around in the business for longer than that.
They were launched with the intention of improving on what they saw were poor standards in the casino industry: they didn't like the customer service, they didn't like the promotions, and they didn't like the sites.
That's a lot of things they didn't like.
It went beyond that though. They wanted to do better!
Royal Panda Safe Games
The site is safe for you to play at because it's licensed by both the UK Gambling Commission, which is a must-have for any site for UK customers. It's also licensed in its home country of Malta.
Safe then. And we'll give them credit for a good quality website. It's easy to use and looks very nice. The transparency they promised also seems to be successful in evidence, and their bonus offer (100% up to £100 is the basic deal at the moment) is easy to understand.
But, you're asking: What about the games?
Well, let's have a look!
Royal Panda has around 700 slots from nearly 50 providers according to a leading industry audit site. That's a good number.
They're joined by table games, live casino games, and sports betting, so if you fancy a change from the reels there's plenty of other places to hang out and gamble at Royal Panda.
They promise "innovative slots", "life-changing progressive jackpots", "the best table games", and "state-of-the-art live casino games".
Let's start to look around.
Royal Panda Slots Listings
"Hand-picked" is the promise on the titles listed at Royal Panda UK online casino.
They're listed in a number of ways on their website.
Firstly there's the broad category of "video slots". Click there and you get a nice, clean page design filled with game tiles.
At the top of the charts currently are: Rich Wilde of Book of Dead, Firefly Frenzy, Wild Falls, Bonanza, Starburst, and Monkey Warrior.
The Royal Panda slots titles can then be arranged by popularity, which puts a roulette game at the top before those slots, which are followed by Mercy of the Gods, Sherlock's Casebook, Rainbow Riches Megaways, and a load more.
Royal Panda New Slots
If you fancy looking at some new titles then just click on the "New Games" tab and your titles will be rearranged again.
We looked at the site at the end of July 2019, so these titles will change with time. When we looked, Firefly Frenzy, Sherlock's Casebook, Rainbow Riches Megaways, Grand Spinn Superpot, and Wild Rails were at the top.
Royal Panda Classic Slots
If you're feeling nostalgic then you can check out the "Classic Slots" list.
What's a "classic" slot? Usually, they're simpler games, often they're cheaper to play, almost always they reference classic slot designs and symbols. It's unusual to see a "classic slot" that isn't on a five-by-three grid.
The big titles at the moment (July 2019), are: Grand Spinn Superpot, Fire Joker, Mystery Joker 6000, Triple Jokers, and Grand Spinn.
Royal Panda Jackpots
We play for fun, but we also play to win, and to find the games that offer life-changing prizes here you just need to click on the jackpots tab.
There are fewer titles here: 22 when we visited. Not only do they list the games, where possible Royal Panda will tell you how much the jackpot is.
Progressive jackpot slots, which is the way that most of these games operate, work by pooling a tiny amount of each stake into a prize fund. By working across multiple sites, online slot games with big progressive jackpots can become massive, multiplayer games and build up prize pots in the millions that replenish very quickly.
You'll see some real old favourites here.
The granddaddy of them all is Mega Moolah, which has twice set the world record for pay-outs, and had a jackpot of nearly $5million when we last looked.
There's also Mega Fortune, with a prize fund in the millions, a couple of games with prizes worth more than $100,000, and many games that will make you thousands of pounds richer if you hit the big jackpot.
Royal Panda Table Games
The modern casino site cannot live by slots alone. Royal Panda know that and have stacked up a load of table games for their members.
The most popular casino games online are roulette and blackjack, and that's reflected in the Royal Panda casino games listings, with those games, in their exclusive Royal Panda live versions, at the top of the charts. There were 66 titles listed as casino games when we visited, and you can arrange those games in a number of ways.
Royal Panda Roulette
Roulette is an enduring classic, and available in a load of different versions. We recommend you check out a good guide to the game before you start to play for money.
The chief variants are geographic, with American, European, and French versions commonly available, and American roulette not offering the best value to players.
Royal Panda lists 20 roulette games. These include live games, with live dealers chucking the balls into the wheels. There are also high-speed games; immersive live games; automatic games; and rule variants.
You should always check that you know the rules and bet pay-outs before you play roulette. Live dealers should be able to give you some advice too.
Royal Panda Blackjack
The compelling one-one-one game of Blackjack is the perfect online game, and it's by far and away the most popular online card game.
You can enjoy 17 Royal Panda Blackjack variants. Again, these differ by style – live games, fast games, party games – and by rule – single-deck games, free betting games, classic games – so make sure you understand exactly what you're playing.
Even More Games at Royal Panda
It doesn't end there. Royal Panda also offers video poker games, which are the slot machine version of poker. The live casino tab and the casino games tab includes more table games, including baccarat, hold 'em, dice games, football betting and more.
Away from the casino you can even bet on your favourite sporting fixtures with Royal Panda, the friendly big bear that has all your online casino needs in one, safe, secure and trusted place.
Royal Panda Live Casino
If you can't choose between online gaming and land-based casino gambling, then live casino games are right up your alley! Enjoy a vivid atmosphere as in Las Vegas-style casinos mixed with the excitement of online gambling. Here's a brief overview of the most popular live games:
Dream Catcher
Double Ball Roulette
Live Roulette
Live Speed Roulette
Live Speed Baccarat
London Roulette
Live Blackjack
Immersive Roulette
Live Baccarat
Squeeze Live Baccarat
Live Caribbean Stud Poker
Live Ultimate Texas Hold'em
Blackjack Party
Slingshot Auto Roulette
Live Casino Hold'em
Live Three Card Poker
There's more where that came from as this international online casino provides you with 3 dedicated tables:
Royal Panda Live Roulette
Royal Panda Live Blackjack
Royal Panda Live Blackjack VIP
All Royal Panda live casino games are presented in TV-quality steaming, and most of them allow you to view the action from different angles. Additionally, the professional and sociable live dealers are always up for a chat, and you can use the chat feature to strike up a conversation with other players as well.
Dream Catcher is one of my favourite live Royal Panda online casino games because of the vibrant ambience in combination with the mighty wheel of fortune. This title sets itself apart from the rest due to the easy gameplay and entertaining live dealer.
Win Rates
In terms of return to player (RTP), Royal Panda online casino appears to be a good option. My first day at the office was quite a success as I left the casino with a cool £75 in my pockets after I deposited only £25. Of course, Lady Luck was on my side that day, and I enjoyed several considerable payouts on some of my favourite slots.
I also raked in several serious wins in the live casino, but I lost most of those payouts as I became a bit reckless (classic gambler mistake). Royal Panda claims that their average RTP ranges between 97 and 98%. It goes without saying that the RTP differs per game category.
However, Royal Panda's RTP is higher than the industry's average. I played several hours with a deposit of £25 and I even took home a decent win at the end of the day, which was obviously also a matter of luck.
Customer services
I tried Royal Panda's support team on several occasions, and my experiences were fairly positive. During the sign-up process, I mistakenly selected US dollars as my preferred currency, after which I used the chat feature. The friendly and professional customer service rep fixed it immediately.
After winning some cash on the Starburst slot, I decided to withdraw £50 using Fast Bank Transfer. However, I assumed that the money would instantly appear in my bank account, but the call centre agent in question told me that it could take up to 5 days, which is also stated on the withdrawal page (sorry, my bet).
I also used the email service to ask a question about one of the promotions. To my surprise, they responded me within a few hours. And I must say that the tone of the e-mail conversation was both friendly and knowledgeable, which is sadly not the case with every response you get from online casinos. It's worth noting that the unavoidable frequently asked questions (FAQ) section offers a wealth of information regarding the most common issues at online gaming sites. For example, I discovered on the FAQ page that it's not necessary to sign up for the loyalty program as playing for real cash is the only requirement.
Ease of access
The ability to enjoy Royal Panda's gaming repertoire on a mobile device is definitely a tremendous plus. Their state of the art mobile casino is available on all leading smartphones and tablets, and you can start playing immediately, without the need to download any software. In other words: There's no app, and you can access the mobile section via an internet browser. I played several hours in Royal Panda's mobile casino, which offers a smooth and user-friendly interface. There are a number of key points that I would like to mention:
Not all desktop games are available in the mobile casino, which offers over 220 titles, including live online casino games.
The mobile casino doesn't include information on the VIP program (Loyal Panda).
I used an Android smartphone, and several games loaded a bit slowly. Please keep in mind that many aspects affect load times, such as internet speed, game provider, browser, etc.
At the time of writing, Royal Panda's mobile casino featured 6 progressive jackpots, versus 20 in the desktop casino.
The clear and accessible design results in an easy to use the mobile site, which leaves little to be desired in terms of usability.
Extra features
Besides the hot and cold slots function, Royal Panda provides players with other benefits, namely:
Their news section informs patrons about big wins, new games, and other exciting things.
Cartloads of safe and reputable banking methods, such as credit cards, prepaid cards, e-wallets, bank transfers, and many more.
Unique promotions that add a cool twist to online casino gambling.
Free loyalty program that only requires real-money bets.
Versatile gaming repertoire with titles from different providers.
Multiple languages (English, German, Swedish, Spanish, Portuguese, Chinese, Finnish, Norwegian, Japanese) and several currencies (British Pound, US Dollar, Euro, Indian Rupee, Mexican Peso, New Zealand Dollar, Polish Zloty, Swedish Krona).
Responsible Gambling
At Online-casinos.co.uk we take responsible gaming very seriously so during this Royal Panda review we want to make it clear where Royal Panda stands when it comes to looking after their players. 000Nothing beats the sensation of winning big time, but every gambler knows that you can't prevent losing every now and then.  That's where Royal Panda's commitment to responsible gaming comes in as they provide customers with a range of options to control their gambling behaviour, like:
Limits with regard to deposits, losses, bets and sessions.
The ability to suspend your account, both temporarily and permanently.
Needless to say, that age verification checks are in place to prevent underage gambling, while Royal Panda's website also features details regarding problem gambling agencies (e.g. GamCare, Gamble Aware, Gordonhouse). Additionally, you can contact the customer service if you find yourself in a problematic situation or if you're worried about your gambling behaviour.
Royal Panda Mobile & App
The casino world is going mobile. They're only following the inevitable path that the whole world is going down. The mobile internet is the continuing next great wave of the internet, after the first shock, web 2.0, and the arrival of universal high-speed broadband.
It's great for the players. Mobile and tablet devices are improving in quality all the time. And the speed of your connection continues to improve. Everyone gets a better experience this way.
Royal Panda online casino need to be in this game.
And they are!
The Royal Panda mobile casino site offers a huge range of games, hundreds of slots and dozens of variants of table games, as well as live games.
Royal Panda Mobile casino is also a sports betting firm, and there's no better use for a mobile and a gambling site than sitting down the pub watching the game and getting the latest, best odds on the next goal scorer.
Royal Panda's core business is slots though, and you can play those online in a great quality mobile web site.
Royal Panda mobile casino does not have a downloadable app. Instead, you just use your browser (on your iOS or Android phone) to go to the site and play on a responsive mobile site.
That's a positive in a number of ways. Apps on your home screen make you less likely to browse around and look at new sites.
If you like Royal Panda mobile casino add it to your favourites and you can get their fast enough, but you don't need to download anything via the online stores or sign any agreements. You also don't have the security and permissions issues of adding an app to your phone.
With a mobile site from Royal Panda, you still get the great look and feel of Royal Panda with their great customer service, innovative promotions and a huge selection of games.
The Verdict
After playing a while in Royal Panda's online casino it's fair to say that they offer a tremendous gaming platform. Looking for a transparent, honest and entertaining virtual casino? Then if you opt to join Royal Panda, you certainly won't be disappointed. Benefit from their exclusive promotions, mind-blowing promotions, and enjoy their wealth of online casino games (both mobile and live) and sports betting. Therefore, it's easy to understand why Royal Panda is such a big hit amongst gambling fans from all over the world.