Meta Score – 969.0 
Range of novelty games
UK's most established betting brand
Opt-in bonuses
100% Buy in Bonus plus 50 Free Spins t&c apply

William Hill Online Casino Overview
If you live in the UK you must know William already. The company has been a mainstay of British high-street gambling for decades.
There was once a William Hill. And he was a bit of a naughty boy because he set up shop in 1934 when it was illegal to book make. The company's history has been dominated by sports betting, and particularly horse and dog racing, the two classic UK betting sports, and William Hill is a common name on sponsor's boards at racecourses.
William is now long gone, but his name has lived on as the company has changed hands, passing from holding companies and investment groups (sometimes controversially) to banks and back again.
William Hill was listed on the stock exchange in 2002 and had a roller-coaster ride on the stock index.
They really went digital in 2008 when it teamed up with OpenBet (Orbis at the time), and Playtech, the gigantic Israel-founded gaming software company.
The company is still very much in business, and still a common site on UK high streets. They've also branched out, and the most recent casino opening in the legalised gambling oasis of Las Vegas featured a William Hill sportsbook facility at the Plaza Hotel and Casino.
William Hill Online
In this digital world, William Hill online casino now offer a complete set of digital gambling options.
You can bet on sports, politics, and pretty much anything else you fancy at a full-service online bookmaking site. The casino site is billed as William Hill Vegas, and it includes live casino games, casino games, slots, and scratch cards. You can also check out the William Hill bingo site, a poker site, and the William Hill Macau site that offers a selection of games popular in the Far East.
William Hill Casino has many faces these days, but he's still a friendly and welcoming chap, and we hope this review will introduce this legendary casino site.
What makes William Hill Casino one of the great UK online casinos?
Few casino sites have the history that William Hill UK casino does. But history doesn't count for much today. You want a site that works for you, provides the games and services you want, and that you can trust.
That's what makes a great UK online casino. And we think William Hill UK casino hits all the marks needed to pass those tests.
Let's have a look at why William Hill is one of the great UK online casinos.
1 – William Hill Online Casino is a Licensed, Legal Site for UK players
We will never apologise for making our number one priority player safety. You should never play at any site that is not licensed in the UK.
William Hill is currently owned and operated by WHG (International) Ltd, who are based in Gibraltar. (That's no big deal, a huge number of gambling companies are based overseas. You can ask them why. Or you can look at the tax rates in the countries they choose and make up your own mind. Up to you.)
WHG (International) Limited is licensed by the UK Gambling Commission. Their licence is 000-039225 R-319373-009. The company is also regulated by IBAS as a bookmaker.
2 – William Hill Casino is Supporting Safer Gambling
Safety again. Sorry! (Not sorry!)
If you check William Hill's licence – and you should do that when you visit a site – then you'll see that the company was sanctioned for some failings.
Perhaps it's in reaction to that that William Hill is one of the big hitters in the gambling industry who have signed up to a new Safer Gambling Commitments to make the industry safer and to reduce the harms of gambling.
We never intend to scare people, and we're here to promote the gambling industry – but only a healthy gaming industry!
So this is great news, and a wonderful step by William Hill.
3 – William Hill has All the Best Slot Games
We're onto the fun stuff now.
The William Hill UK casino has a world-class selection of slot games from a world-class selection of game designers and developers.
The industry audit site we prefer listed 306 slots from eight developers on the say we checked in. As the company is essentially a Playtech one, you'll find that the vast majority of those games are from the world's biggest gaming company.
But there's plenty of variety too: NextGen, Evolution Gaming, IGT, and Microgaming are among a number of other companies that also provide titles.
4 – William Hill has Great Help Options
Casino sites don't want to hear from you very often. If they hear from you that means something is going wrong.
But you need to know that you can get in touch when you need to.
The first port of call is always our old friend the Frequently Asked Question list, and William Hill has a really great one, covering all the areas you need to know about – accounts, cashing in and out, gaming rules and so on – before giving you great signposting to contacts.
You can use a form to send an email.
You can call for free in the UK (including from mobiles) to 0800 0856 296. And the company also welcomes contacts via its social media feeds.
5 – William Hill is a Live Casino Pioneer
The current big news in the casino world is the live casino. This back-to-the-future paradox sees players using the internet to mimic the experience of being in an old fashioned casino!
People like human interaction, even if it's via a cable, and live casino gameplay has some extra magic to it.
William Hill have one of the best live casino set-ups in the UK.
Real-life pictures rather than mock-ups welcome you to the game lobby, where you'll find exclusive tables for blackjack, roulette, gameshow games, baccarat and sic bo, and poker.
Dig in and shop around here because there's a massive amount of choice of game style and dealer to browse.
That's our quick guide to William Hill and why we reckon it is one of the best UK online casinos.
William Hill Casino Bonus, Free Spins, Promotions
The William Hill casino bonus is the stuff of normal casino business. Every site worth its salt offers players a reason to sign up and play.
This is natural in a highly competitive market where there are literally hundreds of options for players.
However, you should use your common sense when it comes to weighing up these offers. A simple knowledge of how business works should be enough for you to realise that very few businesses give out large amounts of free cash.
The cash you are offered as part of a welcome bonus will largely end up back in the hands of the casino that gives it to you – in most cases. And you should not expect to get rich from the "free money" you get from a casino welcome bonus.
In fact, perhaps the best healthy and safe gambling advice you can have is to play only for enjoyment and disregard any potential winnings, counting only financial costs.
William Hill online casino is no exception when it comes to offering a big welcome bonus.
When you read up on William Hill Casino promotions you must remember that they change regularly and you should check in as you sign up at a site.
The welcome bonus here is called the Buy-in Bonus, and the headline figure is a 100% bonus on your first deposit worth up to a maximum of £300.
The William Hill Casino bonus works like this:
You opt in to accept it, you then make a deposit of between £10 and £300.
Your account will be credited with what you deposit, plus a matching amount of bonus funds from William Hill.
All bonuses at William Hill Casino comes with a 40-times wagering requirement. A wagering requirement – sometimes called "play through" – is an amount that must be spent at a casino by a player before money won from a bonus can be accessed by the player.
There is also a maximum withdrawal on this bonus of £2,000. You must use the bonus within seven days.
Wagering requirements mean that if you deposit £10 you will need to play with 40 times that amount, or £400 before you can withdraw cash you win with the bonus. And you must do this in seven days or you will lose your bonus and any funds from it.
Wagering requirements come with weighting
Wagering requirements come with weighting, and not all games will accept bonus funds. Weighting means that in paying off your wagering requirement certain games count for less than others. These are generally the most popular games, and those with the best return to players.
At William Hill, playing on slots featured on the casino tab of the William Hill online casino website is weighted at 100%, so all of the money you wager on them will be taken off your wagering requirement. But no casino games contribute more than 50% to the wagering requirement. While these rules can seem quite complicated, William Hill provides good explanations with examples to make it easy to understand. You should check these rules before you play if you want to make the best of the bonus.
This is fair enough.
It would be quite possible to collect a bonus and simply slam it all down on blackjack, which has a good return to player and make a pretty much-guaranteed profit that way.
Casino sites often refer to "fair play" requirements, and that covers play like that, and also "minimal risk wagering patterns", "irregular betting patterns" and other rules.
William Hill Casino Promotions
There are also further promotions at William Hill, all of which are currently delivered via the Bonus Drop.
The Bonus Drop offers players a chance to win a prize every day until March 3rd 2020.
All you have to do to play the game is log-in and visit the site.
The prizes on offer are:
Free spins (on specified slots);
Bonuses on slots or table games, and
Other offers on slots.
Similar general rules apply to these promotions as apply to the welcome bonus.
William Hill Games
Games are the lifeblood of any casino site.
We've established that William Hill has a particular relationship with Playtech games, and those titles make up the vast majority of the company's slot offering. There's also variety though, not just in-game style and genre, but across each area of gaming.
Let's have a look at the William Hill games collections:
The William Hill games are arranged in a number of ways. Featured games are shown on the front page of the site, with listings for Popular Games, Hot Games, New Releases, and Casino Classics: these games include slots, table games, and live casino games.
You can also access games via tabs that take you to:
New games, slot games, roulette games, card games, live dealer game, jackpot games, and a promos tab.
Let's start at the top:
William Hill Slots
The William Hill slots games make up the bulk of the offer at William Hill Casino. We've seen audits that mention more than 300 games, but also one mentioning more than 400, but as these titles are not universally classified it's not always possible to know how these calculations are made.
The slots at William Hill cover a huge variety of games.
The featured games on the front page include these "popular" titles:
Shields of Rome, Kingdom's Rise Forbidden Forest, Eternal Lady, and Justice League.
The Hot Games include:
Wonder Woman, Gladiator Jackpot, Heart of the Frontier, Medusa Monsters, Ronnie O' Sullivan Sporting Legends, and Epic Ape.
New William Hill slots releases lists:
Kingdom's Rise Forbidden Forest, Kingdom's Rise Guardians of the Abyss, Kingdoms Rise Sands of Fury, Eternal Lady, Giant Grizzly, and Buccaneer Blast.
Listed as Casino Classics are:
Jackpot Giant, Anaconda Wild, Batman and the Batgirl, Big Shots, Ways of the Phoenix, and Legend of the Jaguar.
Separately, there is a new games listing. That includes those titles listed on the front page, plus many more, like Bonus Train Bandits, Fear the Bear, Tip Top Totems, Age of Gods Apollo Power, Cascading Cave and Starmada Exiles.
Under the Slots tab is another selection, many of the games featured have already been listed, but you'll also find titles like Panther Pays, Sky Queen, Lucky Horseshoe, Casino Charms, and hundreds of other games.
William Hill Other Games
The casino world has bifurcated recently.
There was always a market for games that were based on casino games. In fact, the slot games we all love so much were originally based around poker, the world's most iconic gambling game.
There's also been a market for simulated table games. These take the most popular games out of the casino floor and turn them into something like a video game. The decisions are the same – how much to stake, what to bet on – and the rules are usually the same too, though you should always check you know the rules of the game you're playing. But, instead of a real wheel or deck of cards, the random events on which you bet are created by a string of numbers.
William Hill Roulette
Roulette games are the most popular casino game. The game is exciting and sophisticated and offers a great range of betting for players and a variety of playing experiences. The classic variants from real-world casinos are European roulette, French roulette, or American roulette. All have slightly different rules, and American roulette is generally the least generous to players. These days there are numerous other variants on the game, and you should ensure that you know what you are playing.
The William Hill roulette tab brings up 30 game tiles, including live casino games.
The William Hill roulette titles include American Roulette, Club Roulette, Penny Roulette, Premium Roulette, and themed roulettes around the Age of the Gods slot, and many more variants.
Roulette is sophisticated and smart, and you should do some reading on the game or check it out as a demo game before you start playing.
William Hill Blackjack
Blackjack is the most popular card gambling game. It offers the best possible return to players, and the gameplay is compelling and very user-friendly.
You should click on the card games tab to see the list of games.
There are 24 William Hill blackjack games, including live blackjack games. Like roulette, there are many variations at the William Hill blackjack table, and many are represented here, including proprietary titles.
Among the top William Hill blackjack titles are:
Premium Blackjack, Free Chip Blackjack, Blackjack Switch, Double Attack Blackjack, and Buster Blackjack.
Good range of William Hill games
As you'd expect from one of the biggest names in British Bookmaking, William Hill has a fantastic range of games.
One of our favourite features is that, as well as the traditional sports betting (which I personally love because there are some skill and analysis involved), they offer financial betting. I knew it reminded me of the stock exchange, and it's quite similar in a sense. Rather than betting on stocks and shares per se, you place bets on currency (Forex), commodities (Gold, Silver, and Oil performance), and Market Indices performances.
If you ever fancied yourself a stock-trader wannabe (think Wolf of Wall Street), William Hill online casino can be a great place to hone your skills. We would definitely recommend setting betting levels though – it's easy to get carried away with this type of gambling – just ask Nick Leeson.
Yes, that's definitely my favourite part of the site, and it's not something that I think many of the mainstream casinos offer. If you're a dab hand with Excel and you understand formulas, you'll have a fantastic time.
Aside from that, there are plenty of other games too: Sports Betting, Casino Games, Scratch Cards, Bingo (including free games), and Poker: so all of the usual. Their sportsbook is comprehensive, and you can bet on competitions from around the world.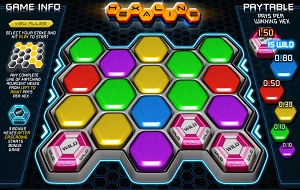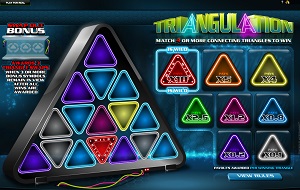 novelty gamesBig range of software providers
Plenty of software providers
William Hill Casino uses over a dozen different software providers but for the majority of their traditional casino games such as blackjack, roulette, and video poker they use the well established Micrograming and Playtech platforms. There really are a huge range of casino games on offer making the total number of games available at William Hill pushing 400.
It's also worth mentioning that William Hill Casino is ranked in the top three of our best blackjack casinos, mostly due to its awesome range of mobile blackjack options.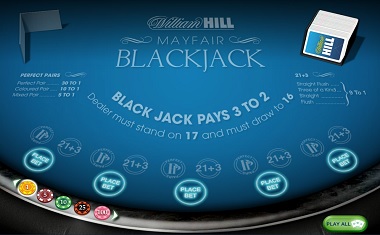 one of the best blackjack casinos
William Hill Live Casino
The introduction of live dealer games has changed casino play dramatically.
William Hill's Live Casino tab lists "featured" games, then lists games by roulette, blackjack, baccarat, and other games. Dealers are pictured and named on all game tabs.
The featured games show current live games and list the number of players in each game room.
We saw 14 William Hill live casino games, including roulette, blackjack, casino hold'em, 3 card brag, and baccarat.
William Hill Live Roulette
The roulette tab lists eight games, including specials like live football roulette, quantum roulette, Age of Gods Live Roulette and more.
William Hill Live Blackjack
There were six games listed under the blackjack tab, all listing the dealer, and showing the number of players in each room. The games included standard games, "lounge blackjack," "royale blackjack", and "soiree blackjack".
William Hill Live Baccarat
Three titles were listed under the baccarat tab.
Other games listed were casino hold'em, 3 card brag, and live hi-lo.
William Hill Mobile Casino & William Hill Casino App
Mobile games are – like live casino games – the future of the online casino market. Players are increasingly moving to mobile browsing, and casino sites are certainly aware that they need to offer a good experience to players who want to use mobiles.
There are generally two choices available to players: they can either use their mobile browser to browse to a mobile-friendly website. Or they can download an app to access at a tap via their home screen.
"Apps" covers a lot of ground: an app might be as simple as a link to the website, or it may offer a full experience, including special offers, and exclusive content.
William Hill offers both of these options.
The company has produced apps for both Android and iOS systems.
You can download both of these apps free of charge, via a scanned code, at the William Hill Casino website.
You should also be able to download these William Hill apps from the App Store and from Google Play. (Always be sure your security is up to date and that you're downloading from recognised, safe, secure sites when you download apps.)
You should also be able to use the William Hill app on Blackberry and Windows devices. This should include the latest updated versions of all these OS.
Supported devices
Among the devices that are supported by the William Hill mobile casino are: Samsung (Galaxy, Note, Tab, Edge, Mini, Ace and more); Apple iPhones; HTC; Sony; LG; LTE; Huawei; Microsoft (Lumia), and BlackBerry phones.
Tablets supported include Sony Xperia, Lenovo ThinkPad & Yoga Tablet, Asus models, Nexus, Motorola and Acer tablets.
The William Hill app currently uses flash and HTML5.
The William Hill app offers the full range of William Hill products rather than just the casino site. This has upped the number of software providers.
The app is easy to use – easily as easy as the website – and will work on any Android or Apple mobile or tablet device.
There are plusses and minuses to using apps.
Shop around
The key to getting the best out of a casino site is to shop around. This is a competitive market and sites are keen to attract new players. Generally, mobile sites and apps both offer a slightly reduced number of games, though this discrepancy is rapidly reducing.
Apps do rather discourage shopping around because having instant access to everything a site has to offer from your home screen can mean you're not going around sites and looking at all your options.
Mobile sites should work as well as a desktop site, particularly in 2019, so browsing to a site is no bad option.
You should be able to play mobile slots, mobile casino games, and mobile live casino games. All of them are available at the William Hill mobile casino.
We're happy after checking out all the mobile options that you can enjoy a safe, secure experience if you use official sources for your app downloading of the William Hill app. The William Hill mobile casino site is also high quality and adaptive. Banking is secure and easy on the William Hill mobile casino and app.
We always recommend thinking carefully before you download an app as there is a potential to limit your behaviour as a consumer. You can certainly enjoy these sites and apps safely and expect an excellent quality experience with a lot of great games, including mobile live casino games.
Banking
To enjoy those experiences and to enjoy the William Hill Casino welcome bonus you're going to need a working account and you'll need the means to put some cash in it.
William Hill Casino makes this a very painless process for players.
Make the FAQ's page your first point of call for any questions, but this is what we understand.
This is a very dynamic area, and change happens all the time, so check the site if you want the latest details.
You can deposit via:
Debit cards from Visa, MasterCard, and Maestro.
You can use these e-wallets:
Skrill, Neteller, PayPal, Webmoney, Yandex Money, Visa QIWI Wallet, and eco.
You can also use these online banks:
Eps, Euteller, Fast Bank Transfer, Instadebit, POLI, safety pay, SOFORT, and Trustly.
You can also use cash vouchers and pre-paid cards:
William Hill cash direct vouchers, Paysafecard, toditoCash, and Neosurf.
You can also pay into your account via bank transfer or by cheque.
You can withdraw from William Hill Casino to most of these payment methods.
Customer Support & William Hill Live Chat
If you have problems with your cash we'll imagine that you'll go straight to the help page at William Hill Casino.
There you'll find an excellent FAQ section that probably will answer most of your questions.
If you need more though you will find:
An email form to fill in that allows you to contact William Hill directly from their website.
You can also call, for free, from the UK (including from mobiles) to: 0800 0856 296; from outside the UK, you can call: +44 870 600 0479 (which will be charged at 1p a minute, plus network provider charges). The toll-free international number is: +800 3551 3551.
William Hill Live Chat
There is also a William Hill live chat button that you can click to call up help. This opens a new window with a drop-down menu to select the product you're using and boxes in which you can fill in your personal details, and ask your question.
Gambling safety
William Hill online casino has a clear policy when it comes to responsible gambling. There are plenty of checks and balances in place. They have an entire section dedicated to gambling awareness, and they belong to various safe-gambling organisations. Still, they are a bookmaker and casino, so they'll happily take your money.
Overall, we think William Hill is one of the best bookmakers and casinos around. It has a fantastic range of games (the financial and sports gambling sections are my personal favourites), a decent bonus structure that doesn't feel constraining, and, if something does go wrong during your visit, a live chat section that answers within a relatively short time (one or two minutes at most).
The Verdict
The William Hill name has a long history, and it looks like the company has a bright future from this assessment of their casino site.
With fantastic games, good-looking and functional design, and excellent help and security features, we think you should take a look at William Hill.
Banking is first-rate, and we've not seen many sites that provide more free information (about everything from using the site to help for gambling problems) than William Hill Online Casino does.
Plus, when you join in with the site you're entering a big world that also links in with bingo, and sports betting sites.
William Hill Casino is a great casino site, but is much more than that too!