Rhode Island Casinos and Gambling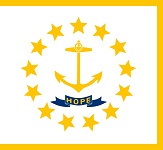 While Rhode Island has a history with gambling going back to 1934, the state has never been very friendly to casino style gambling like table games and poker.  That appears to be changing recently, with a recent vote to allow table games at at least one of the state's two gaming facilities, but the finalization of that bill may take some time to become official.  The state does offer a rich lottery program and has since 1974.  There are many instant games, keno, daily number games and other lottery games, along with Rhode Island being a member of the Powerball game.
Racing in Rhode Island
Current law allows pari-mutuel betting at two facilities: the Newport Grand Casino and Lincoln Park Greyhound Track.  In 1992, Rhode Island became the second state in the country to allow machine gaming at racetracks and Lincoln Park promptly installed more than a thousand machines.  In the beginning, the track set aside 10% of the machine revenue towards purses for the races but through the years, the state's cut went up to 33% and the amount going towards race purses dropped to only 7%.
Both the state's pari-mutuel facilities now offer video lottery terminals (VLTs).  These machines are the same as other video gambling machines but because regulation falls under the purview of Rhode Island's state lottery commission, they're called VLTs.  These terminals do not pay out in cash but issue winners a ticket that they must redeem with a cashier.  Terminals are programmed with several different games including at least these six: blackjack, deuces wild, keno, jacks or better, joker poker and slots.
Online Casinos in Rhode Island
There are many online gambling options open to players from Rhode Island.
The Early History of Gaming in Rhode Island
Judge James Dooley, former president of the Canadian Hockey League, was a fierce advocate for horse-racing gambling in the early 1900s.  It took him 15 years to succeed, but in June, 1934, the state did pass his bill and it became legal to bet on horse-racing in Rhode Island.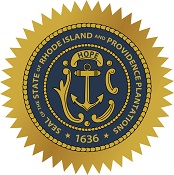 Horse Racing in Rhode Island
Dooley helped found the Narragansett Racing Association with partner Walter O'Hara, the owner of the Star-Tribune.  They purchased a 130-acre parcel of land in Pawtucket that had at one time been an airport and built Narragansett Park.  They spend over $1,200,000 to construct a huge grandstand that would seat 10,000, a clubhouse that could accommodate another 4,000 and of course, the track and stable facilities.  The stables could hold 1,650 horses and the one-mile oval track had features that were cutting edge for the day – an automatic starting gate along with camera finish.
O'Hara was the first President and Managing Director of the new Narragansett Racing Association and he lived in a plus penthouse atop the clubhouse at the track.  O'Hara did not get along with then-Governor Robert Quinn and the bad blood between the two men culminated in a dispute over income taxes owed to the state.  As a result, Quinn demanded the removal of O'Hara in 1938.
Dooley took over as President and Managing Director and maintained that status through 1960.  During this period, Narragansett Park rose in prominence.  Some of the most famous horses of all time ran at the Park through the years including Seabiscuit, War Admiral and Gun Bow.  Special trains ran from nearby big cities like Boston and New Haven to Providence for race fans to have easy access.
The 1970s saw smaller crowds as horse racing in Rhode Island lost popularity.  New forms of gaming were opening in nearby states that kept people closer to home.  The track began losing money and was forced to close its doors in 1978.  Horse tracks throughout the state suffered.
Greyhound Racing in Rhode Island
Another form of animal racing was rising as horse-racing's star went down, though, and that was greyhound racing.  One of the smaller horse tracks, Lincoln Downs, was purchased by Joe Linsay and Al Ross in 1977 and converted to a dog track they renamed Lincoln Greyhound Park.  Through the years, the property has changed hands several times. Today that property is known as Twin River.
Twin River today is a huge multi-faceted facility that while still focused on greyhound racing, no longer has live races held there.  They do offer simulcast and the betting on those races is a good part of the business.  However, there is also a huge complex that has over 300,000 square feet of gaming space with over 4,700 slot machines along with virtual table games like blackjack and roulette.
Newport Grand Casino
This historical complex was founded as a gentleman's social club in 1880 by James Gordon Bennett, Jr.  At that time, casino didn't necessarily mean gambling as it does now.  Over the years, it attracted many types of activities including the United States Lawn Tennis Association Championships at the turn of the century, a stadium and a theater.
The Newport Grand now has simulcasting of horse racing, greyhound racing and jai alai games along with betting.  They also offer more than 1,000 video slots games and virtual blackjack tables.
Gambling Initiatives Over the Years
Unlike many states, Rhode Island has no tribal compacts therefore there are no tribal casinos in the state.  For much of the country, tribal gaming has been the catalyst for new gaming initiatives and proposals.  Being such a tiny state with nearby states having casinos, many have raised the question through the years of losing millions of entertainment dollars to other states.
A casino proposal was put forth in 1994 but rejected roundly by voters.  A new proposal was tried in 2006, with the possibility of a Narragansett Indian casino to be located in West Warwick but again voters rejected the measure.  Once more a proposal for state-operated casino gambling was put forth in 2010 but it never made it to a vote when the Governor vetoed the idea.
Current State of Gaming
Rhode Island had two separate ballot questions about gambling in November, 2012.  Both were about allowing casino table games to come to Twin River and Newport.  Local voters gave overwhelming support to allowing Twin Rivers to expand its gaming operation while voters in Newport narrowly rejected the proposal.
Once the proposal for Twin Rivers goes through the legislature, Twin Rivers could see table games like blackjack and poker by next summer.