As you might have read in some of my other articles, video slots are my all-time favourite online casino games. What you might not know is the reason why they're my favourites: it's because of the bonus rounds. It's not from the perspective of how much money I can win in the bonus round (it's great when I win, but it's never guaranteed to be a large amount), but from their entertainment value. Below, I look at the slots with the best bonus rounds in my opinion. I'll also explain what it is about the slots that make them so entertaining for me.
A good bonus round slot has you on the edge of your seat in anticipation. It has you spinning the reels in the hope that this time, maybe, the bonus is going to land. A good bonus round is novel and fun; it feels as if you're playing an entirely different game to the main game – it's a game within a game.
In this article, I'm going to walk you through some of my all-time favourite video slot bonus games. If you're anything like me, and you think the bonus rounds are the best part of the online casinos then you can use this article as a guide to help you choose your next video slot adventure.
A word of warning: the video slots blow hot and cold. Sometimes you can play for upwards of half an hour and never hit the bonus rounds. At other times, it seems as if you're hitting it every few minutes – I live for these runs! It's so much fun when you hit a hot machine.
Ok, so let's look at some of my favourite video slot games:
#1 – South Park: Reel Chaos by NetEnt

Similar to other South Park video slots (e.g. South Park: Porkies & South Park: Video Slot Machine), South Park: Reel Chaos is a typical 5-reel slot machine delivered with all the quirk and unpredictability that you'd expect from the South Park franchise.
This game is hilarious. I keep the sound on to make sure I don't miss anything; that's rare for me because I usually prefer the sound off when playing. Even without the sound, with 4 mini features and 1 bonus round, as well as the funny animation, there's plenty to keep you entertained.
The mini features include:
Stan's Multiplying Re-Spin: this feature triggers randomly following a no-win spin, it's great because it continues to spin until you get a win, so you know if it triggers, you've definitely won a prize. Each re-spin wins you a multiplier, so you'll want it to spin for as long as possible.
Kenny's Multiplier: activated randomly following a win on the main game, a fight ensues between Professor Chaos and Kenny. As Kenny wins, multipliers are added to the winning bet until Kenny's finally killed (did you expect anything else?) by Professor Chaos.


Cartman's Stacked Wilds: another random activation during the main game, here, Cartman chases General Disarray around the reels changing symbols into wilds and hopefully triggering a win.
Kyle's Overlay Wilds: during the main game, the evil minions will come and try to take over the reels, at which point Kyle comes out with his laser beam making them run away, and leaving 3 to 5 overlay wild symbols on the reels.
You'd think that was enough to be getting on with, but the best is yet to come…
The Bonus round:
The "Mintberry Crunch" bonus: 3 bonus symbols appearing anywhere on reels 1, 3, and 5 triggers this bonus game of epic proportions. Here, Mintberry Crunch has to fight his enemies until he's eventually beaten. You'll have the opportunity to fight up to four villains.
Mintberry Crunch has to defeat a number of villains including the Coon, General Disarray, and Professor Chaos. I feel most sorry for the Evil Minions. These are just poor little hamsters who happen to have lived their lives on the wrong side of the track; they get hammered (or should that be hamstered?) in round one – at least, I've always beaten them.
While Mintberry Crunch has the weapon of cereal to help him – It's South Park; of course, he has a stupid weapon – everyone else has lightening. You'd think that would mean he never won, but just like the South Park episodes, he isn't as ineffectual as you might imagine.
The reels spin to dictate the outcome of the fight. If you land a winning line, Mintberry Crunch wins his fight. With each fight won, there are added bonuses and multipliers as the reels keep spinning. On a no-win spin, you get zapped to smithereens by the various baddies. You all become increasingly bloodied and bruised as the battles rage on.
But OH NO! As you start to win, Professor Chaos decides it's time to "STEP IT UP A NOTCH!" and out comes Anime Professor Chaos. He's huge, at least 5 times taller than Mintberry Crunch is. There's no way you're going to win. Your cereal is ineffective against Anime Professor Chaos's cape – sure, you win some cash, but you're falling apart because he just zapped you with the strongest lightning bolt you've ever seen…and it's over. He just K.O.-ed you right out of the bonus game and back to the reels.
This is a super fun game, and it's much easier to stomach than South Park: Porkies' "Crazy Stan Puking Bonus". Where Stan projectile vomits multiple times and in quick succession, straight into Wendy's face. Nice but it leads us to a great point: If there's one thing you can say about the South Park franchise (and NetEnt), it's that they make brilliant video slots!
---
#2 – Flying Pigs – by Play'n Go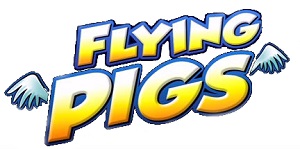 This one isn't typical of the bonus rounds that I would normally like, but it's so exciting that it's definitely worth a mention.
The animation is great, which is always attracts me to a game. I guess I'm a bit of a video slot snob in that respect. I don't like playing games with rubbish graphics because it makes me think they're old and will pay out less. Weird maybe, but that's just how I roll…unfortunately, because I'm sure I've missed out on some great games because of it.
The game itself is unusual for a video slot. It works like a bingo game. You can buy between 1 and 4 bingo cards then hit the "Play" button to release the balls. As they fall out of the sky, the game marks off those that appear on your card/s – you can mark off manually too, to add some fun.
There are plenty of ways to win, including corners and horizontal lines. At the end of the round, you can choose to "Buy Extra Ball", so if you're close to winning a line it could force a win. The cost of the extra ball depends on the likelihood and size of the potential win.
The Bonus round: 
To hit the bonus round, you need to get the bonus pattern, which you'll find to the top left hand side of the game. When it hits, you get a funky song: "Congratulations. You win the square. You win the squaaarre. You're the winner of the special prize in Flying Pigs" – it'll be stuck in your head all day!
The game takes you to a new animation where there are around 10 pigs on one side of a fence, and none on the other. You then select pigs to throw over the fence. I know, I know "cruelty to animated pigs" and all that, but don't worry, because these are flying pigs – they have wings.
Each pig is worth a certain amount of money. If you accidentally choose a pig that turns into devil pig, it ends the round.
The great thing about Flying Pigs is that the entire game is super captivating, including the main bingo bit. It's definitely a white-knuckle game.
---
#3 – Red Riding Hood by NetEnt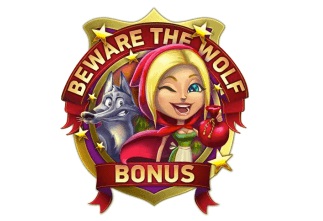 This is a relatively new video slot game and it's a great one to add just before winter because it has reflects the mystery and the mystique of the season. Tis the season of fairy tales and that's surely because it's dark much of the time, and you know how darkness plays tricks on the eyes and mind.
The game itself is a straightforward reel game, but there is plenty of opportunity for fun. For instance, there are three types of "Fairy" extras:
Fairy Surprise: on a losing spin, the fairy comes out and chooses a pay symbol, which then transforms all the lower paying cards to that symbol and continues until you hit a win.
Fairy Magic Spin: here, the fairy appears and casts her spell over the reels, changing some to a particular symbol. The symbols then sticky and the reel spins once more, often resulting in a substantial win.
Fairy Wild Spin: if you get two or more wilds anywhere on the screen, the fairy comes out and stickies the wilds. You can get some big wins here.
As well as the fairy bonuses, there are the free spin bonuses too and of course the bonus game…
The Bonus round:
Three mystery chests appearing anywhere on the reels put you in with a chance of getting into the bonus round. Click on one of the boxes and if Little Red Riding Hood appears with the words "Beware of the Wolf" then you're into the bonus round.
The game takes you to a new screen that reveals an adventure board game. Your challenge is to spin the wooden board (which effectively works as a dice with numbers 1 to 6). You move forward by the value of the spin. For instance, if you spin a 3, you move forward 3 spaces. The space that you land on will have a multiplier that increases your win.
There are short cuts and pathways along the board, and if you land on the "Double" pathway, it doubles all the multipliers. Sometimes, you pass over a red X and, at that point, you hear a barky laugh – it's the wolf hiding in the bushes. He's coming to get you! You might even see him run past pretending to be a sheep!
The aim of the game is to reach Grandma's Cottage before the wolf gets you. Most of you won't make it to Grandma's cottage. The wolf will jump out at you from behind a bush, you'll scream and jump back in shock, and then he'll fight you in a cloud of dust…you don't make it. Sorry, it's back to the main reels for you.
So there we have it, my favourite video slot bonus games. They're great fun and if you have the time, I'd highly recommend giving them a try.