Barcrest Gaming is a fine old name in the casino software world. Older players will remember Barcrest games from their youth in arcades and pubs, and the name brings up one of the original slot symbols – the bar (that might have been a gum company logo) – that still lives on in the virtual world of online casinos and video slots.
It does not live on in the same way though. Once a proudly British company, with roots in the pubs and clubs and bingo halls of Greater Manchester, Barcrest is now as global as the industry it operates in and you'll find its notional HQ in Las Vegas.
Barcrest was founded in 1968. In the modern online video slots market this makes it as venerable as the Great Wall of China.
The company started out making what we now call cabinet games, the big lumps of furniture that house slot games (usually called fruit machines in the UK) and selling them first around the north of England, and then across the UK.
The company did well, and in the 1980s expanded its distribution across Europe and started to use computer technology with its MPU motherboard machines that added a second level of gameplay, usually on a second screen in the cabinet. You'll now find online versions of this style of the game appearing as players seek out a retro experience.
Best Barcrest Casinos to Play Barcrest Slots
In 1998, Barcrest was brought by IGT (International Gaming Technology) for £42 million. For IGT the aim was to expand into Europe. IGT was itself a veteran operator, with roots going back to 1975 in Las Vegas. (IGT no longer exists in the same way, though the name lives on under new ownership.)
Barcrest continued to thrive, and in 2006, the brand went online, starting to offer interactive slot games to internet, mobile, and digital TV gamers. The company's most famous name is the Rainbow Riches brand and we'll look at this in-depth later on.
IGT left the Barcrest story in 2011 when they flogged off the company in 2011.
The buyers, and the current owners, are Scientific Games, who paid around £35 million for the firm.
Scientific Games is a massive company, and their interests incorporate almost the entire gambling industry.
For them, Barcrest is a strong brand name with a history in the UK and Europe, particularly in the world of real-world casino games.
They still exist as an independent brand under Scientific Games, part of the SG Gaming division of the company, and is releasing games both on and offline in 2020.
Barcrest Today
Barcrest is an unusual slot company because their particular history has given them a particular place in the market.
While they are now part of a big international corporation that owns parts of almost the whole gambling supply chain, they have traditionally been a games-only company. The brand still operates on that basis – though within SG Gaming and Scientific Games – so you won't find Barcrest casinos and the titles are sold on the basis that they are good titles rather than as part of a package with other Barcrest casino software.
And Barcrest are first-and-foremost a real-world company. Their history all points in that direction. While there's been an explosion in online gambling, there are still millions of punters who turn up in casinos, pubs, clubs, arcades, betting shops and the like and put real money in real machines. There's been a lot of cross-pollination between the on- and off-line worlds of slots, and you'll see games that were born in casinos showing up online, and online games downloading into real-world cabinets.
One of the biggest changes is that cabinet games are almost all digital now so that games can be changed at a moment's notice and a single cabinet can support an internet-connected game.
Barcrest Games were cabinet-first in many cases, and the titles are often traditional in appearance and gameplay. It's usually hard to pin a style on a games manufacturer because their products are so varied, but with Barcrest you can expect to see a particular style.
Barcrest Slots
Barcrest slots live in two realms then. The industry auditing site that we prefer records a total of 72 Barcrest slots available to UK players in the regulated UK market.
Barcrest supply slots in 26 countries, with the top markets being the UK, Germany, Norway and Finland.
Rainbow Riches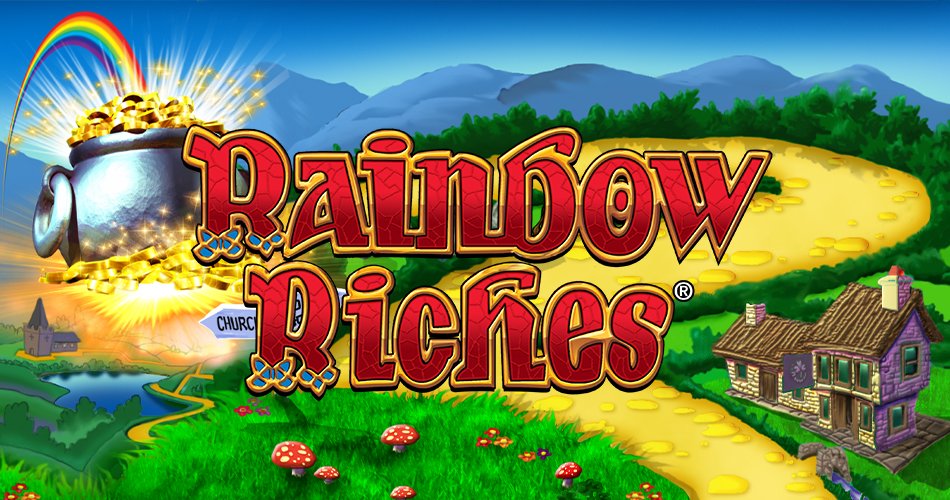 It's not for many companies that we do a single title section, but Rainbow Riches is a legend in the slot world and by far the most popular Barcrest game.
Even today, in March 2020, the Rainbow Riches original title, released way back in 2009, is the number 3 slot in the market.
The original Rainbow Riches is a five-by-three classic slot in the Luck-of-the-Irish/Leprechaun genre. It has a 95% theoretical return to player and medium variance. Players can bet from 1p to £400 and win as much as 5,000-times their stake if they hit big on the 20 pay lines in play.
Like many of these games, it is built on a big bonus feature. The bonuses are triggered via a scatter, with three games:
Pots of Gold, a random prize game;
Rainbow Riches Wishing Well, another random prize game, and;
Road to Riches, a random prize generator.
So, it's a simple game, and that is largely its attraction. While some of the slots industry is going mad trying to produce the next seven-character adventure classic with 14 free spins round, players are still flocking to this extremely simple, crude even, a brightly-coloured slot that was not even that cutting edge more than 10 years ago when it was released!
Rainbow Riches is so popular that it has spawned a family of titles. These are:
Rainbow Riches Pick'n'Mix
The gimmick here, in this 2016 release, is that the player selects three bonus games from a choice of five that they will see in the game.
Rainbow Riches Free Spins
No prizes for guessing that this 2017 addition to the RR family has a free spins round! That's it really! Before this, the game had eschewed the standard slots bonus.
Rainbow Riches Reels of Gold
Also released in 2016, Reels of Gold gave players a second set of reels to play with. This gave the opportunity to score on 100 pay lines, and with a 5-by-4 and a 4-by-12 game field. To keep the numbers big, Barcrest upped the RTP a touch to 96%, and chucked in more features to give players 7 bonus games.
Rainbow Riches Megaways
More big numbers, as RR gets a Megaways makeover in 2019, to give more than 100,000 potential ways to win and a big win boost to a top prize of up to 10,000 stake. This game is higher in volatility and keeps the non-standard reels sets of the previous title and a free spins round.
Rainbow Riches Drops of Gold
In 2018, the Leprechaun have players one of the most generous RTPs in the series at nearly 98%, but lowered the top prize and volatility for a more stable gaming experience.
Rainbow Riches Home Sweet Home
A row of doors across the top of the reels is one extra on this version of the game, also released in 2018, and featuring similar features to Drops of Gold, and a big bet round to boost your stakes and your RTP for a few spins.
Rainbow Riches Leprechaun's Gold
A 2019 iteration of the game, this RR shows a few more concessions to the changing slots world with its more sophisticated graphics, including a 3D little chap in a green suit. There are still irregular reel setups and the usual slew of bonus features.
Rainbow Riches Fortune Favours
This 2018 release added a new character, in the shape of a pink pixie, and includes the Big Bet feature among a fairly familiar set of bonus games.
Rainbow Riches Leapin' Leprechauns
A scratchcard version of the game.
Rainbow Riches Original
The off-line version of the game.
Rainbow Riches Megadrop Quest
We can't tell you much about this game as it is not yet released, but is due to hit the markets in May 2020. It will presumably feature the Megadrop feature, which is SG's version of a big, progressive jackpot. It is almost sure to be a hit.
Barcrest Slots – The Most Popular Titles
We've already covered the most popular slot from Barcrest. As we write, the slots audit site that we use has Rainbow Riches, the original 2009 game, listed as number three in its charts of all UK titles.
What an achievement that is.
In fact, of the 10 top-rated Barcrest games in the chart, 7 (seven!) are from the Rainbow Riches family. We'll leave those aside as we list the other current biggest games from Barcrest as far as UK players are concerned.
7s to Burn
Another oldie, dating back to 2015, 7s to burn uses the classic lucky 7 from ye olde world slots and puts it at the centre of a game that is a celebration of the classic slot in all its glory, with fruits, bars, and simple bonuses, including a Hi Spin that you pay to play. There's big prize potential in this relatively unsophisticated game that can give you more than 1,000-times your stake.
Action Bank
This 2016 release is also classic in style, with big, diagrammatic and boldly coloured symbols that are great to play on mobile. The game is a simple 5-by-3 that's been adapted from offline slots, and also has a sister title called Cash Stax. The biggest selling point must be the massive top prize of 250,000 coins, though the bonuses are decent quality.
Winfall
A game from 2019, Winfall stays true to the Barcrest template by delivering a very simple, classic slot game. This game is based on gems on a classic 5-by-3 grid spiced up via a cluster-pays engine rather than straight pay lines. It's also got a respin via a cascade feature but no free spins round.
Monopoly Bring the House Down
A tie-in with the classic board game, this slot has a 5-by-3 grid with potential extra symbols on the top of the reels. The Big Bet feature we spoke about in the Rainbow Riches series is here and this game is relatively rich in bonus games – inspired by the board game – for a Barcrest title.
Thai Flower
A culture-themed game, with some pretty nice design, this 2014 release is otherwise a fairly standard Barcrest title, with a 95% theoretical return to player, a 5-by-3 grid with 10 pay lines. The free spins rounds come with extra high paying symbols.
Black Magic Fruits
This 2015 game gives a moody colour scheme and feel to the classic fruit game. You might call it fruity, dark mode. It's a 3 line, 3 row game with just five pay lines, and a simple wild as the main bonus feature. Players have been enjoying titles like this for decades.
Hercules High and Mighty
An extra load of rows of symbols also delivers 50 pay lines. It's a character game, themed on Ancient Greek gods, and with quite a lot of bonus games, including free spins, re-spins, and expanding wilds. It's nicely designed too.
Jewel in the Crown
The crown theme shows up in a sort-of crown-shaped set of reels in this release from November 2016. It's a simple sort of game, in the style you'll know if you know Barcrest games, and with some nice visuals on the reels. The bonuses include a free spins round.
Vampire Desire
Everyone has to have a Twilight-style vampire game, and this is the Barcrest version. It's got great visuals and is very irregular in a number of ways for a Barcrest title, with a square five-row set of reels and 50 bet lines and even a change in the control set up and a couple of branded reel features. The extras include free spins, a Vamp it UP bonus at higher stakes, and the Might Reels feature. Oh, and a sexy vampire!
Soldier of Rome
Soldier of Rome was released in 2018 and shows Barcrest continuing to mix things up with the Mighty Reels feature, Big Bets, and a non-standard reel setup. Bonuses include stacking wilds. The game looks great, and is one of Barcrest's most sophisticated historical titles and a deserved hit.
Legend of the Pharaohs
Barcrest's top Egyptian title didn't arrive until 2017. This is a more classic title, and features a lot of classic Barcrest features including Big Bets, and a free spin round that offers you as many as 50 cash-free games.
Hot Frootastic
Barcrest excels at classic titles and has put a fire under the classic fruit game here with a heat-themed fruit game that sizzles with retro style and the chance to win very big courtesy of very high staking (up to £500).
Where to Play Barcrest Slots – Best Barcrest Casinos
Barcrest are very well established, not just in the UK, but around the world. You should find their games at most UK casinos: our figures say they are available at around 800 titles.
History isn't nothing, though, and Barcrest's history is in the old-school gambling world of bricks-and-mortar premises. This gives them good links with bingo and bookmaking companies, so it's no surprise to find the best Barcrest Casinos being big names in those fields: 888 Casino, plus BGO.
After that, the top Barcrest casino sites are: Playzee, Videoslots, Mr Play.
The Final Words about Barcrest Gaming
Anyone can enjoy Barcrest slots. The company has had years of success for good reason. And the fact that they have now linked up with one of the world's biggest slot companies, Scientific Games, who run a whole host of services for casinos, means that you are likely to see Barcrest Games in even more places than do now.
What should you expect?
You should expect a range of games, but the classic Barcrest titles are based around old-fashioned virtues, which are simple gameplay and big-prize potential. It's not until recently that Barcrest has started to really work hard at sophisticated graphics and games with a lot of depth or sophisticated and different gameplay and bonuses.
The archetypal Barcrest slots are the Rainbow Riches family, and no games are simpler and more old fashioned. These games are massive at bingo sites, but also anywhere where players who love a quick spin that doesn't demand too much from them are to be found. And that's not the whole picture: you can also play Barcrest games with very smart graphics and sound and reel sets in all shapes and sizes.
The MegaDrop feature looks likely to be a popular addition to the Barcrest family of games, and the company's upcoming releases (Rainbow Riches Megadrop Quest, Beetlejuice Megaways, and Action Bank Free Spins) show a company that is innovating with a new feature; a tie-in with a branded bought in feature, and an old favourite given a makeover to match player expectations. With changes like it is likely that Barcrest will remain onto a winner for another 60 years.