Well, with a name like that you might think they're based somewhere in northern Europe. And well done you! Elk are – like a growing number of influential games companies – are Swedish.
What they say about themselves is, of course, incredibly positive!
They claim that their company is "hard and soft at the same time". That could mean a whole lot of things, but as far as Elk are concerned that means using statistics and also creating "beautiful" art.
Sounds great! Games that perform and look beautiful. We're all on board with that, I'm sure.
Elk don't just make games though, they also provide casino software. That's the stuff that allows a casino site to run – they talk about processing transactions. In those terms "performing well" can mean performing well for the people who pay for the software, this means the casino owners, and for a game or site to be performing well for them it has to be making money, and it does that because players are spending money, which in gambling terms means losing.
You need to be clear on that before we go any further. Nothing in this article will suggest that Elk or the sites who use their software are doing anything illegitimate or illegal, or that their games aren't anything other than fair. But if you're going to play online gambling games for money you need to know how the business works.
Best Elk Studios Casinos
These are the best casinos with Elk Studios games.
Reviews of the Best Elk Studios Slots Online
Is it safe to play at Elk Studios Casinos?
The easiest way to see if Elk Studios casinos are safe to play at is by looking for a licence.
Gambling is licensed. And if only things stopped there, with the World Police Authority of Gambling, then things would be very simple. That doesn't exist sadly, and the World Wide Web has taken a torch to national barriers in a way that even the most fervent No-Borders anarchist would struggle to match.
With this, a lot of changes come, good and bad, and there have been a lot of things to sort out along the way – the biggest issues have come with the biggest markets, including the US market, where for years gambling remained illegal in most states and in most circumstances.
This has led to a patchwork of international licensing authorities, all with their own qualities.
UK Licensed
It is now very simple for UK players. If you are in the UK and you want to play online gambling games then you should only do so at a site that is licensed by the UK Gambling Commission.
If you play at a site that isn't, you are in danger and you should stop. All responsible gaming sites will automatically block players from jurisdictions from which they're not allowed to play. If you use a VPN or other means to get around that blocking then you will only have yourself to blame when your account and all the cash in it is frozen.
Elk Studios is licensed. It has licence number 40844. The licence confirms the company's full name, Elkab Studios AB, (AB is the just the Swedish version of "ltd" or "co"), and their address in Centralplan Stockholm.
The company has a remote gambling licence, so it doesn't have to be in the UK and is licensed to produce gambling software and as a game host. Basically, it can make games, and host them. Great.
It's nice to see that Elk Studios has "no sanctions recorded". That's great news. Incidentally, you shouldn't consider a sanction on a casino as a deal-breaker in all cases. Some of the biggest names in the business have been sanctioned and still have millions of satisfied customers. Most of the sanctions are based around marketing and support – specifically, support for problem gamblers – rather than the actual games.
We'll take this opportunity to remind you to always play safely and responsibly!
Elk Studios Slot Games – Game Design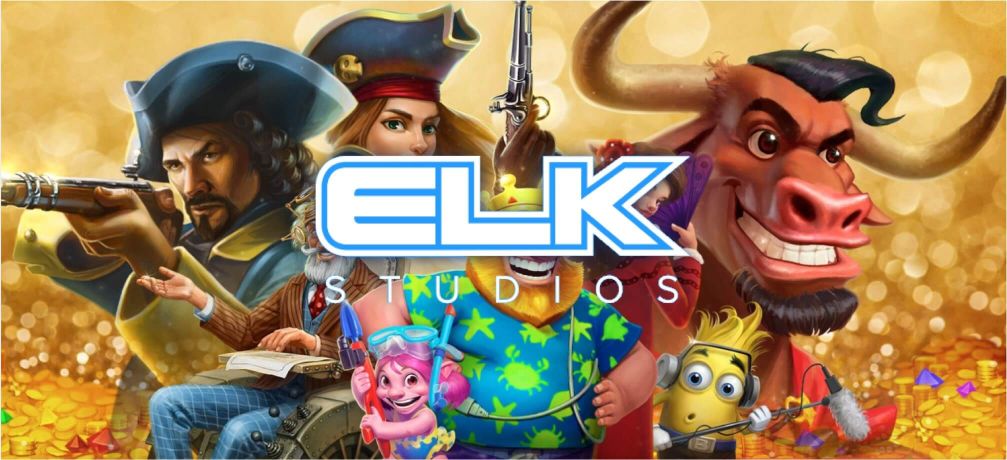 Elk Studios has a relatively small portfolio so far. But the company – which was founded in 2012 – has always made a big deal of prioritising quality over quantity.
This is delivered via a three-part process:
A concept is the games theme and the basic hook of the game. "A strong game model and an inspiring theme" is how the company themselves describe a winning concept.
Then we have the art. This, says Elk, should "crisp", and any review of an Elk game will probably spend some time on the visual design, which we're happy to go beyond crisp and describe as bloody excellent!
Finally, maths! Maths scares the hell out of some people (a confession, that includes this writer), but maths is behind every pretty picture on Elk's reels, and they're looking for a sweet-spot that guarantees decent returns for players that will keep them coming back. And, they have to deliver a profit for game hosts.
Elk Slots – the Games
Elk have relatively few games, but they're still a big player in this business.
These titles constitute around 2% of the games in UK casinos and around 1% of the games in casino lobbies – the front page of casinos where the most popular games sit. While those don't sound like huge numbers, the fact is that there are nearly 240 games providers listed on that site, so Elk Studios are doing amazingly well.
Normally we simply wave our hands and say we can't list all the titles from a studio. But on this occasion, we can.
So we will!
We'll go with Elk's own slot list, which starts with the latest release:
Chi, a Chinese anime/animal-themed game,
Hit it Big,
Ecuador Gold, an adventure slot,
The Wiz,
Valkyrie
Vegas Diamonds,
Joker Gems,
Platooners,
Birthday!
Lake's Five,
Kaiju,
Wild Seas,
Ho Ho Tower,
Route 777,
Hidden,
Ivanhoe,
Hong Kong Tower,
Sam on the Beach,
Taco Brothers Saving Christmas,
Wild Toro,
Poltava (a game about a historic battle between Sweden and Poland!),
Bloopers,
DJ Wild, and
Taco Brothers.
There's lots of variety there, as you can see.
Look out for reviews of Elk Studios slots, which will probably be described simply as Elk Slots. The analysis site we checked lists the most popular games as: Hit It Big, Ecuador Gold, Valkyrie, Ivanhoe, Kaiju, The Wiz, Joker Gems, Platooners, Route 777, and Wild Toro.
Elk Studios Casino Software
Beyond games, Elk Studios also produces casino software.
If you play at a casino you need systems to make sense of your experience. Because this is a licensed industry you'll need ID systems, and account details. They will need to be a way of transferring money from you to the casino – and hopefully from the casino to you.
This is the sort of thing that Elk does.
You – the dear game player – are not the customer for this. You use the stuff and you have little choice about it, but it is not sold to you, it is sold to a casino site.
So its purpose is to make the most out of you as possible. To do that it needs to offer you a good, fair experience so you'll come back and the relentless truth of casino gambling – that the house always wins – will kick in and you'll end up being worth money to the casino site.
There's not a great deal to say about Elk's systems beyond a new engagement programme that they are pushing.
Elk Compete is a good way of looking at the casino business.
ELK Compete
This is a system that casinos can buy and that aims to make players more engaged with their games and therefore to spend more time and money on their games.
This is quite a new area in casinos and represents the next front in the gaming war: gamification. Games are already pretty gamified, but gamification of the casino system tries to get players to engage at a deeper level with games.
It's important that you as a player knows about things like this. Innovations like gamification are designed to make you play more. And it may not always be healthy and wise for you to play more. It might be, but you need to keep your wits about you, your eyes on your bank account, and a sensible eye on your own emotions and mental health while you're playing.
The UK gambling industry's own slogan on safe gambling – "When it stops being fun, stop!" – is a good starting place for safe gambling.
ELK's new Compete system adds an extra level of play to slot games, by adding new challenges – collecting symbols is the first one on offer – to the gaming experience. These can be customised across different sites and run as tournaments (a popular way of introducing a community element to the solitary world of casino gaming), or in-game events.
A leader board keeps players involved with the challenge.
You may see this in your casino experience as ELK allow these contests to be run as promotions or incentives for types of players or even individuals.
The multiplayer tournaments bring lots of people on a site to fight it out against each other. Individual challenges set milestones for players and award them with prizes like free spins for achieving them.
ELK Studios Casino Sites
There is no need for a casino site to tell you that they are running on ELK software.
Some people want to know, some people don't.
The best way of looking at this is perhaps to compare it to computer operating systems. They will certainly offer you a different experience in some ways. There are all sorts of differences between them. But for many computer owners, as long as their machine boots up quickly, lets them get online with no problems and delivers a word processor they couldn't care less whether it had Windows or Linux or iOS or Eric's Magic Computer Powers inside the box.
It is likely that negative perceptions will have a bigger effect on your choices in this area than the rather unremarkable differences between the online casino and the operating software. If a casino using, for example, NetEnt operating software once lost a payment from you and refused to refund you you're not going to love NetEnt software – even if NetEnt is not in any way to blame for the mistake.
We'd urge you to do a little more and become more active consumers by not just reacting to negative experiences but also rewarding good experiences by shopping with sites that give you a good experience, and that includes using casino operating software that works well.
The History of ELK Studios
This relatively small studio has become a big noise in pretty short order.
The company has a nice, crafty feel about it. This might seem like an odd thing to say about an international gambling company, but that's how it comes across.
The company's timeline opens in September 2013, with its first office. The first slot, The Lab, is launched within a month, followed by Electric Sam, and Champions Goal before the company moved to new offices in September 2015,
The game launches keep coming – Taco Brothers, DJ Wild, and Bloopers – before in 2017 ELK opens the year with a new website. The company also sends all of its staff to the London ICE gaming expo that February and move offices again in March.
In October 2017 the big time arrives at ELK in the form of EGR Operators Game of the Year Award for Wild Toro. In February of the following year they're back at ICE, but this time as exhibitors.
ELK Slots Big on Style with Some Big Wins
ELK's portfolio of games is marked by beautiful styling.
They're not boasting when they say that. Or they are boasting, but it's not an empty boast!
There's a particular style to the games that's really modern but also gives a nod to some classics of the design past. They're cartoony and genuinely funny.
Style on its own is nothing without a good game though, and ELK slots also win out in reviews of their gameplay. We can't go into every title here, but we will recommend reading reviews of their top titles and you'll see an almost uniform positive response.
ELK Slots Progressive Jackpots
If you love big wins you probably love progressive jackpots. Sadly, ELK have yet to launch a true progressive jackpot but they are in the hunt for one.
Jackpot Joker uses the same sort of mechanism as a progressive jackpot to deliver a bigger prize. It cuts down the general theoretical return to player in order to add money to a prize pool that builds up a jackpot. That big prize comes in three tiers, bronze, silver and gold, worth €10,000, €20,000 and €50,000.
But all ELK slots offer good value for players, with RTPs around the 96% level, and top prizes in the tens or hundreds of thousands of coins.
This company loves innovative bonus games, and that's usually where big prizes are to be found, with a particular focus on big multipliers that in their most recent release – the aptly named Hit it Big – mean a boost of up to 1,000-times your stake.
ELK Casino Software – Quality and Safety
Despite their relative youth, ELK have already signed up some big-name casino sites. They've got a head start in the Scandinavian market of course.
Among the names using them are Leo Vegas, and Mr Green, a really innovative company with top quality branding, game selection and player experience.
In Conclusion
Our verdict on ELK is a resounding recommendation. Both the company's slot offering and the services they provide to casino websites combine to give a quality experience that looks the best in the business and also offers really good playability and usability for players.
There's a lot of freedom for operators of particular sites to set the parameters for their own business, so you should still shop around among ELK casino sites.
For example, welcome bonuses change not just from site to site but can alter over time. You don't need to run around and cash in a load of welcome bonuses in one big binge because there will always be more along soon.
ELK slots are among the very best we've ever seen. They're sophisticated and exciting. The most common criticism of them is that some of their titles might be considered a little too complex – there's often a lot to get your head around.
ELK comes with a guarantee of quality and its games can be found in casino sites wherever you browse. They're also fully licensed so you can play their games and at sites that use their software with genuine peace of mind, and that's priceless.
If you haven't yet checked out ELK you are missing out and now is the time to put that right!