Go to Merkur Gaming's lovely new website and you'll see a picture of a corporate HQ that wouldn't put a big manufacturing company to shame.
What the company wants you to know first of all is that: "Innovation, Passion, Tradition – these are the fundaments on which Merkur Gaming is built."
Beyond that – and every company tells you how marvellous they are – we learn that this is a big company in the world of best online video slots.
They are part of the Gauselmann Group. Gauselmann is a German company that operates around the world with 13,500 employees in more than 40 countries. Their reported revenue in 2018 was €3.6 billion.
Large groups in the gaming industry are often split into smaller parts.
Merkur is one such example. It handles a lot of the i-gaming for Gauselmann, and promises to stick to their watchwords and their "made-in-Germany quality standards".
By splitting themselves up, bigger gaming companies can operate as a number of different brands. Sometimes it's just a case of having a specialist division for each area of business though, and that appears to be the case here.
Merkur Gaming games are not the most popular in the UK by most measures, although there are over 200 of them. They have a particular style and tend to focus on certain features, but they cover every style and genre, with a great range of classic fruits and more sophisticated video slots.
Merkur Online Casinos UK
Merkur Slots Reviewed
Company Overview
Within the Gauselmann Group then Merkur exists as a standalone entity.
Within that entity, it also does a number of things.
They are:
Games
Cabinet Games
Link Solutions
Merkur Traffic Control
Some of these are of little interest to you, the gamer, but we will talk about them here before examining the stuff that will interest online slots players.
It's also instructive to see how game providers talk to each other about game players. In this world, you are the product – games exist to move money from your pockets to those of the people who run casino sites. A successful game from the point of view of a casino site – and that is who the consumer in this business is – is one that generates the maximum amount of revenue, and that may not be the one that gives players the most prizes.
Merkur Games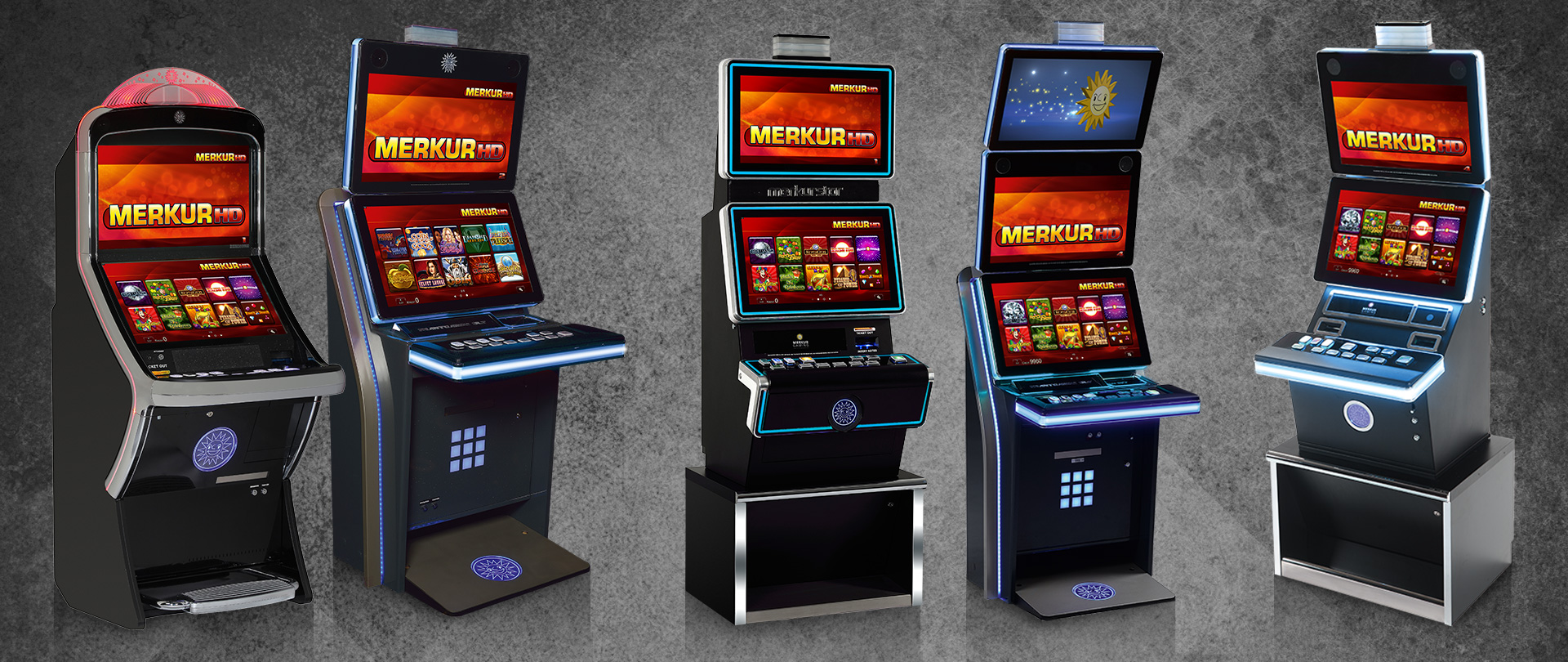 Merkur Gaming games come in a number of categories.
You can choose games by the number of win lines, picking between:
Classic games with fewer than 10 pay lines,
Multi games with more than 15 lines,
Power games with 40 and more lines, and
Flex line games with different ways to win, and
There is a small selection of other games, including table games, and scratch card style games.
You can also browse Merkur Gaming Games via the number of reels they have.
There are Merkur Gaming games with 3, 4, 5, and 7 reels and a couple of games classified as single reel games or with no reels, but which aren't really slots.
Merkur Gaming says that their current most popular games are Wild Kalahari, Monkey Mayhem, and Myra Gates.
The company also advertises its new releases including:
Wild Adventure Big 5, a safari-themed game.
Myra Gates, an adventure title with a heroine.
Tizona, a medieval history game, and
Ultra Wild 200, a classic game.
Merkur Gaming other services
Merkur games are also available away from online video slots sites in the shape of cabinet games. These are traditional delivery mechanisms that are found in pubs, clubs, bars, arcades and brick-and-mortar casinos. They're more sophisticated these days, and most cabinets aren't dedicated to a single title but offer players a choice of Merkur Gaming titles.
Merkur link solutions is a networked progressive jackpot system available for cabinet game players. They use five Merkur titles: African Glory, Dragons Marbles, Golden Silk, Joker Buffalo, and Temple of the Nile.
Merkur Traffic Control system is entirely unrelated to gaming, but we'll tell you about it so if you see this COVID hygiene measure in the wild you can thrill your friends by pointing out its made by one the Europe's biggest video slots producers!
Merkur Games in the Online Casino Word
They are a massive corporation, and they operate around the world.
Merkur Games are available in about half of the casino sites in the UK market. They are not yet in the top 100 UK market suppliers though.
Maybe that will change in time, as the company tries harder to establish itself in the world's most important online gaming market. You can expect to see more Merkur promotions and Merkur Gaming-related offers if they try to do this.
Merkur Currently has no games in the top 100 UK titles, and in fact, they only just squeeze into the top 1,000 titles. So it's fair to call this company, the 102nd most popular slot provider in the UK something of a minnow as yet.
Let's have a look at some of their more popular games.
Top Merkur Slot Machines UK:
Fruitinator
This is a classic slot on a 5 by 3 grid with a 96% theoretical return to player and low to medium variance. There's a big top prize though, worth 100,000 coins, and you can bet between 5p and £100. It's low on the bonus features, with old-fashioned gambles the main bonus. Released in 2012, this game remains the top title for UK players.
Multi Wild
This is another classic game from Merkur Gaming. It's got a classic 5 by 3 grid layout but with a lot more pay lines this time, 81 in total. The RTP is also very good, heading up towards 97%. Variance is towards the high end of medium, and the top prize is 40,000 coin on betting from 5p to £20. This game was released in 2016.
Tribe of the Sun
This is a more recent release from Merkur Gaming, coming out in 2019. It has an RTP of 96.02%. There are 30 pay-lines on its 5 by 3 grid, a gamble game, free spins, multipliers and wilds. The game is based on a Native Americans theme and has a top prize of 1,000-times stake, which can be from 30p to £60.
Salmon Catch
We've enjoyed the trend towards more nature games. This theming makes a refreshing change from the never-ending parade of war, combat, and conflict titles (we think these games are probably themed to be more attractive to female players, though that's just a hunch). This is a nice example of the genre, with foxes, fish, and eagles on the reels. It's a 5 by 3 grid with 10 pay lines and a lot of features for a Merkur game, including a symbol collection game, free spins, the company's risk game, and wilds. The game has a 100-times stake top prize, with low staking up to £20, starting from 1p.
Dreaming Island
If you like tropical-themed games then get on the boat to Dreaming Island, a game based around the clichés of Pacific Island cultures. The game has an original, non-standard reel set, growing up to 5 symbols in height. It's got a 96% theoretical return to player, and a smallish top prize of 40-times stake. The reels give you a load of bet ways, with 144 pay-lines on this game, which was released in December 2019.
Dragon's Maid
This medieval, fantasy-themed game came out at just around the same time as Dreaming Island and has some similar features. The game has a free spins round as its main bonus. You can bet from 10p to £80 on this 5 by 3 grid game with a 25-times stake top prize.
Zentaurus
Mythology and Ancient Greek culture are at the heart of this game, which plays out on a classic 5 by 3 grid, in what it's clear is the Merkur Gaming house style. The top prize is higher than many of the company's games at £20,000, which you'll need to bet at the top of a betting range that goes to £10 from 5p. This game has got 20 pay lines and a free spins bonus, the trademark gamble game, wilds, multipliers and more. Do you think the Zentaurus looks a bit like Rio Ferdinand? We do.
Taco Tuesday
Taco Tuesday is the most popular Mexican-themed game from Merkur Gaming. It's a bright and cheerful game, based around some Mexican clichés, teamed with other fast food tropes. You can win 375-times your stake on this 5 by 3 grid with 30 pay lines. You'll want to trigger the free spins round for the biggest prizes, and like most Merkur Gaming games you can risk all or nothing on all your wins.
Magic Mirror Deluxe 2
This is our first sequel though it's been around for a long time, coming out in May 2012. It's a game with a top prize of 50,000 coins, on betting from 10p to £100. The layout is the standard 5 by 3 grid, with just 10 pay lines. Free spins are the main bonus feature on this magic-themed game that also has the risk game and wilds.
Ghost Slider
This 2015 release has an RTP of 95.91% and a top prize of 50,000 coins. You can enjoy a wide betting range from 10p to £100. There are 10 bet lines on this game that's themed around ghosts, highwaymen, and aristocracy.
Gold Cup
This is a soccer game released in 2010, so it's one of the oldest games on the market! High variance means that you'll be on the hunt for bigger prizes, but they won't land quite so often. The game is based on soccer kits, and that big top prize is 100,000 coins, which is high for Merkur. You can bet up to £100, staring from 5p on a 5 by 3 grid with 5 pay lines.
Blazing Star HD
This 2018 release is another relatively simple fruit game but given a sort of spacey makeover. Fruits make up the paytable for a 5 by 3 grid game. The RTP range (around 96%) means that you need to check the settings on the game you're actually playing in order to get the best deal when you play this game.
Convertus Arum HD
This game's odd name signals a magical, fantasy theming. It was released in 2015 and is fairly typical of games of the time with a 5 by 3 grid with 10 pay lines. It has a 96% theoretical return to player and medium variance.
Triple Flame HD
Merkur put a fire under a classic slot game here, burning up the fruit symbols on a classic game with a 1,000-times stake top prize and low to medium volatility. There's an RTP range, and the game's main features are all in the base game, with respins, wilds, and substitutions.
Ankaa's Dawn
This game is Viking themed, with a woman warrior journeying in search of gems.
Night of the Werewolf
This 2018 release has just 5 pay lines. It's got an RTP range around 96.85%, and a top prize of 10,000 coins. You can only bet a maximum £10, so it's a decent game for bargain hunters, who can open their betting from 5p. Theming is around the classic horror story, illustrated with drawings on a 5 by 3 grid.
Hot Flame
This really is a very classic game, with a 3 by 3 grid, and our old friends, the fruit symbols. It was released in 2018 and is a very minimalistic game by modern standards with just the gamble feature, and a multiplier as bonuses.
Coffee House Mystery
This game is more sophisticated than many Merkur Gaming releases, with expanding symbols, free spins, giant wilds, doubling reels and more. The main bonus feature is a free spins round. The theming is involved too, with a detective story in the Cluedo style taking place on a 5 by 3 grid with 40 pay lines.
Merkur Gaming in 2020
Merkur Gaming like all decent slots producers keeps the new releases coming.
In 2020 they were producing titles regularly, including:
Ankaa's Dawn, a game themed around a Viking woman, and featuring a very Merkur style set-up and set of bonuses. There's a free spins game, with extra wilds, a risk game, symbol swaps and more in this nice looking game that rewards players with up to 500-times their stake on betting from 10p to £20. The 5 by 3 grid has 10 pay lines.
Pop Art Fruits follows the usual route for fruit-based games, with a bright and relatively simple set of symbols you'll have seen 100 times before. You've got betting from 5p to £10 with a top prize of 50-times your stake. The game is light on features with just the Merkur risk game and wilds. The RTP of 96% is also very standard in the industry.
Fountain of Fortune is a video slot with a 5 by 3 grid and 243 ways-to-win rather than standard pay lines. It's based around, well, rich people, but despite this has a relatively low prize of just 10-times top stake. The max bet of £200 could make that a very big prize though. There are a fair number of bonuses including respins, a bonus wheel, and a free spins round.
Tri Piki came out in July 2020 and is based on Hawaiian culture and the Pacific Ocean. It's got a nice, laid-back feel and an RTP of 96.7% to go with it.
Treasures of Egypt is Merkur's recent Egyptian-themed release from July 2020. It's a 40-pay line game with a top prize of 30-times your stake and themed as you would expect it to be.
Forbidden Princess is a fantasy-themed game with rather adult graphics! It's very stylish and slick in its presentation and comes with respins and free spins. This game was released in August 2020 and has an RTP range starting at 96% and is high variance. RTP ranges mean that the site that hosts the game can set the RTP value. Hit on one of 20 pay lines to win with the Forbidden Princess.
What to Expect of Merkur Slots
Merkur slots, like any other company, tends to have a style. Your best guide to judging their graphical style is to take a look at the company's preview material and to load up a demo and play.
When it comes to game-play the Merkur style is quite simple. Games tend to be designed to a classic template of 5 by 3 grids and without massive numbers of pay lines or particularly novel ways of delivering winning combinations. Bonus features are generally simple too, and the Merkur standard feature is their risk game. Prizes also tend to be on the low side, with multiples of stake often under 100, which is unusual in the current market. The other stats tend to be very generous though, and there's no reason to think you won't have a rewarding time playing Merkur Slots. Check whether the game you're playing has an RTP range as this can mean you're playing for lower prizes.