Rarestone Gaming is an Australian development company that is now part of the Playtech gaming family.
Although from Australia, Rarestone brand themselves with Chinese calligraphy too, marking an important shift in the world market for gambling games.
The company was founded in 2016. As they have only 21 slots on the UK market at the moment we'll dive in and simply take you through their titles, the most popular first.
Best Rarestone Gaming Casinos to Play Rarestone Slots
Rank
Casino
Bonus
Rating
Visit
Most Popular Rarestone Slots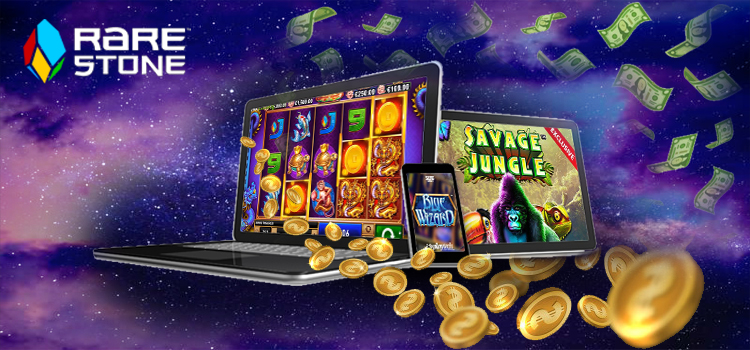 Blue Wizard
The Blue Wizard slot game was released in July 2019 and at the end of 2020, it was a UK top 20 titles. The game is themed around magic, in a fantasy medieval setting, and is bright and colourful, with a colour palette that the title gives away. Mathematically it's kind of middle of the road, with a 96% or thereabouts theoretical return to player (RTP) and a 5 by 3 grid setup. It looks and sounds lovely, and players will be aiming to unleash the magical power of a four-level Fire Blaze jackpot prize that can be worth £10,000.
Adventure Trail Fire Blaze Jackpots
A Victorian (or maybe Edwardian) explorer in a pith helmet is the key character in this mystery adventure game that also links to the company's Fire Blaze jackpot feature. Golden monkey gods are the key symbol in this feature-rich game, triggering the jackpot respins game that is available in both the main game and the free spins bonus round. This is another nice looking game, with industry-standard RTP and other stats, and a decent retro game set up.
Pharaoh's Daughter
I wonder to what extent slots might be a big plus for Egyptology? Certainly, designers can't stop giving players games set in Ancient Egypt or engaged in digging it up. This title came out in July 2019, and is very much in the classic vein of this style of game, with the addition of Fire Blaze Jackpots offering big prizes on top of a game with a bonus round of free spins with a wandering reel. A 96.5% RTP is decent, and you can see why this nice looking and sounding game remains popular, and in the UK top 100 titles.
Eternal Lady
We've mentioned Chinese and East Asian theming in Rarestone's gaming and Eternal Lady is an example of this. Again, Fire Blaze Jackpots add a big top prize, and a free spins round comes with the addition of an extra set of stacking wilds. If you check this game out in concert with the other titles we've covered here you'll see that we're dealing with a design template for these games. Again, the rtp is a very nice 96.5%, the top prize in the pay table is 2,000-times stake, and there are 50 pay lines on a 5 by 3 standard grid. This game came out in June 2019.
Sky Queen
This time our cultural travels courtesy of Rarestone take us into the Mayan civilisation of Central America. (Like almost all such games, Sky Queen takes well-known tropes and sometimes stereotypical images from a complex and interesting culture – if you find it fascinating use this as a jumping-off point for more involved study!) Again, we have a 5 by 3 grid on which there are 50 pa lines with a 96.5% rtp. The variance is medium to high, which means bigger prizes than average will be won, but they will probably be won less often. The Fire Blaze Jackpot adds to the 500-times stake that's the top of the pay table, in this March 2019 release.
Book of Kings
This is a Rich Wilde-alike game in many ways, with the "book" theme and a young woman taking the archaeological lamp into the spooky tomb of the Pharaoh. This is a recent release, from March 2020, and has a 200-times stake top prize. The bonuses are well developed, with a random giant symbol in free spins and multipliers to boost the prize potential in those rounds. It's got a smarter cleaner control panel than some of the older Rarestone games and is a pleasure to play, with glittering reels set against a desert backdrop.
Jinn's Moon Fire Blaze Jackpots
So you know you're going to find the four-level big prize games from this title, which has an Arabian Nights/Aladdin theme. Magic carpets and treasure dance across the 5 by 3 reel grid, along with those Rarestone favourite 50 pay lines. The top pay line prize is 2,000-times stake and there's a tiny boost to the RTP, up to 96.58%. Betting up to 500 coins and a medium to high variability along with those jackpot games makes this one for risk-tolerant players, but the rich feature set – free spins, a hold and spin jackpot game and more – offers plenty of gameplay interest too.
Golden Macaque
The Golden Macaque slot game was released in August 2019, and it's another Fire Blaze Jackpots title, themed around a temple-dwelling monkey and East Asian astrological themes. RTP of 96.5%, medium to high volatility and the grid are familiar Rarestone set-ups, but the Betways are switched out for a ways-to-win formula with 243 potential prize combos. There's a lot to enjoy in this engaging and good looking game that's one of the stand-out Chinese-themed titles of recent years in our view.
Gold Pile Toltec Treasure
A big release in August 2020, Rarestone have to be congratulated for doing something original here! We have Mayan games, we have Aztec games, and we have Inca games, but we think this is the first Toltec game! Anything that encourages a respectful interest in different cultures is good as far as we're concerned. The Toltecs are generous, offering up a 4,000-times stake top prize on betting that rise to 500 coins. A 5 by 3 game with 25 pay-lines is the standard set up that hides a really great set of gameplay features that include guaranteed extra wilds in free spins and an energy collection game. This game is new, but we think it's likely to hang around for a while.
Tsai Shen's Gift
Released in July 2019 this is a lovely looking title with the Fire Blaze jackpots feature as the top prize. Rarestone's standard game board is the framing for a Chinese magic theme, with bright, contrasting colours. The main extra in the gameplay is a 3 by 3 mega symbol, and the Fire Blaze Jackpots deliver the usual gameplay excitement in that game. The mathematics are standard for Rarestone games of this period, with 2,000-times stake top prize, 50 pay lines, and 500 coins top stake. The volatility on this game is higher than most Rarestone titles, so it's one for patient, big-prize-chasers.
Amazing Factory Fire Blaze Golden
A very new release from Rarestone Gaming, Amazing Factory hit the UK market in October 2010. The rtp is 96.5%, and the game board is a 5 by 3 grid though with 40 pay lines this time. The familiar Rarestone gleaming symbols on a dark backdrop are themed around, well, a mechanical factory of some sort. The jackpot pays up to 1,000 times stake, with the hold-and-win model that is familiar from Rarestone's previous Fire Blaze Jackpot Games.
Kingdom's Rise: Legend of Elvenstone
Here we see the tie-in with Playtech having a real impact, as Rarestone is allowed to develop a title in the massive Kingdom's Rise series. Released in the summer of 2020, this fantasy title throws plenty of nice variants into the game, including a pretty wild drop feature in the base game, and a continuing map game with video game-playing features. The top prize is 1,000-times stake, but the rtp is downed a little to 92.85%, and the volatility is just medium. Few Rarestone games look as pretty as this one.
Hainan Ice
At the start of 2020, Rarestone released this ice-cream themed game, with big, bright fruity colours. Using the 243-ways-to-win game model, Hainan Ace uses a 5 by 3 grid and Rarestone's favourite RTP figure (96.5%). Mega symbols, multipliers, scatters, free spins, and stacking wilds are the major gameplay extras, and the game frames are nicely designed around the theme.
Tiger Turtle Dragon Phoenix
East Asian cultures inspire this September 2019 release with a very nice RTP of 96.94%. There's a jackpot game delivered in a different way to the Fire Blaze series with a prize pick game. Other parts of the game will be very familiar though, and like all of the Rarestone games we've looked at in this series, it looks lovely and plays very well.
Gem Splash Marilyn Monroe
Released in August 2020, this is an interesting theme for a 2020 release. Adding some art deco flourishes to the Hollywood glamour theme, this is a standard Rarestone title in many ways but has a new feature in the shape of the Gem Splash, a pink symbol that awards a Gem Drop prize.
Tiger Stacks
Released at the end of 2019, Tiger Stacks has a Chinese/East Asian theme and has Rarestone's usual adept design in this genre. The jackpot game is themed to the game rather than the Fire Blaze series, and the main gameplay extra is a choice of free spin features that balances the number of free games against the accompanying features: tiger symbols that transform into wilds. The RTP is 96.06% on a standard 5 by 3 grid with 30 pay lines. Big bright symbols fill green jade reels.
Quest West
Going West is the way to adventure from China just as it was in the early days of the USA. This game came out in August 2020 and its hero is Monkey, the ancient, chaotic god-figure introduced to a generation of UK school children by an extraordinary TV series that's well worth your attention. The heroes of that series are nicely represented in this game, which has very similar features – including the free spins – of many of these games, delivered with fantastic aesthetics.
Jinfu Long
There is more Chinese mythology and imagery in this title from March 2020 that uses babies as the jackpot game-winning simple. The free spins come with lots of options, allowing players to set the overall number of symbols on the reels. It's a really fun game to play and delivers some very nice top prizes as well as an enjoyable spin session.
Pearls Pearls Pearls Fire Blaze Jackpot
Released in November 2929, this game is an undersea treasure hunt with anime style graphics detailing the exiting life of a mermaid and her friends – octopuses, turtles, jellyfish…. It's great looking and has a big top prize of 5,000-times stake and 96.5% rtp. The game has a 5 by 3 grid and 30 pay lines. The game play is also rich and rewarding, in the style of most of the Rarestone Gaming titles here.
Coming Soon from Rarestone
Sisters Gift Fire Blaze Jackpot and Jane Jones Book of Kings 2 are on their way from Rarestone at the end of 2020.
The games are going to be worthy additions to the company's roster if previews are anything to go by. Jane Jones brings back the archaeologist from Book of Kings and sends her off to the Himalayas to look for treasure. Sisters Gift is an East Asian themed game with a very female-friendly aesthetic that features four young women set against a mountain backdrop.
Conclusion about Rarestone Gaming
Rarestone Gaming are a well-established and trusted game provider. Linking with Playtech only adds to their reputation and you can play games from this company with complete confidence that you are going to get a fair and honest experience.
To play Rarestone Gaming games for free you will need to sign up at a review site for age verification purposes and play the games on demo mode. Or you can join a casino site and use free spins or welcome bonuses to enjoy free games with wagering or demo mode to play for free.
Always play Rarestone Gaming games only at licensed UK casino sites and always make safe gambling your first priority when you make spending decisions around online gambling.