Spanish News Reporter Thought She Had Won Lottery, Quits Jobs on Live TV
December 31st, 2019 10.00am
Hitting a lottery jackpot is something that can occur once in a lifetime, changing a person's life – hopefully for the better.
When something like this happens, many choose to quit their boring jobs and focus their time and energy on spending the money they won.
One news reporter was ecstatic after discovering the numbers she picked were the winning ones. To make things more interesting, she was so sure that the Spanish El Gordo Lottery Christmas bonanza jackpot was going to change her life that she decided to quit her job. On live television!
Winning "The Fat One"
Natalia Escudero, a long-time journalist working for the country's the state-owned public broadcasting corporation RTVE, learned she hit the jackpot whilst reporting on the lottery draw at an event held in Valencia. According to the initial information, the lucky winner of the ticket number 26590 scooped a staggering main prize worth a little over £340,000!
We can certainly imagine she was happy after finding out she won the jackpot, as she shared her joy with viewers all over the country, during a live broadcast. She said she wouldn't be going to work the next day, while at the same time waving her finger. Well, you don't get to win nearly £350,000 every day, and at that moment it appeared all of her problems were gone.
"It's not The Truman Show", Natalia said, which was referenced to a famous 1998 film starring Jim Carrey, depicting a man whose entire life is aired 24 hours a day, every day in a reality TV show.
Once the cameras were turned off, Escudero continued to celebrate this truly remarkable feat with plenty of champagne.
And Then… the Plot Twist
After working as a journalist for 25 years, Escudero's reaction was far from what a professional should have done. The move was seen as rude and arrogant, as well as disrespectful toward her coworkers and viewers. But most importantly, it was real career suicide.
But who cares what others think when you have more than £300,000 on your bank account? Well, she doesn't have that much money on her account, nor will she have, at least not in the foreseeable future, as her life-changing win turned out to be a very complex arrangement.
El Gordo, or "The Fat One" is a very popular and extremely lucrative Christmas draw, held every year. And instead of picking their numbers, retailers are handed out numbers that they sell to customers across Spain.
Each of the numbers sold comes with 10 tickets, which together make up one sheet. As entire sheet are quite costly (around £1,700), retailers often break them into individual tickets, that are further broken into "decimos", which cost £17 each. This allows retailers to sell more tickets.
In the end, it's the amount wagered that will determine the share of the main prize. Escudero learned that the hard way, as the portion of the prizes, was close to £4,300, which is not enough to quit your job in front of cameras.
Damage Control
After discovering she hadn't become rich, Escudero tried to explain her reaction and even apologized for her rant during the live broadcast.
She posted a statement via Twitter, saying she had been through a rough period in her life, but pointed out that during her career she had upheld a proven work ethic.
She said it was said that everyone now believed Natalia Escudero was a manipulative journalist.
It's still unclear whether she has managed to convince her former employers to give her the old job back.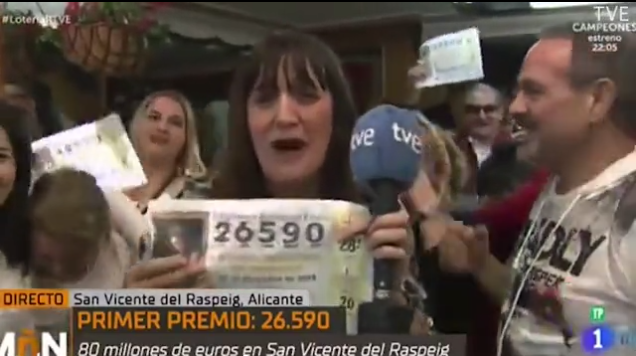 "It's not The Truman Show", Natalia said.