Playtech is one of those software developers that have been around forever (that's what 1999 feels like at this point), and as of today have managed to produce and market more than 500 games.
On top of having hundreds of slot games to choose from, Playtech's slots portfolio is exceptionally versatile and therefore capable of pleasing pretty much everybody, regardless of their taste.
When compiling the top 6 Playtech Slots list we tried to reflect this versatility and make you want to explore further—there's simply too little space to address the numerous gems hiding in Playtech's gaming catalog.
6 Top Playtech Slots in 2022
Without further ado, let's jump in the top Playtech slots in 2022:
#6. Ocean Princess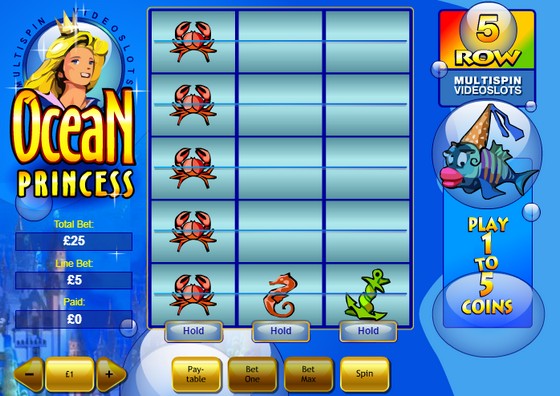 Even though classics are going out of style, this one had to be on the list. Why? Because it's a multi-spin game, where your first press of the Spin button only turns the bottom line, giving you the option of holding one, two, or all three reels.
The ones you choose to hold will become fully occupied with the same symbol and hitting the button a second time will only spin the reels that were not held.
Check it out at Mansion Casino or Videoslots; it's basic yet distinctive.
#5. Pink Panther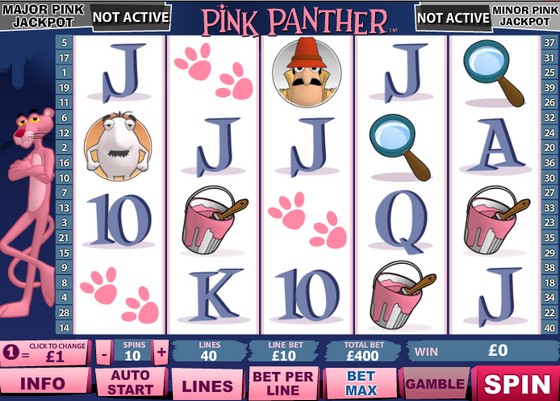 This game is all about having a good time.
You'll be treated to four exciting bonus rounds that will be activated at random. Pink Panther opens safes to find free games, multipliers, or an expanding Wild on reel 3, and if he comes upon a safe containing explosives, free spins will begin with any goods he has managed to grab. Pink Panther and his little pal paint a wall of numbers in pink and blue for the Color Pink Bonus, with the number of pink digits being the multiplier for your current stake.
Pink Panther will spin two wheels in the Wheel of Pink Bonus, the outer one providing cash rewards and the inner one allowing you to re-spin or collect. Inspector Clouseau follows footprints to discover the stolen diamond in the Pink Trail Bonus and each footstep earns you an immediate prize. You'll be given the option to gather or continue at various moments, but be wary of the traps!
Finally, there are two progressive jackpots, both of which are activated at random, and the jackpot game is just as inventive as the rest of this entertaining Playtech slot. It's a must-try and you can do it at William Hill or Paddy Power.
#4. The Mummy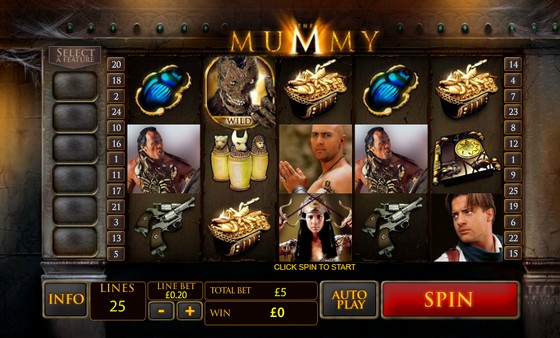 The original film was fantastic, and the Playtech slot is no exception.
It includes a Lost City Adventure Bonus that is activated at random and requires you to choose boxes for cash and unlock more features. The Expanding Mummy feature lets Wild icons extend, the Scarab Attack ads random Wilds, Collapsing Reels remove winning icons and replace them with fresh ones, Mummy Power adds a Wild multiplier of up to x9, and Mummy Respin freezes Wilds while others re-spin.
Wild symbols are gathered and saved during the free games, then randomly placed back to the reels before the Super Spin. You'll be sent into a pyramid to hunt for mummies for cash in the Mummy Hunt Bonus round.
While exploring the pyramids at Videoslots or William Hill casino, be careful not to get ambushed.
#3. Superman II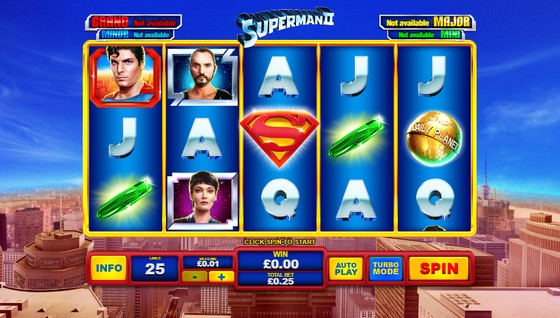 It's a bird, it's an aircraft… Well, you get the idea.
Superman randomly flies across the reels in this feature-rich Playtech game, turning up to 5 symbols Wild. Scatters activate the Daily Planet Headlines Bonus, which allows you to choose from five different features. The game Battle for Metropolis is a point-and-click adventure. Phantom Zone awards cash prizes, Skyline Fight awards free spins with a freezable free games counter, X-Ray Vision allows you to spin for free while accumulating Wilds, and the Lois & Clark Bonus prompts you to gather shields to receive quick rewards.
Finally, the Jackpot Game ensures that you will win one of four surprise jackpots. If you're seeking a thrilling experience, Mansion Casino is amongst the places to go.
#2. Batman & The Batgirl Bonanza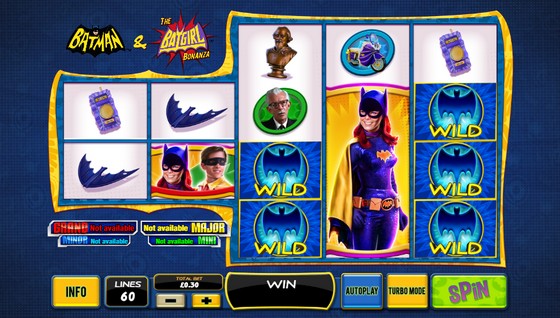 All of the slots from the "Batman &…" series are some of our favorites. Batman & The Batgirl Bonanza, like the others, is unique in more ways than one – design, reel structure, features… It includes Batgirl Locked Respins, which lock the first two columns while the others spin again, and Co-Op symbols, which can substitute for any of the two characters presented.
Matching superheroes triggers the Team-Up Free Games, in which the first two reels combine to form a massive 22 symbol. This is a great Playtech game and you can't go wrong with any of the others in the series.
Play them at Paddy Power to prove me wrong.
#1. Monty Python's Life of Brian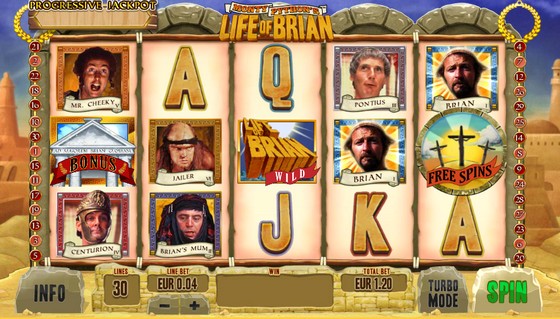 I'm not sure what happened to the funny Playtech slot 'Monty Python's Spamalot,' which is no longer available, but Life of Brian isn't terrible either.
Bwian (sorry, Brian) will fall from the sky after any losing spin, turning a stack of symbols Wild and triggering a re-spin. When the Foot of God stamps down you might win a random cash award, and once you've earned Free Spins, you'll need to gather coins to activate the Crucifixion Bonus and win more free games, retriggers, or cash. The Life of Brian extra allows you to choose from four different features by spinning the wheel. Stoning Bonus offers you to "participate in some family enjoyment" by selecting people to hurl stones at in exchange for cash.
People's Front of Judea Bonus requires you to choose icons to discover "monstrosities" created by Romans and get immediate rewards once again. The Romani Ite Domum Bonus requires you to select portions of the palace wall where Brian may write messages to the Romans, and he will continue painting and increasing the prize until the sun comes out. Brian is grilled by Pontius Pilate as his guards can't stop giggling in the What's So Funny Bonus; the longer your selected guard manages to resist the temptation, the larger your prize.
There is a slew of additional amusing small things that I'll leave it to you to uncover at Mansion Casino.
Casinos to Play Playtech Slots in the UK
What Is Playtech?
As they like to put it, Playtech is the world's leading provider of online gambling software, with shares listed on the London Stock Exchange Main Market. The industry's top operators benefit from their cutting-edge, value-added solutions. Playtech's strategy has been centered on the continuous development of best-of-breed gaming products and content since its founding in 1999.
A variety of brand names are used by the firm. Virtue Fusion, a bingo platform that is widely utilized in the market and is also a major outlet for slot games, is one of them.
But it doesn't end here because – believe it or not – there's a Poker platform as well owned by the company. It's called iPoker.
Moreover, Playtech BGT Sports, a subsidiary of Playtech, is a software that specializes in bookmaking and they provide the UK betting shop market with self-service betting terminals.
The figures are staggering. In 17 countries, Playtech employs 5,000 people and, thanks to its 140 licenses, it can operate in 20 regulated areas.
The History of Playtech
Playtech was founded in Estonia in 1999. The founder of the company is an Israeli gentleman called Teddy Sagi. By 2001, the business had developed and the company was producing casino products which then began licensing to the biggest brands in the gaming industry.
Playtech was officially listed on the stock exchange in 2006 and since then, their casino software is among the most used in the gambling industry.
If you're interested in business, the company's past is fascinating. It's not unusual for a gaming corporation to have hundreds of millions of dollars in revenue and many acquisitions. Aristocrat Lotteries and YoYo Games are two that stand out.
Playtech has previously partnered with major brands such as Marvel Comics and is currently a partner with Warner Bros.' DC Comics assets.
By purchasing BetBuddy, a responsible gaming firm that monitors player behavior and statistics to flag players who may get into trouble, Playtech has also done some substantial work to ensure safer play.
Playtech Products and Services
Let us have a look at some of the core products Playtech provides. For convenience, we're only going to mention the ones that are relevant to the online audience; online slot and online casino games.
Playtech creates software products that are utilized by both the end-user, and the casinos where the users play. Each group's sales prospect is usually not the same.
Playtech Casino Software
The majority of the games are slot machines. It's a "full Omni-channel package" with "high-performing content" for casinos. The Playtech slots portfolio has over 700 games, making it the largest in the business. It is huge and includes a lot of sub-brands and partners.
Big Playtech Slot Titles
Playtech Origins is Playtech rebranded as "Origin" to reflect the company's growing number of new partners. Batman, Superman, and huge blockbuster titles like White King and Buffalo Blitz, as well as the intergenerational sequel monster Age of the Gods, make Playtech the company with all those big tie-ins.
'Playtech Vikings' is the company's development studio, which we'll presume is situated in Sweden. It has produced several famous Playtech products, including the Age of the Gods series, Ice Cave, and Legacy of the Wild.
Playtech bought Ash Gaming in 2011 after it was launched in 2002. It's given birth to a slew of tie-in titles, as well as timeless classics like Leprechaun's Luck. Psiclone Games is a British company that was acquired by Playtech in 2014, seven years after it was founded. Their most well-known title is arguably Fairground Fortunes.
Some other not-less-important products – like online slots, but not only – provided by Playtech are listed below:
Quickspin was taken by Playtech
Playtech Poker
Playtech Live Dealer
Playtech Roulette, Blackjack, Bingo, etc.
Virtual Sports Betting
Sports betting
Lottery
Retail
Mexos
Financial Products
Cross-Product Suites
Playtech Slots FAQ
Do you still have some questions about Playtech? The answers to these frequently asked questions will probably help:
#1. What is a Playtech Slots Machine?
Playtech has one of the greatest online slot game collections, with a game to suit any slot game player's preferences. If jackpots are your thing, you may pick from a variety of games with potentially life-changing prizes every play.
#2. What Playtech Slots Have the Highest RTP?
The Playtech online slot with the highest RTP is Ocean Princess with 99.07%. It consists of 5 pay lines, 5 rows, and 3 reels.
#3. Is Playtech a Real Shop?
Playtech is a software company that develops games for casinos and online gambling sites; however, it is not a real store.
5 Other Playtech Slot Games to Enjoy
Holy Cats, Batman! – Holy Cats, Batman! is a high-stakes, superhero-themed slot with a £625 maximum wager limit, which is modest but still substantial.
Zhao Cai Jin Bao – Zhao Cai Jin Bao is a high-stakes 5-reel, 9-payline slot with a hefty maximum prize of 500,000 credits.
Santa Surprise – Santa Surprise is a high-stakes Christmas-themed 5-reel, 20-payline slot with a maximum wager of £1,000 each round. This game is an ultimate Christmas-themed slot, so you definitely don't want to miss out on playing it.
Age of Gods: Goddess of Wisdom – 'Age of Gods: Goddess of Wisdom,' another Playtech high stakes slot with a £1,000 maximum wager, is based on Greek mythology.
Ghosts of Christmas – This 5-reel, 20-payline high stake slot, inspired by Charles Dickens's classic novel A Christmas Carol, enables you to spend up to £1,200 and has gorgeous images, charming animations, and fantastic sound effects to keep you engaged.
Related Articles