While some developers keep wowing us with amazing visuals, Real-Time Gaming (RTG) brings something else to the table. Though they do have decent visuals, it's the sheer number, diversity, and generosity of features that have made them as popular as they are today.
So we've come up with a list of the best RTG slots for anyone who, like us, values originality and the fun factor while playing.
And with that in mind, let's dive right in!
7 Best RTG Slots in 2021
#7 Food Fight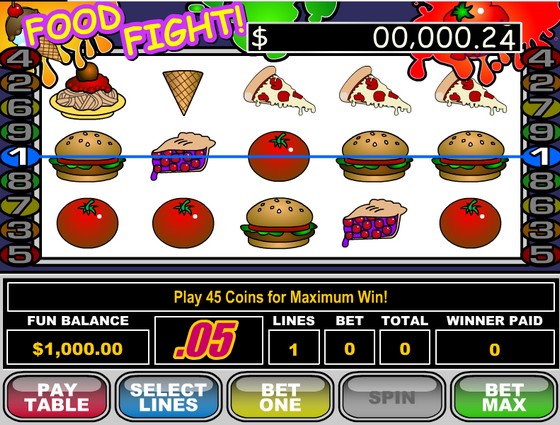 Food Fight is rarely mentioned among top RTG games, but we think it's peachy. It comes with a fun Ice Scream Scatter Bonus triggered by collecting three pieces of an ice cream cone and paying up to 405 credits.
The Food Fight Bonus round requires that you collect 3 pieces of a pie which is then used to target unsuspecting victims. Each splat earns you cash and you can keep tossing until you miss. Apart from being strangely entertaining, this little exercise could win you almost 4,000 credits. This is guaranteed to be your most rewarding food fight ever.
Make sure to also check out our selection of the best Yggdrasil slots!
#6 Henhouse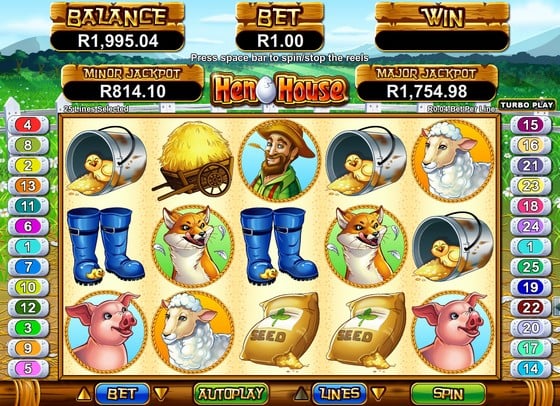 Henhouse comes with free game rounds combined with a fun Pick feature every three rounds. You'll be prompted to choose among 9 hens to discover regular eggs, a golden egg, a rotten egg, or a bonus symbol.
In round one, an egg awards additional spins and another pick, while a golden egg adds spins and grants entry into round two.
In the second round, your standard egg increases the multiplier and offers one more pick, while a golden egg opens the door to round three.
In the third round, a bonus icon acts as an additional sub. Obviously, you want to stay away from the rotten egg as it will promptly get you kicked out of the henhouse. If you want to try something a bit different, go collect eggs at a US-based casinos now.
Fancy a game of poker but don't want to get out for a game? Learn all about online webcam poker!
#5 Double Ya Luck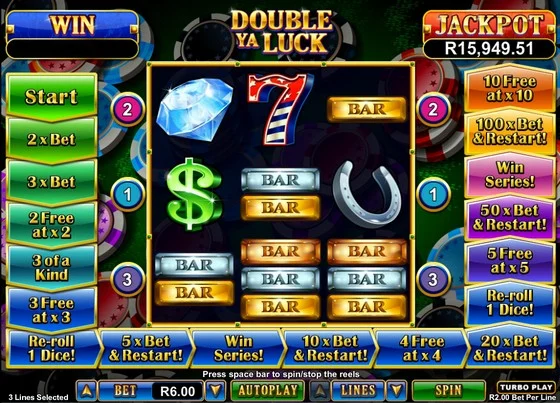 Quite a few RTG 3-reelers are far simpler than your average classic, and Double Ya Luck is an excellent example. It's only got 3 paylines and plays with traditional symbols such as BAR, Sevens and dollar signs, but that's where the similarity stops.
A chip marked "Double" acts as a substitute which doubles the prize and lining it up with those reading "Ya" and "Luck" launches a 50:50 Gamble feature that offers you a win of up to 40 free games with a x4 multiplier.
Additionally, there's the Boardgame feature, which positions your token on the Start field of the board, while the sum of the numbers rolled by triggering dice moves you around to win cash prizes, free spins, 3-of-a-kind combos, or the progressive jackpot. Check out this unusual classic at US-based casinos.
Love to chase the thrill of a high stakes game? Here are our favourite high stakes roulette games at the top uk casinos.
#4 Lucha Libre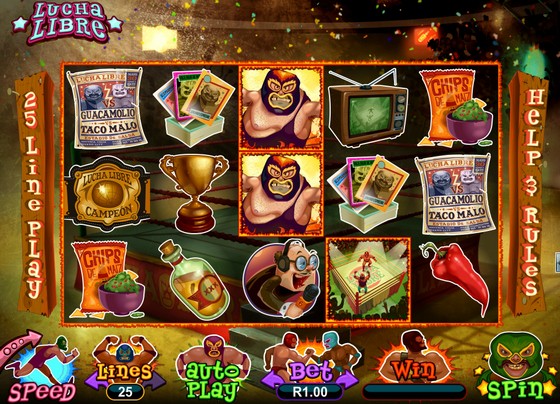 Here's another game rich in features and with an interesting theme for our best RTG slots countdown.
The wrestlers are your grouped Wilds and when one lands to occupy the entire reel, it will either double the prize or jump on one or more additional reels.
Then you've got two Scatters to benefit from. One will launch the Rumble feature, which offers a choice between 3 fighting moves and, depending on whether they help you beat your opponent or not, you'll get a number of free games complete with a multiplier.
The other Scatter triggers the Mask of Fiery Doom feature, which holds up to 4 reels of Scattered masks while others re-spin.
Amazingly enough, there are no progressive jackpots, but who needs them with the top payout per spin being 50,000x your line bet? Get into the fighting ring at USA based casinos.
For more quality slots, check out our list of the top Reel King slots!
#3 The Big Bopper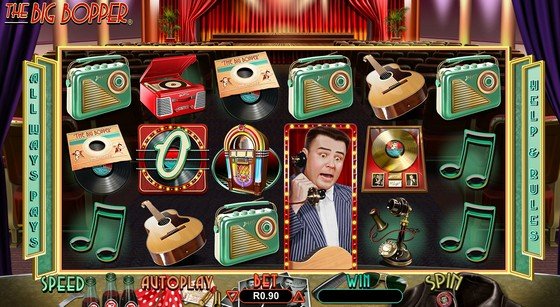 Hidden among tons of the usual 5-reelers are the occasional 6-reelers such as The Big Bopper. In case you're too young to remember the name, the Big Bopper is in fact rock & roll star Jiles Perry J. P. Richardson Jr, famous for his 60's recording of "Chantilly Lace".
In this game, the man himself is a tripling Wild (seems RTG can't do a Wild icon without a multiplier attached…not that we're complaining), while Scatters launch a re-spin or one of 3 features:
An instant win depending on how long the Big Bopper keeps singing Chantilly Lace (going as high as 250x your bet)
Up to 45 free games with x10 multiplier
A batch of free spins with a high-value symbol replacing the triggering icons
Play to the sound of popular 60's tunes at USA based casinos.
Want to enter a world of wonder and enchantment? Try Wish Upon a Jackpot!
#2 Cash Bandits 2
When an RTG scores a hit, they never fail to produce a sequel. That's why we get to play Cash Bandits 2, with even higher rewards than what the original game had to offer.
First, you've got grouped Wilds. Then there's the Vault Feature, which at the very least gives you 5 free spins with a x2 multiplier, but has the potential to deliver as much as 100 free games with x5 multiplier. How? You'll be offered 5 vaults and a 10-digit keypad to open them. Guess them all right and you'll not only receive a massive free play bonus, but also a chance to re-trigger the feature and spin up to 190 times on the house with your wins boosted by x17.
Oh yes, progressive jackpots are also accounted for. Go win yourself massive prizes at USA based casinos.
Looking for a slot game with a twist? Try Slingo Centurion Slot, a slot/bingo hybrid for loads of fun and rewards!
#1 Return of the Rudolph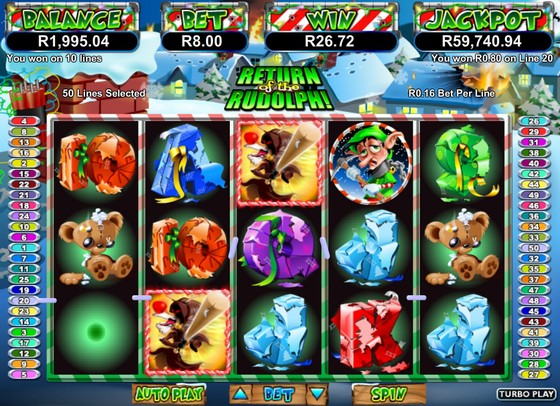 Santa's reindeers as thugs? What a great idea! We don't know if Santa decreased their wages or what, but they've gone rogue and, acting as Scatters, the thugs will award one of three features:
Rudolph's Rampage takes you to Santa's ransacked toy factory to find 3 missing elves, and the less picks it takes you to find them, the more free games you'll win. If you find an elf holding a red present, Scatters will act as additional Wilds while you spin for free, while a blue one quadruples all wins, and a green one makes Rudolph expand over the middle reel.
Santa Strikes Back activates a certain number of free games with the potential to reset the number of remaining spins and increase the multiplier.
Rudolph's Revenge gets free spin wins multiplied by 2, plus the number of Rudolph icons visible on the screen.
This fun take on the often cheesy Christmas theme can be enjoyed at USA based casinos.
If you want to explore more casinos, check out our list of the top 20 UK online casinos!
What Makes Real-Time Gaming (RTG) Different?
As we mentioned already, RTG is a casino software developer that truly stands out in the crowd of developers competing for attention. Heck, even newbies who don't know much about anything when it comes to gambling have probably heard of them. And there's a good reason for that.
Here are the top reasons why RTG stands leagues ahead of most other casino software developers:
Abundant Features – Though the features vary from game to game, one thing is consistent. RTG slots are known for being generous with their features. From free spins to guaranteed bonus rounds, you can always count on getting a little extra something with RTG.
Progressive Jackpots – RTG often offers progressive jackpots, meaning bigger potential wins for a smaller wager. Who doesn't want the chance to win up to 40 or 50 times the usual jackpot size?
Full Compatibility – With so many many different devices on the market these days, compatibility can be a real issue. With RTG you won't be disappointed to find your favorite games unavailable on your device. From iPad, tablets, iPhones, and Android-powered devices, you can play RTG slots everywhere.
Software Flexibility – RTG slots are also super convenient for both players and casinos, since they can be easily tailored to individual needs. Players can download the games and adjust the interface to their tastes, while casinos can change the game policies and practices to adhere to their license terms.
RTG Slots Key Features
As we've already said, RTG really excels thanks to the amazing features they bring to the table. So, naturally, you might be wondering what exactly these fabled features are and what makes them so good.
Here are just a few of their key features and why you should be excited about them:
Free Spins – Everybody loves free stuff – especially when that free stuff can win you big bucks! RTG slots are well known for being generous with free spins, giving players a chance to win real money without cutting into their deposit.
Progressive Jackpots – RTG slots have a Jackpot Pyramid™ feature that connects many slots to one jackpot pool. This is great news for players since the jackpot grows with more people playing, leading to some pretty hefty wins ranging from £1,000 to nearly £1,000,000.
Guaranteed Bonus Rounds – Who doesn't love a bonus round? They account for some of the most exciting gameplay moments in slots. Sadly, these gems aren't always easy to come across. However, RTG's Feature Guarantee™ now guarantees these bonus rounds after 100 to 250 spins if you don't already trigger the event yourself.
Varied Game Themes – RTG has a rich variety of classic games ranging from oriental, mythological, aquatic, and many more. Whatever your preferences or mood demand, RTG is bound to have something perfect in store for you!
Are you looking to invest in high quality gaming and luxury conditions? Learn everything you need to know about high roller casinos to get started!
RTG Casino FAQ
#1. Are RTG Casinos Legit?
RTG slots is a tried-and-tested software developer with a solid reputation dating back to 1998. They offer a safe, secure platform with built-in security systems to protect players.
However, keep in mind that you should always make sure that any online casino you choose to play at should be licensed by a trusted authority.
#2. What Is Real-Time Gaming (RTG)?
Real-Time Gaming (RTG) is an online casino software developer that is licensed by different operators with RTG-powered casinos.
#3. Can I Play RTG Games for Free?
Yes! You can find many free RTG games to play just for fun rather than to gamble. Of course, this means that you won't be winning any real money, so this option is best for players who want to get a hang of the games before making any real wagers.
#4. What's the Best RTG Slot in 2021?
Our number one pick is definitely Return of the Rudolf. Not only does this game offer amazing features but also a really fun, creative take on a classic tale that's bound to provide loads of entertainment!