Rival slots are rarely your regular games of spinning the reels to form winning combos while getting freebies through symbol-triggered features. Quite a few offer an interesting combination of a slot game and a story, developing in stages and offering tons of interactive bonus rounds. You'll also find some corky themes and unusual mechanisms, and even the "ordinary" Rival slots deliver a little something different. Unique developer, excellent games, and once again a tough assignment picking out the best Rival slots. Still, I managed to compile the top 8 list, check it out below.
8. Costume Party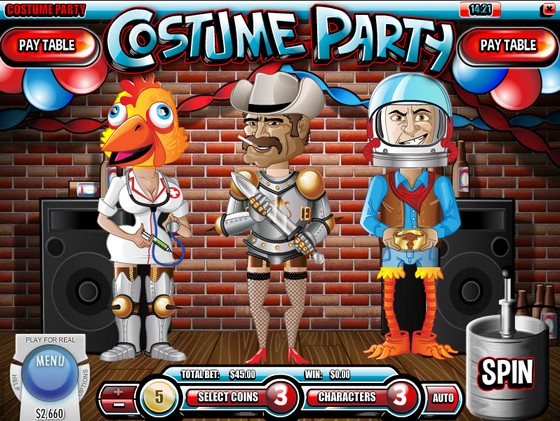 Play Costume Party at Videoslots Casino
Not many reviewers mention this Rival slot but I think it's great simply for being so different to everything else out there. It's a 3-reeler in which reels spin sideways instead of up and down, and winning combos are formed by matching the head, body and legs of various characters. You can pick 1, 2 or 3 characters to play with, and only the active ones will earn you coins when matched up. Wild icon helps by replacing the central body symbol. Everybody is welcome to join this unusual costume party at
Videoslots
.
7. Pigskin Payout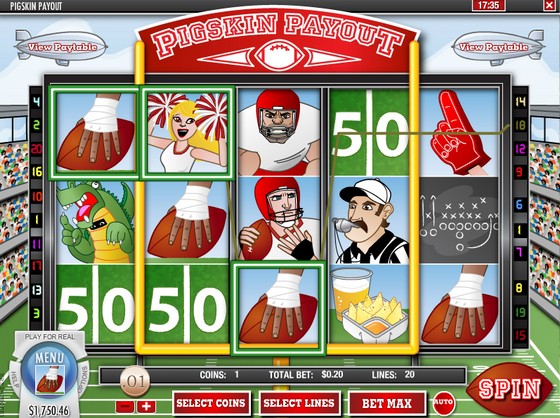 Play Pigskin Payout at Videoslots Casino
Some of you will have guessed this is a slot inspired by American Football, while others (like me) would have no clue what it was about until launching it. Offering a realistic stadium atmosphere with the help of cheers and whistles, Pigskin Payout comes with a real treat: up to 25 Jackpot Can't Lose Spins with the first and last reel going completely Wild and all wins multiplied x3. Wild Cheerleader will sub throughout the game, offering to double the prize while paying up to 7,500 coins herself. Check if those free spins are truly a sure thing at
Videoslots
.
6. Cosmic Quest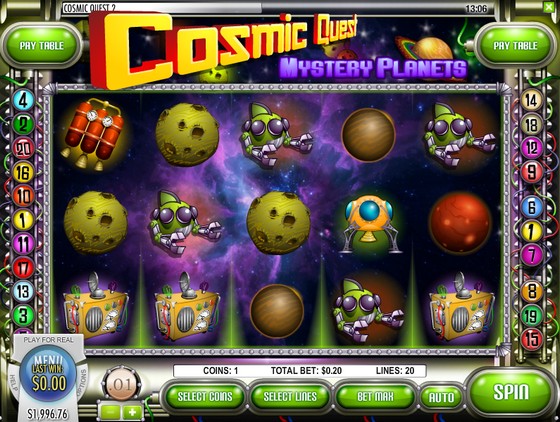 Play Cosmic Quest at Videoslots Casino
Cosmic Quest is a 2-part Rival serial taking place in outer space. In part I, Scattered Monkeys launch free spins with an expanding Wild, while Pink Pilot icons trigger Asteroid Blasteroid skill-testing bonus round. You'll have to get your rocket through an asteroid belt by shooting to destroy them while avoiding collision which will cost you a life. The sequel offers up to 50 free games with double prizes, expanding Wilds (which have been very good to me) and somewhat tough-to-trigger Bonus round offering a skill play or a random win. The first one will ask you to navigate the rocket through lunar passages without crashing into walls (not at all easy!), and the further you manage to get, the more you'll win. One of the best rival slots; Embark on this exciting space adventure at
Videoslots
.
5. As the Reels Turn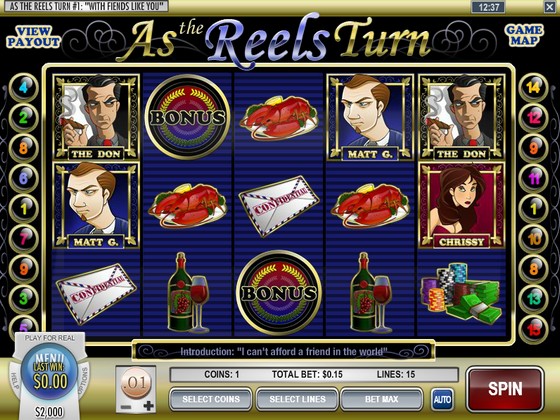 Play As the Reels Turn at Videoslots Casino
This is actually a series of 3 Rival slots offering an inside scoop of what's happening on the floor and behind the closed doors of El Paradiso Casino. Mixing with the Casino manager and his pet Ivan the piranha, lovely Chrissy and the mobsters, you'll be progressing through the story by unlocking 7 scenes with the help of Scattered Advance-To-Next-Scene icons. There are a few more Scatters to benefit from, namely Bonus symbol which triggers Counterfeit Chips bonus round offering instant prizes, Elvis impersonator awarding the Tommy Wong Feature Act prompting you to choose the most popular performer's character, and aforementioned Ivan which triggers free spins with x3 multiplier. A few more gifts will be made available as you move on the game map, so go find out what they are in one of the very best Rival slots at
Videoslots
.
4. Jolly Roger's Jackpot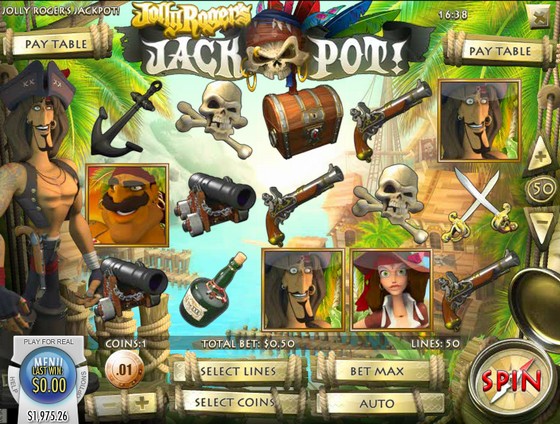 Play Jolly Roger's Jackpot at VideoslotsCasino
Jolly Roger's Jackpot is a pirate-themed video slot delivering over 50 paylines, though one can play with less. Wonderful design and lovely animations come combined with several lucrative features. Scattered pirate will cash out 5,000 coins for five-of-a-kind, Expanding Wild can generously boost your balance when landing on 3 reels simultaneously, and the beautiful female member of the crew will award up to 50 free spins. Having experienced numerous single and double occurrences of the pirate ship, getting the elusive third one will launch bonus round which prompts you to attack enemy vessels by firing your cannons and sink them to collect their treasures. Jolly Roger's galleon can be boarded at
Videoslots
.
Best Rival Slots Top 3!
3. Scary Rich 3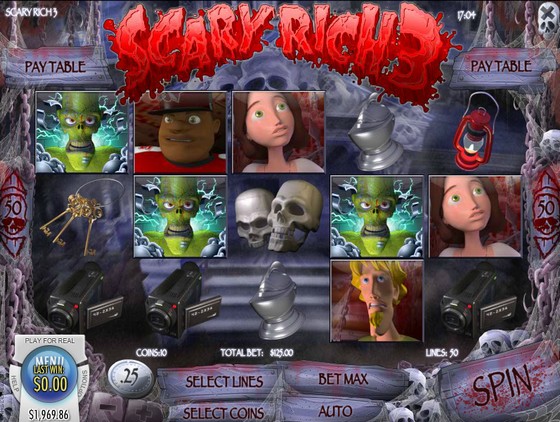 Play Rival's Scary Rich 3 at Videoslots Casino
Scary Rich is one of many Rival series which get better and better with each sequel. It's a spooky affair with blood being spilt each time the reels turn. Wilds come with a multiplier of x2, x5 and x10 during the base game, and will expand over their respective reels while playing on the house. There's up to 666 high-powered free spins to be won courtesy of the old Baron Bluhdsteyn, which would surely give me a heart attack providing creepy visuals and sounds haven't already done it. Clearly this is not a game for faint-hearted, so if you dare, go play this top Rival slot at
Videoslots
.
2. Reel Crime: Art Heist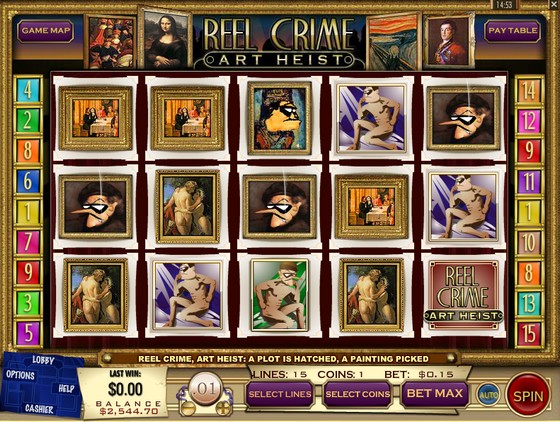 Play Rival's Reel Crime at Videoslots Casino
Travel to Paris to join Remy and Raoul, notorious art thieves planning a big heist. You can help them out by doing 5 things – select the masterpiece to steal, gather tools and pinch the painting, do a successful runner, find a collector who'll take it off their hands, and avoid being caught by a gendarme while performing the transaction. Landing 4 of any Masterpiece paintings will start the heist and open a world of exciting, highly interactive and rewarding bonus rounds while moving through different stages of your thieving adventure. If you find the life of a criminal appealing, make sure to try the first game in the series which is also an action-packed multi-stage affair sending you to rob a bank. Both of these awesome Rival slots can be played at
Videoslots
.
1. A Switch in Time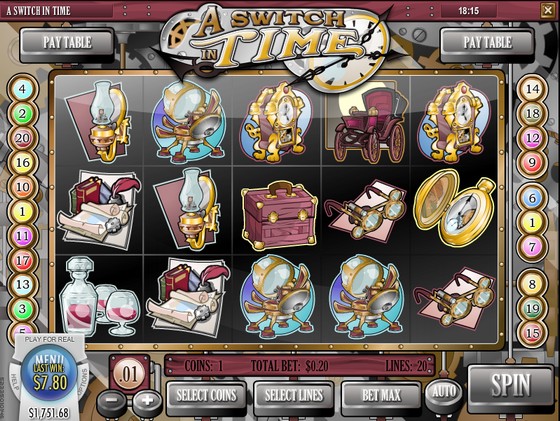 Play A Switch in Time at Videoslots Casino
Best Rival Slot:
Hop on Rival's time machine and you'll be transported to the past or the future with a mission to stop the love of your life from marrying another bloke. Wilds will expand during free spins, as many as 78 of them, with all rewards boosted by x9. Time Machines trigger the bonus round which takes you either forward or back in time. In the past you'll be interacting with dinosaurs and cave people, whilst the future lands you in an out-of-this-world environment filled with aliens. Depending on which period you're in, bonus round will have you press buttons to choose the time direction you want to travel in, fight T-Rex or kill the Cyborgs, each paying instant rewards. This game is actually a 3-in-1 affair, make sure to give it a go at
Videoslots
.
Head on over to our selection of high payout online slots if you want to win big!