UK National Lottery Facts
The UK National Lottery is perhaps the most popular form of gambling in the United Kingdom. The state-franchised lottery, which operates in the United Kingdom and Isle of Man under the Camelot Group, has produced nearly 3,000 millionaires in the UK to date.
Up until 1934, lotteries were considered illegal in the United Kingdom. However, it would still not be until 1994 when the UK government established the first state-franchised lottery. In May 1994, the UK government awarded the Camelot Group a 7-year license to run The National Lottery, and the lottery's first draw occurred on November 19, 1994. Seven winners shared the lottery's first jackpot prize of £5,874,778.
Unlike larger lotteries in some countries, such as the Mega Millions in the United States, The UK Lottery winnings are paid in one large sum. Additionally, those lump-sum payments are tax-free. The UK National Lottery returns a higher portion of the money back to its country than any other lottery in the world. Fifty per cent of The UK National Lottery revenue is paid to winners in the form of prize money. Twelve per cent is paid to the government as a lottery duty and twenty-eight per cent goes to good causes.
During the March 30, 2007, live Saturday night draw show, it was revealed that The National Lottery raised £20 billion (US$39.2 billion) for good causes, a program which provides money in the form of grants. The National Lottery board distributes grant money via lottery ticket sales to good causes in sports, the arts, tradition, charitable organizations, volunteer organizations, health funds, educational funds and the environment. The UK National Lottery has produced nearly 350,000 grants throughout the UK. This equal about 120 awards per postal district within the United Kingdom.
Players must be at least 16 years or older to play the UK National Lottery, unlike 18 in other countries. Foreign players are not excluded from playing at retail locations, so players who purchase a ticket at a UK lottery retailer are not required to be a UK national. The cost of a ticket is £1 per Lotto line per draw.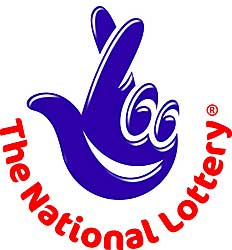 Play UK Lottery Online Now
When playing The UK National Lottery, players must pick 6 numbers for themselves, or they can play a 'Lucky Dip', where six numbers are selected for them. The six numbers are selected from a set of independently numbered balls that range from 1 to 49, in addition to a bonus ball. Players are awarded prizes according to how many balls they match from the six drawn numbers.
Players must match at least three balls to win a prize, and those who match more than three of the six numbers drawn win a prize that increases in value. Additionally, players who match 5 of the 6 drawn numbers are eligible for an additional drawn number known as the Bonus Ball. Players who match a minimum of four of the drawn balls win a prize value that is contingent on the sum of players who also match the same number of balls. That is, the prize winnings are split equally among all players matching that number of drawn balls. If there are no players who match all six of the drawn balls, the jackpot is accumulated into the next lottery draw, which is known as the Rollover.
Prior to February 2011, this buildup was limited to three successive draws, unlike other lottery systems which rollover until someone wins matches all of the required balls to win the jackpot. Rollover draws take place fairly often, usually occurring once every couple of draws. However, the "treble rollover" takes place far less often, having only taken place nine times to date. On February 10, 2011, The UK National Lottery implemented a new rule that allows rollovers to take place for four consecutive draws, which means that a "quadruple rollover" has the possibility to take place at some point in future.
As far as winning odds, players have the greatest odds of winning a 3 number payout at 56 to 1 odds. Four-ball number players have a 1031 to 1 chance of winning, five-ball players have 55,490 to 1 odds of winning and five-ball players with the bonus ball have 2,330,635 to 1 odds of winning. UK Lottery players have a 1 in 13,938,815 chance of matching all six balls.
National Lottery draws take place on Wednesdays and Saturdays unless the Christmas holiday falls on one of those days, in which the draw is made on Christmas Eve. Nearly 31 million tickets are sold each Saturday and 18 million tickets are sold during the Wednesday draw. Both draws are broadcast live on BBC One in the UK, but the Saturday draw is usually broadcast as a live portion in a variety of different pre-recorded Lottery game shows during the year.
The UK Lottery prize fund is 45 per cent of ticket sales during an average week. However, the average percentage is closer to 46 per cent in the long-term as a result of the occasional Super Draw, which is funded via the Super Draw reserve fund, put aside each draw. The three-ball prize winners are calculated first, these receive £10 each. Following three-ball prize winners, four-ball prize winners receive twenty-two per cent of the remaining jackpot, five-ball prize winners receive ten per cent of the remaining payout and five-ball prize winners who play the bonus ball receive sixteen per cent of the remaining jackpot. Players who match all six balls receive the largest portion of the jackpot, fifty-two per cent.
Aside from purchasing tickets at participating shops, players can also play the lotto online or from their mobile phone. All National Lottery games can be played online after registering. There are two ways of playing lotto online.
Players need to open a National Lottery Account to play online. If you haven't opened one, we'll prompt you to do so once you've completed an online play slip. Online players must visit the official UK lottery website to register an account. Players must click the "Open Account" button and certify that they indeed reside within the United Kingdom. Players must then enter their name and contact information, including their email address. An email address is necessary because this is how online lotto players receive technical support and notification of winnings. Players then enter the billing information for a valid Visa, MasterCard or Solo debit card before accepting the terms and conditions agreement and registering their account. The online play system does not accept credit cards.
While players who purchase tickets from a UK Lottery retailer are not required to be a UK national, players who buy lottery tickets online must have a UK bank account, a UK or Isle of Man residential address and they must be physically present in the UK or Isle of Man at the time of purchasing their ticket. Online players can purchase tickets in one of two ways.
1. Direct Debit.
Players fund their online account via direct debit by registering their bank account information and their saved lottery numbers will be automatically selected. The National Lottery will notify winners via email by 12 noon the following day of the winning draw.
2. Loaded Account.
Players can load funds onto their online account and play as funds are available, players must load a minimum amount of £5.00 GBP. Loaded account winners are notified of their winnings via email, and The National Lottery will transfer the winnings of lower-level instant wins players into their account.
Lotto players can also play on the go from their mobile phone by selecting numbers via text message. In order to play by text, lotto players must register their mobile number online at the official UK Lottery website. New Players must open an online account and select the "Register My Mobile" link to enter their mobile phone number and pay by phone. Players from the Man of Isle are not eligible for play by text. Play by text players can select lotto numbers from 8:00 am to 11:00 pm each day of the week. However, the play by text service is not available during draw breaks, which take place following each draw on Wednesdays from 7.30 pm to 8:00 am and Saturdays from 7.30 pm to 9:00 pm. Players are charged 20 pence each time they play by text, and the charge is debited from their online account or will appear on their mobile phone bill. This charge is in addition to the cost of a lotto ticket, which is the same as if it were purchased from a UK National Lottery retailer.
When a player wins, The National Lottery can conveniently pay winnings to players' online account or their registered debit card. Players who win up to £500 can receive their winnings directly via their National Lottery account. Players can then transfer these funds to their debit card or use them to play additional games.
Players who win between £501 to £5,000 will receive a direct payment via their bank account or debit card. However, players must confirm winnings within this range via the National Lottery website before they can enjoy them.
Players with winnings over £5,000 must claim their winnings by calling the National Lottery Customer Careline at 0845 278 8000. The National Lottery pays these large sum winners via check.
Camelot also administrates the giant Euromillions lottery in the UK, which runs twice weekly on Tuesdays and Fridays with jackpots regularly hitting over £100,000,000.