Understanding Online Casino Small Print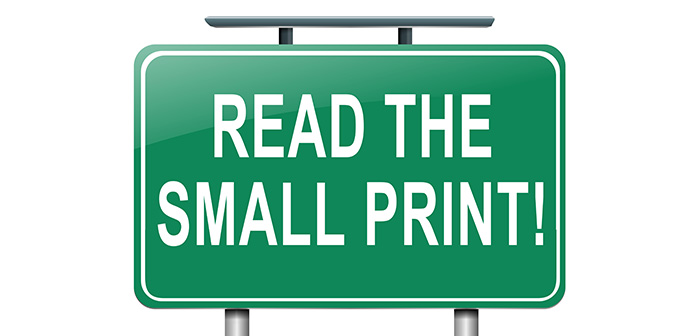 Online Casinos: The Small Print, Terms & Conditions.
There are many means at the disposal of online casinos for luring customers onto their site; one of the main promotional tools that a casino will use is the sign-up bonus, hoping to entice players into wagering on their real money games. However, just as the age-old adage says, "There's no such thing as a free lunch", keep this motto in mind when you take advantage of any casino bonuses. Ensure that you know exactly what you are getting yourself into by carefully reading the casinos rules on the particular bonus you are playing, each bonus may have different stipulations attached to them, so make sure that you read the details of the specific bonus you claim, rather than their general terms and conditions.
Another way to consider the idea of bonuses is to imagine them simply as a tactic the casino uses that reduces the house odds slightly, this is because the extra money in your account will mean that you play more, and thus should win more, therefore effectively reducing the amount of money you need to put in to win the same amount of money had you not taken advantage of a bonus.
However, the casino will want to recuperate their losses somehow, they have to in order to stay in business, this means that the bonus will usually come with the stipulation that a minimum value of wagers must be performed before they allow you to withdraw any winnings, it will usually depend on the particular game in play whether the stipulation will pertain to the number of rounds that must be played or the monetary value of wagers that must be placed. For example, they may say that you need to wager 10x the amount of the bonus before you are able to withdraw any winnings, so if you get a £10 bonus, you will need to play through £100 before you can make any withdrawals, this makes the probability of actually walking away with any money from this particular bonus fairly rare………but not unheard of.
Everyone that plays at an online casino would at least expect that the fair-gaming rules apply to bonuses too; this is not necessarily the case. Of course, the reputable casinos will adhere to a code of ethics; there are some 'rogue' casinos that will not. Gambling is always about taking risks and bonuses have their own fair share of associated risks.
Nevertheless, there are some typical rules that are practically standardised across the industry, and it is to these that we shall now turn:
Casino Small Print: Sign-up Bonus terms
The majority of online casinos will offer newly registered players a welcome bonus on the proviso that they make an initial deposit. Quite often the amount that a player receives for their welcome bonus will be relative to the amount that they have deposited- these usually have a capped higher limit. At other times the casino may have a fixed amount for every new player regardless of how much they deposit (although most casinos demand a minimum deposit amount anyway). Or, alternatively, the casino may offer two sign-up bonuses, one fixed and one variable depending on the size of the deposit.
Many casinos will also stipulate a minimum number of wagers that must be played before any money can be withdrawn from the account. The following is an example of how a casino may detail their terms and conditions:
"Before withdrawing money, the gamblers must wager 30x the total value of their deposit, plus the value of any primary bonus."
So, in the above example, an online casino may be matching the player's initial deposit by 100%, meaning that for every £100 deposited, an additional £100 will be allocated to the account as a bonus, the player will therefore have an initial balance of £200- remember that there is probably a capped limit on the amount of the bonus, so if a player deposits £10,000 (a lucky rich player!) they are very unlikely to receive an additional £10,000 in bonuses.  If the player has to wager 30x the value of their deposit plus the value of the bonus, then they will need to play through £6000 before they can remove any money, that is £200 x 30.
A player may also find that the bonus money can only be used for certain games, while others are excluded, these exclusions may be written in the terms and conditions in the following manner:
"All bets on Craps, Roulette and Blackjack will not be included in the minimum wagering requirements count."
Casino Small Print: Withdrawal limits
Many casinos may set limits to the amount of money that an individual player can cash out on at any one time. These restrictions may be temporal, such as one withdrawal allowed per week, or monetary, such as maximum withdrawal of £1000 at a time. There are casinos that will allow their customers to withdraw their winnings anytime, without any limits. If you feel lucky then you should try to find these latter casinos to play at.  At online-casinos.co.uk we only feature casinos that do not impose any kind of withdrawal limit.
Casino Small Print: Actually receiving your bonus
Ok, so you want to take the casino up on its introductory bonus offer, how do you go about doing this then? Well, usually it is fairly straightforward, it is simply automatically credited to your account and you do not have to do anything about it. Occasionally, after having made the initial deposit, you may have to contact a member of staff in order for the bonus to be credited, this may then take a few days to finalise, it is quite annoying when you expect a deposit straight away but you have to go through a whole palaver of nonsense before you get it- that is why it is important to ALWAYS READ THE SMALL PRINT (kind of ironic that I had to write that in capitals).
If you do not want to accept the welcome deposit, which many people do not because of the huge play through values, after all, if you deposit £100 then if you play purely with that, then you are likely to walk away with at least a little bit remaining, if not a win, but if you have to play through £6000 then what is the likelihood of getting any back by the time you are approaching £0 of that playthrough. If you do want to exempt yourself from the bonus then you need to make sure the casino allows you to do this, and then take the necessary course of action to ensure that you do not receive the bonus.
Everything is open, nothing is set in stone
Everything changes and that also goes for the terms and conditions pertaining to a particular bonus, so for each bonus that you accept from your online casino of choice, make sure that you have checked their rules and that they are still the same, or become familiar with the new rules if they have changed. Remember, ignorance is no excuse if you do not find out the rules, and then discover something you do not like, the casino will not say "oh, you didn't know? That's fine then, just forget about it, we'll play it your way", no, they will uphold the rules regardless of whether you know them or not, they will be onsite and it is up to you to verse yourself in the ways of the casino.
SAFEST CHOICE OF ONLINE CASINO – 888
If your number one concern is safety then 888 Casino is your best choice.  888 are a publically traded UK company and one of the biggest gambling and online casino operators in England, Wales, Scotland and Northern Ireland.  As they are a UK company they are subject to the tightest financial and security restrictions in the world and must regularly pass rigorous integrity, anti-fraud, banking security and money laundering tests.