The Best Online Gambling Game? Why You Should Try Video Poker Now!
We look at a lot of casino sites, and we read a load of reviews, forums, social media and more. And we've come to the conclusion that something is missing from all the hype around online casino games.
Where's all the video poker content?
The games are out there – in their thousands – but we think they're in danger of becoming the poor relations of the online casino world.
And that would be a shame. Because if you're not playing video poker you're missing out on a great and rewarding game, and some of the most generous stats anywhere in the online casino world!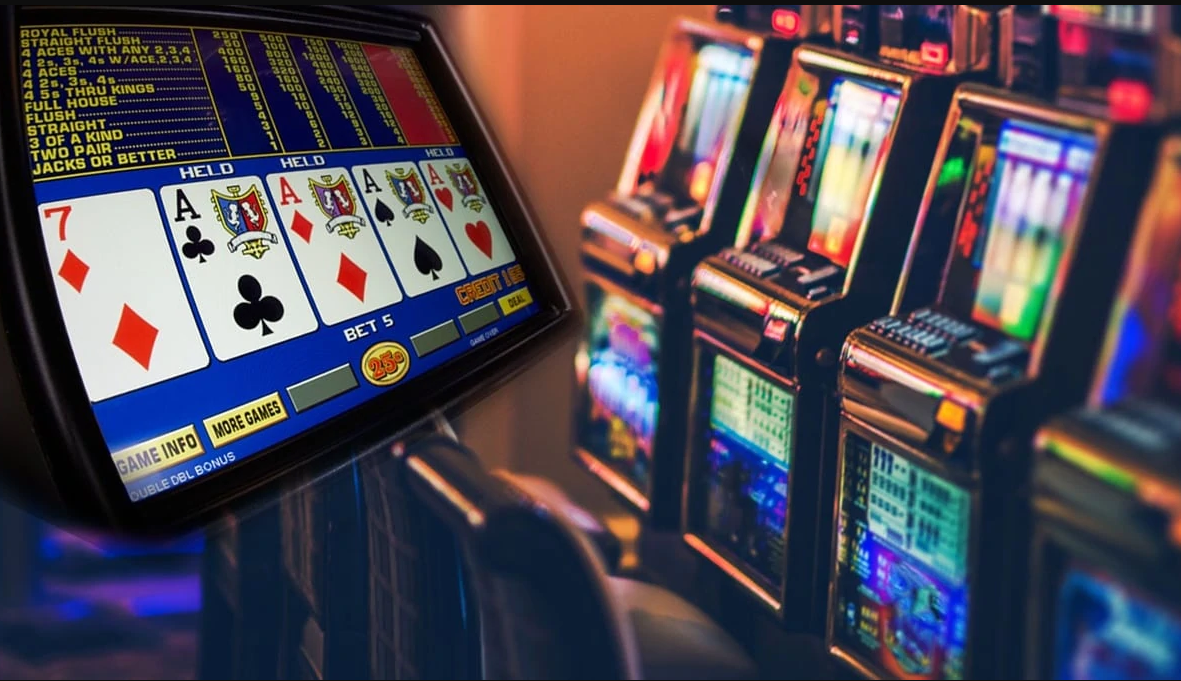 All Slots are Video Poker
The history of slots starts with poker. The first games were based on the world's best-known gambling game.
The reason why we have five and three reels as the most common set-ups for slots is that they were based on poker.
Games were designed to simulate being dealt a hand of cards. The only reason the slot world moved away from classic card symbols is that anti-gambling laws in the US tried to put a stop to the use of these machines to simulate card games that were being regulated or banned.
Even today it's common to see card suits and royal cards as the base symbols in a paytable: this keeps the link to poker.
So, if you know how to play slots, you know how to play video poker.
Video Poker is Hugely Popular
Video poker really has its spiritual home in Las Vegas. In the giant halls of the mega-casino, you'll certainly find a lot of standard slots, but you'll also find rank after rank of video poker machines.
Video Poker Takes Skill
There's a reason why video poker has so many fans in the wild wild west of gambling.
It takes skill to win at video poker!
You can argue that it takes skill to manage any gambling game. And to an extent, you'd be right, but the games themselves are almost entirely governed by chance.
Video poker is also governed by chance, but almost all video poker games have a major skill element in the simulation on the re-deal.
Let's have a look at how to play video poker.
Video Poker: How to Guide
How to Play Video Poker Safely
First of all, let's get your safety checks in place.
You must only play at UK Gambling Commission-licensed sites. That's the best way to stay safe.
And, do some homework. We're helping you out here, but please take a read of the rules of the actual game you're actually playing, and have a go on demo mode if that's an option to you.
How to Play Video Poker
Most video poker – like most slots – is based on five-card draw poker, in which a hand is dealt and players are then allowed to swap a number of cards in the hope that they can make a better hand.
Video poker usually follows a standard ranking of poker hands that should look something like this, from the bottom up:
Pairs, (often jacks or higher only),
Two pairs,
Three of a kind,
Straights (a numerical sequence regardless of matching suit),
Flush (a set of cards of the same suit regardless of card face value),
Full house (a set of three and a set of two),
Four of a kind,
Straight flush (a run in a single suit),
Royal flush (a run from 10 to ace).
To play online you'll need money in your account.
And first, you'll need to set your bet.
A deal button stands in for the spin on a slot, and you'll see a set of cards.
You then assess your hand.
You can then choose which cards you keep and which you discard. This is usually done with a button under each reel.
Another deal replaces the cards you don't want with new ones.
And you count your winnings – or your loss!
Types of Video Poker
There are many varieties of video poker, just as there are of poker.
Far too many to cover in any detail here. So, please make sure you know exactly what you're playing.
Here are some of the most common:
Wilds
Games with wilds work just like wilds in slots, with one card (usually) acting as a wild card that subs in for any other card to create the best hand possible. Deuces Wild is twos. Jacks can also be wild, or jokers can be included.
Jacks or better
This simply indicates that the lowest winning hand is a pair of jacks.
Bonus game
Bonuses can be offered for particular hands, usually a set of four of a kind. One of the best hands in any case. A double bonus may be offered for sets of four aces.
Why Play Video Poker?
When you got any UK casino site you'll see thousands and thousands of games. So why pick video poker?
First of all, we think it's a fun game.
Because there is an – albeit limited – element of skill in the game you can develop your own strategies or follow an already developed strategy. Most slots can't support strategic play because they're simply random, in most video poker games you have a choice.
There is a huge variety in video poker. The games are simple and have a family resemblance, but you should be able to find a video poker game that works for you: for the levels of risk and choice you enjoy, and themed in a way that you like.
And video poker is of good value. Slots generally pay back around 96% of their money in video casino sites. Video poker is usually better value with a theoretical return to player of around 97 – 99%, which is a house edge of just 1% to 3%.
Video poker is fun, good value, and engaging. Are you playing video poker? If not you should probably try it today.