William Hill's Operating Profits Drop 37% But It's Not All Bad
William Hill, one of the UK's largest bookmakers, published its annual profit report today. It showed a profit at the top end of their predicted results, thanks largely to the success of its sports betting in the latter part of the financial year.
Nevertheless, they have cautioned that the latest round of UK regulatory changes would impact next year's profits. This follows last month's government ban on the use of credit cards to place online bets, which comes into effect in April.
Because credit cards account for around 5% of deposits made in the UK to William Hill, they estimate that the ban will cut profits this year by between £5m and £10m. This led to market losses this morning (26th February 2020), which saw William Hill shares fall by 4.5%.
Trouble on the Horizon?
The UK government has imposed a series of regulatory initiatives in recent years to tackle problem gambling. Recent changes include setting the limits on maximum stakes for slot machines to £2.
And further changes are on the cards, with proposals that include putting maximum spending limits in place for consumers. With these meetings happening behind closed doors, we can only hazard a guess about what other measures could be in the pipeline.
The bookmaker has undergone significant changes in recent years as a result of changes within the economy in general. For example, they have closed more than 700 high street shops in the last 18-months following the general decimation of the high street.
Together, these pressures are likely to impact its UK operating profits substantially. But it's not all doom and gloom…
…A Brighter Future for William Hills Operating Profits
Despite today's news, William Hill continues to adopt an optimistic view of the future, where they will be focusing on expansion efforts into North America. This follows a recent ruling by the Supreme Court that removed the federal ban on sports betting, therefore leaving the choice to implement such bets down to the individual states.
Earlier this month, they signed a deal with CBS sports to roll out sports betting in 8 states. This is in addition to 9 states where they already have a presence.
As the UK sector shrinks, the rest of the world opens up. William Hill's CEO, Ulrick Bengtsson said, "Almost a quarter of revenue is now generated outside the UK compared to 15% in 2018".
Although operating profit for the group fell 37%, they still made a whopping £147m this year. With growth into the American market, there's the full expectation of an upward trend in profits in the coming years.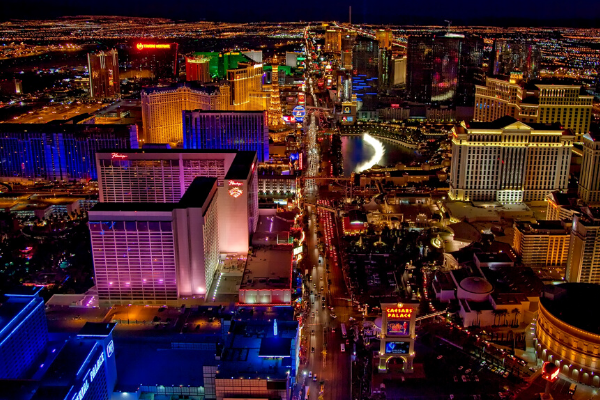 Las Vegas Strip at Night