When it comes to slots, we've established that two is better than one.
Yeap, we're talking about win-both-ways slots.
Slots that pay right to left as well as left to right might not give you better odds at winning, but they do keep you engaged for the whole duration of the spin.
Why? Because with win-both-ways slots there is still hope to win until the final reel locks into place, even if the first two have delivered disappointing results.
Curious to check whether this hype is real the UK online casino scene? We have listed the 10 top win-both-ways slots to try out in 2022 for you and much more in this article, so dive right in.
10 Top Win Both Ways Slot Games
#10. Crazy Chameleons
Crazy Chameleon comes tenth on our list of the best win-both-ways slots.
The game is a 5 payline and 5 coin slot from Microgaming that's considered to be the perfect fit for players looking for a game with a basic concept and features.
Winning combos are produced when symbols appear next to each other on an enabled payline, paying from left-to-right and right-to-left, beginning with the first or fifth reel. The highest value icon has the potential to payout up to 5,000 times your bet line, which will be simpler to achieve with the help of a wild wave functioning as a replacement.
Visit 32 Red or Betway to see how generous wild chameleons can be.
#9. Cyrus the Virus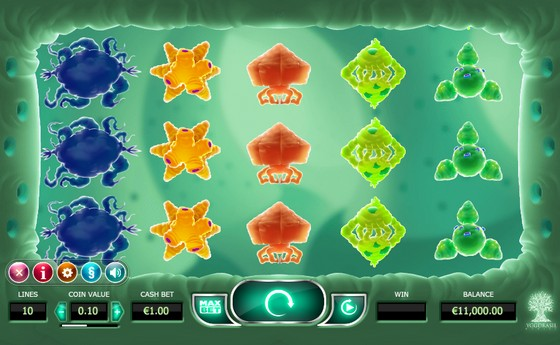 The 9th best win-both-ways slot on our list is a creative Yggdrasil slot with 5 paylines.
The game solely consists of eight colourful viruses, where the highest-earning one pays up to 2,000 times your stake. The wild virus will only appear on the centre reel, covering it completely and triggering a re-spin. The game is surprisingly straightforward and contagious—in a good way.
Check it out at Leo Vegas.
#8. Flux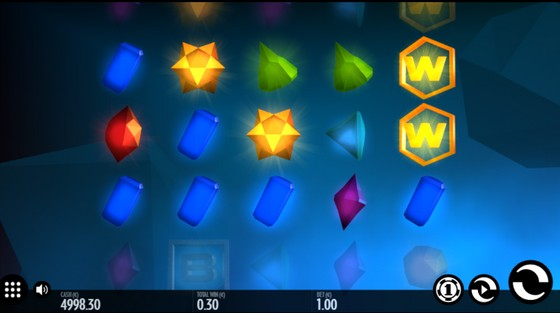 Flux is a fantastic, futuristic space slot from Thunderkick featuring low volatility, 5 reels, and 15 paylines.
Choose whether to switch to both ways wins, add extra rows, or do both in the awesome-looking bonus round! When Scatters appear on the reels, you'll be able to choose among three types of free spins: up to 48 free games in which you can win both ways, up to 36 spins with three more rows, and up to 24 free spins in which you can win both ways and extra rows. Simple, yet quite interesting.
If you're all about the innovative vibe, you can play Flux at Videoslots and Mr Green.
#7. Siberian Storm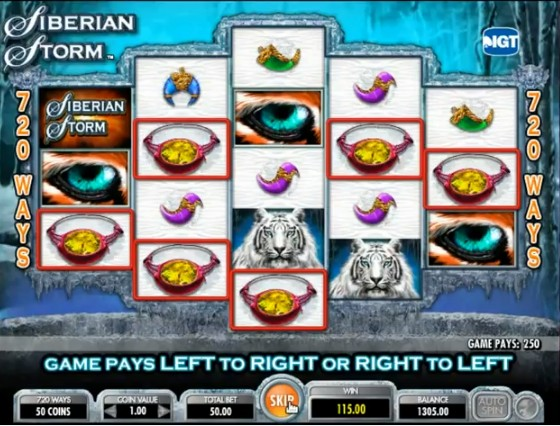 Siberian Storm is one of the most unique IGT slots out there. It's easy to use, looks great, and plays well on any platform; not to mention, it comes with a respectable RTP of 96%.
You can win in 720 different ways playing this win-both-ways slot. The free spins feature may be re-triggered and award up to 96 free games, while stacked wilds increase your chances of scoring rich winning combos. This is a high-variance slot with a jackpot of 50,000 coins.
Try your luck at Dunder and NetBet.
#6. The Catfather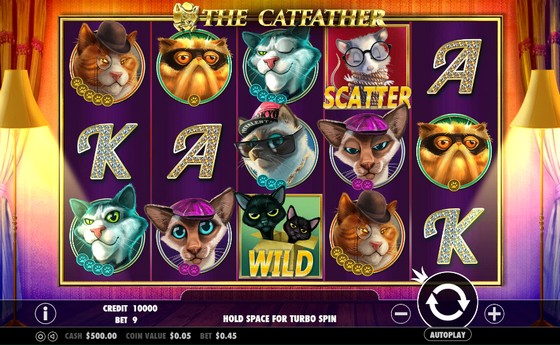 The Catfather is a funny yet enjoyable win-both-ways slot. The idea is as absurd as it gets, but the elements make this a fun game to play.
Wild cats can not only assist in the formation of winning combinations but they can also payout up to 5,000 times your line stake. Random stacked wilds can appear at any time, covering the entire reel with wild symbols. Meanwhile, scatters trigger free spins where all wins are multiplied by four.
Go have some fun with this game at Leo Vegas and Videoslots.
#5. Turning Totems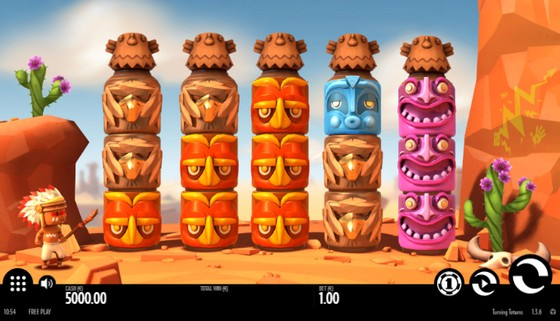 Turning Totems is a 5-reel, 11-payline Thunderkick slot with amazing graphics and a unique reel area execution. This Native American-themed slot is available to play on all platforms and, most importantly, it has the win-both-ways feature.
To win, matching symbols must appear next to each other starting from the leftmost or rightmost reel. Thunder Snake transforms the reel into a Thunder Reel, bringing all sleeping wilds to life and allowing you to re-spin. When you get three Thunder Reels in a row, you'll be taken to a bonus game with free spins and all Thunder Reels active until the feature is over.
You can play this unique and entertaining slot at SpinIt or Miami Dice.
#4. Fisticuffs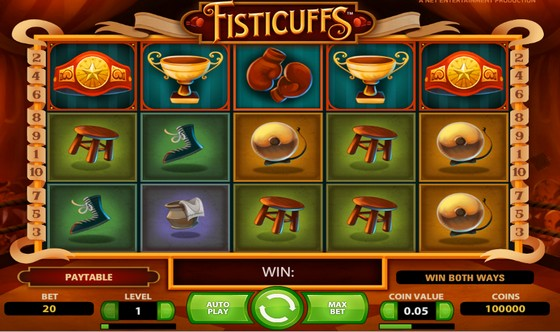 Fisticuffs, brought to us by NetEnt, is a great win-both-ways slot that lets you enter an old-time boxing ring and leave the match with a 100,000-coin reward in your pocket.
With the use of straight, diagonal, and stacked wilds, there are several ways to win. If a straight wild appears on the same row as diagonal wilds, the latter will punch the attacker to reels 1 and/or 5, changing the symbols in between into more wilds.
When a diagonal wild falls diagonally to a straight one, it will behave similarly, while the boxing feature turns adjacent symbols to initiate a re-spin. It seems impossible not to win with so many replacement icons!
What are you waiting for? Check it out at Mr Green or Casino Cruise.
#3. The Invisible Man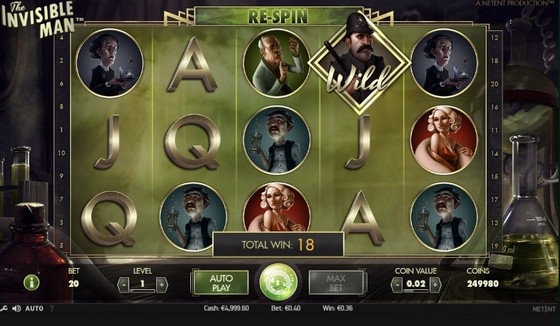 The first upside of this win-both-ways slot is that it's created by one of the business giants, namely NetEnt.
But, most importantly, this win-both-ways slot contains fascinating features and stunning visuals. While the reels re-spin, the police wild appears on reel 1 and begins its trek to the right. Each wild has a meter that is filled by the associated icon going off the reels, and if you can fill it while still spinning for free, you will be given the corresponding extra feature.
Griffin's rage bonus game takes you to three different places for a pick-and-click game. It's entertaining and exhilarating, and you may win up to 200,000 coins.
Go try it out at NetBet Casino.
#2. Ice Hockey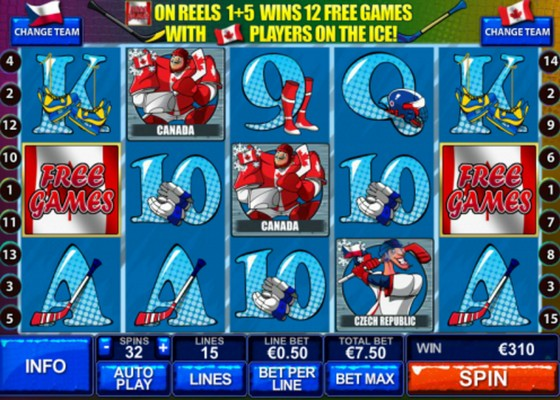 Yet another gorgeous win-both-ways slot from NetEnt that will have you skate on thick ice while 15 paylines pay in both directions.
If you like ice hockey, you'll love picking teams to play against each other in the base game. Your choice will also affect the game since one team's players will only pay from left to right, while the other's will pay from right to left. The reels will only show players from the same team while spinning for free, and they will deliver winnings in both directions.
Activating the Pass the Puck bonus will pass the puck to each player on the same team and award a 3x multiplier to anyone it bounces off.
Give this one a try at William Hill.
#1. Good Girl Bad Girl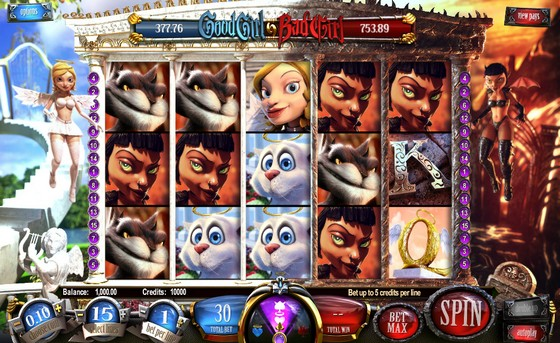 And for the best win-both-ways slot on our list of the top win-both-ways slots is BetSoft's Good Girl Bad Girl.
This amazing-looking 3D slot lets you play in good mode, bad mode, or both at the same time. The first will pay left to right (low-risk gameplay), the second will pay right to left (higher risk gameplay), and the third will pay both ways.
Some of the many features include two varieties of Wilds with up to an x4 multiplier, a Click Me feature that awards small, medium, and big winnings, a Double Up bonus feature that plays on a different screen, and a Money Wheel that awards cash prizes and the possibility to trigger progressive jackpots.
We're telling you—you shouldn't miss this! Give a go at Dunder.
7 Best Win Both Ways Slot Providers
The win-both-ways slots listed in this article truly are the pick of the bunch, but with so many amazing slot providers out there, the choices are practically endless!
So, if you want to keep digging for more win-both-ways slots, check out these extraordinary slot providers for more games:
#1. NextGen
NextGen Gaming is an Australian company that mostly works on online casino software development.
Since its foundation in 1999, this slot provider has created much more than just slot machines, with its game range including table games, bingo, lottery, poker, and other games. So far, the firm has produced almost 600 various games, all of which are super popular among players.
#2. NetEnt
NetEnt Games, one of the most well-known gambling software suppliers, was created in 1996. It was founded in Stockholm, Sweden, by a business with substantial expertise in this industry.
As of 2018, NetEnt had 182 available titles to its name. They had about 21% of NetEnt slot games at UK casinos (which is a pretty big deal), and 14% of their games were shown in casino lobbies, which is where the most popular titles go.
#3. Playtech
Playtech is a software company that has been around since 1999.
Today, it is a massive corporation with over 7000 employees spread across 19 countries. Its headquarters are in London, United Kingdom. Playtech is well known for its Marvel Series slots, which include Iron Man, Fantastic Four, X-Men, and The Incredible Hulk, as well as movie and TV series-inspired titles like Rocky, The Mummy, and The Sopranos.
#4. Yggdrasil
Yggdrasil isn't exactly an industry veteran, having been established only a decade ago, in 2013.
Not only had Yggdrasil turned into a worthy opponent, but it had also evolved into a driving force for the development of the gaming industry. It's difficult to choose the best Yggdrasil slot, but Double Dragons, Legend of the White Snake Lady, Big Blox, and Bicicleta are definitely among the favourites.
#5. Thunderkick
Another youngster on the list is Thunderkick, founded as late as 2012. Its headquarters are in Stockholm and Malta. As a result, it is a European-based corporation with strong corporate standards.
#6. BetSoft
Betsoft has over 20 years of expertise as a manufacturer of high-quality i-Gaming goods on the market. It was created in 2006 and it's headquartered in Malta.
In fact, this firm creates and sells a variety of other items, including 3D games, mini-games, and a lot more. Their slots are among the most visually appealing on the market. BetSoft continues to be a titan in this business with its jaw-dropping graphics and animations in slots like Safari Sam, Ogre Empire, and others.
If you've ever played one of BetSoft's video slots, you'll know that they truly offer a comprehensive package.
#7. Microgaming
Microgaming has the most diverse slot selection of any online casino software vendor. Microgaming's slots collection offers every possible subject, as well as a plethora of interesting and lucrative features.
Not to mention, with their progressive jackpot slots, you may also win life-changing amounts of money.
Best Casinos to Play Win Both Ways Slot Games
Shortcode:
FAQ on Win Both Ways Slots
If you still have some questions on win-both-ways slots, check out our FAQ section:
#1. What does "win both ways" mean?
As the name implies, win-both-ways slots refer to the feature that gives you a higher winning chance by matching symbols both from left to right and from right to left.
This feature cancels the "from the leftmost to the rightmost" criteria, making succession from both sides viable to get you a winning per payline.
#2. Are win both ways slot games more profitable than normal slots?
Not really, to be honest! In the gaming business, RTPs of win-both-ways slots are normally what you can expect from normal slot games too.
#3. Which win-both-ways slot game has the highest RTP?
The normal RTP scores for win-both-ways slots vary between 96%-97%. Out of the win-both-ways slots on our list, Cyrus the Virus stands out with an RTP as high as 96.3%.
#4. Are win both ways slots better than traditional slots?
As we already mentioned, win-both-ways slots don't change much in terms of improving your chances of winning; however, they can keep you interested throughout the whole spin. That happens because even if the first two reels may not give any results, win-both-ways slots offer the possibility of winning until the last reel falls into place.
Related Articles: