Crazy Time Live Casino Game
Evolution are masters when it comes to unique live casino games and what started out as an award-winning Dream Catcher wheel resulted in a line-up of gameshow wheels with big spinning and winning opportunities! In 2020, Crazy Time joined their portfolio of super-sized wheel machines bringing with it four interactive bonus rounds and the chance to scoop up to 25,000x!
All the fun of the fair is guaranteed with four bonus rounds and multipliers but triggering them may not be as easy as you think!
Each outcome is determined via a manual spin of the wheel with live hosts taking it in hourly turns to bring you many different chances to win. Drag and drop your chips onto the betting table before the time runs out and sit back and wait to see if you're among the lucky ones!
Best Live Sites to Play Crazy Time
Crazy Time Bets and Pays
The aim of the game is to correctly predict where the wheel will come to a stop. A wheel with 54 segments allows players to bet on up to 8 possibly outcomes, bearing in mind only one of those will win. Effectively speaking, you have a 1 in 7 chance of winning per spin. Bets can be placed from 20p to £2,500 by using the chips on the screen.
The number of pays on the wheel are as follows:
1x occupies 21 segments and pays 1:1
2x occupies 13 segments and pays 2:1
5x occupies 7 segments and pays 5:1
10 x occupies 4 segments and pays 10:1
Pachinko occupies 2 segments and pays up to £500K
Cash Hunt occupies 2 segments and pays up to £500K
Coin Flip occupies 4 segments and pays up to £500K
Crazy Time occupies just the 1 segment and pays up to £500K
Crazy Time Features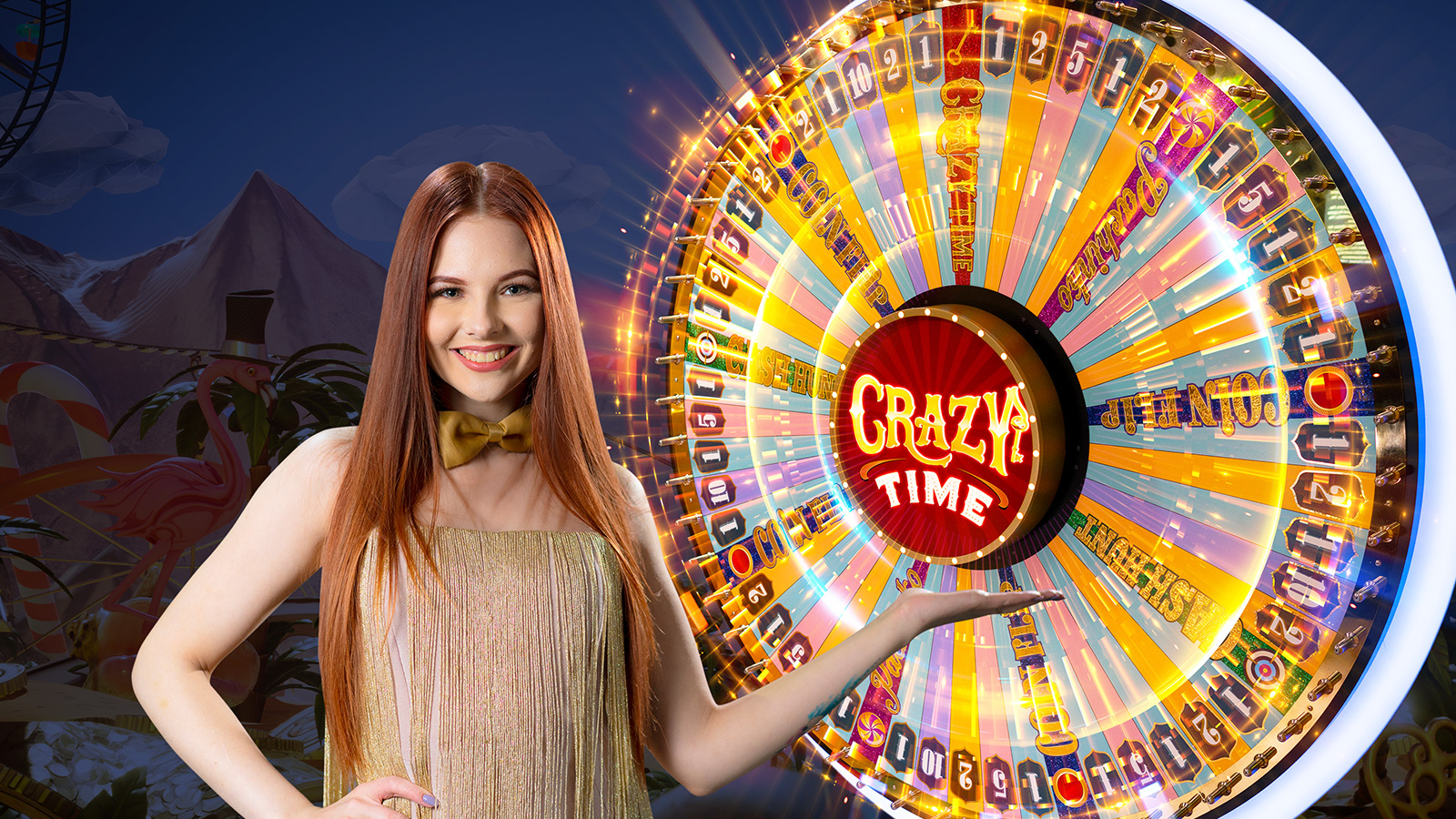 In a nutshell, you have a super-sized wheel with 54 segments. In addition to these, you have a multiplier that will be chosen at random prior to each manual spin and this is then assigned to every spin of the wheel, whether that be a multiplier segment on the wheel or a bonus. For example, Crazy Time may be chosen as the bonus with a 50x multiplier, so all winnings in this bonus should it be activated, will be multiplied by 50x.
Cash Hunt is a bonus game wall where 108 random multipliers will be placed behind icons such as cannons, ducks and cupcakes. Aim the cannon and fire to reveal your winning multiplier.
Pachinko is a giant pink wall with random multipliers positioned in 16 different segments to the lower of that wall. The live host will walk up the steps and drop the disc into the wall in a randomly chosen zone from 4 to 12. The disc will hit pegs on its way down before coming to rest in a guaranteed winning multiplier zone. Land on the double (if in play) to repeat the process. This could continue until the 10,000x multiplier is reached.
Coin flip is just a heads or tails game. Before the game begins, a multiplier is chosen for each side. Qualifying players will get to choose red or blue to win the stated sum.
Crazy Time is the star of the show with a giant 64-segment wheel with three flappers. Each qualifying player will choose a flapper and will win the sum corresponding to their chosen flapper.
What's the Verdict?
There are four possible bonuses, and those bonuses carry huge winning possibilities. The random multiplier assigned to each spin delivers more thrills only the chances of winning are slim.
The wheel is bright, the host gets you to join in with the chat, but sometimes the chatbox can get a little disruptive. Customisable cameras allow you to view the live studio from different angles, either a close-up of the wheel or a close-up of the betting table.
Rules on how to play, settings and the history of the last 64 spins will be shown on your screen at all times. Crazy Time is what it is – a crazy invention with crazy prizes if the wheel spins right!
Crazy Time FAQ
What game provider developed the Crazy Time live casino game?
Evolution (formerly Evolution Gaming) developed the Crazy Time live casino game.
When was the Crazy Time live casino game released?
Crazy Time was released on 10.06.2020.
What is the RTP of the Crazy Time live casino game?
The RTP for Crazy Time is 95.05%.
What's the layout?
The Crazy Time live casino game is a super-sized wheel with segments for multipliers and four possible bonus rounds.
What theme is used in this game?
Crazy Time is a live casino game where bonuses are styled on an interactive funfair.
Can I play this game on mobile?
Crazy Time on mobile is a little more compact than you'd expect. When the wheel spinning gets underway, the camera angles will take up the majority of your screen which can get in the way of the next betting round.
What is the minimum bet and the top prize?
Minimum bet is 20p and the maximum if £2,500. The top prize is 25,000x your stake.
Are there any free spins and bonus rounds?
No free spins but four bonus rounds where interactive fun is guaranteed!
Are there any jackpots?
Maximum win with the Crazy Time live casino game is 25,000x.
Is there anything else that I should know about the Crazy Time live casino game?
To take part in the bonuses, you must have a bet covering the bonus when it is activated.
If I like this game, what else should I look at?
Go ahead with Monopoly Live, also by Evolution. Based on the iconic board game by Hasbro, players can take a trek around the property trading game during the bonus round where mega multipliers can be won!