Online Keno
UK players love the game of keno. After all, it is one of the most fun and easy way to play casino games online. While the majority of Brits are bigger fans of bingo and lotteries, there is no doubt that online keno continues to attract a high number of players nonetheless. As such, you can expect to find many versions of keno in a high number of casinos online these days. It has become exceptionally popular in bookmakers shops, in particular, over the past few years.
When playing the keno game online, there are not many rules you need to know. It is effectively a game of chance, which means that there is little that any strategy will do for a player. There are ways to strategize, undoubtedly, but as the element of skill is absent from keno, this type of input is minimal.
Top 3 Online Keno Casinos:
The top three online keno casinos feature the best keno versions that you can find online. Each casino has free play so you can give each game a whirl with play money before laying down any real cash. They aren't just hot on Keno though, in order to feature as one of our 'top 3's these casinos have proved themselves to be reliable, secure and friendly with first-class banking facilities and big bonuses to boot.
Drake Casino
100% Bonus Up To $5000
T&C Apply
#1 Keno Casino
four different keno games
40 and 80 ball  versions
very fast speed keno
Krazy & Klub Keno
USA players welcome 
$5000 welcome package
888 Casino
£1500 Welcome Package
T&C Apply
#2 Keno Casino
beautiful graphics
two keno versions
sexy chaperone
funny commentary
high betting limits
£1500 welcome package
William Hill Casino
£11 Free No Deposit Bonus + 100% up to £500
T&C Apply
#3 Keno casino
two keno versions
keno Xperiment
best keno graphics
best keno sound
top UK casino brand
100% deposit bonus
Keno Odds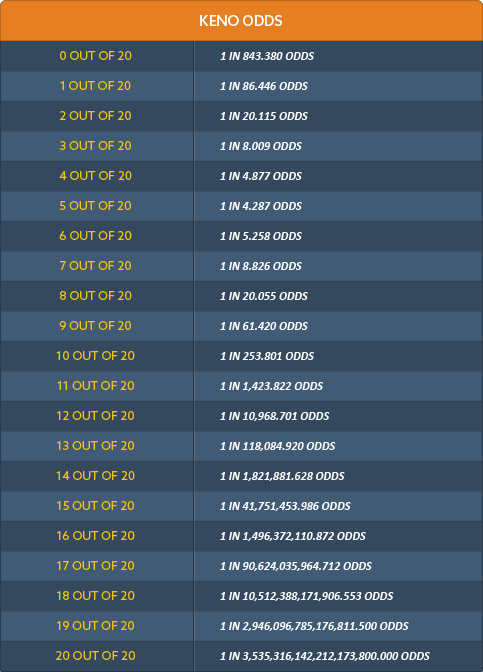 If you are a player who loves the risk of betting on massive odds, then keno may be the game for you. There are some astronomical odds for landing 20 numbers, but as you can imagine, these are exceptionally against you. The odds in keno so not start low and increase as you go on, as the chance of you getting no balls drawn are also massive.
When playing keno, there is a glass bubble which holds the 80 balls that are drawn. You win according to the success of your selections.
As you will see from the table outlining the odds below, there are various ways to win. The outcomes all have varying odds, as illustrated:
Is Online Keno Fun?
Keno played online can be great fun, although it is pretty much the same in principle no matter where you play (when it comes to the rules).
However, there are some excellent perks to playing keno online. The first and most exciting prospect is that keno typically has higher payouts online. This means you can get your hands on better odds than you would for wins than you could if you were playing at a bricks-and-mortar casino.
The first thing many players notice when playing online is that it transfers well to the digital platform. This is always a good thing for those who like to play casino games from the comfort of their home, or even better, if on the go. With some games, that isn't always the case. Some aren't as easily transferrable as others.
When it comes down to the game itself, it is very easy to play. Unlike other games, there is no real requirement to employ much skill other than choosing which numbers you want. As the game goes, the more numbers you can predict, the higher payout you win. That being said, the odds are very much against you, as you can see from the table above.
If you like long shots, get a load of this: your chances of winning by predicting all 20 numbers are a whopping 1 in 3,535,316,142,212,173,800. It is safe to say that you will be a very lucky person indeed if you manage to land those odds.
What Should I Know About Keno?
Most casinos you will find out there will have at least one keno game. Of those, the majority should have a number of different keno games for players to try their luck on. With options, you will get a chance to choose which type you want to play.
Once you have chosen the game you want to play, it is a good idea to take some of the following tips with you. UK players should ensure that they approach the game as sensibly as possible, with these points a good way to get started.
When Picking Cards
It is almost always a good idea to use multi-race cards. If you use just one, you cannot repeat your choices in subsequent games. This way, players can keep things convenient and can save a lot of hassle, that is if you want to use "your numbers".
When Picking Numbers
When playing online keno and keno in bricks-and-mortar casinos, you need to choose your numbers. It is a bad idea to bet on too many numbers at the one time. As your session goes on, it will end up costing you more in the long run. Betting on too few numbers is also a bad idea. Your chances of winning decrease dramatically if this is done.
The smartest way to play is to select between of 5 to 6 numbers out of the 80. The Keno grid is made up of 80 numbers, meaning odds of winning decrease as you pick more numbers. Risk also increases with the more numbers you choose, so be careful
Mix up Your Numbers
Even if you are playing online keno, the numbers are randomly generated. If you prefer to pick the same numbers over and over again, this can work against you. There won't be any predictable patterns, therefore, so playing should be done so on this basis.
When it comes down to it, you decide how you want to play.
Don't Pick Too Many Cards
One card is not always a good idea, either are too many cards. Playing too many games at the one time can end up costly. This can become clear as the game goes on, but by then, you could have lost a lot of money.
The Origins of Keno
Did you know that Keno is thousands of years old?
Gambling historians believe that keno originated in China, despite the name keno coming from Latin. The game can be traced all the way back to 200 bc. Back then, the game was different to the one which we play today. Instead of numbers, symbols were used by players.
It was under the regime of Cheung Leung in the times of the Han Dynasty where keno became popular. This is roughly 2000 years ago. Keno came from a poem written by Zhou Xingsi. It eventually became a way for Chinese parents to teach their children basic literacy. The poem was constructed with 1000 characters and broken down into 250 phrases that each consisted of 4 symbols.
Leung used 120 characters from the poem to develop 8 divisions. The game involved guessing content from one of the groups with a sum of money for food being the prize. Keno was like the first type of bingo or lottery. It helped the poor to pay for food, after all. Some believe that some proceeds from the game went towards building the Great Wall of China.
Chinese immigrants brought a game known as 'White Pigeon' to the USA. This was based on keno and helped to make the game the popular pastime it is today.
What are Some Keno Strategies?
As we covered above, there are some ways to ensure that you are not making costly mistakes when playing keno.
These are:
Choose the best version of keno
Will you use bonuses to boost your bankroll?
Play practice games before you deposit real money
Always use multi-race keno cards
Don't choose too many numbers
When it Comes to Keno Bonuses
Compare the online keno bonuses you can potentially get, and look through the terms and conditions to see which one will work out the best for you.
There are many bonuses which can help you when playing keno for the first time. If the bonus ends up affecting your real money balance then it may not be a good idea for some. As such, reading through the t's and c's is bound to help. Knowing the details of bonuses will help you decide what is right and what isn't.
Practice, Practice, Practice
If you want to play for real money, there are many ways you can do this. The first thing you can do – which is probably the most obvious and helpful of them all  – is to play in practice mode. This way, you can learn the function of the game before you spend money on playing. As playing in free mode won't cost you a thing, you can make as many mistakes as you need to in order to learn.
Keno is Random
That's right, the numbers are randomly drawn, so you will never know what balls will be drawn out next. Picking the numbers is an easy way to inject a little fun into proceedings, but it will always come down to superstition when someone believes that their numbers will eventually come in just because they hold sentimental value.
Multi-Race Cards are a Good Idea
You will have the option to use multi-race cards in pretty much any keno game you play online. What they are is a way for players to choose numbers just once over several games. Multi-race Keno tickets save time. They can be a very convenient way of playing a number of different games but by only using the one choice.
House Edge is a Thing… Always
House edge will exist everywhere you play. There are absolutely no exceptions in any casino. Most casino games played both online and at land-based casinos have a strong house edge. Savvy players will always measure the risk against the reward before they bet on numbers, as this can help understand the best way to play the game. This is the best representation of what you can expect when playing.
It is also true that casinos who operate keno games have a significantly high house edge of 25% to 40%. This will depend on which casino you play at. Either way, you will lose more than you win if you play over a certain amount of games. To combat this, you can begin playing a small number of games. This is always a good idea.
To break down the effect that the house edge will have, every £100 that you stake will give £40 to the casino. That is pretty considerable.
Pace Yourself
Always pace yourself with online keno. As online keno is played at a higher pace than you would find in landbased casinos, you could be tempted to play more games. Playing more games means staking more money, and this could lead to more losses.
To combat this, the best thing you can do is pace yourself. If you have to miss a few games here and there, so what? If you have to play every second game, this may work for you.
Conversely, if you want to play like a berserker, this is also your call.
Bankroll
Always decide how much you would like to play with, and stick to it. Your bankroll should be enough to last through a number of games and allow you opt to place bets of an acceptable size.
Bad management of bankroll is usually the one thing which leads to many losses. Without deciding on how much you can afford, things can spin out of control a little.
Conclusion
Keno is a game with ancient roots but is by no means one which does not deserve its place in the modern world. Playing the game is very easy, and simply involves a player choosing the numbers which they believe will win them the highest payouts they can get. Whether this is 4 or 14, it is up to you. There is nothing set in stone when playing, but there are smarter ways to play.
For instance: it is not always the best thing to choose all the numbers, as this can reduce your chances of winning. Doing so makes the odds exceptionally high. If you want to hit 20 numbers on a 20 spot ticket, your odds will be 1 to 3.5 quintillion (1 in 3,535,316,142,212,174,336). Even trying to hit a couple below the full 20 will still be difficult.
Finding the right casino will also be the best way to approach the game. Playing on a  site which is trusted and secure will help you play without having to worry about receiving your winnings.
Another thing to take with you is to always set a bankroll and never deviate from this plan. Doing so will invariably help you in the long run!