Ancient Fortunes: Zeus Slot – Review & Free Play Demo
There is, apparently, an insatiable appetite for ancient history amongst online video slots players. Perhaps some academic somewhere would like to go into this enthusiasm.
While we're waiting for the studies to come out, it's time to take a look at this Ancient Fortunes: Zeus slot new release from April 2019 by Triple Edge Studios.
Triple Edge are relatively new, relatively small (around 10 games under their belt so far), and we know relatively little about them from their not very informative website. This game is a partnership with Microgaming, the enormous developer of games and casino software.
Their games, which have included Lara Croft and Playboy tie-ins have been a hit though, and they're already riding high with about 2% of the total games in UK casino site lobbies. That's a great hit rate for a new-born, that's almost certainly the fruit of that tie-in with Microgaming.
Ancient Fortunes: Zeus slot is a relatively straightforward 5 by 3 slot, with great theming and graphics, and a slew of bonus games and features including multipliers.
Is it worth worshipping these Ancient Greek gods?
Let's have a look in this Ancient Fortunes: Zeus slot review!
Play Ancient Fortunes: Zeus Slot Free Play Demo
18+ – you now need to be over 18 to play free slots demos, sign up to play in demo mode at the following casinos:
Play Free Ancient Fortunes: Zeus Slot Demo
Ancient Fortunes: Zeus Slot Q&A
Ancient Fortunes: Zeus is a collaboration game with tumbling blocks and an Ancient theme.
What game provider developed Ancient Fortunes: Zeus?
This game was developed by Triple Edge Studios and released by Microgaming. Microgaming are a UK-based top-10 slot developer whose biggest hit is the massive progressive Mega Moolah. Triple Edge were founded in 2017 to supply titles to Microgaming.
When was Ancient Fortunes: Zeus slot released?
April 2019.
What is the RTP of Ancient Fortunes: Zeus?
The RTP is 96.02% or a house edge of 3.98%.
What reels and pay lines does Ancient Fortunes: Zeus have?
This is a classic game set up with five reels and three rows giving 15 symbols. There are 10 pay lines that double to 20 by running in both directions.
What is the theme of Ancient Fortunes: Zeus slot?
Ancient Greece, Ancient gods, ancient cultures.
Can I play Ancient Fortunes: Zeus on mobile?
Yes, you can play this game on any platform that supports JavaScript and HTML5.
What is the variance of Ancient Fortunes: Zeus?
This is a medium variance game. Variance is also called volatility and measures win frequency against win size.
What are the minimum bet and the maximum bet?
You can bet from 0.1 coins to 70 coins, which should be 10p to £70.
What's the top prize in Ancient Fortunes: Zeus?
Top pay table prize is 1,399.3-times stake.
Is there a jackpot?
There is no jackpot or progressive prize.
Does Ancient Fortunes: Zeus slot have free spins and bonus rounds?
Yes. There is a free spin round, cascading wins, scatters, multipliers and wilds. Free spins can retrigger up to a maximum of 70. Free spins have boosted multipliers.
Is there anything else I should know about Ancient Fortunes: Zeus slot?
The highest multiplier in free spins is 21-times the pay-table value.
If I like this slot, what else should I look at?
Try any of the Age of the Gods series, or if you like blocks with cascading wins check out Gonzo's Quest.
The Facts and Figures
Triple Edge Studios have delivered a game with a theoretical return to player bang in the middle of current business averages, at 96.02%. Remember that RTP is a measure of a game's performance over its lifetime rather than a guarantee of how it will behave when you play it.
The variance of the game is rated as "medium". Again, average. (High variance games tend to pay out higher prizes but less often, but this is another long-term measure rather than an individual measure.)
The top prize it's possible to win is 70,000 coins, on betting that's limited to 0.1 to 70 coins. This should equate to 10p to £70 in the UK, but be sure to check out the win limits and staking details on the site you're using.
The layout is a 5 by 3 grid of stones, with 10 pay lines that run in both directions – so effectively 20 pay lines.
You can play Ancient Fortunes: Zeus on desktop machines, mobiles and tablets so long as you have Javascript and HTML5.
How to Play Ancient Fortunes: Zeus Slot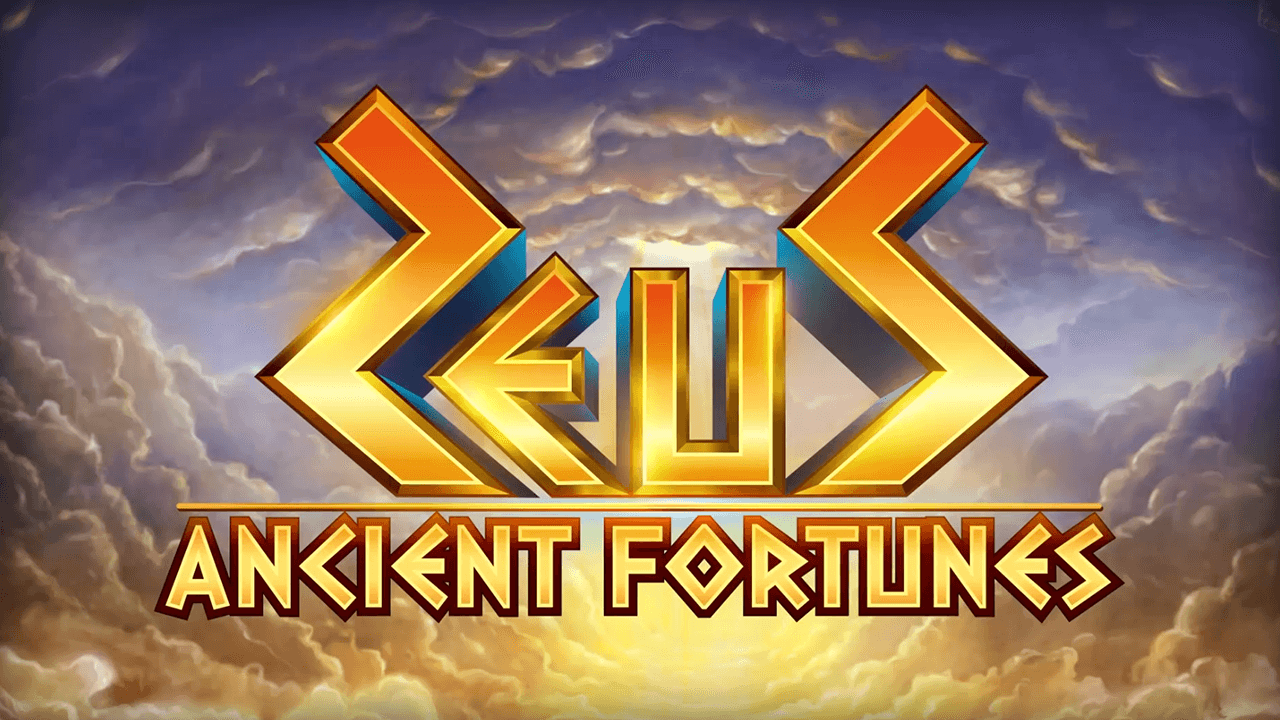 Cash up your account and head to Olympia and you'll find a temple wall awaiting you full of blocks. So we're in a "tumble" rather than a spin game, but that won't really affect how you interact with the game.
The controls run along the bottom of the screen in a black strip.
A menu icon sits at the left, then there's a Balance window, the Bet window is flanked by plus and minus buttons. In the centre of the strip sits a green play button, with a maximum bet button to the left and the Autospin control to the right. The win amounts and messages appear to the right.
Bonus Games
The game features a rolling reels feature. This is a respin on win setting by another name. When you hit a win the winning symbols vanish to allow new stones to tumble in, possibly revealing new wins.
There is also a win multiplier that climbs as you rack up more wins in the respin feature. On the first roll, there's a 2-times multiplier, followed by a 3-times and 7-times multiplier.
This is boosted in the free spins round. Initial wins all have a 3-times multiplier, and it increases through 7, 11, and 21-times multiplier on wins.
Free spins are awarded along with the lightning strike symbol, a scatter, that gives players 10, 15, or 20 spins for sets of three, four, or five. The free spins can be retriggered in the game.
The Wins
The symbols are all based on ancient Greek iconography, including a load of gods from the pantheon of the civilisation that gave us many of the (good and bad) things in modern society.
Twisted snakes pay out 0.2, 0.8, and 2.5-times stake.
The cat pays 0.3, 1, and a 3.5-times stake. An octopus pays 0.5, 1.2, and 4 times stake. The bird of prey pays 0.7, 1.2, and 5-times stake.
Then we have the gods: Hermes (gold) pays 1.2, 3.5, and 7.5-times stake. Dionysus (purple) pays 1.2, 5, and 12.5-times stake. Poseidon (beard and blue) pays 1.5, 6, and 30-times stake. Ares (warrior) pays 3, 8, and 62.5-times stake.
Zeus is the wild and subs in for all other symbols. The bonus symbol has no value of its own.
The Verdict
We live in interesting times, but everyone wants to live in the past. But who can blame them when the past is as interesting, engaging, and potentially rewarding as this.
Ancient Fortunes: Zeus doesn't have the biggest of top prize wins – you'll have to go to a progressive for those – but it's got decent prizes and the return to player is well up to industry standards.
We love this sort of design. It's not too over the top and actually has some real historical depth to it. The backdrops, reels, animation and symbols are all done with taste and skill.
Gameplay delivers a good experience. Ancient Fortunes: Zeus slot is easy to play and has a good range of stakes, so if you want to try just a few coins on it you can, if you want to go all-in for big wins then you can do that too.
The bonus games are nicely designed and are likely to bring in players. Everyone likes respins and everyone likes free spins. Free spins that retrigger are even better of course. Free spins that retrigger and come with massive multipliers are even better than that.
If you enjoy ancient history-themed games then this is one that we're happy to recommend for its depth and quality. Congratulations to Triple Edge Studios, we look forward to seeing more of their games and we recommend that you check this one out at your favourite online casino site now. May the gods be with you!