Money Train 2 Slot by Relax Gaming – Review & Fee Play
A game with a top prize of 50,000-times stake is always going to attract attention. Money Train 2 slot backs up that splashy number with a load of other stuff too.
This is a sequel to a western train robbery game, given a bit of a steampunk twist in this version.
The main bonuses are a Money Cart bonus round (a complex take on a free spins round and a prize pick game), and a respin feature in the base game.
This is a great looking game that also has a top-quality soundtrack. But are you ready to board the Money Train again?
Let's check out the price of tickets.
Play Free Money Train Slot 2 Slot Demo
Money Train Slot 2 Q&A
What game provider developed the Money Train 2 slot?
This is a Relax Gaming title, one of 49 titles the company currently has on the UK licensed casino market. Their biggest hits are table games, versions of roulette and blackjack, but their hit slots include Journey to Mars and Magnetz. They've got a UK base, unusually, and are the 34th most popular UK slots provider.
When was Money Train 2 slot released?
September 2nd, 2020.
What is the Money Train 2 RTP?
The RTP is 96.4%, which can also be expressed as a house edge of 3.6%. This figure is a long-term prediction of a game's performance not of your experience. This figure is generous in the current market.
How many reels and pay lines does Money Train 2 have?
This is a 5 by 4 game with 20 symbol sin play in the standard game and 40 pay lines.
What theme is used in Money Train 2 slot?
Themes are: Robberies, Wild West, train robberies, steampunk, outlaws, and fantasy adventure.
Can I play Money Train 2 on mobile?
Yes, if you have HTML5 and JavaScript capability you can play this on any device.
What is the Money Train 2 variance?
This is a game with high variance or volatility. This means Money Train 2 should pay out larger prizes but should pay them out less often. Again, this is a long-term measure not a prediction.
What is the minimum bet and the maximum win?
You can open your betting at 20p and bet as much as £20. Make sure you only bet what you can afford to lose.
Does Money Train 2 have free spins and bonus rounds?
Yes, the free spins round is delivered via the Money Cart, which also offers other prizes as a prize pick game.
Is there anything else I should know about Money Train 2 slot?
It has one of the best soundtracks we've heard this year.
The Game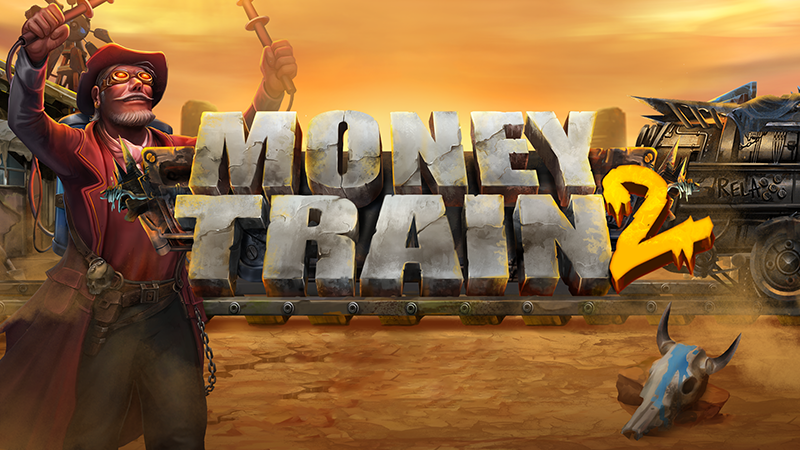 Games with a lot of features can feel intimidating. They shouldn't: and this is a good example of how they can be delivered simply.
The controls are very standard, with a spin, menu, auto spin, bet and turbo spin all sitting on the right of the reels.
Click to check the pay lines and you'll find card symbols at the bottom, topped off with four character symbol outlaws paying out 8 for blue, 9 for green, 10 for brown, and 20-times stake for red full houses.
The respin is triggered by any two bonus symbols and comes with a multiplier, which ticks up as the respins continue.
The Money Cart bonus round is quite complex. If you get three bonus symbols you've won it (or persistent gold symbols). The feature starts as the triggering symbols reveal a multiplier and award you three spins each. During the spins, each reel you fill will cause a new reel to join the set. There are a huge number of different symbols in the bonus game.
You can buy the feature for a price featured on the screen.
The Verdict
It's hard to know where to start with Money Train  2 slot, so we'll start with a judgement – it's a cracking video slot and one of the best of the year so far.
The graphics and styling are spot-on, really hitting the mark to create a retro-futurist atmosphere that takes the Wild West into some otherworldly netherworld of no-time.
The game itself is hugely complex. Really, this is a game where we suggest that you read the instructions and also paly on demo mode. That's to get the best out of the game, there's nothing to be scared of here, and you can – as with most modern slots – click and play without knowing very much beyond slot basics.
With so much to recommend it, we'd better cast around for some negatives…
The main challenge will be the complexity of the gameplay and a large number of symbols on a mobile screen.
The massive top prize is yet another positive on this excellent game. All aboard!