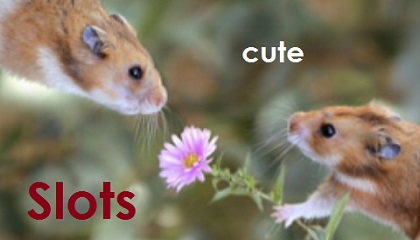 'Gambling' & 'cute': they're not words we see together often. Here at www.online-casinos.co.uk, though, we like to be inclusive and if that means having a countdown of the top 5 cutest slots, then so be it! It has nothing to do with the fact that we love cute things and gambling, nope *cough, cough*. It's because we know some of you do and we want you to have the best experience when playing the online slot machines. So here goes our Top 5 countdown:
STRICTLY 18+ Gambling can be addictive. Play responsibly, contact Gamcare for support.
---
5. Gold LabTM – Quickspin
Gold LabTM is a 5-reel, 25-line, video slot with plenty of action. Quickspin has certainly managed to capture the cute element with this game. Visually, this is one of my favourite video slot games ever. It has a Pixar animation feel to it, and they could definitely turn it into a children's film… when I say 'children', I really mean people like me: who doesn't like Pixar? If you answered "me" to that question, then you probably won't like Gold LabTM's graphics.
It isn't simply the graphics that make this game cute, the soundtrack and sound effects do too. They have a lovely, gentle, lilting quality to them…but be careful, it will lull you into a false sense of innocence and you might end up gambling a bit more than you wanted.
The game is based on the story of a mad professor and his quest to make gold. The "Golden Bonus" round completes this quest and is triggered by three scatter symbols. This transforms some of his potions into gold, which then acts as wild cards. You can get some big wins here with the extra win scatters.
Max bet: £100 – see, not as cute as it might appear. You can hit some big wins with Gold LabTM
Autoplay: Good. Quickspin allows you to autoplay up to 1000 spins. There are also some decent loss limit options, as well as limit settings for single bets.
Game Features: Good autoplay features, including quick spin. Bets from as little as 10p.
Gold LabTMis a cute, simple, game from Quickspin. It doesn't differentiate itself much from other video slots. For this reason, while cute, it only makes it to our number 5 favourite slot.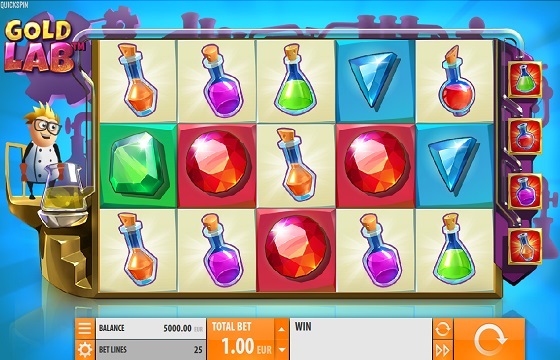 ---
4. Balloonies – IGT
Balloonies is a 5-reel, 20-line, video slot with some fantastic animations. If this countdown were simply about choosing the cutest game, then Balloonies, by IGT, would take the number one slot. It's sooooooooo cute that it makes me use words like "soooooooooo", even though I'm not 15 anymore.
This game can put you straight into a good mood. It's good for those of you looking for the non-guilt gambling away of your life savings! And, with a max bet of £1000 that might not be as difficult as you'd imagine. Fortunately, with a minimum bet of 20p, it's also a great game for the more cautious gamblers among us.
What makes Balloonies particularly cute compared to other games? It's the symbols, which are either balloon animals or balloon numbers. When you spin the reel and win, they swell and pop. It's a quirky little game.
In terms of game features, the bonus game is decent. First, it takes you to a screen with three balloons and you have to choose one to pop. Once you pop the balloon, it reveals the number of free spins won. I do have to warn you here, if you're the type of person who squirms at squeaking balloons, then turn the sound off for this bit. It makes your hair stand on edge. Once you have your free spins, it then takes you to a night-time version of the original screen where you play out the spins.
As well as the bonus round, Balloonies also features a "Star Multiplier". When the star appears on a winning line, it multiplies your win up to a maximum of 10x the total win.
Bizarrely, there doesn't appear to be an auto spin feature. This might not be a bad thing though, given the size of the max bet. You wouldn't want to accidentally auto-spin a couple of grand! I'm not sure the cuteness could make up for that.
Max Bet: A not so cute £1000.
Autoplay: They don't appear to offer an autoplay option.
Game Features: You can adjust the graphics quality, making it easy to play on computers, tablets, and mobiles with poor graphics cards.
This is a great game with a gentle feel. However, as with most of the cute games, the graphics appear to be making up for a lack of originality in terms of game bonuses and features. Still, it's a good, solid, game and definitely worth a go.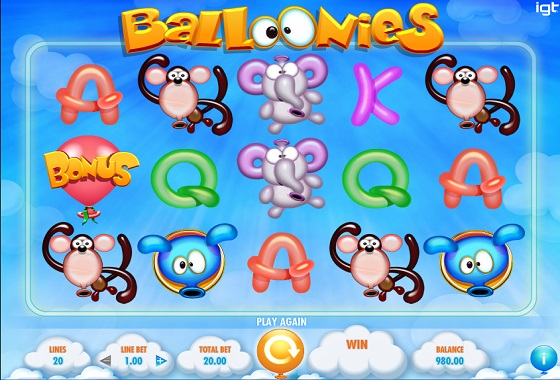 ---
3. Super Lucky Frog – NetEnt
What's not to love about this 25-line, 5-reel, video slot game? It's fun, it's cute, and it's a progressive jackpot. The progressive jackpots are among the most exciting video slot games in my opinion, just because they give you that extra thrill of maybe changing your entire life at the spin of a reel.
While it might not be quite as cute as some of the other games here are, it's definitely the cutest progressive jackpot video slot, and for this reason, makes it into our "Top 5 Cute Video Slots" countdown.
The game has a number of bonus rounds and features: the Fairy scatter game, the Frog King bonus game, and the Elf wild card. If three fairy scatters appear, you win 10 free spins; if four appear, you win 20 free spins; and if five appear, you win 30 free spins. Needless to say, this is one of the most generous scatter bonuses you'll encounter with the video slots.
The bonus game triggers the appearance of the bonus froggy symbol. This takes you out of the game and onto a spinning wheel – much like the Wheel of Fortune wheel. You hit the spin button, and it lands on your prize.
Max Bet: £50
Autoplay: Up to 1000 spins with various loss limits. There's no fast play, though, which is a bit of a shame.
Game Features: This is a NetEnt game, so there is a decent amount of choice in terms of your settings. Among other things, there are sound settings and a good choice of betting options.
With more features than our previous two games, with the addition of the progressive bonus, and of course, with the super cute graphics, Super Lucky Frog scores high in our cute slot countdown.
---
2. Hoot Loot – IGT
This 20-line, 5-reel video slot really is a hoot to play, earning a well-deserved 2nd place in our countdown. IGT seem to be hot on the cute games, featuring twice in our top 5 countdowns of cute video slots.
There are all sorts of hidden wins to find within this game. Keep your eyes peeled, because it's not always easy to spot why you just won that money. This game is played from the perspective of a nature watcher – sort of like a bird spotter, except your spotting all sorts of things from special eggs to unusual leaves.
You'll find the bonus games, which include wilds and the "hoot line" feature, super fun. The "hoot line" is an unusual addition to the game, and they've certainly thought outside the box here. An extra win line appears in a box below the main reels. When a symbol appears that features a small owl in the corner (this can appear on any type of symbol), it's added to the "hoot line". if the symbols on the "hoot line" match, you win. In effect, the "hoot line" makes this a 21-line game.
The feature bonus triggers the appearance of three safe symbols. The screen changes to what looks like wooden planks on the inside of a hut. The three safe symbols are the only thing that remains from the previous screen. To start the bonus feature, you have to choose a safe. Behind the safe is your cash prize.
Max Bet: £60 – much cuter than Balloonies ridiculously high bet!
Autoplay: Simple and straightforward, but with few options. It'll do.
Game Features: The game features a "replay" button so you can re-watch your last spin. It's great for when you hit a big win.
Set in a forest, the graphics are cute and fun, creating a fantastic backdrop for your gameplay. It's a great game with some fun twists – we were especially taken with the "hoot line" – for this reason, it wins our 2nd place position. It's definitely worth a play.
---
1. Invaders from Planet Moolah – Williams Interactive
This is a simple, 5-reel, 25-line, video slot and the cutest in our countdown. It definitely has the best name in the countdown, and of all best video slots ever invented…maybe (let us know if you know of any better-named slots). At any rate, we love the name, but does the game live up to it? We think it does. The graphics are awesomely cute. They suck you in straight away: who doesn't love an animated cow in a UFO? No wonder it scores so highly in our countdown.
One of my favourite things about this game is the sound effects. There's a very sarcastic sounding moo, a shocked sounding…well, I'm not sure what it is, a dog, a cow, a duck, but it sounds funny. Play it to discover all the funny sound effects yourself.
This is a cascading reel game. The way it works is that each time you win, the cows in their UFOs shoot the winning symbols. All symbols above the removed symbols drop down, and where there's a space in the reel, a new symbol falls into it. This way, a single spin can bring you multiple wins.
The bonus game triggers following four consecutive cascading wins, at which point you hear the ominous words "Invaders from the planet moolah!". The game then takes you to another screen with a siren with a big red button. You hit the button and it reveals the number of free spins that you've won. It then takes you to a different version of the main screen to play through the spins. The cascading reels continue, making this part of the game extra generous; you can hit some fantastic wins. It seems particularly hot on giving dropping wild symbols at this point of the game.
Max Bet: £125
Autoplay: Autoplay is quite odd here. While it does have an auto feature, there's only one option: you press the "autoplay" button, and it continues to play through until you tell it to stop.
Game Features: The game features a quick bet option that you don't see with many slots. Here, you get to select the value of your spin, which ranges from 25p to £125. You can combine the quick bet and autoplay features too.
The cascading reels, the incredibly fun animations, the fantastic wins, and the brilliant sound effects make this game one of the most entertaining around. That's why it bags our number 1 spot. It's certainly well deserved. It's also refreshing to see such a fantastic game coming from a lesser-known video slot producer: keep up the good work Williams Interactive!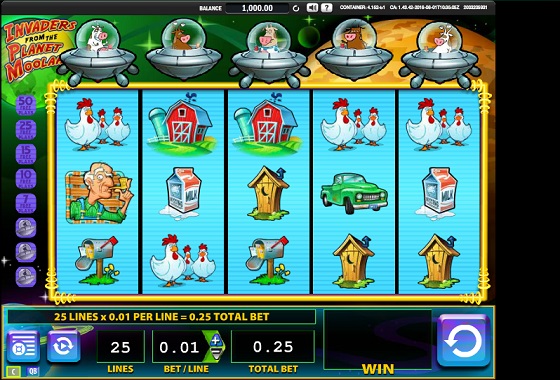 Want to win big? Check out our selection of the highest payout online slots here!