Yggdrasil do great work. That's not a great way to open an impartial review perhaps, but it's true – in our opinion.
We've not seen a Yggdrasil slot game that doesn't look and sound fantastic, and most of them come with excellent gameplay too.
Vault of Fortune slot is another game that kind of endorses theft. You'll find yourself in a vault full of goodies, and, I don't know, we guess you help yourself! Perhaps you already own these things and you're just deciding what to put in your living room. You know, you're Elon Musk or something.
More important to the slot player, who probably isn't Elon Musk (Hi Elon!), is the game's excellent design, making a traditional slot grid look really interesting, and using this as the backdrop to deliver some really nice gameplay and a massive top prize of 11,000-times your stake.
Multipliers, cascading wins, expanding wilds, and a free spins round are fairly standard offerings as bonus features.
Yggdrasil normally innovate, and we expect them to here.
But should you enter their poorly lit vault (is there any situation more dangerous!?)?
Let's have a look!
Play Vault of Fortunes Slot
Q&A
What game provider is behind Vault of Fortunes slot?
Yggdrasil are a Swedish developer founded in 2013. They specialise in innovation, both in graphics and in gameplay, including loads of references to Scandinavian folklore (their name is from a Norse myth about the tree of life), and also some very big progressive jackpot games.
When was Vault of Fortune slot released?
This game was released on 23rd July 2020, so it is a very new game indeed.
What is the Vault of Fortune RTP?
The RTP of Vault of Fortune is 96.01%. This is about average in the current market when most games come in at 96%. The RTP is the theoretical return to player, and it records the amount a game should return to players over its lifetime. This measure is taken by playing a simulation of the game millions and millions of times. It should not be treated as a prediction.
How many reels and pay lines does Vault of Fortune have?
Vault of Fortune is a 5 by 3 game, with 15 symbols, and there are 20 pay lines.
What theme is used in the Vault of Fortune slot?
This game is themed on antiques, on valuable artefacts, and on luxury lifestyles and museums. The aesthetic is film-like and realistic.
Can I play Vault of Fortune on mobile?
Yes, you can play Vault of Fortune on mobile, if you can support JavaScript and HTML5 on it.
What is the Vault of Fortune variance?
This is a medium-high volatility game. High volatility games pay out bigger prizes but pay them out less often. Like RTP this is a long-term measure and not a scientific prediction of what your experience will be. The company does publish a hit rate, of 19.4, which is the percentage of spins that should be wins.
What is the minimum bet and the maximum win in Vault of Fortune slot?
The entry-level bet for this game is 0.1 coins, usually 10p on UK sites, and the top bet is 100 coins (usually £100).
Does the Vault of Fortune slot have free spins and bonus rounds?
Yes, there is a free spins round. There are more high-value symbols on the bonus round and an increasing multiplier.
Is there anything else I should know about the Vault of Fortune slot?
There are respins delivered via cascading symbols.
The Game – Vault of Fortune Slot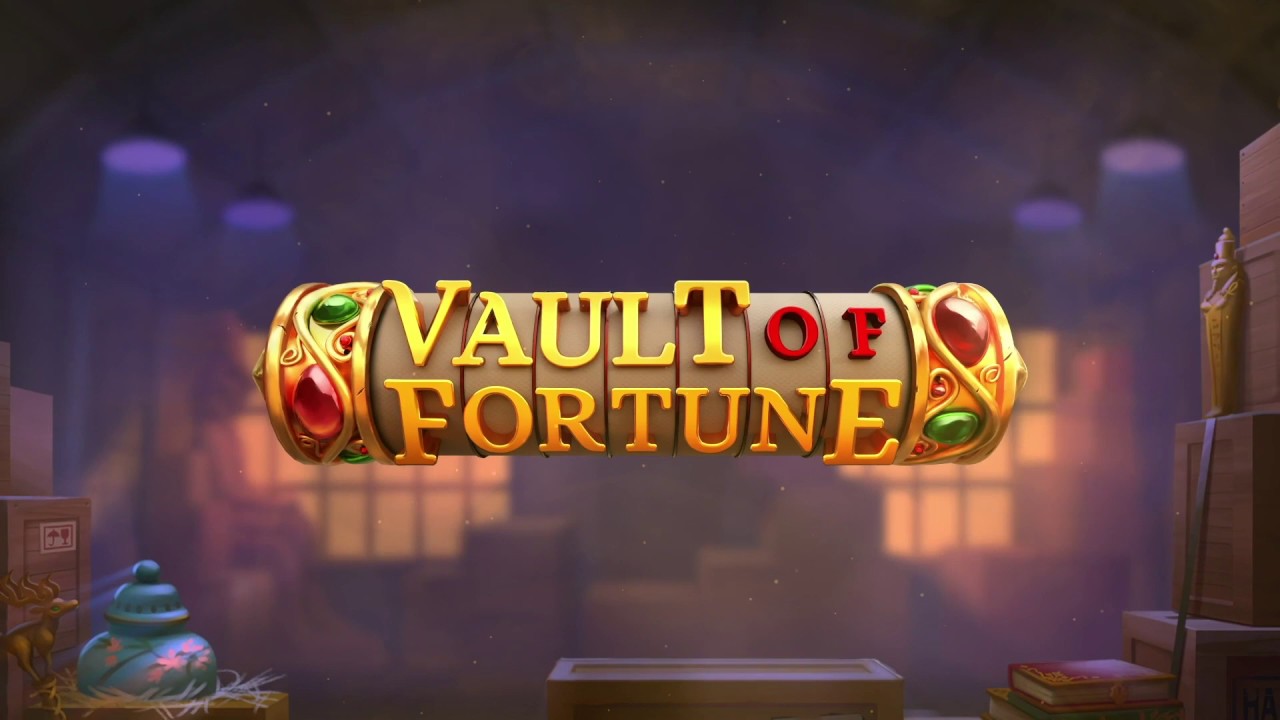 The game is easy to play, and no-one who has played any other slots will have any problem with the control panel.
At the left of the panel is a pay-lines indicator, then the coin value selector, which comes to your cash total. The central console has a maximise bet button and an auto-play function on either side of the spin button. Then there is a Win window, and finally the balance window.
Click on the information menu to check out the pay table, where you'll find cards at the bottom of the pile and then the luxurious symbols of the vault – jewelled eggs, Egyptian cat statues, vases, bars of gold, crowns, with a Kryptex as a scatter.
The bonus features are: Dropdown respins, which are cascading wins by another name. The winning symbols blow up and new ones drop in in their place, continuing until no wins register.
There are multipliers, that click up through wins by 1, resetting when the wins stop.
Expanding wilds come from regular wilds, which jump to a six-figure height if they are in wins.
The main bonus is free spins. Triggered via the Kryptex scatter, these are delivered as sets of 8, 12, or 20 free games, and they retrigger. During the round, the multiplier carries in from the base game and continues to count up with no reset.
The Verdict
Yggdrasil never let us down, and Vault of Fortune delivers in a big way on the beauty and aesthetics front. It's also a great game with good stats and one that anyone should consider playing, especially if they like these luxury-lifestyle sorts of themes.
Where it isn't so great is on the innovation front.
Yggdrasil have invented some great gameplay features in their time, but there's nothing like that here. Note that features like cascading wins, free spins, expanding wilds and so on aren't great, and they are beautifully delivered here with some fantastic animation.
Higher volatility games don't suit all players, but you shouldn't overstate the effect of that measure, with about 1/5th of spins hitting for players. Whatever you do make sure you play safely, there's a good betting range in this game, but if you're at the top of it – £100 a spin – then you really need to keep an eye on things.
You can play Vault of Fortune slot for free in demo mode on sites where you've verified your age, and that's a great way to check this game out safely.