Yggdrasil has a very difficult to pronounce name for British tongues. But all of those people who aren't quite sure how to say the name of this Swedish company are bringing it up all the time because Yggdrasil must be one the standout names in the slot world when it comes to innovation in gameplay and graphics.
That's no excuse for the terrible spelling of Cazino Cosmos slot in this title, but we'll forgive Yggdrasil for that with this new title that was released in January 2019.
This game is a follow up to Cazino Zeppelin and has a similar steampunk, a retro-futurist aesthetic that – as usual – is beautifully delivered by these Swedish masters.
The big attraction – beyond the graphics and atmosphere – is a free spins round with a load of extras attached. This delivers a very healthy looking top prize.
But should you take your "cazh" to this "cazino"?
Let's have a look in our review.
Free Cazino Cosmos Slot
18+ – sign up to play in demo mode at the following casinos:
Best Casinos with Cazino Cosmos – Yggdrasil Casinos
The Lowdown on: Cazino Cosmos
Yggdrasil take their name from Nordic mythology and often theme their games that way, but this is a classic steampunk title given a load of gamer-friendly features.
What game provider developed the Cazino Cosmos slot?
Yggdrasil made Cazino Cosmos. They're Swedish, were founded in 2013, and make good-looking, innovative games.
When was the Cazino Cosmos slot released?
This game came out on 23rd January 2019.
What is the Cazino Cosmos RTP?
RTP here is 96%, a house edge of 4%, a figure that we usually quote as the industry average.
What reels and pay lines does the Cazino Cosmos slot have?
This is a 5 by 3 game with 20 pay lines.
What is the theme of the Cazino Cosmos slot?
Themes are steampunk, airships, collections, character games, retro-futurism.
Can I play this game on mobile?
Yes, you can play on any device that supports JavaScript and HTML5.
What is the Cazino Cosmos slot variance?
The variance of this game is high, so expect bigger prizes but also to wait longer between wins. The hit frequency suggests around 1 in every 28 spins should be a win.
What are the minimum bet and the maximum bet?
Bet from 0.1 to 20 coins, or 10p to £20 on UK sites. Only bet what you can afford to lose.
What's the top prize?
The top prize is 11,821-times stake.
Is there a jackpot?
There's no progressive or networked jackpot.
Does the Cazino Cosmos slot have free spins and bonus rounds?
Yes, free spins are the main bonus round. Lots! There are two types of free spins, the collection version coming in five forms with a load of extras in the forms of multiple wilds.
Is there anything else I should know about this slot?
This game has real depth in its characters and aesthetic.
If I like this game, what else should I look at?
You could try the original, Cazino Zeppelin, or the similarly themed Fortunium from Stormcraft. Yggdrasil's Holmes and the Stolen Stones is also a relative.
The Facts and Figures about Cazino Cosmos Slot
Yggdrasil do a lot of innovative work, and their games have a particular look. While they make some striking visual moves you'll still find that the game follows quite a standard experience in a lot of ways.
The set-up is the classic five-by-three grid of symbols on the reels, with 15 symbols in all. There are 20 pay-lines weaving their way across these reels, and if you hit them you could win a top prize of 236,420 coins.
An odd number, but that atypicality is fairly typical of Yggdrasil.
That number helps contribute to the high volatility rating of the machine, which means higher prizes are slightly more likely to be paid out, but that those prizes are slightly more likely to be paid out less often. That measure is as imperfect as the theoretical return to player figure (RTP). Here it is 96%, which is very standard in the current market and can also be rendered as a house edge of 4%.
To win that sort of return you can bet from 0.1 to 20 coins. That should translate to 10p to £20, so taking in a good range, but you should be sure to check the details of these figures at the time you play the game on the site where you're playing it.
Cazino Cosmos slot is available using JavaScript and HTML5 and you can play it across operating systems and devices.
The Game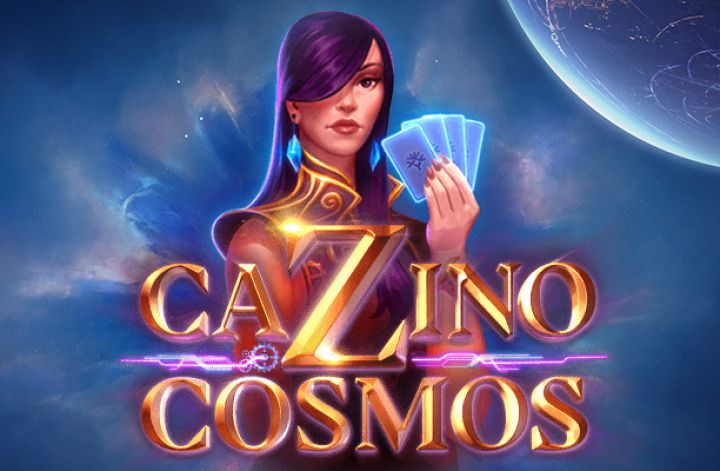 The screen in Cazino Cosmos slot is very striking, set up to look something like a Jules Verne-style space ship – retrofuturist to the core!
Underneath the reels – though sadly with no steam coming out – is a control panel.
On this panel, you can set the number of pay-lines you bet on, and the value of the coins you bet on, with your total wager filling a third of the set of windows at the left of the panel.
In the centre, your game information scrolls up, and to the right are your win amount and the total balance in your chosen currency.
In the centre sits a purple, illuminated spin button flanked to the right by an auto-spin function that opens up a sophisticated set of options and a maximum bet button.
A plus button above the controls opens up a menu of extra choices: pay-table, options, rules, and sound.
You can see the pay-table values by clicking on any symbol on the reels. As far as we know this is unique.
Payouts
The symbols are as beautiful as the game screen.
Hearts pay 5, 30, and 100-times stake for three, four, and five. Diamonds pays 5, 30 and 125-times stake. Spades pay 6, 40, and 150-times stake. Clubs pay 7, 50, and 170-times stake.
The skeleton pays 20, 130, and 500-times stake. The hairless cat in a space-helmet (well, why not!?) pays 25, 150, and 750-times stake. The suited bird skeleton pays 30, 200, and 1,000-times stake. And the Zeppelin pilot pays 40, 300, and 2,000-times stake.
That's quite a limited set of symbols, but there's a lot more to discover in the bonus games, which relate to the wild – a young woman.
Cazino Cosmos Slot Bonuses
The wilds come in collections – with colour-coded bases – or standards. The collection wilds stand in for all symbols and are added to collections of wilds over the reels. The gold wilds just do what wilds always do.
A Z symbol awards – as a scatter – the free spins.
Three of these open up 10 free spins and pay 40 coins.
Four awards 15 free spins and pays 40 coins.
Five symbols award 20 free spins and pay 40 coins.
In the free spins round, the wild all become sticky. And all wilds on the reels when free spins are won remain in the game during the free spins round.
The wilds also retrigger sets of five free spins when one appears on each reel during free spins. These wilds are sticky and remain on the reels.
The collections offer different free spin rounds.
The reel one collection adds two random, sticky wilds to free spins.
Reel two adds five extra free spins to the round.
The reel three adds a nudge to reveal wilds.
Reel four's collection turns a random high-paying symbol into a Wild on each spin.
And reel five collections wilds turn all wilds into double-stacked wilds.
The Verdict
There aren't many games that we could just look at for pleasure, but Cazino Cosmos slot is one of them. The designers at Yggdrasil are onto something special, and if you like their style – we assume not everyone does – then this is another sumptuous title, with beautiful music and a worked-through aesthetic that matches the best of video game design.
Where to find fault then?
Well, high volatility games come with a certain amount of risk attached, though the 96% RTP is perfectly standard for the industry so you shouldn't be too concerned.
And, it's complicated. While many players are looking for simple games with simple graphics to work well on small screens, Yggdrasil have delivered a deeply complicated and engaging one. You don't need to learn a huge rule book to enjoy this game, but if you want to there are some deep levels of gameplay here.
We love this game, and we think you should play this Cazino Cosmos slot game at your favourite online casino site now.