The History of Online Poker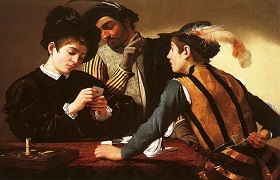 A great many online sources have claimed that Planet Poker were the group which introduced internet poker to the world, however, the first documented poker software appeared on IRC (Internet Relay Chat). IRC is a communication system that was very popular when the internet first came into existence, at the time it supported the first online poker tournaments, allowing several people at once to play against each other and have fun.
Indeed, if the oldest documented page from Planet Poker is January 1998, the fact remains that in 1996, Greg Reynolds had already created poker software that functioned on IRC. It was, however, more a game between friends than the gambling enterprise online poker has become today. Did Greg realise in 1996 that he was starting the story of online poker? This, by any account, is a prestigious place in the history of online poker.
On the other hand, it can not be denied that Planet Poker, under the guidance of Mike Caro, played a massive part in the establishment and construction of the online poker industry as it is known today. It is amusing that Planet Poker chose Mike Caro (who has now been replaced by Roy Cooke) to represent its poker lounges and to help in its development. Indeed, if Mike Caro is a popular figure in the online poker community it is because he has developed his reputation through his analyses of non-verbal communication and poker. In regards to his work on non-verbal behaviour in relation to poker, including analysis of mimicry, gestures, silence…this becomes largely obsolete with online poker, with the exception of the niche webcam poker genre.
From the creation of Planet Poker onwards, the online world began to experience extremely rapid growth in the development of poker rooms. Paradoxically, this 'poker bomb' began just after the internet bubble burst in the early years of the 21st century, this forced the makers of poker software to create simpler and more straight-forward sites than they otherwise would have.
During the late '90s and early 00's we saw the new creation of many poker rooms; Paradise Poker was created in November 1999, Poker Room also created in November 1999, PartyPoker created in July 2001, Poker Stars created in October 2001…and a whole host of famous and popular sites were also created in these early years of the internet, such as Titan Poker and Everest Poker which in their own ways revolutionised the online poker industry.
The services provided by poker sites became, slowly but surely, more and more standardised. Nearly all the new poker players requested the same versions of poker (e.g. Texas Hold'EM), the same kinds of bets, the same advanced functions (e.g. statistics and chat) and the opportunity to play for 'real money'. Aside from a few unusual sites, PKR is an example with advanced 3-d play, other sites attempted to differentiate themselves through the way they managed their interface, their special offers and their partnerships. When first subscribing, some sites will offer 25% returns on the first deposit, others 15% and some even offer 100% and they will all offer a wide range of bonuses and promotions in order to attract customers including occasionally no deposit bonuses.
But the growth in online poker also meant that in parallel, sites were having to develop and update their software and technology. Sites began to contain more media and poker tournaments, some even partnered up with real-life poker events and began to offer satellite tournaments- allowing access to world-famous poker events and the professional poker circuit. Thus, for an initial stake of $39 on Poker Stars, Chris Moneymaker was able to qualify for the 2003 World Series of Poker (WSOP) and win it- earning himself a massive $2million. The following year he was followed by Greg Raymer, who also qualified through Poker Stars and managed to win the WSOP, earning himself a staggering amount of money, $5million, for an entry fee of merely $160- not a bad return!
So, if Chris Moneymaker managed to make the dream a lot of players, Greg Raymer's victory at the WSOP set them trying. From there the 'poker bomb' really kicked off, poker sites began hosting big prize tournaments and even began participating in the satellite qualifiers for the WSOP. Today some of the qualifying rounds for the World Series of Poker occur exclusively online. Today players are able to qualify for practically all the worlds' biggest poker tournaments online.
Will we soon be seeing a decline in online poker following such a 'bomb'? Certainly not, poker sites are fuller than ever and poker itself is evolving and thanks to online poker, its popularity just keeps growing.