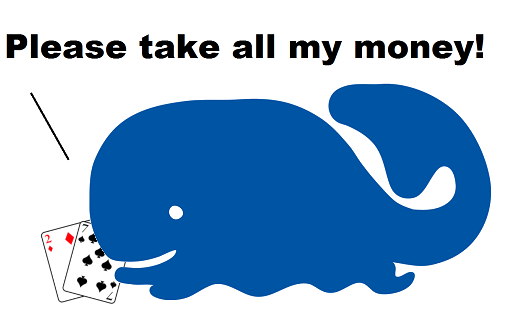 The title might be a bit confusing; what is a "whale"? In poker-speak, it's an amateur, high-rolling, big-bucked, poker player. People often think of the poker whale as the biggest loser – indeed, the imagery conjured up by the use of the word "whale" implies they're blowing money from their wallets like a whale blows water from its blowhole –  but as you're about to find out, that's only partially true. Just as the whale swims in water, so too do these people swim in money.
These people are big losers, but can also win big, too – and when they don't win, they don't care, because their bankrolls are HUMUNGOUS.
From the point of view of the ordinary player, a whale at the table is a gift from the casino gods. They grow the pots, but their amateur play means they're less likely to win. Another term for them, from the other players' perspective, might be a "cash cow".
Now, let's look at some of the biggest whales in the history of poker.
#1 Terrance Watanabe
We've talked about this guy before, and you'd be hard pushed to find a casino blogger that never mentions him. Watanabe is an enigma to many because we ordinary folk cannot fathom his playing style.
Depending on the source, Watanabe lost between $127 and $205 million over the course of his gambling career. Whether the true figure is at the low or high end of that range, it doesn't matter, because it's still the biggest poker loss we know of.
Despite those huge losses, Terrance Watanabe still has a net worth of $150m. He's definitely been left with the least amount of money of our four whales, but it's not too much of a hardship.
He wasn't happy about his loss, and he puts it down to gambling addiction. He's taken both the Caesar Palace and Rio Casino to court over an unpaid proportion of his losses, which he refuses to pay, claiming that the casinos were irresponsible for allowing him to gamble when he clearly had issues. The casinos have since been fined $225K as a consequence of court action.
You might think that's unreasonable, but Wynn Casino refused his patronage after they realised his addiction problem.
#2 Guy Laliberté
The guy is widely considered a whale, but we're not convinced of this status to be fair. He has lost a lot of money – $17m in 2008 alone. However, can you really say that someone who's finished 4th at the WSOP (2007) is an amateur? Can you say that he's a bad player? Probably not.
Sure, he might not be as good as some of the poker greats – he's no Johnny Moss, Daniel Negreanu, nor Phil Hellmuth – but he's a decent player. He'd definitely beat me, and he'd probably beat you too. It's just that on the grand scheme of things, he's not at the very, very, top of the game.
But, do you know what? A loss of $17m is nothing when you have a net worth of $2.9b! It represents 170th of his entire wealth. To put it into ordinary people speech, if your net worth is $300K (and that's quite high in my opinion), it represents a loss of around $1,764, which isn't that much at all. Although to be fair, that's still high to me; then again, my net worth is about $7,000 and 170th of that is only $44! (Can't really complain, a net worth of $7K still puts me in the top 1% globally)
#3 Gus Hansen
Another one who doesn't warrant the title of "whale" as much as our #1 spot did, Gus has won 1 bracelet at the WSOP "£10,350 No Limit Hold'Em High Roller Heads-Up" event, 2010, which is hardly the actions of an amateur, is it? He also calls himself a professional player – then again, I could call myself a turnip; it doesn't make me one.
Nonetheless, many in the world of poker consider him a whale because he's the proud owner of one of the biggest losses in poker history, following a $20.7m loss at Full Tilt Poker. Ouch!
#4 Andrew Beal
Beal is definitely a player that many would wish to sit at their poker table. With a net worth of $7.6b and a huge penchant for gambling, you know he's going to send those pots sky high.
Depending on where you focus on his gambling career/history, he looks like one of the greatest players or one of the worst players ever to grace the poker tables. He's had almost-record losses of more than $16.6m in three days, but also record wins of around $14m in the same number of days! That's still a net loss of around $3.3million for that particular week, back in February 2006.
In summary, it's hard to quantify the losses of the whales. They're living on a different monetary plane to us. What appears to be an unbelievable, life-changing, sum of money to us is just pocket dust to them. By the time I finished writing and researching this article, the sentiment that "whales" are players with no clue seems somewhat unfair. These players have played against some of the best poker players in the history of the game, and while they might have come away wounded, they were never beaten and sometimes, they frequently gave as good as they got.