Slingo Centurion Slot – Review, RTP & Free Play Demo
Original is the keyword in the name of the developer of this game. Slingo isn't quite a bingo game, and it's not quite a slot: it's something in between with elements from both, but very accessible, fun, and easy to play for slots fans.
A lot of the Slingo games are make-overs of popular slots, presumably designed to entice bingo players to try them out. It's also worth remembering that slots are hugely popular on bingo sites, where they are generally played as "side games" by players between timed rounds of bingo.
Slingo Centurion applies the game mechanic to the hit Roman-themed game from Inspired Gaming.
That means you get the look and feel of the slot, and quite a similar game experience and expected game performance with some tweaks to gameplay that make Slingo games original and fun.
Should you join the legion for this march to the reels though?
Let's have a look!
Play Free Slingo Centurion Slot
Slingo Centurion Slot Q&A
What game provider developed the Slingo Centurion slot?
Slingo Centurion is a mixture of slot and bingo developed by Slingo Originals.
When was the Slingo Centurion slot released?
Slingo Centurion slot was released pretty recently, that is, in February 2020.
What is the Slingo Centurion RTP?
The RTP (return rate to player) of this slot/bingo game is 95% which is pretty decent for this kind of game.
What's the layout?
Slingo Centurion comes with a 5×5 grid and 12 pay lines. You need 5 numbers to hit a win in this game.
What theme is used in this slot?
Slingo Centurion is based on Roman culture. The design is simple and smooth. You will see a Roman Centurion on the right side of the reels who will announce your wins.
Can I play this game on mobile?
Slingo Centurion can be played across all devices including mobiles, desktop, laptop, and tablets.
What is the Slingo Centurion variance?
Slingo Centurion slot is a medium variance game. You will see frequent wins on the screen of smaller and medium size. The bigger wins are also possible but not as frequent.
What is the minimum bet and the top prize?
You can start betting with as little as 20p per round while the max bet is £20. The top prize on a single spin in Slingo Centurion is x500 the total bet.
Are there any free spins and bonus rounds? What other features comes with?
Slingo gameplay is a bit different than regular slots. In Slingo Centurion you need to cover as many lines as possible as after 10 spins, you will unlock a feature based on your success of hitting the wins. There are multiple standard rounds and free spins to encounter as you progress up with more lines you hit.
There are extra free spins, wilds, Mega symbols, mega wilds, more pay lines, etc. Ceasar Free Spins are the most lucrative and you get to choose the number of free spins and multiplier.
Are there any jackpots?
No, Slingo Centurion doesn't feature any progressive jackpots.
Is there anything else that I should know about the Slingo Centurion slot?
This Slingo Centurion slot game may seem a bit complicated at first as there is plenty of going on and it doesn't feature the characteristics and gameplay of the typical slots. But once you start playing the game, you will soon enough get the hang of it.
If I like this game, what else should I look at?
If you like Slingo games, then you can also try Slingo Maximus or Slingo Rainbow Riches. On the other hand, if you prefer classic slots, there are plenty with a Roman theme. For example, Centurion or 300 Shields Extreme are great choices.
Slingo Originals – The Developers of Slingo Centurion Slot
Slingo Originals specialise in these remakes of slots in the Slingo style. They also produce their own standard slots though.
They currently have a 39-title catalogue, and their biggest hits are the Slingo versions of big slot titles.
Number one for the company currently is their Slingo version of Rainbow Riches, and that's rated as 18th most-popular title in the UK on the sites we use, so these games are no tiny minority pursuit.
Slingo's popular titles also include this title, Slingo Advance, Slingo Extreme, Slingo Who Wants to Be a Millionaire, and Slingo Deal or No Deal.
The company's slot titles also chart, and they include, Pay of the Dead, Pigasus & friends, and table games like Blackjack X-Change.
Slingo Originals was formed in 1994 and are UK based. In this market, they are rated as the 14th most popular provider, with 17 Slingo games, and 20 slots, plus two card games.
The Facts and Figures
This is not a typical slot so this is reflected in the slightly off-kilter stats!
The game's theoretical return to player of 95% is absolutely typical of the sort of return you would expect from a typical slot game at the moment.
Medium volatility also means that the game is rather average. Volatility, or variability, measures the size of prize against frequency of prize award with "low volatility" games paying out smaller prizes more often and vice versa for "high" volatility.
The potential top prize is 500-times stake with betting – which is slightly non-standard – running from 20p to £25.
There are 12 potential win lines, though they don't really work in the same way as slot lines, and neither does the five-by-five grid, but we'll cover the rules below.
You can play this February 2020 release on any device that supports JavaScript and HTML5.
The Game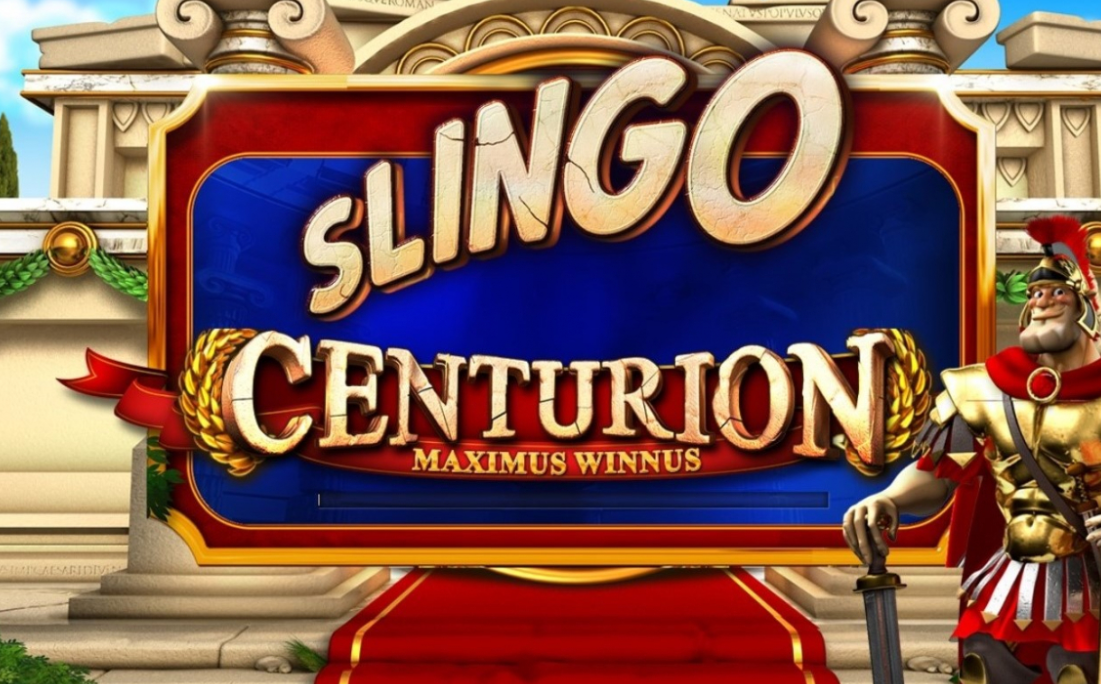 The Slingo Centurion slot game starts with a five-by-five grid of numbers like a bingo card, with a set of five reels underneath, spinning up numbers and possibly a wild, in the shape of a joker symbol.
You buy spins in sets of 10, which are illustrated with a stack of balls coming down a tube like a bingo machine. You choose your stake for the whole set at the start of the game.
And you hit the spin and one of these balls is converted into a set of five numbers and symbols that go across to the reels.
Any numbers on the game card that match a number of the reel are marked with a star and taken out of the game. A joker allows you to choose any number from the row above the joker. A devil blocks you from converting a symbol in the row above it. A super joker allows you to pick any number anywhere on the grid to flip. Free spins symbols let you spin for free!
Completing lines of five stars – running in all directions, including diagonally across the centre – pushes you up a prize board to the right of the board. This climbs up a ladder of bonus games.
At the end of each round, you can either buy more spins to continue playing (for the same stake) or you can press the collect button and play the bonus game you're entitled to.
The bonus games are largely played on a version of the Centurion slot.
Pay outs
The pay-table on the slot on which the bonus games are played opens with card symbols:
Jacks and Queens at the bottom, paying the same, then kings.
The high-value payers are: the Roman coin, the shield and the helmet, that all pay the same. The arena pays slightly more, and the chariot is the top paying standard symbol.
Finally, the game logo pays the top prize and pays out from sets of two. There is also a wild.
Slingo Centurion Slot Bonuses
The first bonus up the prize ladder is Reelus Maximus, a round of spins on the slot with gigantic wilds in play on the first three reels.
The Prizes on Parade round features a prize pick game that runs from left to right with randomly awarded multipliers.
Caesar's free spins give you set of spins chosen by a random wheel, with a multiplier on wins added from a second reel.
The Road to Rome bonus is a board game with big cash prizes up for grabs.
Wild power spins put blocks of wilds on the central reels of the slot for three "power spins".
The Verdict
It's hard to see a downside to this game.
If you like bingo there's that level of action to enjoy, and if you like slots you get a go on one of the best titles on the market at the moment.
The return to player is good and the bonus games are fun.
The question for you will have to be, do you enjoy playing Slingo games?
There's really one way to find out! If you do, this is one of the best and there are lots more to choose from.