Classic is not a very precise word. It means all sorts of things to all sorts of different people. It can be a term of praise, or it can be a way of criticising someone for doing the predictable thing – when the predictable thing is bad. Is it the same when we refer to classic slots, those old school, old-fashioned slot machines? And what's classic in the online video slot world?
It's not easily defined in our world either, which is why we're offering our readers – connoisseurs of slots every one of them – a big, comprehensive guide to this compelling, exciting and – as the word suggest – an enduringly popular style of the slot game.
Best Sites to Play Classic Slots Online
What's a Classic Slot? The Fundamentals of a Classic Slot Machine
The slot machine is a simple game, and, as we'll see as we look at the history of the game, its roots go deep into gambling history.
Long before electricity was even invented we were gambling. And most gambling is based on the same old game. You can dress it up with all the bells and whistles of the computer world, but it still boils down to the generation of a random event – or set of events – on which the player stakes money on an outcome. The more unlikely the outcome, the bigger the prize awarded when it occurs.
That's what dice are about, and that's what cards are for.
And cards are the precursor of the slot machine, with the spin mimicking the dealing of a hand, and combinations of symbols standing in for winning hands in games like poker or rummy, bridge or whist.
The major difference between slots and card games is that slots are played alone. Instead of trying to beat another player or a dealer, the player plays only against the machine, and the chance of a non-matched set of symbols coming up.
Staking is done on each spin of the reels and prizes are awarded according to a pay-table.
Inside a Classic Slot Machine – Playing the Game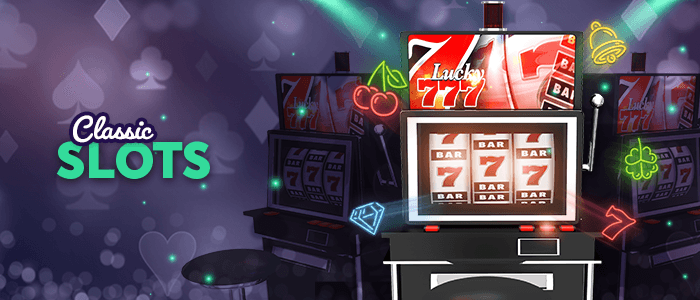 What do you need to play a classic slot?
Most games will be fairly similar. And most are very simple to understand. Most players can pick up how to play a slot within a couple of minutes even with absolutely zero advance knowledge or training.
The main components of a classic slot are these:
The Reels
To "deal" your set of symbols, reels will be put in motion. These days the reels don't exist in reality and don't spin. A classic slot will simulate that experience though, and will not use the modern alternatives (tumbles or explosions for example) to apparently spinning reels.
Reels can come in any number these days. There are some crazy set-ups, but to hit the classic slot definition your game is going to need to have three or five reels.
Five reels actually have a longer history than three reels. The first slot games were based on poker, with its five-card hands. Three reel games game slightly later and helped to mark the development of slot machines as something in its own right that was more than just as the simulation of a card game.
On the reels are the symbols on which you're betting. The most common layout these days – and certainly one you should see in a classic slot – should see three rows of these reels revealed, this most often means a playing field of 15 symbols or nine symbols on a three-reel classic slot.
Press the button and round the reels go, stopping to deliver a set of combinations of symbols measured along:
The Pay-lines
Pay-lines are the paths across the reels along which winning combinations can be scored.
Three-reel games have fewer. The original slot games paid out only for combinations straight across the middle of the reels. Three-reel games – especially classic slots – are likely to have three pay-lines as a minimum. That's the old central line and two diagonal lines from top left down to bottom right and bottom right up to top left. These numbers can be doubled up by allowing winning combinations to run in reverse too.
The five-reel variation of the classic slot will have many more pay-lines. These may be numbered, usually with discs along the side of the reels. 10 pay-lines aren't uncommon, but neither are 20 or even 25.
With this number of pay-lines, you're looking at something more complicated than just straight lines, of course. Most machines will show you diagrammatic illustrations of the prize lines when you hit the information button.
Again, these lines can be doubled by reversing them.
Plenty of winning combinations
Modern slots can produce huge numbers of winning combinations by abandoning pay-lines in favour of "ways to win" and different companies have their own branded versions of these systems. Our view is that these are a gimmick more than anything (they never change the amount a player is likely to win), and to be a classic slot most games will stick to traditional pay-lines.
Some games allow you to bet on all pay-lines at all times – these games will often describe their staking as "fixed". Others allow you to independently choose the pay-lines on which you're playing. Others use a "levels" approach which adds pay-lines as you climb a ladder of levels.
Classic slots may allow you to make up to four choices about your betting.
You can choose the coin size, so defining how much "1 coin" in your stake will be. You can choose how many coins you're staking. And you can choose how many pay-lines you're betting on.
This is often distilled into a final decision on a total bet that will define the other totals for you. If you're watching your cash balance, always keep an eye out on this figure, which should be shown prominently on the control panel.
The Symbols
The numbers of each symbol on each reel – or simulation of them – will vary from game to game, and it is the sort of technical information you can probably track down online if you have the time and the dedication. You don't need to know this, and the pay table is a good general guide.
To look at an example of a classic slot, 20 Joker Reels, by EGT, the game has a total of 10 symbols.
Eight are standard symbols – in this case very classic fruits, BARs, and bells – while on top of them are two:
Special symbols
Special symbols in our example are pretty typical of what you'll find for any classic slot.
On 20 Joker Reels, they are a wild and a scatter.
Wilds play the same role as wild cards in poker. They sit in the reels and replace non-winning symbols along with pay-lines usually to make the best possible winning combination. You may find that wilds are restricted in where they can appear (our example, 20 Joker Reels, only has wilds on the second, third, and fourth reel (reels are counted left to right)), and they usually won't stand in for bonus symbols.
Wilds may have a monetary value in their own right.
Scatter symbols score as combinations even when they don't appear in combinations. They are most often used to trigger bonus games or to award jackpot prizes. For example, 20 Joker Reels has a scatter of a money bag that awards jackpot prizes of up to 200,000 coins for a full-house of five of them.
These prizes will be awarded wherever on the reels the scatters appear, it's just the total number of them that matter.
This information and everything else you need to know about the game will be found in the:
Pay-table
A pay-table is a guide to the game prizes. It works as a cut-down version of the odds of each set appearing too. The more unlikely, the bigger the prize.
Our example game, 20 Joker Reels, has a fairly typical pay-table. It lists each symbol and tells the player how much they will win for each combination they score. Some pay-tables tell you the prize total as a multiple of the stake, others will use the stake you are currently playing with and do the sum for you.
In our example, some symbols are ranked together.
So cherries and lemons (good classic symbols!) and oranges and plums pay-out 160 credits for a set of three, 700 credits for four, and 2,000 for five. This – and all these figures – are pay-outs based on a total bet of 400 credits, so the ratios are 0.4-times stake, 1.75-times stake, and 5-times stake.
On the same 400 coin bet, double bars pay out 200, 1,200, and 4,000 stakes. The same figures are paid out by triple bars. The bell pays out 600, 2,000, and 6,000 coins. The 7 symbol pays out from sets of two, rewarding players with 80, 800, 2,000, and 20,000 credits.
The scatter pays out a jackpot of 1,200 coins for three; 8,000 coins for four, and 200,000 coins for five. The scatter is a cash bag.
The pay-table should also contain,
Bonus Games in Classic Slots
The classic slot will probably not contain as many bonus games as some more innovative titles. However, as bonus rounds have been a part of real-world slots since the 1990s, it's completely in keeping for a classic slot to have some form of a bonus round.
For example,
Gamble Features
Gamble features are common in classic slots. Most – like the one in our example game – are simple double-or-quit games usually based around a choice.
The commonest choice is on the turn of a card. The player is asked to guess if the card is a red or black one, and if they're right they double the prize they won in the game. If they're wrong then they lose the lot.
You might see a coin toss or the choice between odd or even numbers, and you may see a four-way choice – commonly between the four suits of a deck of cards – that gives a range of options for an extra prize. Again, a loss will end the game.
Some games use skill games to allow to walk up a cash ladder of double-or-quit wins.
These are a real classic slots favourite, with the most common one being the challenge to stop a flashing light with a click.
This is the simplest form of a bonus game, but the online video slot can offer much more of a choice for players with a load of:
Other bonus games
Beyond games based on turning your prize from the base game into something bigger and better are bonus games that exist in their own right.
This is such a wide sphere that it's not possible to cover every possible bonus game option.
There are some common types of games though:
Cash ladders are similar to the gamble games on base-game prizes. Players will be asked to make some sort of choice on a random event, and as they get them right they'll go up a sequence of increasing prizes.
Choice games are even simpler. The player is offered a choice of items and their choice reveals prizes.
The most popular style of a bonus game and one that is used in classic slots the most are:
Free spins games in classic slot games
Free spins do what they say on the tin. They award the player a number of free goes. And then the fun starts!
There are a huge variety of free spins games in modern classic slots. Again, it's too much to cover here in detail, so we would always remind our players to read the full instructions of a game before they play it.
Free spins most often arrive in sets of 5 or 10. They can be "retriggered" or not. If spins can be retriggered this simply means that the bonus symbols that set off the original free spins round remain in play, and if they turn up again during the free spins round you will be awarded another load of free spins. There are sometimes limits on the number of times this will happen, and the numbers of free spins awarded is often smaller than the original bonus award.
Free spins rounds often include extra features in the bonus game.
Again, too many to cover every possible combination here, but a few favourites might include:
Multipliers
Multipliers simply increase the prizes you are awarded. Free spins rounds might play exactly the same as the base game. So, if you see a set of five symbols you might pick up 10-times your stake in the original game, but in a free spin bonus round, you might be given a free spin multiplier of two-times, which means that prize will be worth 20-times your stake. That could turn a 10p stake into a £2 win, which is very nice!
Multipliers often climb a ladder in free spins games. That means that each time you win a prize that triggers the multiplier, the multiplier increases. So, once you've won that £2 prize in our example above, the multiplier might increase to a 3-times multiplier, turning your 10p stake into a £3 prize. As these multipliers go up and up you get an exponential increase in prizes and you'll often find the top total prize for a game can be won in free spins rounds.
Extra symbols can also be added to the reels in free spins rounds. They might increase your chance of winning by adding more high-paying symbols. They might add more wilds or more scatters. Or they might add wilds that behave in different ways – by expanding to fill whole reels, or moving across the reels, or growing into giant-sized symbols. The same may happen with scatters.
Again, there's no limit to these options. Though to maintain status as a classic slot you would think that a game will keep its bonus games relatively simple.
The history of slots – why classic slots are like they are
The reason why classic slots are what they are is because of the history of the slot game.
Let's take a quick look at what makes a classic.
The first slots – the birth of the classics
Our story takes us to the home of innovation, and the home of putting money from the pockets of ordinary people into the pockets of rich people – but that's a discussion for another time.
The first slots games, which were born in the late 19th century, were very simple simulations of card games. This literally meant sticking playing cards to spinning drums. The player pulled a lever that built up the mechanical power to turn the drums, and where they stopped revealed a "hand" of cards – running along a single pay-line across the middle of the drums.
There was no way to put money into these machines. They had to be paid for at the bar or counter of the saloon or café in which you were played. And there was no way to pay out automatically either. So prizes were handed over from the bar.
Nonetheless, these games were the ancestors of the game you log on to your favourite casino site today to play.
House Edge
They also introduced the house edge, by removing a pair of cards from the deck that was stuck onto the reels to make some high-paying poker hands less likely to appear.
See what we mean about innovation and money transfer!?
Three-reel games were the next innovation, and to avoid laws that outlawed cash gambling on cards they used symbols instead. Those BARS were a company logo, the bell was a patriotic Liberty Bell.
Machines were developed that could take cash and pay it out, and when cash gambling was outlawed completely, the fruit symbols arrived to symbolise the food prizes that players could win on games that they were obviously finding entertaining enough to want to play, even in the absence of big cash prizes.
Electronic Power
In the 1960s mechanical power was replaced with electronic power. This opened up space in machines that had been mechanical, and the first electronic game was also the first to offer a really big cash pay-out, with a prize of 500 coins available from its new bottomless hopper.
It's interesting that even when the operation of the reels could be delivered with a simple push button, the company that invented that big money machine, Money Honey, kept the big lever that people were familiar with from "one-armed bandits". As well as keeping the "arm" of the bandit, they kept the mathematics that made them robbers too.
It shows, though, that people like nostalgia and the familiar in their gambling games.
And that is true even in the internet age.
In the 1990s, the first bonus games were introduced, with a second screen on which to play it. Video monitors started to replace physical reels entirely.
With this, the stage was set to take the game online as the internet was invented, and online payment methods were introduced.
A lot has changed since then, but even in the cyber age players have continued to return to some classic features. There's really no need in 2019, for a random number generator to present its results in the form of spinning reels and fruits symbols coming together.
But that's what we have in classic slots!
How to play and win at classic slots
Classic slots are pretty simple. And that means that they're easy to play.
Most games will have two controls that players must need to know to be on top of to play. In fact, you can play most games with just one.
These are the spin or play button and some control that sets your bet.
Some very simple classic slots may not even require you to choose your stake. However, as we've seen in our discussion of pay-lines these controls can be quite sophisticated, demanding that you set a coin size, select how many pay-lines you would like to bet on, and perhaps choose an extra option like super staking.
Winning classic slots is simple. Just play. There's no secret, and the mathematics behind the site will make the decisions. You cannot play a winning strategy or a winning time, you just need to play games that you enjoy, play them safely and legally and with money you can afford to lose, and you need to trust to good luck because that's what wins classic slots!