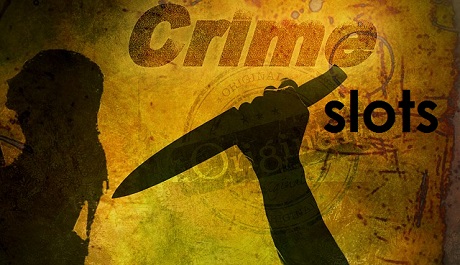 The crime slots: one of our favourite types of video slot here at www.online-casinos.co.uk. We're well aware of the irony here, though. We love the criminal slots, but in reality, the video slots are the real criminals…for taking our hard-earned cash! At least, that's what I think when I'm on a losing streak. Still, if you're going to lose, better lose to a game you enjoy – right?
Or, maybe, the reason I love them is the feeling of badassness (Is that a word? It is now!) I get when I play them. As you'll see, sometimes I'm the badass because I'm the criminal, and other times because I'm the cop/goody – it all depends on the game.
If you play the video slots, you'll already know that there are many, many, crime-themed slots. Here, we have chosen our top five crime slots of all time. Sure, it's based on personal opinion, but we play the video slots A LOT, so we know what we're talking about when it comes to having a good time, and you'll see it too if you give them a go.
---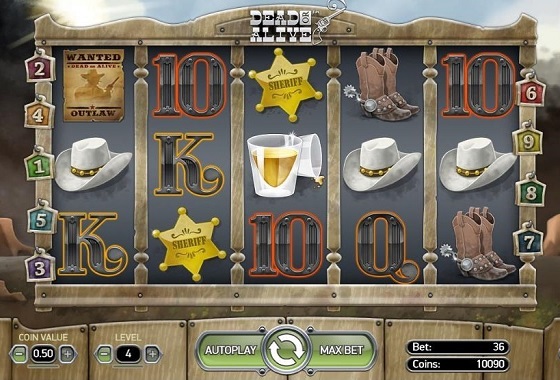 Play Dead or AliveTM at Mr Green Casino
5. Dead or Alive TM
As with all NetEnt video slots, the graphics, speed of play, and animations are excellent. The audio track makes you feel as if you're in the Wild West; although, the cowboy whistle can become irritating after a while (it's the same whistle you hear in such movies as "High Noon" and "Once Upon a Time in the West"). Fortunately, you can choose to switch off the sound effects and/or the ambient sounds.
Dead or AliveTMis a lot of fun. The Scatter bonus is the best part. It's triggered by the appearance of 3 trigger-symbols anywhere on the reels. This wins you 12 free spins. All wins have a 2x multiplier, so it's much more lucrative than the main game. If a sticky wild card appears during the scatter bonus, you win an extra 5 spins – extremely generous.
It has several decent features that I always look for in a game:
Autoplay features: some games omit Autoplay entirely, while other games offer sub-standard versions. NetEnt always delivers on their autoplay features and there are a decent number of settings. I always like to set a limit on the amount of money I can lose before the autoplay stops, which I can here.
Max Bet: while some slots have max bets exceeding £200, Dead or AliveTM's max bet is £18. For most of us, that's quite a lot, but manageable. I always like to max bet, and I can have a decent run with £18 per spin.
While Dead or AliveTM is excellent, it doesn't rank as highly as it could, and there are two reasons for this:
First, there's no bonus game. The scatter is the only added extra.
Second, there are only 9 winning lines. In my opinion, the more lines there is the more fun the game.
---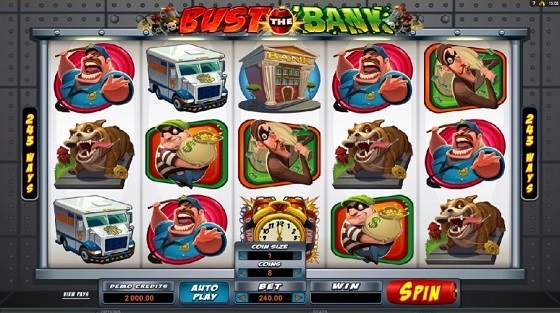 4. Bust the Bank
Microgaming certainly comes through with this fun and exciting video slot. The animation is great. It's more cartoony than a typical video slot, but that simply creates an interesting dynamic: from the first sight, you know this is going to be a fun game.
With 243 winning lines, the excitement is high and the wins are frequent. Here are my highlights from the game:
The Animation: this is awesome. I don't want to give too much away, but each symbol has its own particular animation. My personal favourite is the Bulldog win – he urinates on a fire hydrant, dirty puppy! Go and have a play to discover more of these funny animations.
The Bonuses: this game is very generous in terms of the number of bonuses available. There's two "Safe Bonuses", the "Piggy Bank" Bonus, and "Larry and Bob" bonus, the latter of which just appear out of nowhere to give you a bonus.
The Scatter: while this is a type of bonus, it's worth mentioning in its own right. 3 or more scatter symbols triggers 8 free spins. During the spins, the two outer reels (1 &5) become wild symbols – that's 6 wilds altogether. As you can appreciate, there are some huge wins to be had here. The scatter is the best thing about the game.
There are a few other things to note too:
The Autoplay: there are positives and negative here. The best thing is that there's no cap on how many plays it can run. The worst thing is that there aren't very many options for ending autoplay; you'll need to keep an eye on your bank so you don't overspend.
Max bet: it's a bit high at £300. This max bet is the reserve of the high rollers amongst you. With the high stakes though, come the high rewards.
Again, it loses a few points with us because it doesn't have a set bonus game. However, the scatter bonus does make up for this omission.
---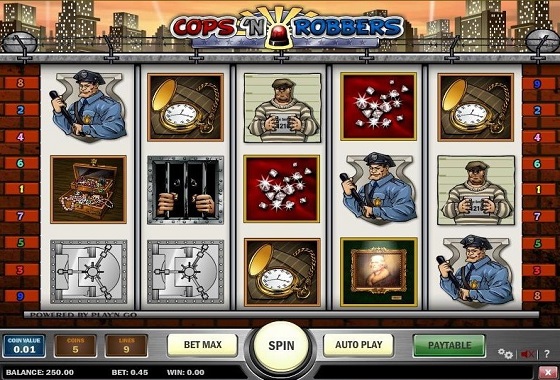 3. Cops 'N Robbers
Play'n Go living up to their reputation with this fantastic 9-line game. The first thing I noticed was the soundtrack. It sounded like a plodding Bobby. You might have to be British to understand this. A Bobby is a police officer – named after Sir Robert Peel, who created the first police force in England. The police officers were nicknamed Bobby Peelers, which today has become "Bobby" (singular) or "Bobbies" (plural). Anyway, the music reminded me of the stereotypical "bobby on the beat", out on the prowl for mischief-makers.
It takes a while to realise it, but in this game, you aren't the goody. You're the robber and you need to escape with as much loot as you can.
This game has two main features: The "Car Chase" & the "Gamble Round"
The "Car Chase" is a scatter bonus. The trigger for the bonus is the appearance of three police cars anywhere on the reels. You watch as the reels spin in a simulated car chase with a twist. Every now and again, a roadblock appears and you have to choose whether to head left or right. Your choice either gets you caught or lets you escape from the police. If you escape, you win 2x the total bonus prize collected. The added twist makes the scatter bonus much more fun than with other games.
If you're familiar with Play'n Go slots, then you'll have encountered the "Gamble Round" before. Here, you get to gamble with certain wins (e.g. wins won via the car chase or wilds). It's a simple 50/50 (red or black) or 25/100 (suits) bet – you choose. You can carry on gambling up to 8x. It's a fun little addition, and along with the scatter bonus, this is why "Cops 'n Robbers" makes it to our number 3 slot.
The autoplay with Play'n Go is pretty good, but it only goes up to 50. Max bet is £45, which is quite high, but not as high as some of the others listed here are.
---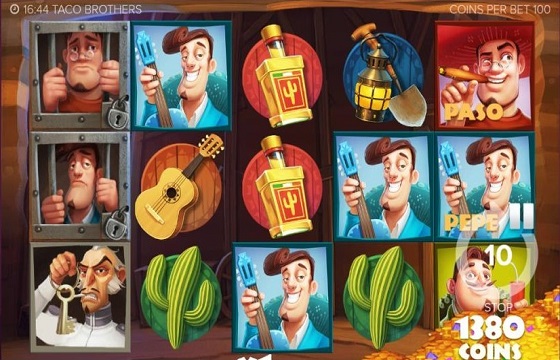 2. Taco Brothers
From a lesser-known game provider, our number 2 position goes to Elk Studio's "Taco Brothers" for their intensely entertaining and well-delivered slot. While there are only 9 lines, the quirky twist with the wilds earns the game its place in our top 5 crime slots.
It starts with a great little introduction where we meet the three taco brothers Pepe, Paso, and Pico, and the evil taco thief Cpt Diaz – the taco thief who steals from unsuspecting children, bans tacos from his Mexican town and sends you to jail if you dare challenge the taco ban. It's your task to help the brothers fight the evil Cpt Diaz, which you do with the help of Senorita.
The best part of the game is the scatter bonus. This isn't your ordinary scatter. It's triggered with the appearance of three "safe" symbols. First, you're taken off to another screen of reels. Each brother takes it in-turn to appear as a wild card on each line (Pico on the bottom line, Pepe on the middle line, and Paso on the top line). The wilds stop when Cpt Diaz appears and locks each brother in jail…but Senorita can release you all if she appears on any of the reels. The wild bonus can last a long time and you can get some huge wins It's really intense and that makes it great fun.
This game definitely has the best soundtrack and I defy any of you not to shout "PEPE!" at least once!
Gambling is interesting in this game. First, the maximum bet is £50, nothing special there as far as crime slots go. However, they allow you to select different betting strategies, and there are three to choose from Jumper, leveller, and booster. E.g. with Jumper, each win raises the bet to a max of 4 raises, which works out to 10x the first bet. I have seen this with other games, but it's quite rare, so the game definitely gets brownie points here.
Be careful not to get caught out with the autoplay. It's easy to assume they don't offer it, but they do. You simply need to hold down the spin button to trigger the options. Once triggered, the options are decent.
Overall, this is a fun and intense game, and if it only offered a bonus game, we would give it the number 1 spot.
---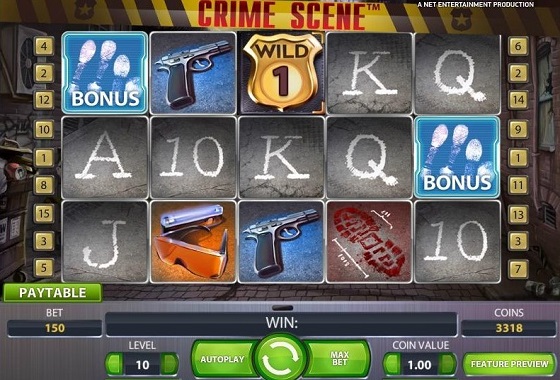 1. Crime SceneTM
B-e-a-uitiful! Once again, NetEnt delivers a top-notch game with plenty of fun features. It's a 15-line game with a max bet of £150, so ample opportunity for you to win big! Here, you play the role of a forensic expert checking out crime scenes and collecting evidence.
The game has two main fun features: Sticky Wilds and the Bonus Game
Sticky Wilds:
One thing that I've noticed with crime slots (and not just with NetEnt), is the use of Sticky Wilds. All the games listed here have sticky wilds. Maybe it's something to do with criminals coming to a sticky end. Whatever it is, they love them, and as a player, you'll love them too because they usually pay off in a big way.
When a sticky wild appears (you can see one in the picture above, it's a sheriffs badge), they have a number inside them, and this is the amount of spins that the sticky will feature. It's common to get another sticky during a sticky wild spin, so you can win big here.
The Bonus Game:
You trigger the bonus game with three bonus symbols (one of which you can see in the picture). This then takes you away from the reels and onto a crime scene. Here, you select folders to look for evidence.
Some folders have money behind them, some have evidence (which gives you a biggish win), some have a shield, and some have a big red cross.
If you reveal a red cross, you're out of the game…unless you have a shield, in which case, you carry on. The game finishes when you either hit a red cross or have no shield, or you've clicked all the folders.
As a final goodbye, you get to select an envelope that earns you a prize.
As crime slots go, this game is great. It gets the number 1 position because it offers a great bonus game, and we loooooovvvvveee the bonus games! It also has great Autoplay (as always with NetEnt). The only disappointing thing is that the audio track is quite boring, but that's a minor complaint. This is a great game and well worth a play.