Ivanhoe Slot by ELK Studios – Review & Free Play
We go back in time in a couple of ways with this medieval slot from ELK, which takes us back into a murky time in UK history, and also back to 2017 when this game was released.
Elk play up the retro stylings in their publicity. They say that the Ivanhoe slot game is volatile, with classic lay-out, innovative features, big prizes and a big bonus game. A lot of the theming of the game, visually, is based on old pinball machines. It's a three-reel game, with more pay lines than you would expect, and a high volatility level to make big prizes a possibility.
The story of Ivanhoe is based on a novel by Walter Scott, who in his time was just about the most popular star of his day. It's at the root of lots of subsequent myths about British history too. The story pits a Saxon knight against Norman invaders.
The game takes up the fictional style, giving us a narrative structure and plenty of story-telling magic in a series of levels delivered from a retro dot matrix display.
The producers nod towards the 1982 telling of the story, and the Ivanhoe has been retold at least twice in my lifetime on British screens. It's a swashbuckler (with some questionable attitudes by modern standards) and a great love story.
But does it make a great game?
Let's have a look!
Play Free Ivanhoe Slot Demo
Ivanhoe Slot Q&A
What game provider is behind Ivanhoe?
This game comes from ELK Studios. From the name you'll guess that ELK come from somewhere in the north, and like so many of today's slot developers, they are Swedish. ELK are relatively slow producers, having got up to just over 40 games in eight years, but they do a great job, and regularly pick up awards in industry ceremonies. They have a couple of series of games, the Gold Series, for example, that are really big hits, and they're rated as the 33rd most popular and visible producer in the UK market now.
When was Ivanhoe slot released?
This game came out on 10th June 2016.
What is the Ivanhoe RTP?
The theoretical return to player of this game is 96.3%. That's around average for the current market. RTP is a long-term measure of how much player money should be returned to players over the game's lifetime. Please do not treat it as a predictor of your gaming experience, which could be exponentially better or worse than this rate would suggest.
How many reels and pay lines does Ivanhoe have?
This game is a 3 by 3, with three rows and three reels, giving 9 symbols in play. There are 17 pay-lines on this playing field, which is a high number for a 3 by 3 game.
What theme is used in Ivanhoe slot?
The theme of this game is medieval history, adventure, English history, retro games and historical romance. The graphics are dramatic.
Can I play Ivanhoe on mobile?
You can play this game on any device that supports Flash, JavaScript, and HTML5. You need to enable Flash in some browsers.
What is the Ivanhoe variance?
This game is high variance. High variance games are slightly more likely to award bigger prizes but to pay them out less often. This measure is also long-term and it is not an agreed industry standard.
What is the minimum bet and the maximum win?
The minimum bet on this game is 0.2 coins. The maximum stake is 100 coins. This should be 20p to £100 in UK sites. The top prize is 3,000-times stake, or £300,000, a healthy amount at any age!
Does Ivanhoe have free spins and bonus rounds?
There is a free spins round in this game. The free spins round comes with a crown wild.
Is there anything else I should know about Ivanhoe slot?
The game comes in with a betting strategies option to allow you to plan your play.
The Game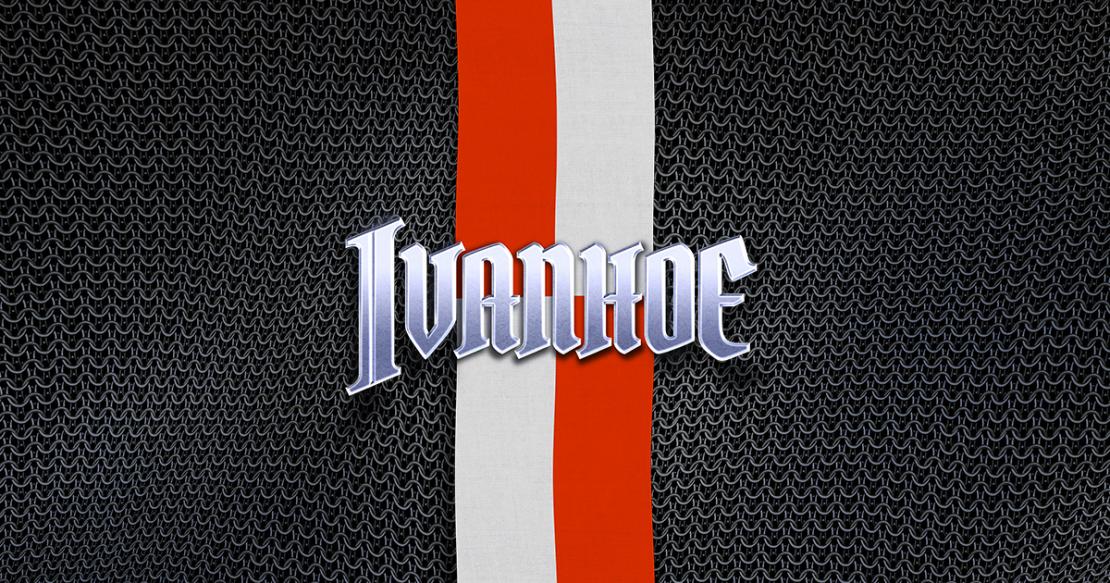 This game is very much set-up for mobile play.
The spin button sits at the bottom right of the screen, and the Autoplay (which is quite sophisticated) is at the top right.
Open up other menus from the top left of the screen, and change your bets with a sliding scale from the bottom left.
There is more information in the game frame.
There are five levels to the bonus level, with increasing multipliers. Once you've won the number of coins needed to move up, you will go up a level and towards higher and higher multipliers.
The Verdict
This Ivanhoe slot is a good game and well worth playing.
ELK Studios are doing a great job these days, and this shows that even back in 2017 they were breaking new ground and offering players innovative features like betting strategies and game modes.
This might be one of the earliest games to show that mobile screens might lead to a step backwards to go forward, as smaller playing areas made simplifying games and simplifying graphics would make sense.
The pay table is stocked with mediaeval symbols, and some non-medieval ones like bars, 7s, and lemons.
The bonus game is great, and gamified to give better player engagement (so be aware of how much you are spending). By all means, check out the betting strategies too, but make sure you know what the implications for your balance are.
There still aren't many games like this on the market. High variance makes it stand out from the start, with a 510-times stake win possible even on a single spin in the base game. The 3-reel setup is coming back into fashion, but why not try one of the earliest and best versions of this feature?
There are other games in the medieval-themed segment but not many that we can think of that are also great retro-classic slots and that come with a real adventure story to follow too.