There is a choice in games, choice in casino sites and ultimately – a choice of how we fund an online casino account. From bank transfers to debit cards and now online wallets like Neteller, there's a wide variety of methods we can use to make an online casino deposit.
The most traditional way to pay is via your bank. However, we all know that using a bank account online comes with some risks. It's also a relatively lengthy process to input your card details, and it's one that is particularly onerous when using a mobile phone or other small-screen devices.
Online wallets allow one-click or one-tap payment. They also put a buffer between your bank account and the casino account. That's no reason to let down your security guard when using them, but it is cited by a lot of users as a reason for signing in via e-wallets like PayPal, Neteller or Skrill.
In fact, the trustworthiness of these online payment platforms is now up there with banks, and they are starting to offer more and more bank-like services – it's simply that they do so in a different environment.
Best Neteller Online Casinos
Mr Play
100% up to £50 + 100 spins
No. 1 best Neteller casino
Accepts Neteller
Claim Bonus with Neteller Deposit
Also Skrill, Paypal, Paysafecard etc
Exclusive 200% sign up offer
Videoslots
100% up to £200 + 11 welcome spins + up to 4200 Battle Slot spins
No. 2 best Neteller casino
Accepts Neteller
Claim Bonus with Neteller Deposit
Many Other Payment Options
Over 3000 games
Be aware of scams
The online casino world is one where you should be able to play safely. Generally, you can, but it's also an area that is rife with scams, and where vulnerable people in search of quick money can find themselves falling for too-good-to-be-true offers and apparent ways to bypass the rules and regulations and the unrelenting randomness of the algorithms behind the games.
That's why we say, that whatever you're funding your account with you should always follow safe gambling procedures. It doesn't matter if you're playing a Neteller casino game or at a pay by phone casino you need to know that you're playing at a secure site, that you're not playing while in a vulnerable state, and that you can afford to lose everything you gamble with.
What is Neteller?
Neteller was founded in Canada in 1999. Since 2004, the company has been fallen under UK jurisdiction in the Isle of Man. You'll find a lot of gambling and financial companies listed on the Isle of Man where there is a low-tax environment.
The company has been involved in the massive rationalisation that has been going on in the online payment processing business lately. In 2015 it joined up with the Paysafe Group and is now part of the same company as Skrill and Paysafecard, the UK, and Europe's favourite online payment systems.

Is a Neteller Casino safe?
Neteller then has a lot of heft in the online payments world. It is not a bank, but it isn't far off it. The best news for UK-based players is that the company is regulated by the Financial Conduct Authority (FCA). This is the same organisation that regulates most of the UK financial sector, including lots of household-name businesses.
Neteller operates by holding your funds in a safe and separate account. In many ways, it's actually safer than a bank because it is required by the FCA to hold enough money to pay back every customer their funds if something should go wrong. We've seen all too recently that banks don't always follow that rule.
The days of online payment processing being in any way fly-by-night or insubstantial are long gone. We live our lives online, we carry out our business online, and we enjoy our casino games online – this stuff is entirely mainstream these days.
Neteller Casino Gambling
The online gambling industry hasn't always been so secure though. In the United States – the world's biggest economy, and the leading player in a lot of innovations in the cyber world – gambling has remained illegal in most of the country.
That meant that getting involved in gambling with Americans could have serious legal ramifications in the one market that no company could afford to be permanently kicked out of. It's probably this that led PayPal to step out of the gambling market entirely for several years leading up to 2010.
Neteller got into the game relatively early though, and by 2000 it was the favourite payment processor of the gambling industry online. Despite a large number of US customers, it was able to take the vast majority of its revenue from online gambling transactions. But in the end, Neteller left the US market for several years and saw its revenues come tumbling down.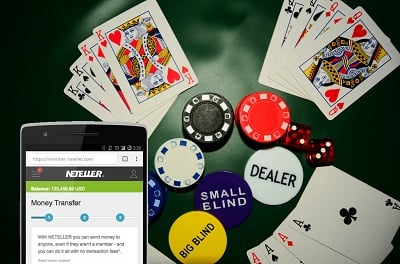 most popular wallet for online gambling
Using Neteller in online casinos
To make a Neteller casino deposit you need a Neteller account.
How easy is it to get one?
It's as easy as this! Sign up at the site – so you'll need to be able to ID yourself – and create an account with its own unique 12-digit account number and another 6-digit unique number that's called the ID number.
Now you need to fill your account with cash. This can come from your bank account, from a debit or credit card, or from another online source. You can actually use 40 methods to cash up your account, and you should check out Neteller's site for details.
When you're signed up at your Neteller casino you should head to the banking or cashier page. Select the option to make a deposit and pick Neteller from the menu. A redirect will ask you to put in your Neteller account details and you can fill your account, with the money appearing instantly in your account.
how to deposit money with Neteller
Can I withdraw casino winnings to a Neteller account?
You can!
Always check the rules of the site you're playing at and always make sure you're happy with any fees you'll be charged for using a particular service. Ideally, you should do this BEFORE you sign up to deposit with Neteller. That's because some sites force you to withdraw to the same service from which you deposited. (It's easy to complain about some of these restrictions on banking at online casino sites, but many of them are forced on them and are designed to stop money laundering and other sorts of shady businesses.)
The good news is that Neteller is usually free.
Safety at Neteller Casinos
We think Neteller is one of the safest ways you can deposit in a casino account or withdraw from one.
The company's website is secure and they have spoken often about the investments that they've made in security. That FCA regulation includes a number of requirements for online security as well as the promise to keep your money safe.
So this is safe. But make sure you still keep your account safe. No-one is completely immune from hacking, so always make sure you're at a secure site and follow all the best-practice rules for setting up and safeguarding your account passwords.
This is especially true of Neteller because to make payments more convenient for its customers, Neteller has made it very easy to link your bank account to your online wallet account (PayPal has similar functions).
Does Neteller pay into my casino account instantly?
How fast do you want it? We've done tests and we find Neteller's promise to be an instant payment system to be credible. There can always be glitches in any system, but Neteller is very good and has a great online reputation – check out the review sites.
The longest delays – if there are any – come as ever when money is being paid in your favour. That's when you might have to wait as casinos usually have some delay on payouts. So read up on the Neteller online casino you want to use – three to 10 days is not an unusual length of time to wait for a casino winning payout.
Neteller in the wider market
The front page of any decent online casino these days has a huge number of logos from online payment systems. As we've seen, many of these are actually owned by the same company – so Neteller, Paysafecard, Ukash, Skrill, are all brothers together. That means you shouldn't see much difference between the services offered to these systems by casinos.
No-one can beat debit and credit cards or direct bank transactions for fees, because they are almost always free to use all the way through the process.
PayPal is now back in the gambling business and is offered by a growing number of casinos. It has the best reputation of any online payment system and is a byword for these businesses. But you may have to pay a fee to use PayPal.
Neteller is nearly always a low cost, is very high security, and has a great reputation. The fact that it has made a specialisation of working in the gambling industry only counts in its favour.
Neteller is a great way to interact with online gambling companies because it can be funded in so many ways. You can sign up at a number of Neteller online casino sites, and then use that as a way to spend your money from any number of other online wallets and bank accounts. Almost wherever you go in the online gambling world you'll see the "Neteller taken here" sign.
Always play safely with Neteller
The future of Neteller looks bright too. The company launched a card in 2003 and has now linked it with MasterCard. This means the system becomes a bank in all but name. You can fund a Neteller casino account and then use a card as a debit card. It's not quite the same as a debit card because you have to pre-fund, whereas a bank will allow you to overdraw with a debit card. You can also use these cards online as virtual credit cards, with the company generating a number each time you use the card, which must be one of the best and simplest answers to online fraud that we've ever come across.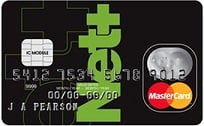 They've also got involved with the new pay-by-phone systems and partnered with Boku as a payment processor.
We think that while it is possible to use Neteller at any online casino with almost complete peace of mind, you can't use Neteller safely without thinking things through and using your common sense to spot obvious scams.
Play at licensed Neteller online casinos
Whatever payment system you are using, always check out the site you are playing at fully, looking for online reviews. Never ever play at a Neteller casino site that is not licensed to offer you the services that you want to use in your current location. Never ever break the rules at a site that you are using, or break the rules of the payment system you're using. Doing this will invalidate any protections that you have.
Lots of younger players think that they can use online systems like Neteller to get around age restrictions, just as lots of American players tried to use them as a form of off-shore banking to get around the geographical and legal restrictions on their gambling. You can forget all that.
And always play safely. It doesn't matter whether you are using Neteller or cash or magic beans if you don't have the funds to cover your play and you lose, you are going to end up unhappy and in trouble.
Neteller online casinos for the win!
A world of choice has opened up for casino players in recent years. Neteller is just another way to cash up your account, and it's one that we think you should definitely consider using.
Like all systems, it has its downsides (fees, distance from the customer, slower withdrawals) and its upsides (good reputation, regulation, high security) and you should consider them carefully BEFORE you sign up, start using it at your favourite casino site and find yourself committed to using it.
Read up on Neteller, but also check out PayPal, Skrill and pay by phone methods, and don't dismiss the good old-fashioned benefits of using your bank account. The consolidation of the market, with lots of companies coming together, has had some positives, but it's not good news for too many big companies to dominate the market. Keep your eyes open for new entrants to the market, especially as new companies tend to offer the best deals. But for now, if you're playing at a Neteller casino – we think you're playing safe and playing smart.