Paysafecard! That's a reassuring name, isn't it? However, promises made by a business and reality aren't always exactly the same thing.
UK online casino customers want payment methods that are great value, convenient on both desktop and mobile platforms, quick to make and receive payments, and, above all else, safe and secure.
That's how we judge the growing number of payment methods so in this guide we'll ask how Paysafecard, a prepaid payment card rates against these criteria.
Let's make a start.
Paysafecard Online Casinos We Recommend
What is a prepaid card?
Sometimes called vouchers, because they work in exactly the same way, prepaid cards are a payment method that has come into its own now that so much business is transacted online.
How do they work?
Prepaid cards are money stores.
You can load up a card with cash and the card then becomes a store of that value. By using the code or password associated with the card you can transfer money from that value to businesses in return for goods and services.
They're very fast and simple to use – there's no credit check for example – and they're very accessible. If you use cash over the counter you don't need to have a bank account.
These attributes have both positive and negative impacts on how we judge them as payment methods in the online casino world.
What is Paysafecard?
Paysafecard works like a number of similar products.
You first need to find a shop that sells Paysafecards, which you can do with the help of a map on the company's website. You can buy cards worth £10, £25, £40, £50, £75 or £100, or £125, £150, and £175 at shops with PayPoint facilities.
Each card has a unique 16-digit code that you can use to make online payments of a number of sorts, including online casino payments.
The company is a global giant, or at least a European giant, with their headquarters (as Paysafe Holdings UK Limited subsidiary) in Vienna, Austria. The company operates in 50 countries and has a number of products related to Paysafecard.
As a part of Paysafecard Group the company also produces two of the gambling world's most popular e-wallets Neteller and Skrill and has absorbed a number of former competitor companies, like Ukash.
How do you use Paysafecard at a UK online casinos?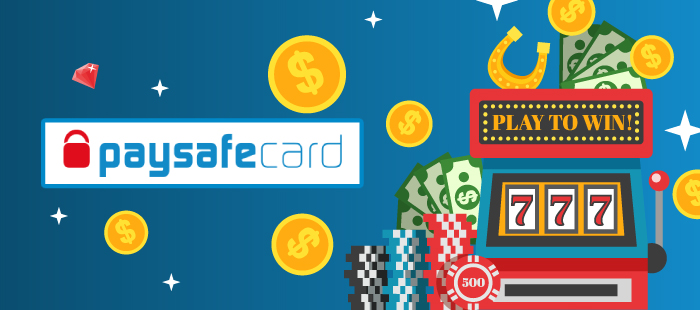 Paysafecard is very simple to use.
First of all, you need to find a site that accepts the cards. In our experience, this is pretty universal. Most casino sites like to put the payment methods they allow on their front page, and you can usually find them without having to search. You'll also be able to find a number of listings of Paysafecard online casinos at review and survey sites – like us!
Once you've done that you need to open an account.
Again, a fast and easy process.
And then you need to make the first deposit. This is usually done through a cashier page or window that simply asks you to accept an amount (usually in multiples of £10 or £5) and then choose a payment method from a drop-down list.
Once you've selected Paysafecard you just need to put in your 16-digit pin code and your payment should be accepted instantly.
Your card may still have a balance left on it, and you can check your balance online at the company's website. It's an instant process.
What are the advantages of using Paysafecard at online casinos?
The main things that online casino players want from a payment method are pretty simple.
They want to trust it. They want to know that it is secure. Want it to be free. And they want it to be fast.
If your payment method can do all of those things then you're in a good place in the online casino industry.
So how does Paysafecard weigh up?
It is trusted. It has been around for years now and has a great claim to being the best known online prepaid card. There is no danger of this company disappearing with your money.
The card's security is good, in so far as it can be guaranteed (no card can protect you from your own mistakes if you lose a card or a password). If you do lose your card you can lock it via the company website and protect yourself from losses.
Charges for Paysafecard may be levied by the casino site, but the card is potentially free. Paysafecard makes its money by charging partner retailers for processing transactions. Between 0 and £1,000, they charge a 15% fee.
Whether the retailer passes any or all of that charge on to the customer is entirely up to them – we'll cover how to find that out shortly – but they must inform you before they make any charge.
Paysafecard payments are to all intents and purposes instant: it may take a couple of minutes according to the company's own website.
Paysafecard has a couple of advantages that are specific to its use in the online casino world.
Firstly it can be used to set limits on your spending. Gambling can be addictive and running up debts to fund a gambling habit is one of the big dangers of online gambling. This is why credit cards are banned at UK licensed casinos. Debit cards can be used to start an overdraft; e-wallets can be linked to a bank account, so can have the same impact. Mobile payments often involve paying with a yet-to-be-received bill – this is why the payment limits are so low.
Prepaid cards do not allow you to access any other money instantly as a matter of course. Now, if you're an addicted gambler there's nothing to stop you juicing up your card some more or buying more or just switching to another payment method. But if you're trying to manage your spending then it's possible to set limits this way. Nothing is completely failsafe but this might be a useful tool for you.
Paysafecard is also very discrete. This is something that cuts both ways though. As we'll discuss as we look at:
Disadvantages of using Paysafecard at online casinos
That discretion has positives for some people doing some things. However, when you're dealing with addictions then secrecy is your enemy. If you're not comfortable talking about your gambling, how much you spend, or how much time you spend on casino websites then it could be a sign that you're developing a problem. That's not to say that discretion is always in all circumstances a bad thing, but it's something you need to consider.
Paysafecard may come with charges. This is by no means standard, but it can happen, so learn how to read the terms and conditions.
It's not always possible to make payments to a Paysafecard. This is a money store, but not an e-wallet so many sites will not allow you to accept payments to your card. This means that you'll need another payment method available – an e-wallet or a bank for example – if you need to make withdrawals. Sites will probably send you a check if you hang around and make enough noise, but you will be looking at very long waits for your money.
Paysafecard might tempt you to try to break laws or exclusions designed to protect safe gambling. Because Paysafecard is not tied to your name or identity in the way that most payment methods are, it might be tempting to some players to use it as a way of getting around restrictions imposed by law (usually age limits) or restrictions placed on their own play, like self-exclusions. When it comes to exclusions we just have to advise you not to do this and to seek help – please – if you need it and are behaving like this. Age limit bandits will be unable to withdraw money without proving their identity with genuine ID documents so they're just wasting everyone's time, and their own money.
How to assess payment methods
Payment methods are a big attraction for casino sites.
Novel methods attract a lot of attention and methods like Apple Pay, Bitcoin payments, or Paysafecard that offer particular attractions are enough of a sales point for online casino sites to make sure that would-be customers know that they're available.
So it's easy enough to find out which sites use Paysafecard.
You then need to check out the terms and conditions for each payment method.
This should tell you everything you need to know, including: the time it takes for processing of payments with each method, any charges associated with each payment type (apart from charges made by the payment processors themselves), and any deposit or withdrawal limits.
How to find safe, legal Paysafecard casinos
An essentially untraceable payment method has certain illegitimate attractions. This is no reflection on Paysafecard or the companies that use it, it's just a fact. The fact that bitcoin transactions are incredibly hard to trace is the reason why cryptocurrencies were so popular on the dark web and for money laundering and other nefarious activities.
Wherever there's a possibility of getting around rules there is a danger that fraudsters will find people who would like to get around those rules, offer them the chance to do so, and then run away with all their money.
If you ever take any time to read up on the fascinating history of con games you'll know that one of the key things a con artist looks for in a "mark" (the person they're going to steal from) is a willingness to break the rules. Once you've established someone is willing to cheat, you can more easily cheat them, and be safe in the knowledge that they're less likely to go to the authorities and reveal their own compromised role in an illegal scheme of some sort.
Don't be like that!
Laws and licensing are there to protect you. It might be a pain in the neck, but you're much safer inside the law than outside it.
So always find Paysafecard casinos that are legal, licensed and legitimate.
It is illegal to play gambling games at any site that doesn't have a UK Gambling Commission licence. Make sure that you stick to that.
Licensing is your first and best tool in finding a good site. It helps to keep you safe.
How to use Paysafecard safely
We're always keen to remind our players to keep themselves safe online. In many ways, Paysafecard is positive. With limited – often – possibilities to add money to the cards they are only useful to thieves if they can get the physical card, by some chance, or they can grab a hold of your 16-digit code.
Keeping both of these things safe should be relatively easy.
However, that doesn't mean you should turn your critical faculties off completely. In 2020 for example, a virus-infected computer that appeared to block access to machines and asking for a payment from a Paysafecard in payment of a ransom to unlock the device.
The problem was widespread enough that Paysafecard themselves issued a warning and reminded their customers that the cards were never used as payment methods by governments or regulatory authorities.
Enjoying Paysafecard casino games
Playing for fun is the best way to play safely. The industry's own safety slogan tells you just that: when the fun stops, stop.
So use Paysafecard to fund safe gambling. Get a good understanding of what makes a good quality site with a good selection of games that you'll enjoy playing and learn to assess sites – including welcome offers – as you browse around looking at them.
And perhaps the most useful thing a Paysafecard can do for you is to set limits that you have to stick to, and that's just one reason we recommend them. High speed and highly convenient there's a lot to be said for Paysafecard, and if you don't have a bank account and don't want the commitment and complications of other online accounts then Paysafecard is perhaps the simplest and safest online casino payment method there is