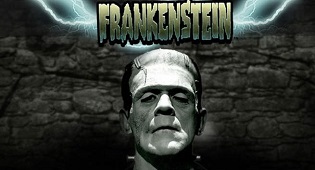 State of the art Horror Slot
Frankenstein is a new state of the art five-reel slots machine featuring a twenty-line video slot which brings out the all-time classic Frankenstein monster theme into the 21st century with cutting-edge graphics, animations, cut-scenes and horrifying sound effects. Our resident slots expert spent hours playing and reviewing this slot game. His Frankenstein Slot review gives a fair assessment of what will surely come to be a firm favourite of slot-lovers everywhere.
Superb bonus rounds featuring free spins, linked wild cards and mind-blowing cash prize accumulators that reach astronomical heights come together in this Universal Studios sponsored slots production to bring you the ultimate in slots thrills and spills.
When you enter the blood-curdling realm of Frankenstein you will find huge scares and even more monstrous wins as you experience the excitement of bringing the Monster to life as lightning crashes down around the playing screen.
That's what the blurb that came with the official announcement reckons anyway – you can check it out for yourself by watching the video below. As you can see they're not far wrong, it is a very very impressive slots game.
Betting Limits
In terms of betting limits, you can play using one cent, two cents, five cents, ten cents and fifty cents per spin. There are also an additional five betting levels enabling you to multiply the value of your bet up to five times which is great for high rollers. The Frankenstein slot features twenty win lines which isn't a huge amount but is probably just about ideal for the type of slot game that this is.
Where can I play Frankenstein slots?
Casinos with Frankenstein slots – Leo Vegas is currently the best option for playing Frankenstein slots as they are offering free spins when you sign up. Currently, you can get 200 free spins which is well above average for a free sign up bonus. You might also want to try PlayUK Casino which features the Frankenstein slot as well as being a superb integrated gambling platform featuring poker, bingo, sports and a huge range of casino games.