The World's Only Pokemon Go Slot Game
Whether you're a Pokemon Go! fanatic or if you just like playing novelty slots then you're in the right place to play the only 100% unauthorised version of a Pokemon Go slot machine.
While there is no official slot version of Pokemon yet, (due to Nintendo's family-friendly image) you can play this just for the fun version for free and compare high scores with your friends. All the standard slot features are here – you can choose how many lines you want to play, how many coins and what coin size you want. There's even an Autospin feature that you can set to five or ten spins so you can sit back and relax while your favourite Pokemon characters roll in.
To make your own Pokemon Go slot simply use these symbols we've provided at the amazing slot machine making site MakeSlots.com. Use the link to the symbol directly or upload to your own site.
Make Your Own Pokemon Go Slot Now!
Pokemon Go Slots Payout
#1 Squirtle
the highest paying Pokemon Go! Slot character with a massive 500 jackpot win on a full paying line. Squirtle is a small blue turtle that packs a mighty punch in this game.
#2 SlowBro
Pink with a fat tail, fangs and a smooth tanned tummy, Slowbro is the second-best Pokemon character you can get, paying out a massive 400 coins on winning lines at maximum bet.
#3 Flareon
Awesome little mammalian Pokemon with a shaggy mane and orange fur, Flareon is like a cross between a lion, a fox and liquid cute. 300 is the maximum win here.
#4 Zapdos
terrifying Avian Pokemon looks like Big Bird on meth. Zapdos controls electricity and will electrify your winning line to the tune of 250 smackers at maximum payout.
#5 Dratini
What do you get when you cross a bat with a slug? A bug? Nope, you get Dratini and 150 coins.
#6 Marill
Marill is Pokemon's loveable balloon-mouse hybrid who will net you an eye-popping 80 coin win at maximum bet.
#7 Pikachu
the one and only Pikachu, you know him, I know him, everyone knows him, he's the yellow bunny with the sunshine smile and he'll pocket you 60 coins for a win.
#8 Bulbasaur
roaarrrrr that's what Bulbasaur would sound like if he was genuinely terrifying. In this slot game though he'll do no more than stampede his way to a 40 coin payout.
#9 Pokemon Go!
it's the logo, just in case you forget what you're playing, we like to keep you on your toes. A 30 coin win is on the cards here.
#10 Hoppip
the little piggie with a plant for hair is not something you'll see every day but is as common as muck here, raking in 20 coins for the win.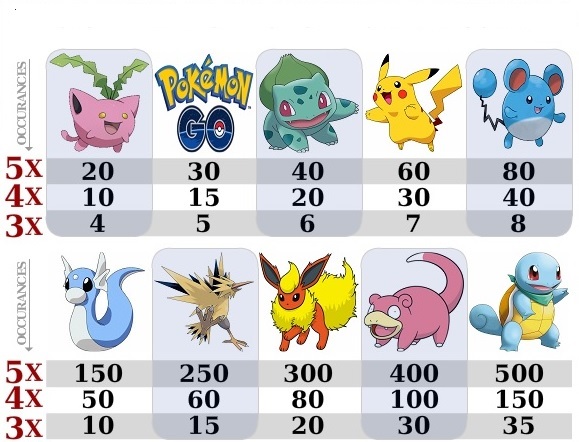 If you want to explore more casinos, check out our list of the top 20 UK online casinos!