Slots are played for prizes. The bonus rounds slots are played for big prizes!
That's just about the most obvious thing we could say. But it's the root of the games. There may be those who play slots on demo mode just for the joy of seeing sets of symbols slot into place, but we're yet to meet them.
Prizes in slots are usually delivered in two stages of the game.
The base game, almost always spinning reels to form sets of symbols, is the first-way prizes are awarded.
The second way springs from the first. Bonus rounds are usually triggered by the base game, usually (but not always) with a set of special symbols.
And after that, you have a whole host of options that we'll look at. There are gamble features, cash ladders, prize picks, lucky wheels, skill challenges, and many more. And the most common form of a bonus round is a free spins round.
Let's take a look at bonus rounds slots. Not lastly, check these bonus round slots listed below and play some free slot machine games with bonus rounds!
Best Casinos to Play Slot Machine Games with Bonus Rounds
Check these UK casinos with the best bonus rounds slots. Play some of the best free slot machine games with bonus rounds!
Bonus Rounds within Base Games
The simplest form of bonus round actually occurs without triggering a separate bonus round. Nonetheless, they are a form of bonus that we'll look at here.
The most common is a gamble feature.
These are triggered by wins. Once a set of symbols clicks in, you will be offered the chance to gamble on your prize.
These gamblers are almost always in the form of a double or quit option. That is, if you win the game your prize will be doubled, if you lose the game you will forfeit your prize completely.
This is a good opportunity to remind our readers that the beat guide to how a game operates is not a guide like this, but the instructions to the actual game you are actually playing. Some of them aren't written very clearly, but they should let you know what to expect from features like win gambles.
Base Games that Trigger Bonus Rounds
We'll start with the simplest and most common form of base game bonus. A gamble round.
Gambling rounds usually offer a double-of-quits chance on your win. Double of quits means that if you win the challenge you double your win, if you lose, you get nothing or – if you're going through a prize progression – you fall back down to the previous prize level.
Generally, these are run as a guessing game. The most popular choices are coin tosses, the classic 50/50 chance, or picking a red or black card. Some card games offer a 1 in 4 chance with a gamble on suits.
You may also see gamble rounds that involve a sort of skill test. In online slot games, this might mean hitting a button while it is flashing or stopping a sequence of lights in the right place.
Bonus Rounds Slots Random Trigger
You may also find bonus rounds that trigger randomly from the base game.
These can be extras within the base game, like expanding wilds, or other extra wild features, like sticky wilds.
But some complete bonus rounds, like prize pick games, and cash ladders can be triggered at random.
We'll look at these types of games later in this guide.
Respins
A common base game bonus round is a respin. This can be triggered by a win, or simply at random.
Respins are what they say on the tin. On a win, the reels spin again to give you another chance to win. It's basically a single free spin.
It's possible to add extras to this feature. Winning symbols may be locked in place to allow the win to register for a second time. Wilds or other special symbols might be locked in place (sticky wilds), or might expand or exhibit some other special characteristic.
Scatter Triggers
By far the most common form of bonus round trigger is the scatter.
Go to the pay-table on almost any game and you will usually find two special symbols. One is the wild. Wilds substitute for other symbols to make the best possible win – they're exactly like a wild card in a poker hand.
Most pay-tables will add the proviso that the wild does not substitute for the bonus symbol.
Bonus symbols, very often the game's logo or star character, may have a value as a set of symbols on a pay line (usually a high one), or may pay nothing as a standalone symbol.
Most bonus symbols are called scatters.
Scatters make sets on the reels even when they aren't joined. The defining characteristic of most slots is that winning sets are joined along a pay line. The pay lines can get very complicated, but that edge to edge join is usually there.
Scatters break this rule and can trigger a bonus round wherever they appear on the reels. Three is the commonest number of scatters needed to trigger a bonus round.
Where the bonus round is a free spins game, the number of scatters may relate to the number of free spins awarded. A fairly common progression might read: 3 scatters = 5 free spins, 4 scatters = 10 free spins, 5 scatters = 15 free spins.
But, there are so many variants on these simple themes that you should take the time to look at the bonus round trigger routine on the slot you are playing.
Types of Slot Machine Games with Bonus Rounds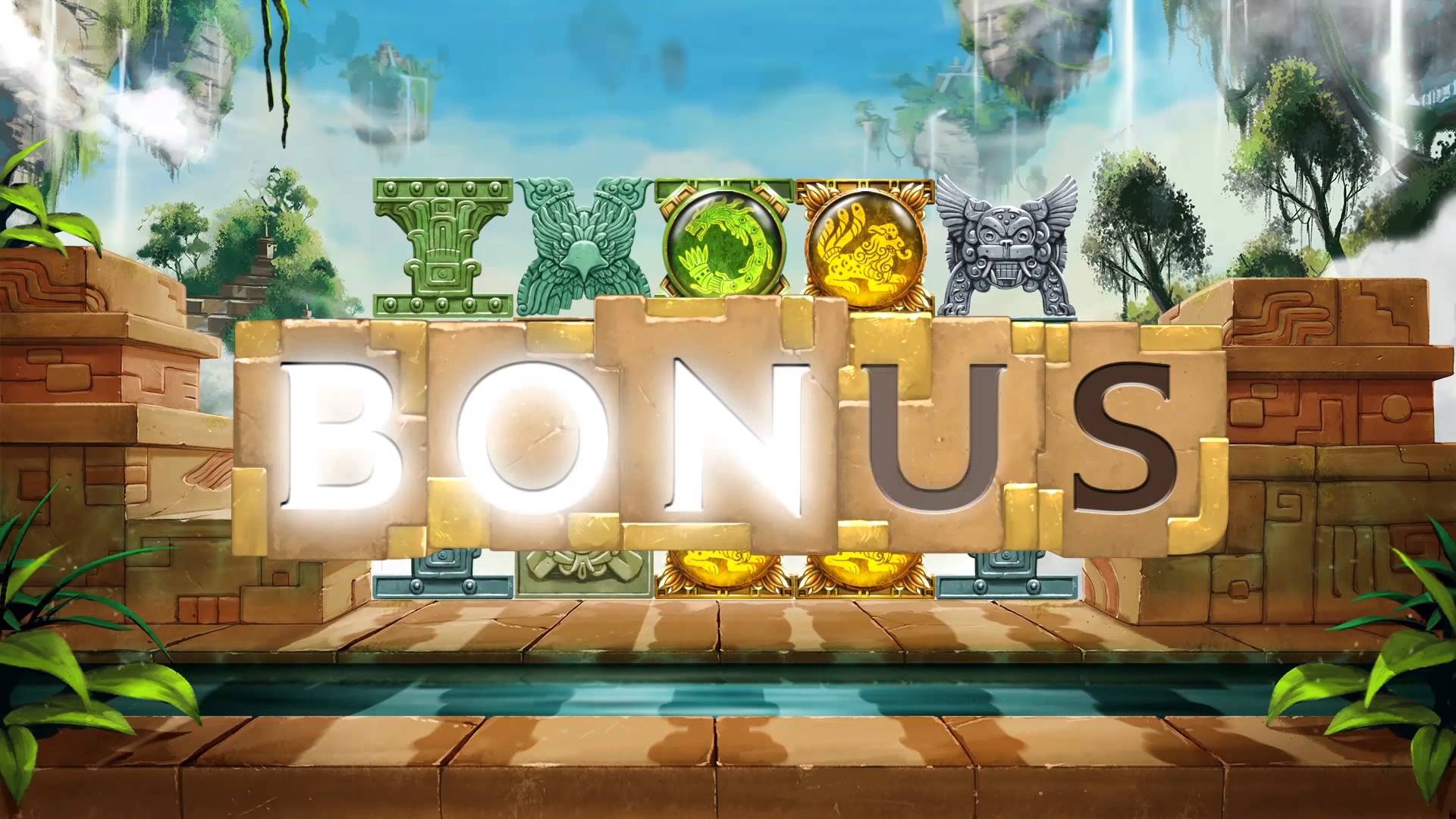 This guide can't be anything like comprehensive, but we do our best here to cover the main types of a bonus round. The slots world is big on innovation but often carries out that innovation inside a fairly rigid formula. Ease of play is important to slots developers who don't want players to have to go through a long learning process before they can get stuck into a game.
Prize Pick Games
Possibly the simplest prize game in history is the lucky dip. If you grew up in the UK you'll have seen this sort of game in every fairground or circus or fete you visited as a kid. And these sorts of games are so simple that it's hard to imagine that there isn't a version of them in every culture on earth.
The set-up is this: you're offered a choice of a number of items, each of which hides a value. You take your pick and win whatever is revealed.
In online slots, this prize in the game is going to be themed to the game's visual theme. For example, Pharaoh's Fortune uses a wall of blocks in a pyramid as its random choice field. Irish-themed games tend to use fields or pots of gold at the end of rainbows. And so on.
The mechanics are simple though, however you dress it up, there's a choice, and you win what you choose.
Cash Ladders
There are more choices to be made in cash ladders. These prize-picking games offer a rising sequence of prizes that the players advance up by making the right choices. Making the wrong choice usually results in an end to the game, or perhaps a sacrifice of a place on the ladder to take the player down to a lower prize – or no prize at all.
Again, there is so much diversity in this style of bonus round that we cannot cover the whole gamut here. The mechanics remain similar, you start at the bottom and make a choice if it's the right one you will see an increase in your prize. These games are commonly themed to the game's style, and maps or mazes are popular ways to present cash ladders.
Check the rules on the game you're playing to be sure you know where you are when their cash ladder game kicks off.
Prize Wheels
Back to the fairground, we go for another prize round option, the wheel of fortune. Again, the set-up is very simple and the variations on the base theme are endless.
This time we see a wheel with some sort of indicator on it, usually an arrow. The wheel starts to spin – sometimes the arrow spins around the wheel – and where the wheel stops will reveal a prize that the player wins.
One of the biggest of these games is in the popular progressive slot, Mega Fortune, where the big jackpot is awarded via a wheel of fortune. Or rather via three wheels of fortune which form a concentric set of increasing prize values with the huge progressive at the middle of the reels. That's a very nice example.
Skill Games
Random is the guiding light of the slots world. That's why we bet on them because we don't know what is going to happen next. That generates the chance element that makes a bet possible, and it's also a compelling thing.
There are elements of skill in playing any slot. Usually, in fostering one's funds carefully. But the random chance element may be diluted in the bonus round to give players to show their skills.
(There is, of course, a random element here too.)
The skills exhibited are normally fairly limited, and the most popular is the hand-eye coordination needed to stop a flashing light or sequence of lights in the right place to win a prize. The flashing quickly becomes so fast that making the right choice to stop the light soon becomes random in any real sense.
Simple arcade games are also popular, though these tend to be more random than skilful too – pointing a gun at the right target, for example, or flying a spaceship through a random series of events in a variation of a cash ladder.
Free Spins
The one bonus round to rule them all is the free spins round.
Again, accept our apologies for not having the time or space to cover every possible variation of this massively diverse style of slots bonus round.
Free spins round are, as we've said, commonly triggered by scatter symbols and are almost always the headline bonus round in any game where they feature.
At their heart they're very simple: the player has won the chance to have a number of free goes at the game, and they keep the prize money. The betting in a free spin round normally carries over from the stake you were using in the base game – one reason to bet high, you might argue (though that's one way to get poor very quickly!).
That's the basic pattern. After that, the variations begin.
Free spins rounds almost always offer something extra to the player, and we'll try to cover a little of that here.
Free spins with retrigger
The simplest extra that can be offered to players is the retriggering of the round.
As free spins are set off by scatters, this will mean that scatters appear in the free spins round and count as bonus symbols, triggering the round again.
There is commonly a limit on the number of times a slot bonus round will retrigger. The retrigger may be smaller than the original free spins round. But some games simply allow unlimited retriggering of free spins. Good news for everyone!
Free spins with multipliers
Players love to see free spins. And more than free spins they love to see multipliers.
Multipliers simply multiply your prize by the number of the multiplier.
Some free spins round come with a multiplier on all prize. This is likely to be a relatively small number. But even a 2x multiplier is a doubling of your prize and not to be sniffed at in the least.
Others may have increasing multipliers. They may have random multipliers. They may have multipliers that are triggered by events on the reels. And so on.
Free Spins with Special Symbols
Another way to jazz up a free spins round is to change the symbols on the reels.
The most common way we have seen of doing this is with wild of various types. There may be bigger wilds, or different wilds, or wilds that move across the reels once they appear (walking wilds), wilds that expand in any direction, wilds that take over whole reels, wilds that lock in place (sticky wilds), and wilds that do any number of other things, including exploding into other positions.
Free spins may also add extra high-paying symbols onto the reels, including extra bonus symbols. They may introduce completely new symbols that trigger an extra layer of bonus rounds.
Free Spins with Different Reel Functions
Extra wilds may sometimes act to alter the actual function of the reels. If a wild locks a reel in place or expands to become all of a reel, it stops it spinning, and this sort of the change in functionality may be an additional extra added in free spins rounds.
Reels might turn the other way, or respin automatically. Extra reels might be added. Horizontal reels might send another set of symbols into play to complete wins.
Free Spins Ladders
The most complex free spins rounds tend to be laddered bonuses.
These are sequences of free spins rounds with increasing bonus features as you complete a set.
A great example can be found in Immortal Romance, the Twilight-influenced slot from Microgaming.
This game as a Chamber of Spins feature with four rounds based on four characters in the game. The rounds are awarded in sequence as you complete a certain number of free spins round: five for the first, 10 for the second, and so on.
The first round, Amber, has a multiplier, a retrigger and 10-spins. Troy, the next level, has more spins, a higher potential multiplier, and a new Vampire Bats feature. Michael free spins have more spins, a rolling reels feature (a respin), and a rising multiplier. Sarah's free spin round has 25 free spins, retriggers, and random wilds.
Bonus Rounds Slots with Progressive Jackpots
Progressive jackpots are slightly different from other slots. They take a slice of the money you bet and add it to a prize pool. By joining up many versions of the same machine and networking them, the prize pool can grow quickly to enormous sums.
Almost all progressive jackpots are awarded via bonus rounds.
Typically, a progressive game will have standard slot bonus rounds and a separate jackpot round that will be awarded from within the base game or the bonus game, or possibly just trigger at random.
Our experience of progressive bonus rounds is that they tend to be relatively simple games based entirely on a random award of a prize – if it's your time, it's your time.
Play Bonus Round Slots and Win Big Prizes
Bonus rounds are usually where the big prizes are won. Free spins can very obviously offer you bigger prizes very quickly because you're spinning without paying. Chuck in a couple of multipliers and you can soon find yourself climbing to some massive prizes.
The Only Advice That Matters:
Read the rules!
Bonus rounds slots are deliberately made to be simple to play. They deliberately fit into a number of recognised patterns so that regular slots players can quickly get their heads around them.
But the next one you play might be different. It might have a skill element or ask you to make a choice you wouldn't normally expect to have to make.
So read the rules every time and you'll enjoy bonus rounds slots and the big prizes they can supply.