Devil's Number Slot by Red Tiger – Review & Free Play Demo
Released by Red Tiger, Devil's Number slot certainly has an international appeal with its gothic/horror theming, devilishly dark looks, and atmospheric design. While it's got a retro, Victorian/Edwardian bent to its aesthetic, this is a super modern game – released in April 2019 – and looks really up to date, with its floating reels and steampunk, comic book atmosphere.
Red Tiger are a new company, founded only in 2014, by their own account by industry veterans. Although they're relative youngsters they've been "living and breathing" casino slots to such an extent that they already have over 100 titles out.
That's too many titles to discern any particular theme to Red Tiger's output thus far, but it certainly covers a wide variety of popular areas of the online slots world. The company is based between Europe and Asia, and there's a feeling that a lot of their titles are designed with a global market in design.
Red Tiger are licensed by the UK Gambling Commission and gaming authorities in Malta, Alderney, and Gibraltar, which is pretty much the full house of for high quality and popular regulatory jurisdictions.
Play Free Devil's Number Slot Online
18+ – you need to be over 18 to play free slots demos, sign up to play in demo mode at the following casinos:
Best Devil's Number Casinos – Red Tiger Casinos
Devil's Number Slot Q&A
What game provider developed the Devil's Number slot?
Red Tiger Gaming, famous for their sharp and creative slots, brought us the Devil's Number slot.
When was the Devil's Number slot released?
2019 was the year when Red Tiger released Devil's Number and it became popular among players pretty fast.
What is the Devil's Number RTP?
Devil's Number slot comes with 96.06% RTP making it right as the industry standard.
What's the layout?
This slot features 5 reels, 4 rows, and 30 pay lines. The graphics are sharp and pretty creative bringing out the humoristic part of the theme.
What theme is used in this slot?
The theme of Devil's Number is pretty obvious. The slot is set in the Devil's library and in this slot, the notorious number 666 will only bring you luck.
Can I play this game on mobile?
Devil's Number is compatible with all mobile devices thanks to the HTML5 technology.
What is the Devil's Number variance?
Devil's Number comes with a medium to high variance. This means that you can expect a lot of frequent but smaller wins while the bigger ones will be a bit harder to catch.
What is the minimum bet and the top prize?
X2,500 total stake is the max you can win on a single spin. The betting scale starts at a minimum of 20p and goes up to £40 per spin.
Are there any free spins and bonus rounds? What other features comes with?
The main attraction is Free Spins Bonus triggered by three 9s which get turned upside down to show the Devil's Number 666. You will win 12 free spins with the possibility of re-triggering the Bonus. There are also two other special features. Upgrade Feature can increase payout values of the symbols while Remove Feature allows the winning lower-paying symbols to disappear and cause the avalanche for a new chance of a win.
Are there any jackpots?
Devil's Number doesn't have any jackpots but the max payout on a single spin goes up to x2,500 total stake which is a jackpot hit in itself.
Is there anything else that I should know about the Devil's Number slot?
Free Spins Bonus in Devil's Number comes with Upgrade and Remove features active which can create better chances for hitting bigger wins in the Bonus.
If I like this game, what else should I look at?
If you are interested in slots like Devil's Number then you may also check out Leprechaun Goes to Hell slot by Play n' Go or NetEnt's Devil's Delight slot machine.
The Facts and Figures
This devil's Number slot game has a theoretical return to player that's probably at the low end of the current average, at 96.06%. Remember that this is a long-term measure of game performance and not an indication of how your experience of a game will go. You should experience a pretty standard experience on these figures, though the game has a "high" variance which means that higher prizes are paid out, but pays out occur less often. That's quite unusual, though this is still a very imprecise metric.
The advertised maximum win is 100,000 coins. Please check coin values and maximum win limits at the machine you're playing on. You can play in Euros, pounds or dollars, and bet between 0.1 and 200 coins – so, 10p and £200.
The game slightly tweaks the usual reel layout for a 5 by 4 grid that shows 20 symbols on the screen. There are 30 pay-lines, which is a higher number as a result of that extra row of symbols.
Devil's Number is available using JavaScript and HTML5 on desktop, mobile and tablet platforms.
How to Play Devil's Number Slot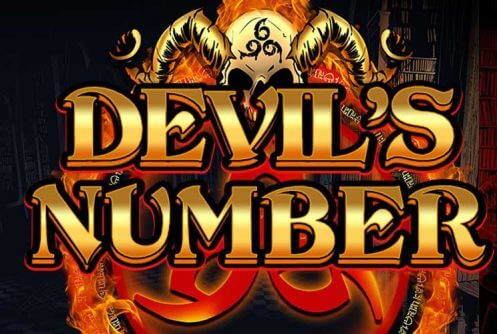 Simple and cut-down, the modern design of Devil's Number slot makes it easy to play.
The controls float, with a big spin button at the bottom right, with simple, business-like controls for the "turbo" feature; a paytable selector, the Autoplay control and a stake window flanked by plus and minus buttons.
Controls for sound, screen size, help, and settings menus are in the game frame.
The pay-table has a nice load of drawn symbols.
The bottom of the pay table is ye olde favourite cards. Here we see the high volatility, delivering high wins straight from the base game (that you should expect to pay out less often).
The cards pay between 1.2 and 2-times stake for sets of three four and five. The top-paying symbols are scrolls, paying up to 4-times stake. A magic book that pays as much as 5-times stake. A cauldron that pays a top of 6-times stake. And a set of skulls that pays 12-times. (We have seen a different version of this paytable, and some of the prizes double for some of the bonus games, so make sure you've checked out the table yourself and understand the game before you play.)
The top end of the paytable has a double scale. We're giving the lower numbers here, which more or less double in the bonus game.
Scrolls pay 30, 60, and 120-times stake. Magic books pay 36, 75, and 150. Cauldrons pay 42, 90, and 180. And skulls pay 90, 180, and 360. The 42s double to 90 and that last prize becomes a symbolic 666 rather than doubling.
Bonus Games
The Turbo feature is simply a high-speed game.
An upgrade feature provides those doubled prizes on the pay-table. It's randomly triggered.
There's also a random symbol swap feature on wins on the card symbols, which swaps out the low-paying symbols for high-paying symbols.
There's a free-spin round too. This is triggered by a scatter bonus symbol, a fiery nine, which pops out from the reels and turns upside down to become a six and gives an excellent 666!
The free spins come in a multiple of six too, with 12 the initial reward. The free spins come with an extra: if you win with low paying symbols then those symbols are taken off the reels for the rest of the round. If you win with high-status symbols then you'll be in upgrade mode for the rest of the round.
Free spins retrigger.
The Verdict
We really enjoyed our devilish spin of the evil reels!
All sorts of people have made the argument that gambling is the devils' work (money for nothing, and all that), and Red Tiger have embraced the idea to deliver a wicked-looking game with devilishly engaging gameplay.
The look of this Devil's Number slot game is superb. Straight out of an Alan Moore comic book, it's genuinely spooky. Music has also been well chosen to serve a spine-tingling atmosphere.
When it comes to gameplay, this company has delivered too. The screen set-up and game design are superb, and everything works as it should. Bonuses might not be triggered too often, but, boy, when they do you might be able to buy back your soul!
If you want to criticise this game it will be for its high volatility. We also know that some players simply don't like complex games. The top prize is £100,000 on a £40 bet, which is exceptionally good, but not groundbreaking or market reading. The pay-table is actually pretty generous.
If you've got the sophistication and patience to enjoy a game with a bit of depth then this might be one for you. It's a really atmospheric slot that should tempt you to take the devil's shilling.