Hoard of Poseidon Slot Review
Are you ready to discover sunken treasure in the hidden depths of the ocean? If you love underwater escapades, then this slot is for you! The Hoard of Poseidon slot is the latest in a long line of great video games from Red Tiger Gaming.
You'll need to overcome challenges in this mythical-based slot game with the ancient Olympic sea god (Poseidon) jealously protecting his treasure. Swim in the largest and most dangerous ocean in the world to uncover the priceless Hoard of Poseidon – and take home the prize!
The game brings Greek mythology to life and offers you a chance to bag a 3,423 X stake win. Read on for our Hoard of Poseidon slot game review as we explain the main aspects of the game as well as some of its most appealing features you will enjoy.
Free Hoard of Poseidon Slot Demo Sites
How to play
As with any Red Tiger Gaming online slot, players will find sophisticated graphics and a few special features. Free demo versions allow players to try out features and gameplay for free credits, which of course leads to non-cash winnings.
The game comes with three different reels, each with a different number of symbols, and you can create winning combinations by aligning three or more identical symbols on the reels. To win, match 3 or more symbols or wilds on any pay line, from left-right, starting with reel 1. The reels feature A to 10 royals with a selection of ocean-themed symbols including shells, a ship in a bottle and a magical book and ring. These last 3 symbols pay 2, 4 or 15 x your bet if you get 3, 4 or 5 on any pay line.
You'll also see 3 other symbols: Kraken, Chest and Poseidon, which are wilds and offer the same payout.
Poseidon wilds spin in a 1X2 form, while the Chest and Kraken wilds are regular single symbol sizes. You can substitute all 3 wilds for any other regular symbol when forming part of a winning combo.
This is how it works:
Poseidon wild: only on reel 5
Kraken wild: on reel 4
Chest wild: appears anywhere on reel 1, 2 or 3
Get 2 or more of the wilds on any spin and the combo unlocks the following:
Cloned Chests – (Poseidon + Chest): if you get these two wilds on any spin, Poseidon releases a sea monster and the Clone Chest wilds appear randomly across the reels.
Locked Wilds – (Kraken + Chest): if you get these two wilds on any spin, the Kraken locks the Chests. The Locked Chests stay in play for the next spin.
Ink Wilds – (Poseidon + Kraken): If you get these two wilds on any spin, sea monsters chase the Kraken away, leaving a trail of ink wilds behind for a payout.
Poseidon + Chest + Kraken: if you get all 3 wilds on any spin, you get to play all 3 extra wilds one after another: (1) Poseidon + Chest, (2) Kraken + Chest and (3) Poseidon + Kraken.
The Hoard of Poseidon slots game has a non-conventional style of play that adds excitement and mystery to the game. This thrilling mythical game features a prize (sunken treasure) carefully protected by the ancient Olympic god and is one of the most popular slot machines in the world with over 1.5 million players.
Features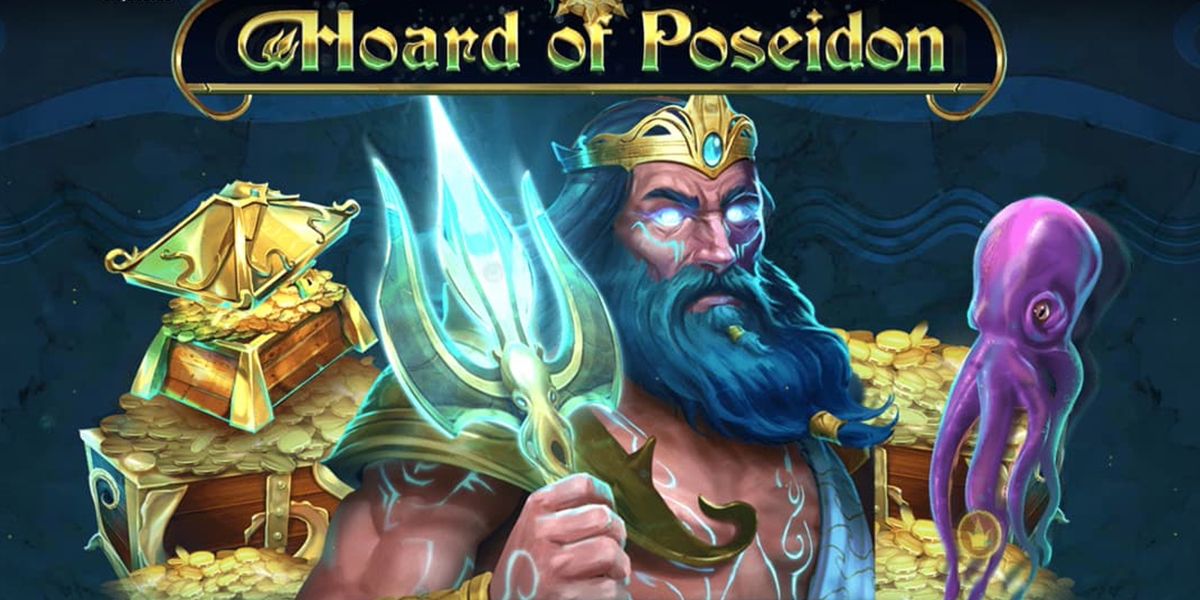 Instead of using the free spin feature that has become commonplace in most online slot machines, for this slot, Red Tiger Gaming decided to present three wild symbols that work independently and in combination, helping you qualify for sizeable payouts.
Also, the game has an auto-spin button, giving you 20, 50 or 100 spins. This option makes it easy to get a streak of spins in a minute, but multipliers can also help you make big wins and boost your payout up to 35 times.
The Hoard of Poseidon slot is very popular because it is loaded with special features and beautiful graphics.
Hoard of Poseidon Slot FAQ
Q: What game provider developed the Hoard of Poseidon slot?
A: Red Tiger Gaming developed the Hoard of Poseidon slot game.
Q: When was the Hoard of Poseidon slot released?
A: The game was released on 15 October 2020.
Q: What is the Hoard of Poseidon RTP?
A: Hoard of Poseidon has a 95.71% RTP (below average).
Q: What's the layout?
A: The game has 5 reels, 4 rows, 30 pay lines and features aquatic-themed game symbols.
Q: What theme is used in this slot?
A: The game has a Greek Mythology theme, featuring Poseidon, the Greek god of the seas. It also features a fantasy-style soundtrack while playing.
Q: Can I play this game on mobile?
A: Yes. Red Tiger Gaming has optimised Hoard of Poseidon for playing on phones, computers, tablets, and smart TVs.
Q: What is the Hoard of Poseidon variance?
A: The game has a low-medium variance. Volatility = 2/5, Hit Rate = 3/5.
Q: What are the minimum bet and the top prize?
A: Minimum bet = £0.10 and Maximum bet = £20 per spin; Maximum prize = 3,423 x bet on a single spin.
Q: Are there any free spins and bonus rounds?
A: No. The Hoard of Poseidon doesn't feature the usual free spins and bonus plays. Instead, it uses three wild symbols plus stacking multipliers (up to X35) to give you some exciting chances to win big!
Q: Are there any jackpots?
A: Not in the conventional sense, but the stacking multipliers can lead to big payouts and the maximum prize is 3,423 X your bet on any spin.
Q: Is there anything else that I should know about the Hoard of Poseidon slot?
A: You'll have the most fun with the random stacking multiplier (up to X35) and the wild symbols, which give the game its edge, otherwise, it's quite basic.
Q: If I like this game, what else should I look at?
A: Fancy yourself as an underwater explorer and treasure seeker? If you enjoy playing Hoard of Poseidon, try playing Aztec Spins and Atlantis also from Red Tiger Gaming.
Our Verdict
While this particular theme features in dozens of slot machines, the Hoard of Poseidon feels pleasing to the eye and features charming graphics. You can have some fun deep down in the sea, discovering the hidden treasures of the ancient sea god Poseidon.
The game focuses on Poseidon, the ancient Greek god who was one of the twelve Olympians and ruled the seas. Although Greek mythology has become a little clichéd over the years, it is still a great source of inspiration for many great games like this one from Red Tiger Gaming.
Although it is not as eye-catching as some of the other offerings from Red Tiger Gaming, you get a good-looking game with about as many winning opportunities as any other similar game.
You're sure to enjoy this underwater treasure seeking adventure!
Try Hoard of Poseidon slot demo at the online casinos we recommend.