With the resources that NetEnt have, they are well equipped to dazzle millions of slots players, and this Dazzle Me slot game – with its high RTP and atypical reel set – delivers with a dazzling take on the classic slot genre given a very big twist.
Although Dazzle Me has been available since 2015 the game is still a huge hit in the UK, sitting just outside of the top 50 games in the UK in 2021 as a Megaways version of the game awaits in the wings for an unveiling in May 2021.
The game has low variance, so should pay out relatively smaller prizes but pay them out more often, but there's nothing low about a top prize of 152,000 coins or an rtp (theoretical return to player) of 96.9% (a house edge of 3.1%). You can also bet a great value range, from 0.01 coins to 1, of stakes in this game which is high on novelty, low on features, and very high on value.
Age-old symbols – gems, sevens, and bells – give the game a reassuring look and feel, with bright colours to the front and centre.
Should you stare at these bright lights, like a stupid president looking at an eclipse?
Let's have a look.
Best Sites to Play Dazzle Me Slot
How to Play Dazzle Me Slot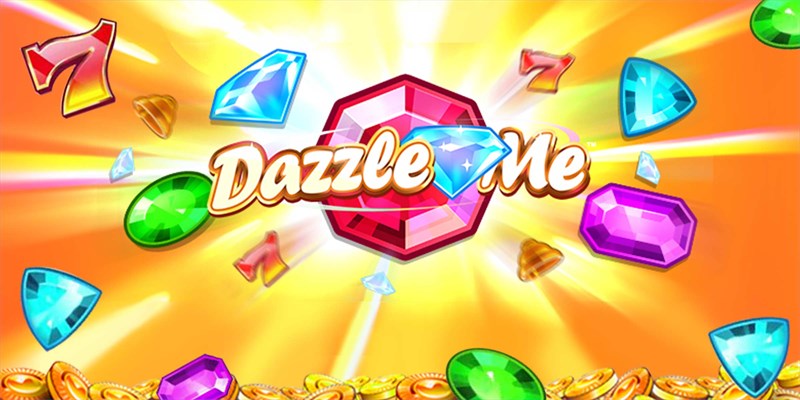 You'll be clicking around this game intuitively enough.
The control panel is very standard: at the left of the screen is an information button that opens up the pay table. Then along the bottom of the screen runs a bet window and next to it is the bet level selector. Bet control is completed with a coin value selector beyond the central control panel (flanked by the autoplay and max bet buttons). Finally, the balance is displayed at the far right of the screen.
The standard reel set up goes: 3, 3, 4, 4, and 5 rows in height, giving 76 pay lines.
The pay table confirms that there are just six symbols: gems (blue, green, pink, and red) paying out 20 or 30-times stake for a full set of five symbols.
Then we have bells and 7s paying 100 and 200 times stake. These symbols also pay out 1/1 for just a single symbol on the reels. The Dazzling diamonds are a wild.
Dazzle Me Features
Dazzling Wild Reels appear at random in the main game, boosting a reel with a single wild into a reel full of them.
A free spins symbol works as a scatter to deliver the free spins feature. For three of them you'll get 8 free spins, for 4 you'll get 12 and for a full set you'll get 16 free spins.
During the free spins sequence, you may see Linked Reels. They can appear on any of the first four reels, with the reel on the right a copy of the reel on the left – this gives you a better chance of getting long runs of matching symbols.
The Verdict
We are minded to stand down on our own verdict in this case and refer you to public opinion. To be sitting just outside the top 50 after six years is quite an achievement for a game that doesn't have a huge amount of bells and whistles to offer a thrill happy slots world.
But Dazzle Me does deliver quite a lot of things that apparently do matter to players, including very generous figures. RTP is – as we say 1,000 times a day – not a very precise prediction of how a game will go, but the 96.9% in this game is very generous, and it combines with low volatility and a very generous top prize to deliver a very good playing return.
The game itself isn't without style either. Classic slots have undergone a real renaissance in the past few years as players have gone to mobile screens where simpler graphics and simpler games work really well.
And the set-up is nice and original, so there is something for those who can't play a slot without it having some extras on the side.
The features are not sophisticated or numerous but obviously decent enough to attract players.
Dazzle Me Slot FAQ
Should I play the Dazzle Me slot?
Absolutely! Dazzle Me is a fun slot game from a legitimate slots provider. NetEnt games are reliably good value for players and Dazzle Me has better mathematics than most games at the moment. The gameplay is simple and easy to get your head around and by using a well-established set-up, Dazzle Me delivers a user-friendly experience.
Are there any cool features I should pay attention to?
Yes! But not many. The most eye-catching is probably the linked reels in the free spins round, which is going to help players get the most out of that round. It's a shame that the free spins don't retrigger, but this feature adds extra interest and value to them even if they don't.
If I like this game, what else should I look at?
There's a load of classic slots out there, including Gems and Stones, Gem Drop Deluxe, and Pure Jewels. Of course, if you really love it then you can wait for Dazzle Me Megaways which is going to mix this game with the world's favourite gaming engine – that really should be quite a hit!
Is there anything else that I should know about the Dazzle Me slot?
The betting controls are kind of complex and not so easy to understand. You need to set a coin value and a level to get to your bet total, unless you shortcut it via the Max Bet button – make sure you're on top of the financials when you play.
Is this game too old to play on my mobile?
It shouldn't be. Unlike a lot of older games, Dazzle Me uses JavaScript and HTML5 rather than flash so it should be available to you on all mobile or tablet devices. Make sure you keep all your devices up-to-date as a security measure in any case.