We're all for going down the pub. And Ted is a popular film that's going to attract a decent audience for a slot tie-in – it's aimed squarely at young men for starters. So does this work? Ted Pub Fruit Series slot is a spin-off not just from the film, but from a Ted slot already made by Blueprint gaming.
Blueprint are gaming behemoths, with more than 100 games in the UK market as we write this in spring 2019. Among its most popular titles is Ted, so you can see the thinking behind launching this special edition in their retro-themed line of pub games. This version of Ted came out at the end of January 2019.
The game set up is somewhat slimmed down and is designed to resemble an old skool pub fruit machine, but without going all the way to a three-line, single pay-line machine.
There are extras too, and the Ted Pub Series slot game offers many of the attractions that are so specific and so attractive to online players while harking back to a simpler time for those who like some nostalgia.
Watch Ted Pub Fruit Series Slot Play
Best Casinos with Ted Pub Fruit Series Slot
Rank
Casino
Bonus
Rating
Visit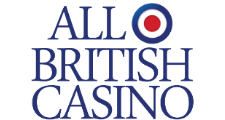 The Facts and Figures
The set-up is quite standard and not what was typical on ye olde British pub machine. There are five reels with three rows of symbols, giving us the usual grid of 15 symbols.
The theoretical return to player is very modern too. An RTP rating of 96.57% – or a house edge of 3.47% – is pretty good, but we always urge players to remember the limits of this measure and not to pay it too much attention as long as it's within broadly acceptable bounds, which this very much is. The medium variance also suggests that the game will behave like most slots in the market in 2019, which is not very different from how they have played for years.
The betting runs from 0.1 coins to 10 coins, which should mean an entry stake of 10p and a top stake of £10. These stakes play out over five pay-lines, which run both ways to give a total of 10 pay-lines.
Play this game on your favourite devices as long as you have support for JavaScript and HTML5.
Ted Pub Fruit Series: The Game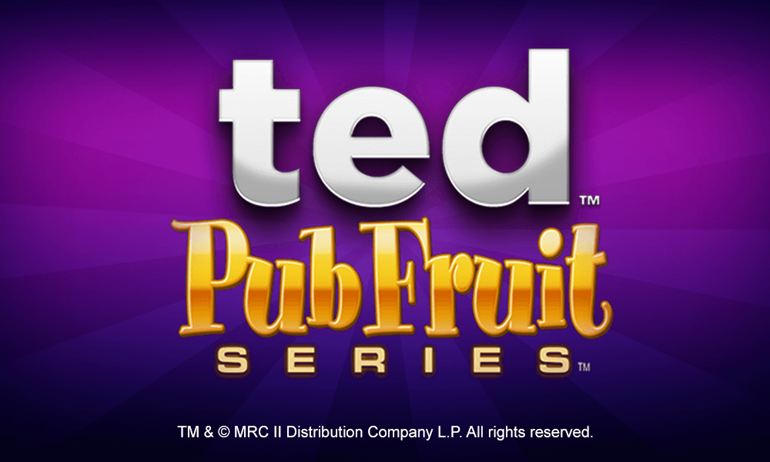 The games we old-timers played in pubs all those years ago might look like they were very simple. That's the intuitive conclusion, but in fact, those old games often gave more choices to players, who could decide to nudge symbols and hold reels in a way that is rare these days, when many games trigger most things automatically.
Ted mocks up an old vertical cabinet game.
At the bottom, the controls are simply an Info button to open up the pay-table, hi/lo choice buttons on either side of an information window – these allow you to play the hi/lo cash ladder game that any old skool reel master will recognise – and a start button.
Much of the game information – the balance, bet, and last win – are shown under the screen in a strip of plain black, with the sound and settings and help options set up in the top of the game frame.
Ted Pub Fruit Series Paytable
What lurks under that pay-table button then?
A fairly simple and classic set of symbols: cherries, lemons, and oranges pay 1-times stake for three, double for four, and 5-times for five.
Plums and grapes pay 2-times stake, 3-times stake, and 10-times stake for three, four and five of each symbol.
Melons and geese pay 3, 5, and 20-times stakes.
Ted himself pays 4, 8, and 25 stakes.
The game logo plays 5, 10, and 50-times your stake.
Ted Pub Fruit Slot Series Slot Bonuses
There are 16 different extra features!
There's also a set of 3 hi/lo choice games.
The features are awarded from a feature trail that you climb with numbered symbols on the reels. There's a hi/lo gamble to take you up the ladder to even bigger prizes.
The top of the tree is Ted's Big Money game with a top prize of 1,000-times stake.
These games are variations on prize pick games, cash ladders, jumps up the ladder, multipliers, respins, and the like.
For example:
The Big Money game boosts prizes; the Streaker game respins with a yes/no gamble on continuing respins, Golden Goose is a cash prize pick, Big Shot is a random number on the hi/lo reel that sends you to that level on the cash ladder to gamble your way on up.
This total might seem rather intimidating, and we're slightly glossing over these games because there are so many of them.
The truth is that these are very standard games and they are very well explained by the game as you go along. You might even be old enough to remember these sorts of games in their original form.
This also re-enforces our advice that you should always read instructions before you play a game.
Ted Pub Fruit Series Slot Q&A
#1. What game provider developed the Ted Pub Fruit Series slot?
Ted Pub Fruit Series slot is a classic slot developed by Blueprint Gaming.
#2. When was the Ted Pub Fruit Series slot released?
Ted Pub Fruit Series slot was released in January 2019.
#3. What is the Ted Pub Fruit Series RTP?
The return to player rate or simply RTP of the Ted Pub Fruit Series slot is 96.57%.
#4. What's the layout?
Ted Pub Fruit Series slot comes with 5 reels, 3 rows, and 5 pay lines. The pay lines work both ways which mean that the wins are formed on pay lines from left to right and right to left.
#5. What theme is used in this slot?
Ted Pub Fruit Series slot is based on the popular Ted movie and is a sequel to the rest of the Ted slots but this time we got a classic Ted fruity slot machine.
#6. Can I play this game on mobile?
Yes, the Ted Pub Fruit Series slot can be played on all devices including all kinds of smartphones.
#7. What is the Ted Pub Fruit Series variance?
Ted Pub Fruit Series is a medium variance slot machine.
#8. What is the minimum bet and the top prize?
Ted Pub Fruit Series slot is pretty affordable and the minimum you can stake is 10p per spin while the max bet is £10 per spin. The top prize reaches x1,000 the total stake per spin.
#9. Are there any free spins and bonus rounds? What other features comes with?
Even though Ted Pub Fruit Series is a classic slot, there are as many as 16 features with different cash prizes or guaranteed wins, for example. All the features happen in the screen above the reels and as you progress on the Trail feature, you can trigger the bonus rounds. There is no standard Free Spins bonus, but you can get plenty of re-spins in the game.
#10. Are there any jackpots?
No, the Ted Pub Fruit Series slot doesn't feature any jackpots.
#11. Is there anything else that I should know about the Ted Pub Fruit Series slot?
If played with the max bet of £10 on, you can win up to £10,000 by triggering the biggest multiplier in the game by climbing the main cash ladder.
#12. I like this game. What else should I look at?
If you like this slot or the Ted movie, you can try out other slots from the series. These include, for example, the original Ted slot or revamped Ted Megaways slot with thousands of ways to win and big winning potential.
The Verdict
If you thought going back to a pub-style game would make things simpler then Blueprint Gaming have a surprise for you here!
Ted Pub Series slot is a deeply engaging game with extras coming out of its stuffing!
The game looks and sounds authentically old style, and that makes it a bit busy on the screen. You wouldn't want to spend all day looking at this acid colour either.
It's not easy to pick up the style of a film in an online video slot, and Ted is only vaguely linked to the sicko film character.
It's plenty entertaining though, and delivers some exciting gameplay in both the base game and the massively varied extras, with those 1,000-times prizes sitting at the top of two very tempting ladders.
We think you'll love Ted Pub Series slot, and if you're contemplating a quiet night in, then maybe give the movies a miss and cruise on by your favourite online casino site to give this softy of a game a cuddle!