Casino Mogul's Nephew Sentenced to Prison for Organizing Prostitution Ring
December 5th, 2019 3.00pm
Macau is a former Portuguese colony, now a special administrative region of the People's Republic of China. And although both these countries were once monarchies, Macau never had its own royalty.
The closest thing to it is the Ho family, "ruled" by the 98-year-old casino mogul Stanley Ho. One of the members of the family, Stanley's nephew, has recently made the headlines after the court found him guilty of organizing a prostitution ring at the Hotel Lisboa. It is a three-storey complex built in the 1960s and owned by the Sociedade de Turismo e Diversões de Macau (STDM), a company founded and owned by Stanley Ho.
Alan Ho Yua Lun, a former executive of the Sociedade de Jogos de Macau (SJM), a casino subsidiary of the STDM, has been sentenced to 8 years in prison.
Ho Was Initially Set Free
The 72-year-old Ho, Harvard graduate was initially found guilty of sexual exploitation back in 2016 and was sentenced to 13 months in prison. Ho was soon released, as he served his punishment while in detention. Along with him, five other Hotel Lisboa employees were also convicted and sent to prison.
The region's Public Prosecutions Office failed to prove he was involved in the criminal association, but soon appealed the verdict and managed to add new and quite more serious charges to his indictment. Both Ho and the aforementioned 6 employees were once again found guilty, while their prison sentences were increases.
SJM had a monopoly on all casino gambling in Macau for decades but eventually had to open up to the free market in the first years of the twenty-first century. But the head of this gambling empire is in poor health, while 17 of his children – including Pansy, Lawrence and Daisy Ho – are looking to get a portion of Stanley's wealth. Over the last years, members of the Ho family have even publicly quarrelled over the legacy of the "King of Gambling"
Ho's SJM currently operates a total of 21 gaming venues scattered across Macau and the region, including Hotel Lisboa. During the years, many accused Ho of working with triads, local organized-crime groups, but these allegations have always been rejected by the family.
Alan Ho was a long-time director of SJM subsidiaries at the time of his arrest, back in 2015.
120 Rooms Were Reserved for the Scheme
In the raid conducted at Hotel Lisboa in 2015, Macanese police detained 96 prostitutes, who were mostly from the mainland. And although the law allows individual prostitution, organized prostitution – including brothels – is still prohibited.
According to the information revealed by the Public Prosecutions Office, prostitutes operating at Hotel Lisboa paid an entrance fee and a protection fee, which amounted to a little over £17,000 every year. It was also revealed that a special counter was set up inside the hotel, used by prostitutes to check-in. A total of 120 rooms on the hotel's fifth and sixth floors were reserved for this operation.
Ho oversaw the entire operation, which was even advertised as "Young, Single Ladies". His assistant manager Kelly Wang also took part in the scheme, and her sentence was increased to 6 years. Wang was in charge of providing rooms for the girls, while the investigation revealed she had charged her service nearly £11,000. She had done that without informing Ho.
Qiao Yan Yan, who was Wang's assistant, will spend 4 years in prison, while the former chief of the hotel security Brice Mak and former Hotel Lisboa manager were also handed the same sentence. Hotel employee Pun Cham Un was sentenced to 4 years and 8 months in prison.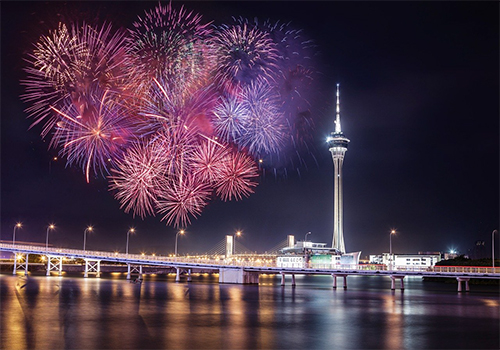 Alan Ho will serve 8 years for organising a prostitution ring in Macau.