If you enjoy watching TV series in your spare time, you're in for a treat!
Whether it's a reality program, a game show, or a fiction series, you bet there's a slot machine themed after it.
But, as there are so many of them, it may be challenging to find one worth playing and that you will truly enjoy. That is why we have compiled a comprehensive list of the top ten TV shows that you should absolutely try.
So, without further ado, let us begin!
What are TV Slots?
TV slots are, as their name suggests, slot machines that are themed after a TV show or program. Naturally, these slots are among the most popular in the gambling industry due to the vast number of TV show fans.
Do you enjoy shows like Game of Thrones, Narcos, or The Fortune Wheel? Then you're in luck, because each of these shows has a slot machine title to match.
Because they are branded, TV slots are more difficult to create. Yet, some of the industry's best software developers opted to embark on that journey to deliver you a diverse range of entertaining TV slots to play in your spare time.
Why Should You Try TV Slots?
Because TV slots are based on TV programs, the sounds and graphics that accompany them are often excellent. There are a lot of show-specific symbols and components and a lot of intriguing features.
They also have sequels, which correspond to the episodic nature of the shows. As a result, there is a good chance that your favorite game will be frequently upgraded with new features and thrilling benefits.
TV slots are also mobile-friendly. So, you can enjoy playing some of your favorite games, whether on the go or from the comfort of your home.
Top 20 Online UK Casinos to Play TV Slots
10 Most Popular TV Slots
Now that we've explained TV slots and why you should play them, let's take a look at some of the best games you should explore.
#10. CSI: Crime Scene Investigation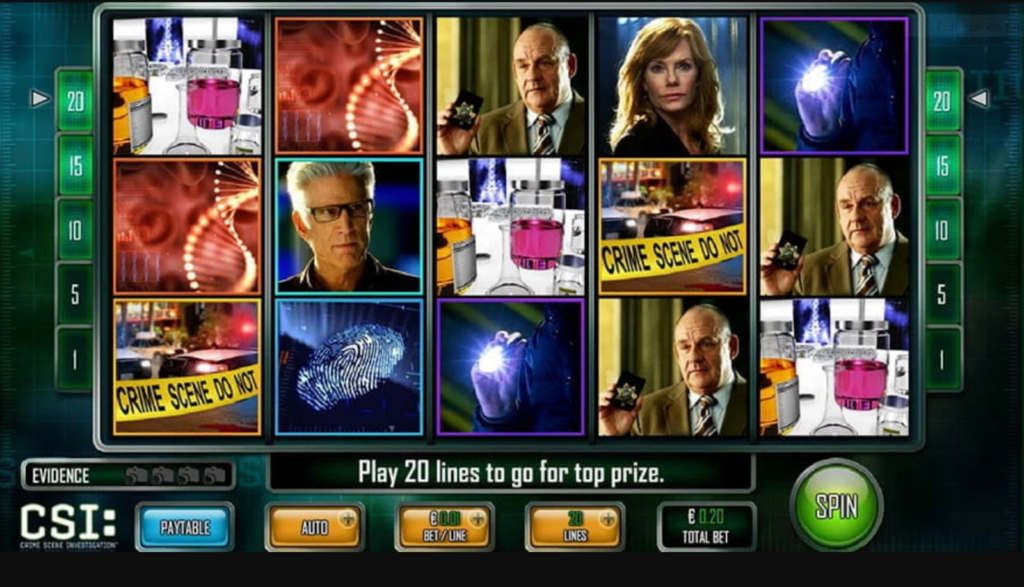 The television show CSI: Crime Scene Investigation aired from 2001 until 2015. The show follows Las Vegas criminologists Gil Grissom and crew as they employ various techniques to solve murder cases.
The slot machine of the same name is a faithful recreation of the show's visual style. The maximum payout on this Skywind-made slot machine is 1,000 times your initial bet, and the game's RTP is 95.18 percent.
This TV slot offers a Crime Scene Extra Game and free spins in addition to the standard wild and scatter multipliers.
In the bonus round, you get to choose 4 of a total of 12 items. You can win money, money plus an extra pick, or money plus evidence, depending on your choice.
As for the free spins feature, if you get 3 free spin symbols anywhere on reels 2, 3, and 4, you'll trigger the free spins bonus round. You will receive 8 free spins, with the possibility of retriggering the bonus if additional triggering symbols appear on the reels as specified.
If you find yourself drawn to crime shows and crime-themed TV slot games, then head over to Videoslots Casino to play CSI: Crime Scene Investigation.
#9. Deal or No Deal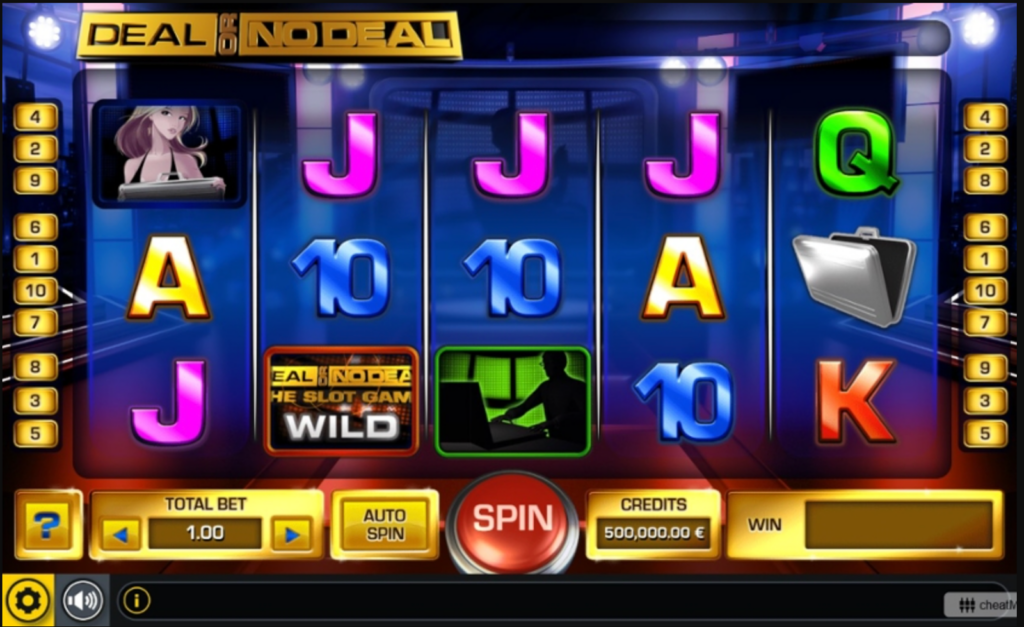 Deal or No Deal was a British game show that aired from 2005 to 2016. At the start of each episode, one of the 22 contestants (all of whom stood behind a red box) would be chosen to play the game. The participant would then have to select one of the 21 boxes (all but their own) to win a large sum of money.
If you're a fan of this concept, you're in luck because Playtech has designed a slot machine that resembles this game show. Deal or No Deal is a 5-reel, 20-payline TV slot with a 95.46% RTP.
Keep an eye out for the scatter symbols, as they can assist you in winning some fantastic prizes. You should also concentrate on obtaining winning symbol combinations, as this will lead you to the free spins bonus round. The bonus round continues until the banker's symbol appears. You will then be given the option of going with the banker's pick or the player's choice.
This game is as captivating as the TV show. So go ahead and check out Deal or No Deal at Mr Play Casino.
#8. Narcos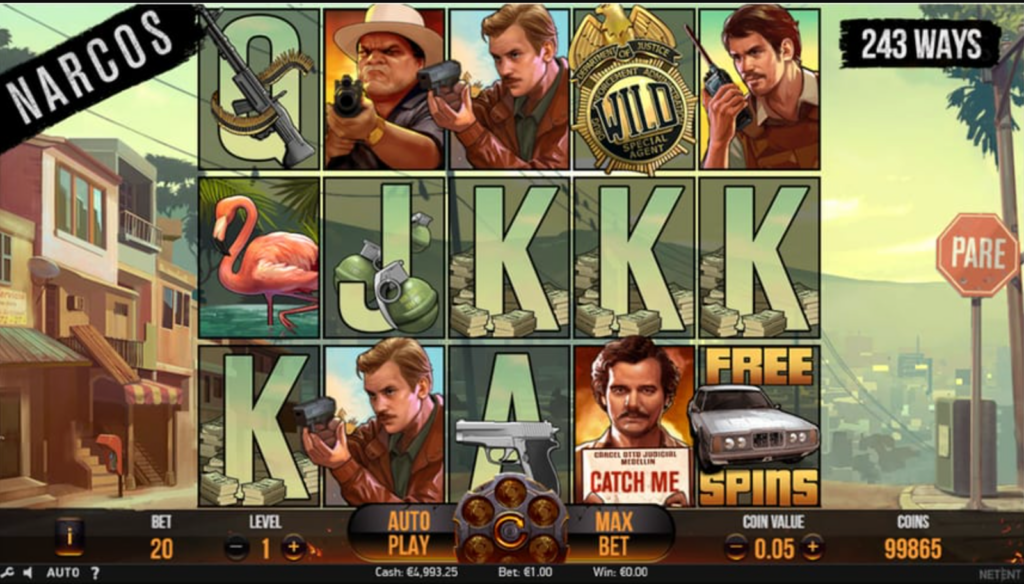 Narcos is a Netflix crime drama television series that ran between 2015 and 2017. It concentrates on 1980s drug culture, the struggle against cocaine distribution, and Pablo Escobar, the drug industry's kingpin.
In terms of aesthetics and other visual components, NetEnt's Narcos TV slot is an outstanding copy of the show. The game contains 5 reels and 24 paylines, a 96.23% RTP, and a maximum payoff of 1,506x your bet.
Narcos includes numerous additional features. The Drive-By feature is enabled at random. A gunman fires from a fast automobile, and any high-value symbol hit by a bullet goes wild. You will have better payment prospects this way.
There's also the Walking Wild feature, the Locked Up feature, and, of course, the Free Spins feature, where you may win 10 free spins initially and more if you keep playing.
Are you ready to take on the drug world and win big jackpots? Then check out Narcos at Betfred Casino.
#7. The Walking Dead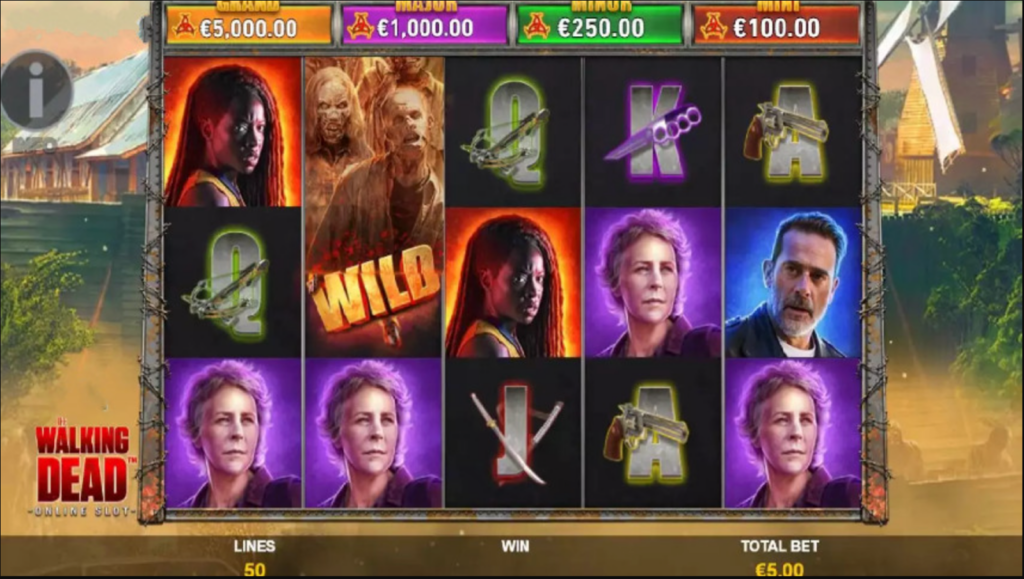 The Walking Dead is a post-apocalyptic horror series that aired on AMC from 2010 to 2022. The premise of the show revolves around a zombie apocalypse, how the survivors are navigating their lives and all of the difficult decisions they must make in order to survive.
Playtech tackled the issue of translating a popular TV show into a slot machine once more. The game has 5 reels and 50 paylines, an RTP of 95.73%, and a maximum payoff of 2198x your bet.
This TV slot contains an outstanding Tower feature in addition to wilds and Free Games. This feature will be enabled if you land 6 or more coins on the reels at the same time. These coins will become frozen in place and grant you 3 respins.
You can unlock extra rows with this function by collecting 2 coin symbols with a key. The coin values will be multiplied based on the row. The best part is that you can use this function to win 1 of 4 jackpots (ranging from the grand jackpot with a 1,000-fold stake to the micro jackpot with a 20-fold stake).
It sounds intriguing, doesn't it? If you feel like giving it a try, visit William Hill Casino and play The Walking Dead TV slot.
#6. Jurassic Park Remastered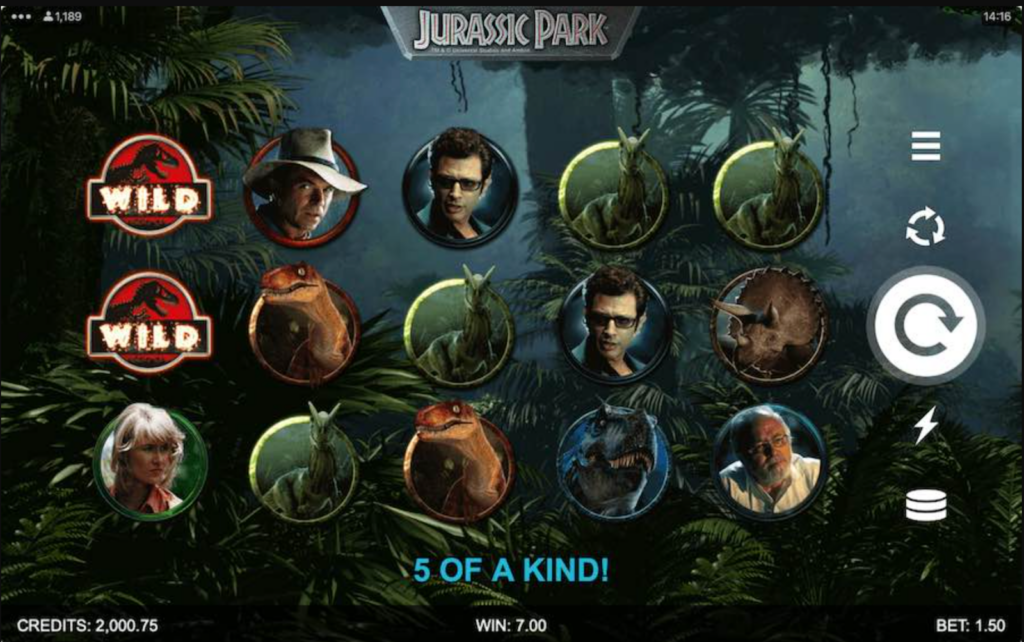 The animated series Jurassic World: Camp Cretaceous lasted for five seasons on Netflix. The plot centers on a group of teenagers who go to a camp on an island, where a herd of dinosaurs shows up and causes mayhem.
Considering this show's popularity, it's no wonder Microgaming made Jurassic Park Remastered, a TV slot about dinosaurs and adventurers based on it and the Jurassic Park film franchise. It boasts a maximum payout of 6,333x your stake, a return to player percentage of 96.67%, and 5 reels and 243 paylines.
Jurassic Park Remastered is also full of surprises and bonuses. For instance, the game's T-Rex Alarm feature is a real adrenaline rush. The bonus round can be initiated at any time by the appearance of a T-Rex. If that happens, you will receive an additional 35 wild symbols on the reels.
There are a total of five free-spin rounds available on this slot machine, each associated with a different dinosaur, including a Tyrannosaurus rex, a Velociraptor, a Brachiosaurus, a Triceratops, or a Dilophosaurus. They can all award you 12 extra spins on the reels.
If you're a fan of the franchise, be sure to go to All British Casino and give Jurassic World Remastered a try!
#5. Vikings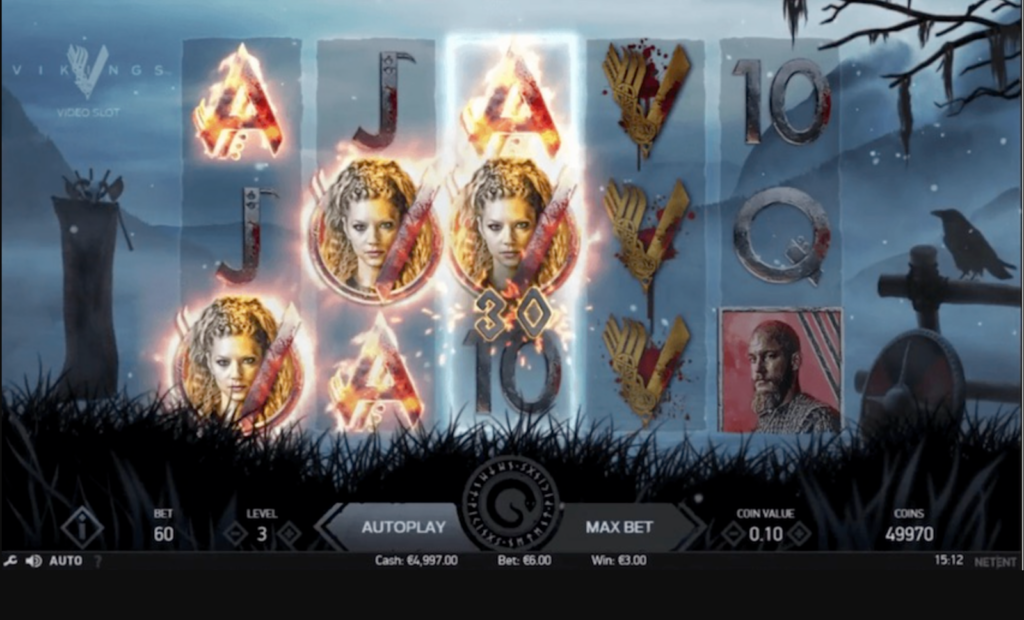 The history-drama series Vikings aired on television for six seasons and is considered a hit TV show. If you're a fan, you're going to love Vikings TV slot machines!
Developed by NetEnt, the Vikings slot machine offers a maximum payout of 10,000x your bet, 5×7 reels, 243–78,125 paylines, and a return to player percentage of 96.05%.
Vikings TV slot features ten unique symbols, the most valuable of which is the show's logo. The game's bonuses, such as the Hotspot function, add to the overall gambling experience. When a full reel of Viking symbols appears on the third reel, all other Viking symbols transform into stacked versions of themselves and are factored into payouts as well.
Free spins can be triggered in Vikings by getting three scatters on reels 3, 4, or 5. You have the chance to win 7 free spins in this bonus round. Keep in mind, however, that this round cannot be retriggered.
If you feel like playing Vikings, visit Mega Casino and see what the hype is all about for yourself!
#4. Wheel of Fortune Megaways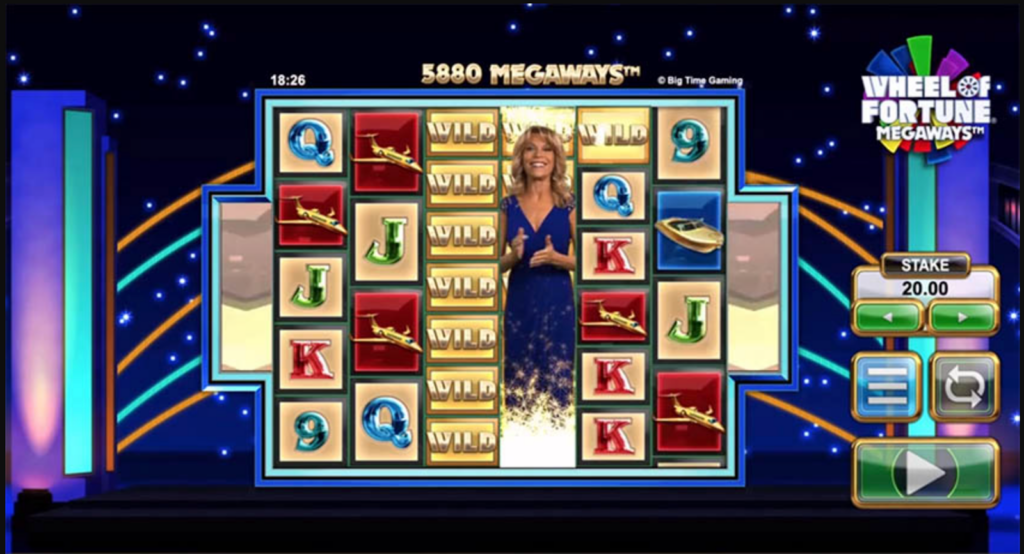 The British game show Wheel of Fortune first aired in 1975. The show's contestants must solve word puzzles to spin the wheel, which determines the type of prizes they will get.
IGT has created numerous variations of the Wheel of Fortune slot machine. This variation, called Wheel of Fortune Megaways, has 6 reels and up to one million paylines, a 96.46% RTP, and a maximum payout of 80,150 times your wager.
The game has essential features like wilds, scatters, and free spins. When you land a wild symbol, you can unleash Wild Megastacks. The show logo scatters can pay up to 18 free spins, with an additional 12 spins owing to the expansion symbol.
If you're interested in playing this game, go to PlayOJO Casino.
#3. Who Wants to Be a Millionaire?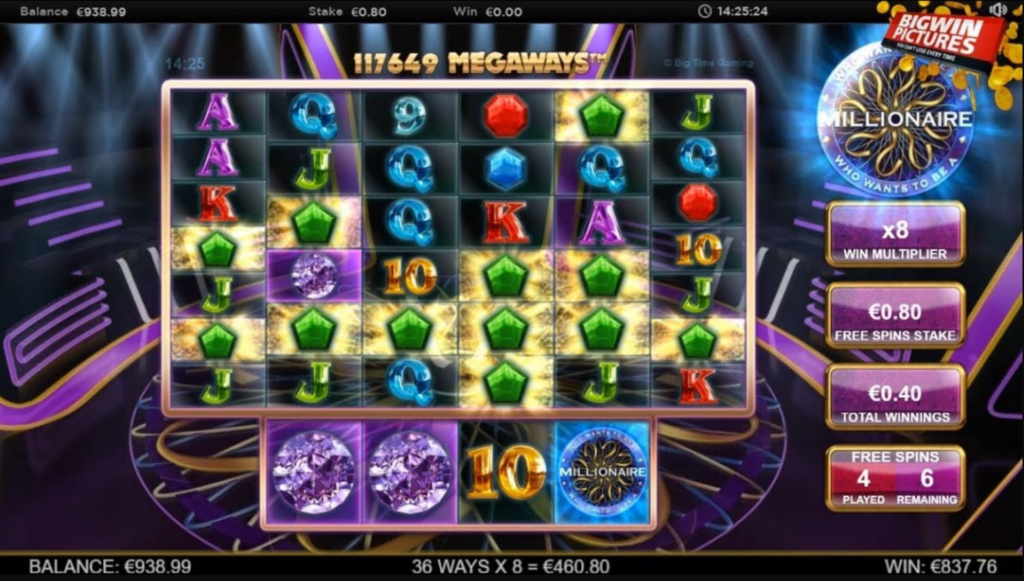 The original "Who Wants to Be a Millionaire?" ran from 1999 until 2021. Celebrities competed in this game show for a big prize that would be donated to the Catholic Children's Society.
As the show had a huge audience, Big Time Gaming adapted it into a slot machine game. You can win up to 72,310 times your bet on this 6-reel, 117-649-payline TV slot machine. The RTP is 96.27%.
Whenever you score a winning combination, the game's Reactions feature kicks in. This function gives you more winning combinations you can form by replacing winning symbols with new ones.
But the game's highlight is the Free Spins round. It is triggered when three scatters appear on the reels. You can boost your winnings with free spins in the Hot Seat Gamble. If you want to take part, you might receive up to 50 bonus spins.
One of the best places to play the Who Wants to Be a Millionaire TV Slot is Yeti Casino, so visit it and give this game a go!
#2. Survivor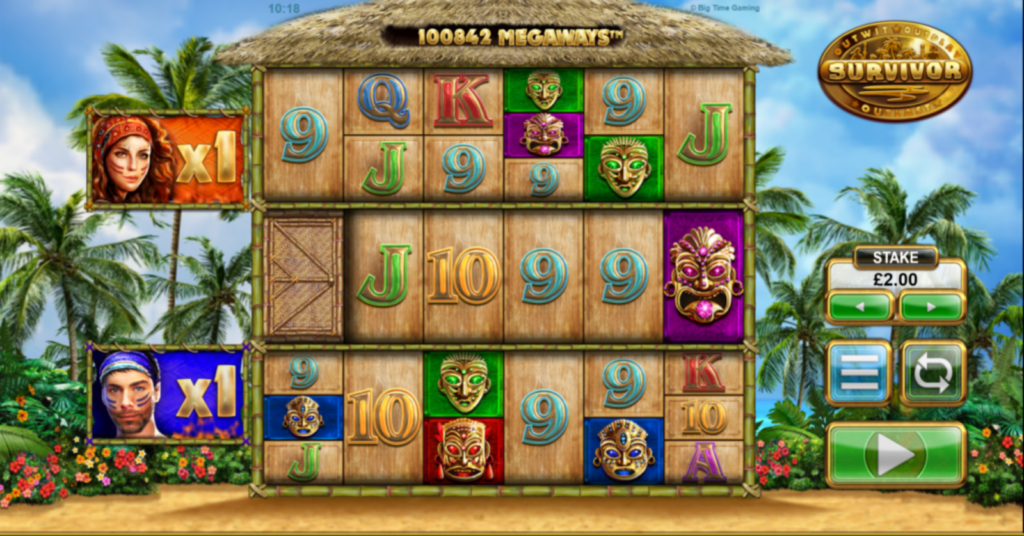 Survivor is an American reality television series that debuted in 2000 and has had 44 seasons to date. As the title suggests, the show revolves around the theme of survival.
Big Time Gaming chose to transform this popular show into a TV slot machine. The slot contains 6 reels, 100,842 paylines, and an RTP of 96.47%. It also has a huge maximum payout of 44,000 times your bet.
The Survivor TV slot will also not disappoint you when it comes to supplementary features. It has a Reactions feature that allows winning symbols to be swapped with new ones to create additional winning combinations. Wild multipliers and scatter symbols are also available.
You can also enter the bonus round if you get 3 free spins, with each bonus round starting with 15 free spins. You also receive 5 more free spins for every additional 3 scatters.
So, are you ready to put your skills to the test on a remote island in the hopes of earning the grand prize? If so, go to Captain Spins Casino and play the Survivor TV slot.
#1. Game of Thrones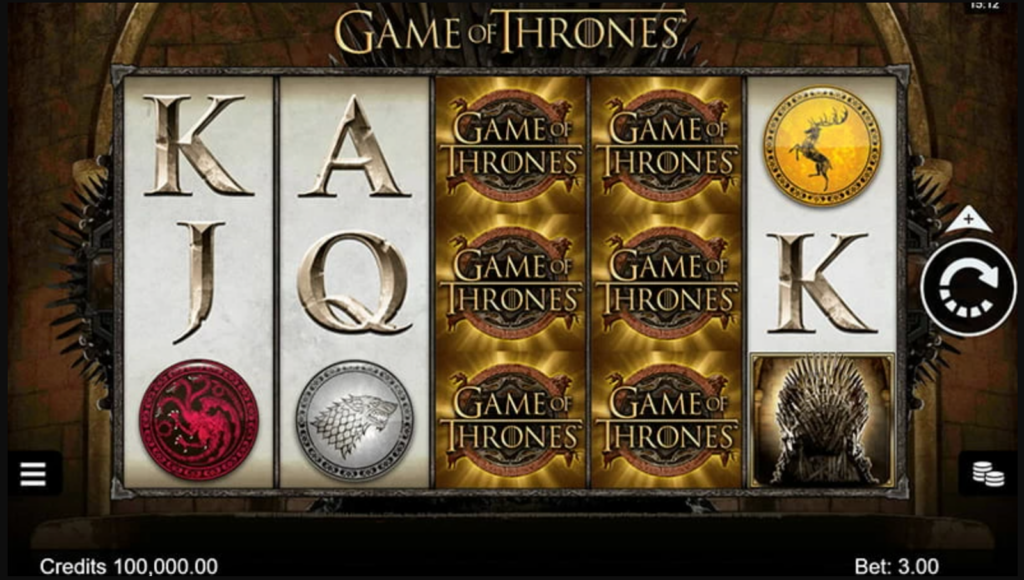 The HBO series Game of Thrones is among the most watched television series ever. Let's face it, everyone knows about it, but do you know about the Game of Thrones TV slot?
It was created by Microgaming and has 5 reels, 243 paylines, and a 95% RTP. On top of that, the maximum payout is 20,250x your stake.
The Game of Thrones slot machine comes with scatter symbols. Two scatters award a monetary payment with a random multiplier, and 3 let you pick from the 4 houses of Westeros: Baratheon, Lannister, Stark, and Targaryen.
The ability to "gamble" each win and potentially double the payout is another standout feature of the game.
If you like playing slots with high stakes, then the Game of Thrones slot machine is waiting for you at Playfrank Casino!
Best TV Slots Developers
If you're looking for some more entertaining TV slots, you might want to look into the following software developers:
Microgaming. This private gambling software provider is one of the most popular developers in the industry, with almost 20 years of experience since it was founded in 1994. The company's CEO is John Coleman, and its headquarters may be found on the Isle of Man. Games like "Game of Thrones," "Immortal Romance," and "9 Pots of Gold" are all slot machines developed by Microgaming.
Playtech. Founded in 1999, Playtech is a leading provider of gambling software. It develops software for gambling sites, bookmakers, scratch cards, and more. Deal or No Deal, Cat Queen, and Gem Hot are just a few of Playtech's best-known slot machines.
NetEnt. The industry standard for online casino software, NetEnt was founded in 1996 and has since been one of the favorites among players. Popular games developed by this company include Narcos, Gonzo's Quest, Starburst, and many more.
Key Takeaways
Here we have it: the top 10 TV slots and where you can play them!
If you're the kind to binge-watch TV shows, whether they're reality programs, game shows, or fiction series, you'll probably appreciate at least one of the games on this list. So visit Online Casinos UK and give them a try!
To sum up the article:
When you play a slot machine themed after your favorite TV show, you're playing a TV slot.
Superb visuals and audio, plenty of sequels, mobile optimization, and generous bonuses make TV slots fun.
The top 10 TV slots include:

#10. CSI: Crime Scene Investigation
#9. Deal or No Deal
#8. Narcos
#7. The Walking Dead
#6. Jurassic Park Remastered
#5. Vikings
#4. Wheel of Fortune Megaways
#3. Who Wants to Be a Millionaire?
#2. Survivor
#1. Game of Thrones

Microgaming, Playtech, and NetEnt are just some of the software companies that have created top-notch TV slots.