Ireland is one of the few countries that have slot machine games with a cultural theme.
What better way to experience Irish luck than by playing Irish slots?
You might wonder what makes Ireland so unique that it has its own slots with Irish themes. Well, in addition to its picturesque surroundings, Ireland is known for its mystical creatures like leprechauns and symbols like pots of gold and four-leaf clovers that are said to bring luck.
If this sounds intriguing to you, you should check out some Irish slot games.
To save you time and energy from searching for a game worth playing, we have compiled a list of some of the greatest Irish slots currently available.
If you're eager to find out what they are, read on!
What Are Irish Slots?
The majority of Irish slots include the color green in their designs and a similar motif of luck.
If we consider more specific elements, several Irish slots concentrate on leprechauns, rainbows, pots of gold, four-leaf clovers, and other magical or mystical features.
Irish slots are one of the most popular slot machines worldwide. They come in a huge range of varieties. While some Irish themed slot machines were created years ago, others are very new, more advanced, and creative.
The older Irish slots may be the best option if you prefer minimal graphics and a straightforward experience. Yet, newer versions may be your best bet if you prefer games that are jam-packed with intriguing features, fun symbols, and other elements.
Top 10 Irish Slot Machines
If you are ready to experience some of that Irish luck, check out our list of the top 10 Irish slots!
#10. Clover Rollover 2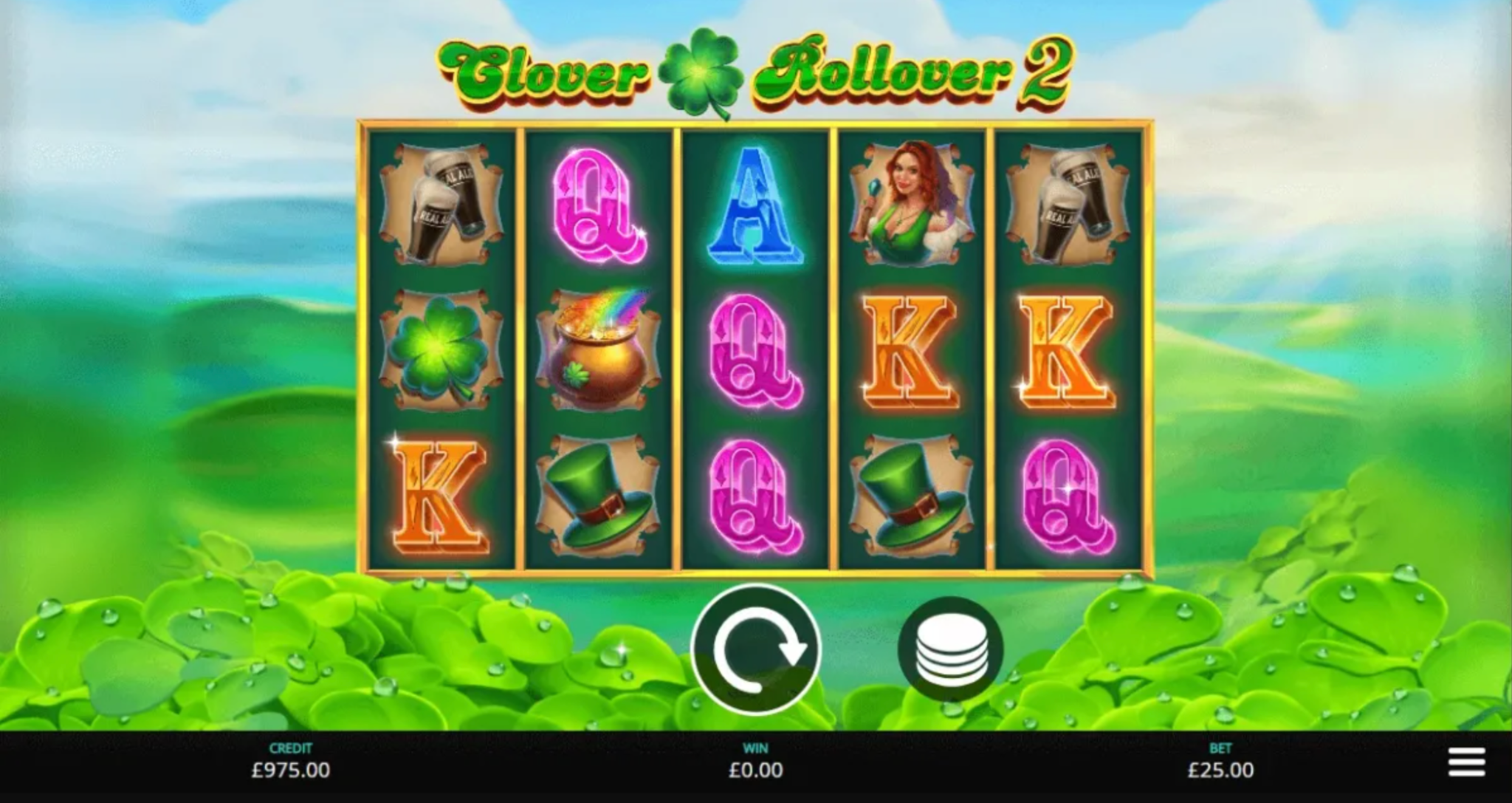 Even though the primary subject of Clover Rollover 2 is clover fields, there are gold pots, a leprechaun's hat, and a beautiful bartender.
Clover Rollover 2 was developed by Eyecon. It contains 5 paylines and 5 reels, with a 93.02% RTP. In this game, you can earn a maximum of €250,000.
For those who enjoy straightforward gameplay, this slot machine is perfect, but keep in mind that free spins are not part of the game. It only has multidirectional win lines as a true feature. You will win cash if the symbols match one of the winning lines in either direction (from left to right or from right to left).
Check out Clover Rollover 2 at PlayUK Casino if you're looking for an Irish slot with straightforward gameplay and a chance to win big!
#9. 9 Pots of Gold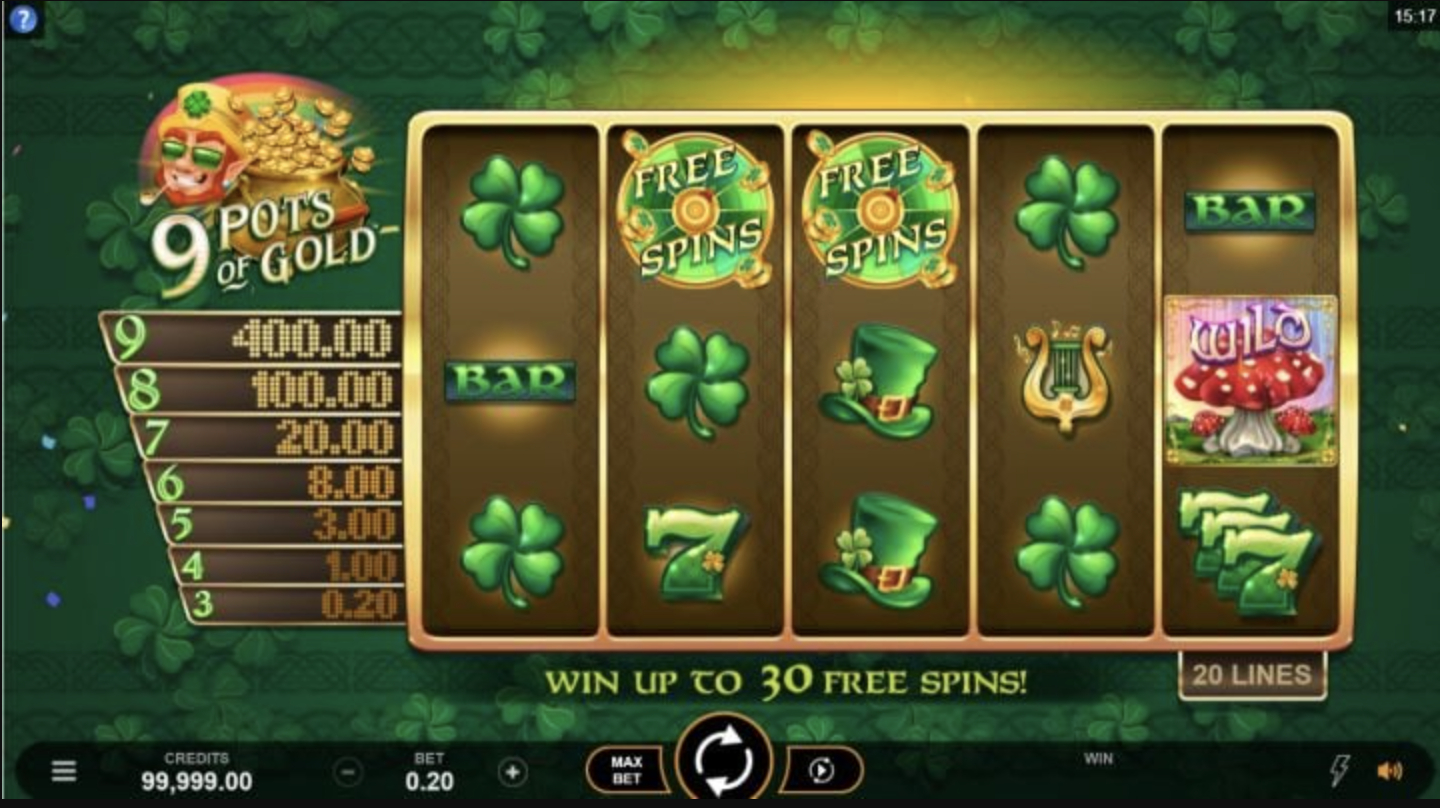 You can tell that 9 Pots of Gold is an Irish slot machine by the green background and the symbols, which include a harp, a leprechaun's hat, and a four-leaf clover.
It was made by Microgaming and features 5 reels, 20 paylines, and a 96.24% return to player (RTP). The game's top payout, which is 2,000 times your total wager, is quite amazing.
This Irish slot machine has a "Pots of Gold Instant Win" special feature. To win a cash prize right away, you only need three or more scatter symbols, which represent the Pots of Gold.
That's not all, though. A "Free Spins Wheel" is another feature of the game. It comes before the free spins and resembles a "Wheel of Fortune" game. The maximum number of free spins you can receive from the wheel is 30.
Sounds tempting? Visit Fun Casino to play this game.
#8. Wild Wild Riches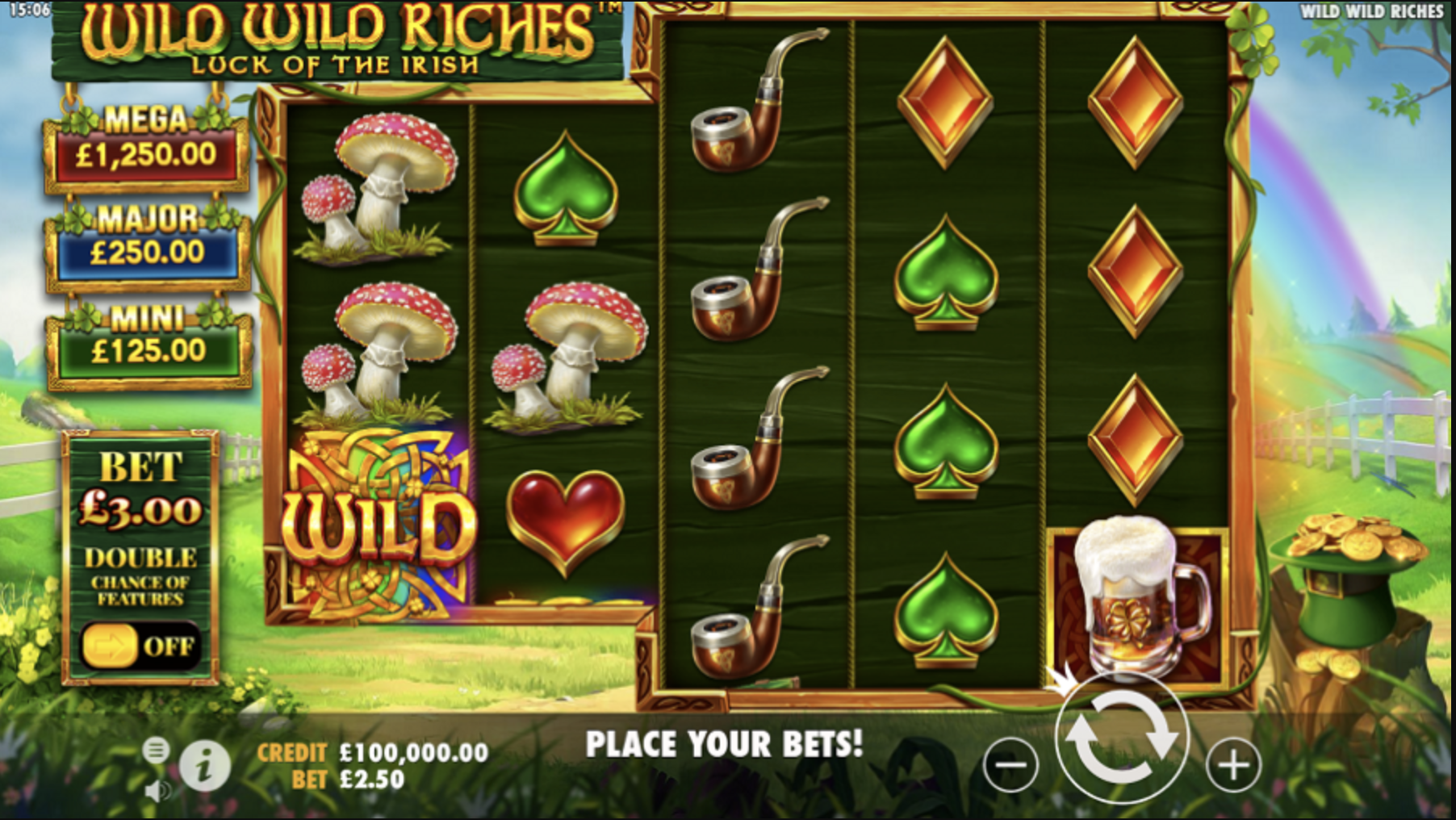 Wild Wild Riches is a classic Irish slot game featuring colorful countryside, rainbows, and, of course, traditional Irish symbols. But that doesn't change the fact that it has various distinctive features.
This Irish slot was created by Pragmatic Play. It has 5 reels, 576 paylines, and an RTP of 96%–96.77%. In Wild Wild Riches, you can win a maximum of 4,600 times your bet.
Keep an eye out for "Pots of Gold" symbols, as they are crucial for a "Money Collect" bonus. With coin values ranging from 1 to 25, these symbols are required on three adjacent reels to win.
In addition to the Money Collect Bonus, the game offers numerous free spins. You can get 10 free spins, and you can also retrigger this bonus often.
If this game sounds fun to you, visit No Bonus Casino and give it a go!
Bonus and Full T&Cs apply
#7. Luck O' the Irish Fortune Spins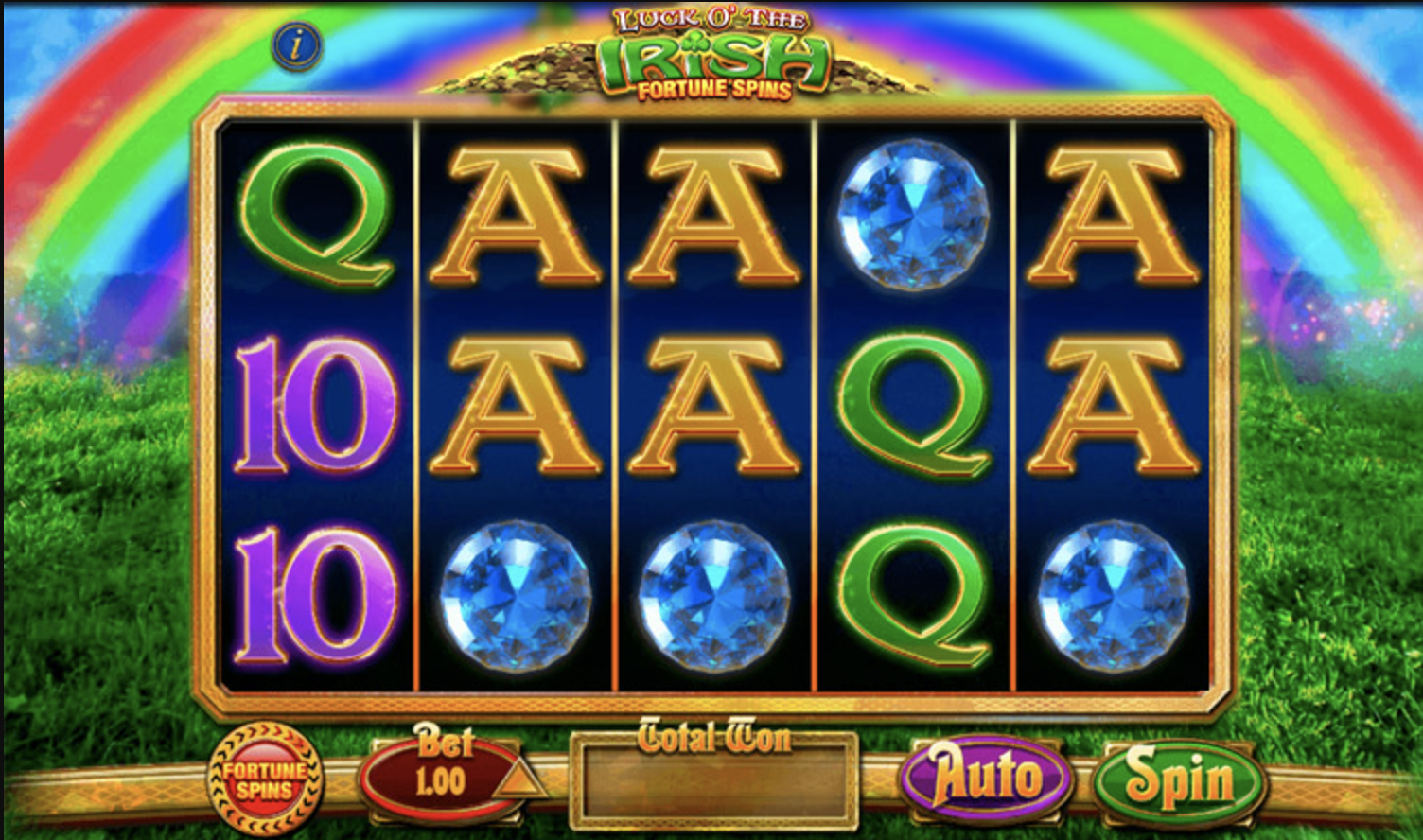 This game is for you if you want to explore a mystical world in search of pots of gold and the riches they provide.
Luck O' The Irish Fortune Spins was created by Blueprint Gaming. It has 10 paylines and 5 reels, with a 95.05% RTP.
This Irish-themed slot doesn't offer free spins. But it includes the "Fortune Spins" bonus feature, which can be activated by placing an additional wager.
During this bonus round, you can strike the game's logo, which later becomes a standard symbol. You will therefore be introduced to better winning combinations.
If you want to try your luck with the Luck O' the Irish Fortune Spins, visit Mega Casino!
Bonus and Full T&Cs apply
#6. Lucky Wizard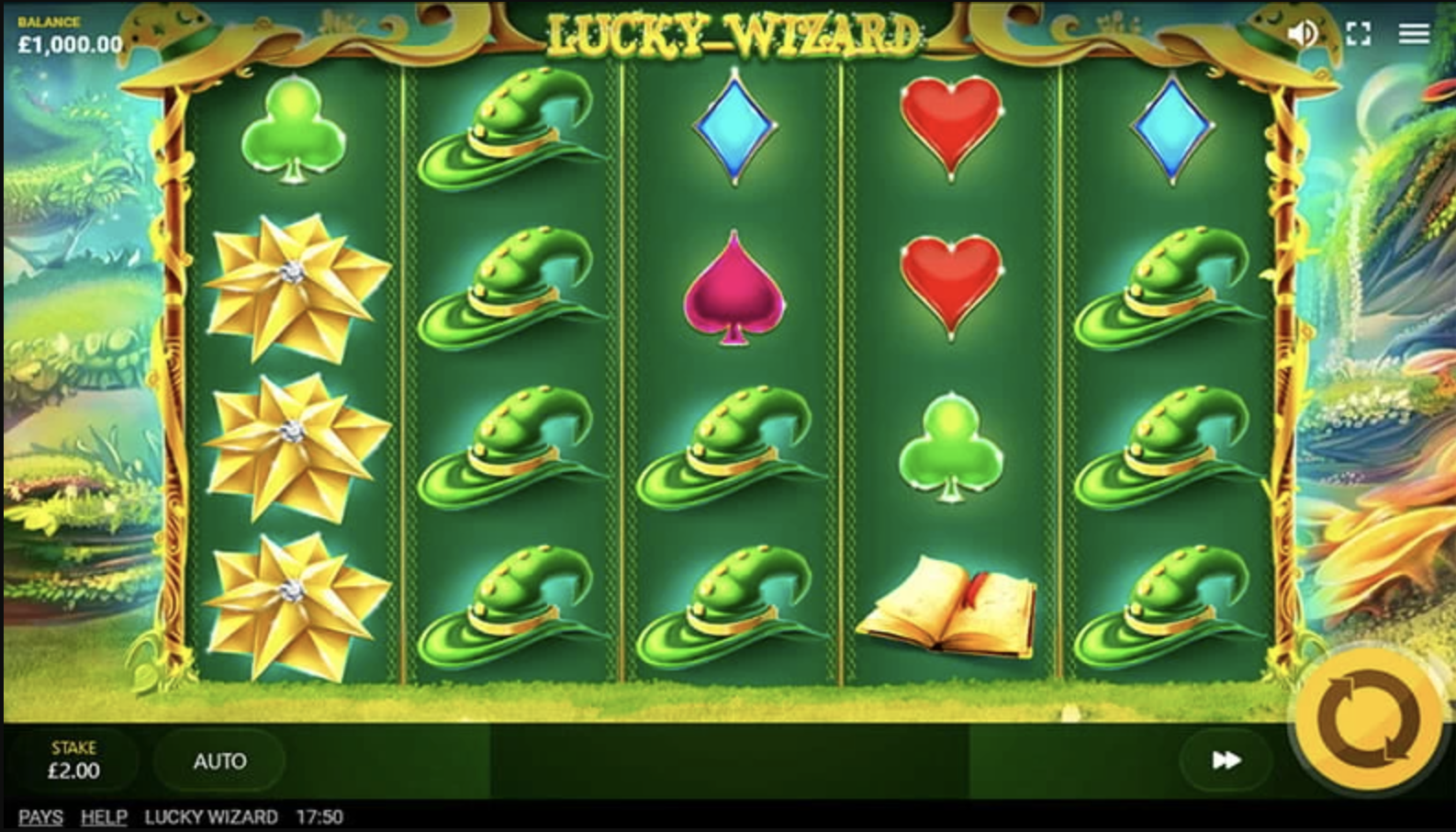 Would you be interested in meeting the lucky wizard who has lived in an enchanted forest? If so, you should play Lucky Wizard!
Red Tiger Gaming produced Lucky Wizard. It has 40 paylines, 5 reels, and an RTP of roughly 96%. The top prize amount is €800.
There are six unique features in this game! Two of them are triggered by symbols on the reels.
The "Lucky Bonus" symbol is the first one. If you get three symbols, your multiplier will range from 3x to 800x. The Lucky Win symbol is the second icon. You'll receive a cash payout immediately if it lands on the middle reel.
If you're fortunate, the wizard will show up and provide you with one of the other four features, such as Lucky Nudge, Random Wilds, Lucky Reel, or Lucky Swap.
As you can see, this game has a lot of entertaining features. So, visit Video Slots Casino today, try it out, and get some fantastic rewards!
Bonus and Full T&Cs apply
#5. Wish Upon a Leprechaun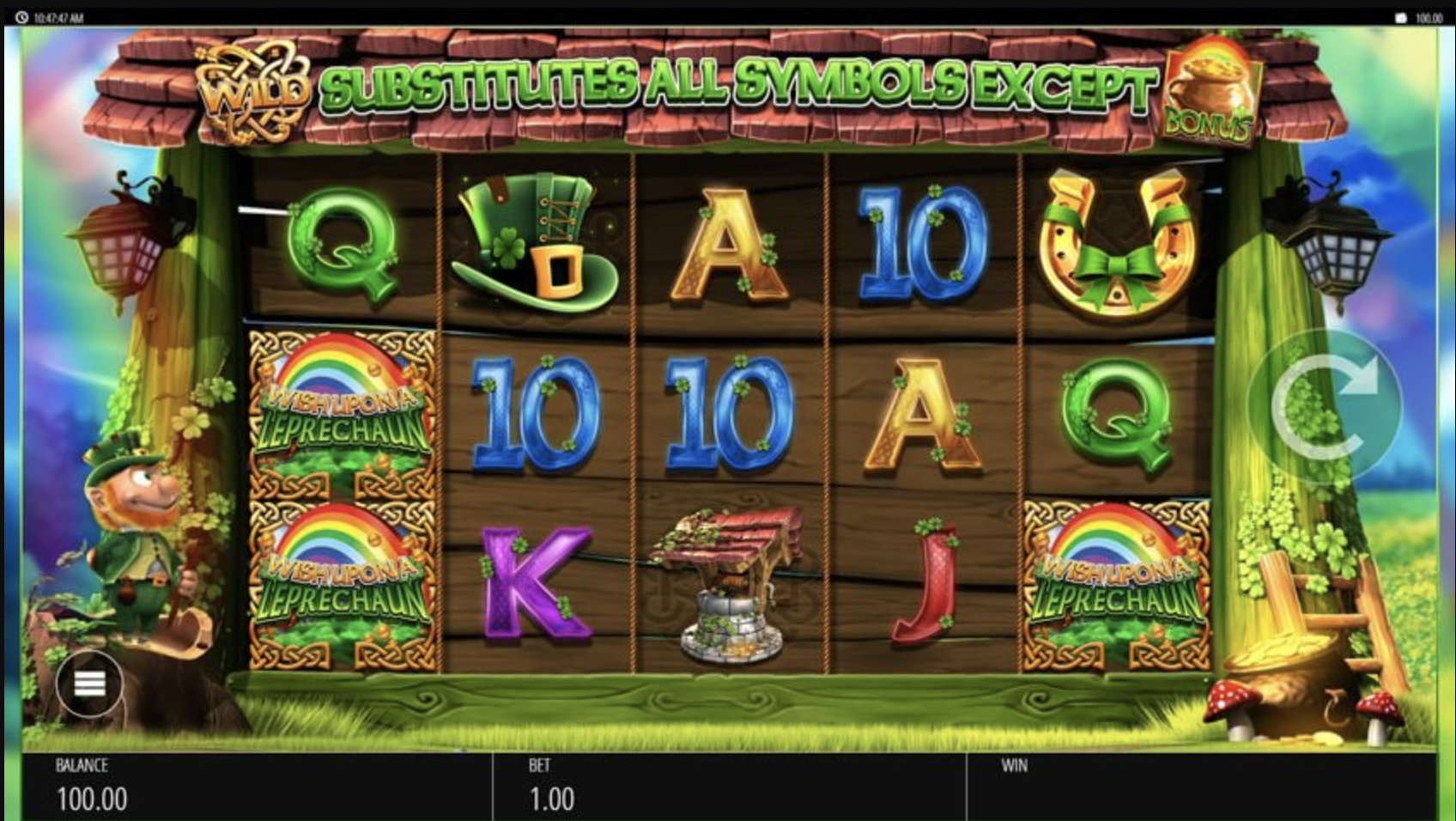 Next on the list is Wish Upon a Leprechaun, a slot game developed by Blueprint Gaming. Its setting is an enchanting forest, home to all the characters from Irish fairy tales.
Wish Upon a Leprechaun offers 20 paylines, 5 reels, and an RTP between 92.46 and 95.26%. The highest winnings you can collect are up to £100,000.
The "Frog Prince Wild" is one of the game's wild symbols, and it may be used to replace any other symbol except for scatters and bonuses.
There is also a "Fairy Godmother" bonus. As you might expect, when the Fairy Godmother shows up, one of the Wish Upon a Jackpot bonus features—Pinocchio Wilds, Wild Reels, Puss in Wilds, Book Bonus, or Fairy Win Spin—is activated.
Feel like playing Wish Upon a Leprechaun? If so, visit All British Casino!
Bonus and Full T&Cs apply
#4. Irish Riches Megaways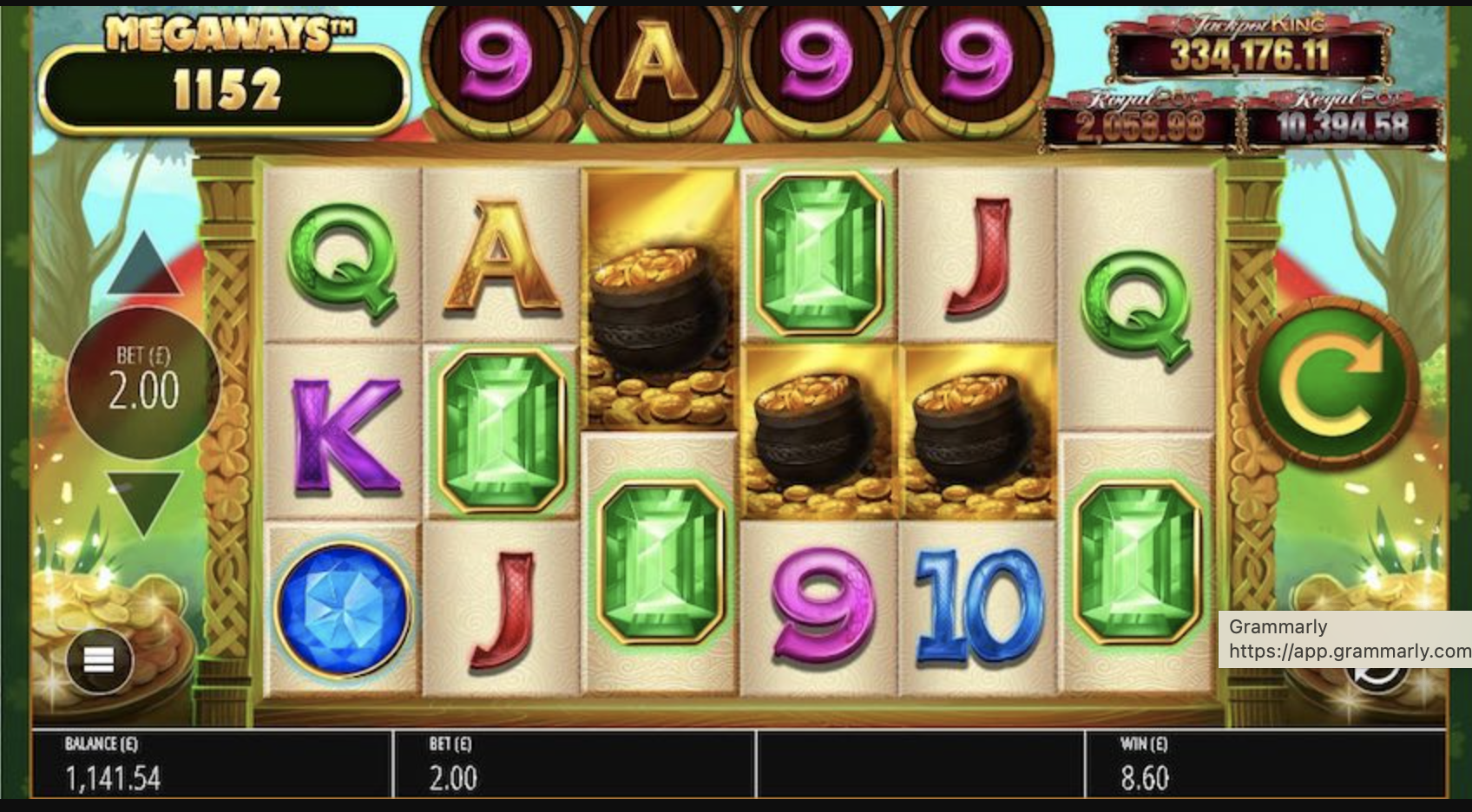 In fourth place, we have Irish Riches Megaways, a game that will surely transport you into the Irish world of wonders.
It has 6 reels, 117,649 paylines, and a 95.93% RTP. In this game, 10,000 times the stakes can be won. If that isn't enough to convince you why this game is in fourth place, just wait until you find out about all the extras it has.
With the aid of cascading symbols, you can create winning combinations in this game. When you create one, the symbols in the combination vanish, making room for new symbols to drop and allowing you to make additional winning combinations. This feature can be extended until no more winning combinations can be created.
Irish Riches Megaways also includes a "Mystery Symbol" feature, free spins, an "Unlimited Win Multiplier," scatter symbols like the shining diamond, and many more features.
Thus, be sure to check out this game at Captain Spins Casino.
#3. Irish Pot Luck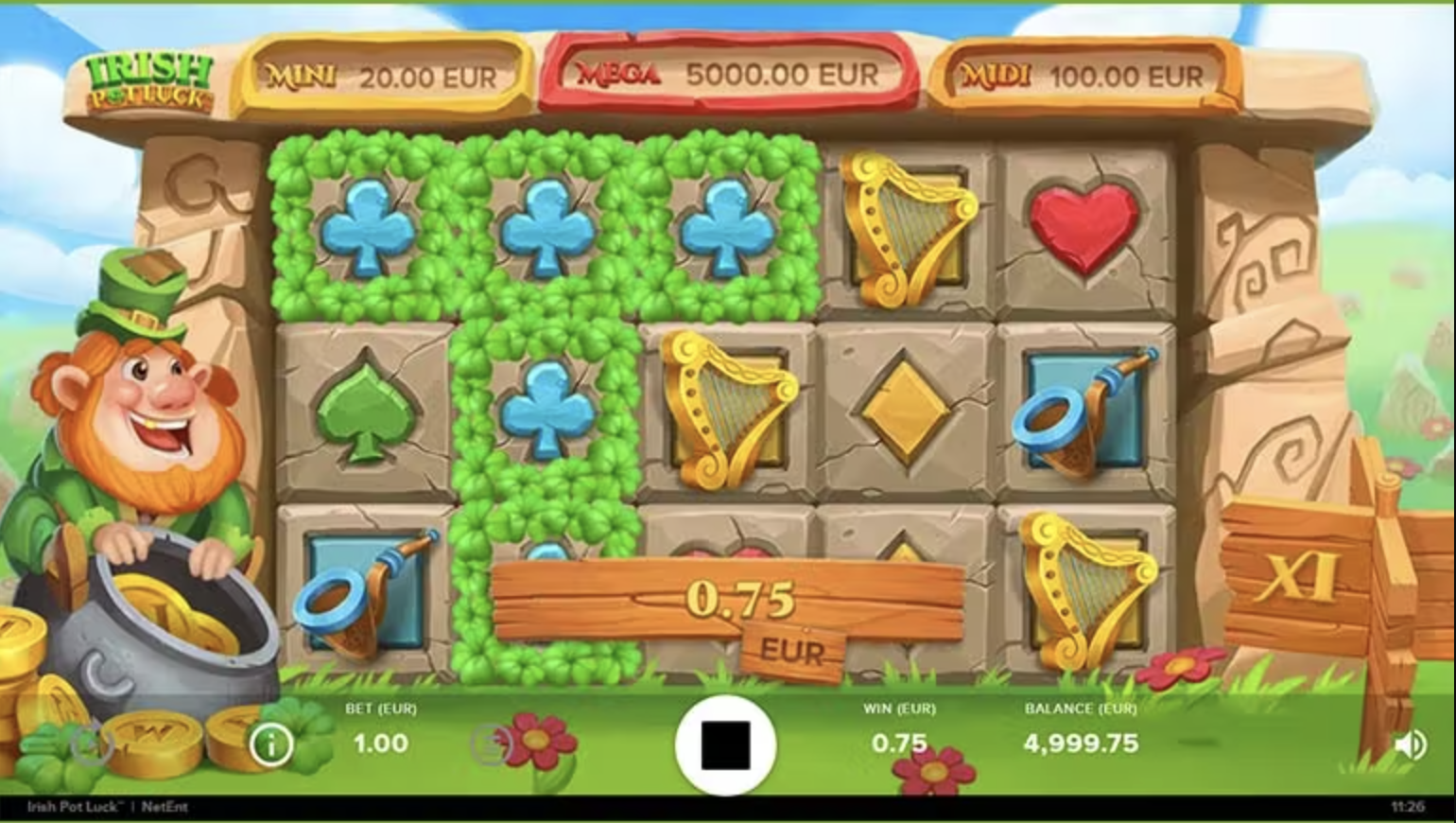 Irish Pot Luck comes in at number three. You won't be let down by the stunning graphics and high prizes this game has to offer.
The slot was created by NetEnt. It contains 20 paylines, 5 reels, and a 96.06% RTP. Most importantly, you can win 5,000 times your bet!
The game also has a lot of features to make your gambling experience enjoyable. The "Pot Luck" feature is one of these features. A leprechaun will search his pot of symbols during any spin and scatter them so you can form more winning combos.
The game also has a multiplier feature that increases each win made within a single spin. For example, if you manage to gather three rainbow scatters, you'll also receive 10 free spins.
If you want to try some of the features that Irish Pot Luck offers, head over to Casushi Casino!
#2. Rainbow Jackpots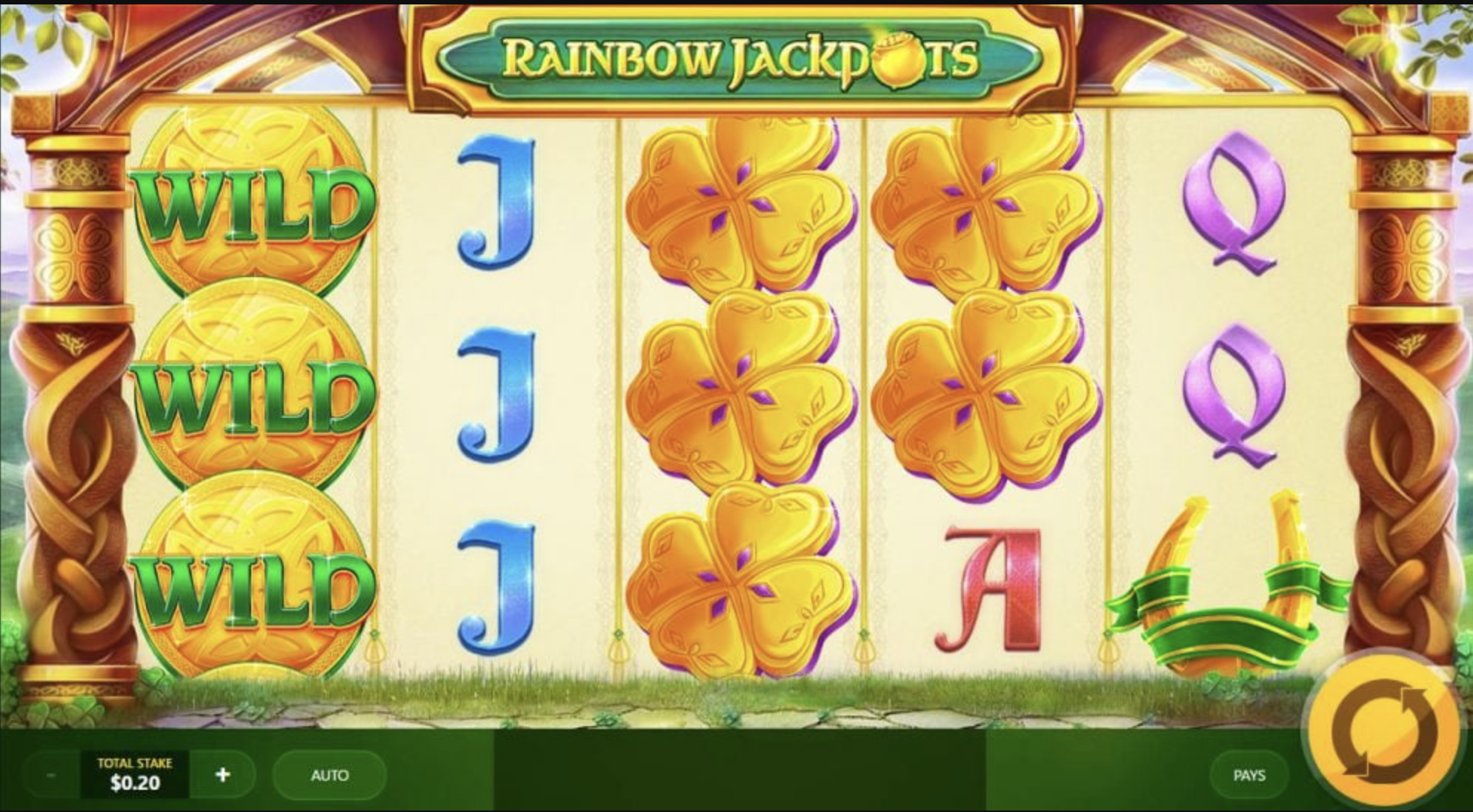 If you enjoy the extra features that can occur on any base-game spin, then you should give Rainbow Jackpots a try.
The game contains 20 paylines, 5 reels, and a 95.13% RTP. Lastly, you can win up to €80,000, which is quite a price!
Red Tiger Gaming's Irish-themed slot machine is a marvelous example of a game with many extra features. Together with wild symbols, you can see scatter symbols for free spins and beer bonus rounds.
Be prepared to see a leprechaun when features like Free Spins, Mega Free Spins, Symbol Swap, Mega Symbol Swap, Beer Bonus, and Triple Beer Bonus are activated.
You can win as many as 100 extra spins in the game's free spins bonus, while the maximum payoff of 1,000 times your wager can be won in the beer bonus.
If all this sounds exciting, visit PlayOJO Casino and see what Rainbow Jackpots is all about!
Bonus and Full T&Cs apply
#1. Rainbow Riches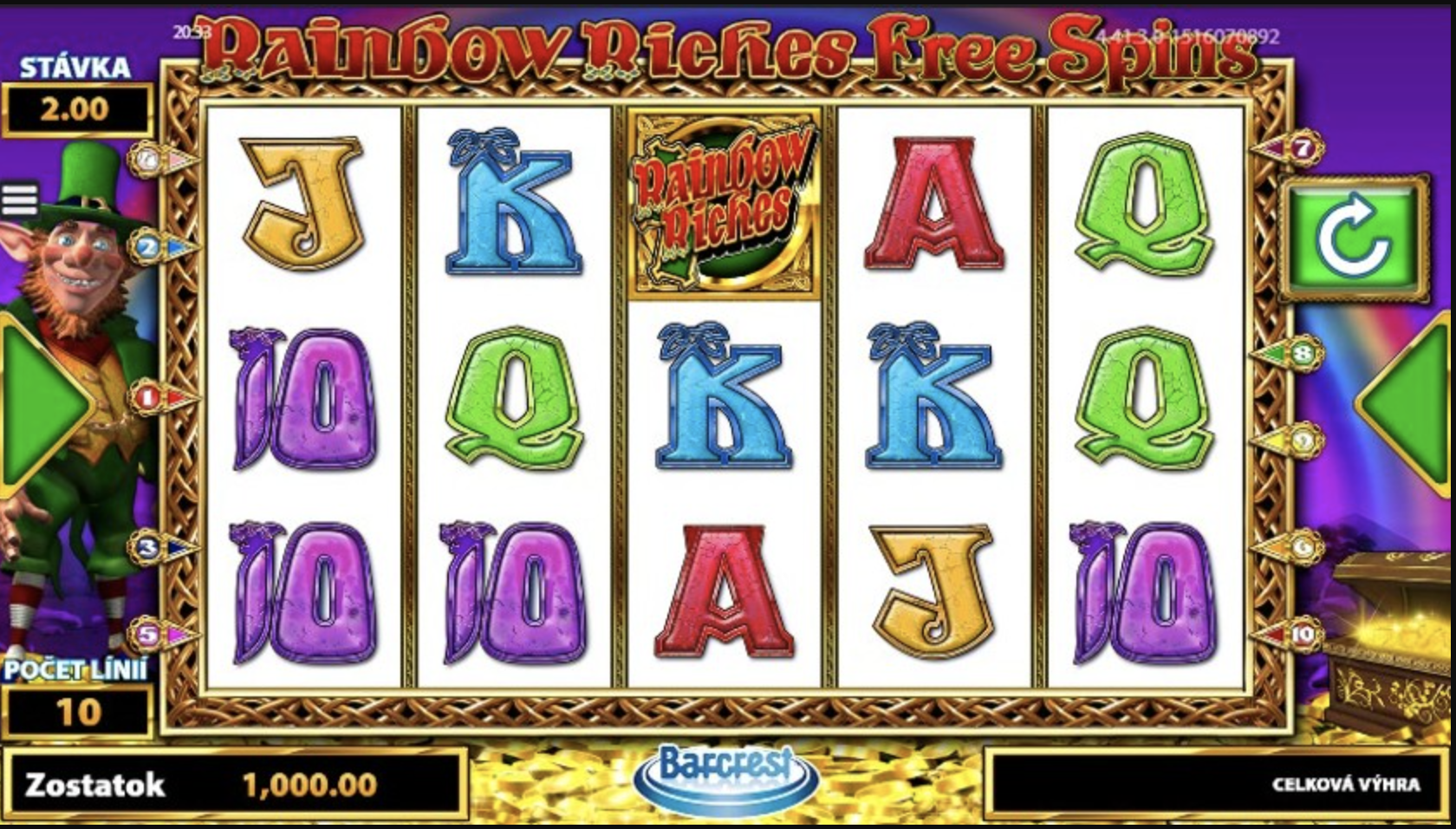 Rainbow Riches quickly surpassed all other online slots in the world after its release. 14 years after its initial introduction, this Irish-themed slot machine is still one of the most popular ones in the gambling industry.
But why is it at the #1 of our list? What makes it significant other than its popularity?
Rainbow Riches contains 20 paylines, 5 reels, and a 95% RTP. On top of that, you can win a maximum of £250,000.
Many people adore this game not only for the gameplay and graphics but also for the fun bonuses it offers. One of them is the "Road to Riches" feature, which lets you win up to 200 times your wager.
The feature in this game that can help you win the most is definitely "Pots of Gold." Depending on the type of pot you acquire (e.g., bronze, silver, or gold), you could win up to 500 times your initial bet.
So, what are you waiting for? Visit Yeti Casino and start playing Rainbow Riches right away and see for yourself why it's #1 on our list!
Bonus and Full T&Cs apply
Top 20 Online Casinos in the UK to Play Irish Slots
Why You Should Play Irish Slots
Irish slots are a lot of fun. But what makes them different from the rest of the slot games in the industry? Some of their benefits include:
High RTP. Most of the Irish slots come with high RTPs. On average, Irish slots have an RTP of 95%, while some go as high as 96.77%. Therefore, with these slots, you may get consistent wins.
Bonus features. Irish slots have a fair amount of exciting features. Wilds, cascading symbols, free spins, several bonus features, and progressive jackpots are among the features you can expect.
Welcome bonuses. Irish slots offer welcome bonuses, much like most other slot machines. If you choose to play Irish slots at any of the UK-based online casinos, you can expect many entertaining features and fantastic welcome bonuses.
Safe to play. Irish slots, when found in one of the aforementioned casinos, are one of the safest slot games to play. Online casinos in the UK are licensed, so you can expect fair odds at winning and a 100% safe gameplay.
Bonus and Full T&Cs apply
Irish Slots FAQ
#1. What are Irish slots?
Slots featuring an Irish theme are known as Irish slots. A green background, enchanted forests, magic, and symbols of leprechaun hats, rainbows, pots of gold, and four-leaf clovers are some of the most typical components of Irish slot games.
#2. Why should I play Irish slots?
Irish slots include excellent music and fantastic graphics, which improve the gaming experience. They are also quite fun, have some incredible features, and give you a chance to create many winning combinations and, as a result, obtain some wonderful prizes.
#3. What are the best Irish slots for new players?
9 Pots of Gold and Irish Pot Luck are two of the best Irish slots for beginner gamers. Both of these games have five reels and 20 paylines, which are features found in many other slot games. Apart from that, these slots also have exciting features that are simple to use and can support big wins.
#4. Are Irish slots mobile-friendly?
Many of the Irish-themed slots are available as mobile apps. You can play the rest via your mobile browser, and still enjoy a seamless gambling experience.
Key Takeaways
You don't need to look any further if you're looking for Irish-themed slots with fantastic features for scoring outstanding wins.
Just take a spin on one or more of the top 10 Irish slots listed in this article!
To summarize this article:
Slots with Irish themes are known as Irish slots. They include a lot of green in addition to symbols like pots of gold, leprechauns, rainbows, and clover.
The top 10 Irish slots include:

#10. Clover Rollover 2
#9. 9 Pots of Gold
#8. Wild Wild Riches
#7. Luck O' The Irish Fortune Spins
#6. Lucky Wizard
#5. Wish Upon a Leprechaun
#4. Irish Riches Megaways
#3. Irish Pot Luck
#2. Rainbow Jackpots
#1. Rainbow Riches

These slots are popular among players because of their high RTPs, bonus features, welcome bonuses, and safety while playing.
Microgaming, Blueprint Gaming, Red Eye Gaming, NetEnt, and IGT are just a few of the top Irish slot creators.