Playing bandit slots is the best option for you if you want to see what it's like to break the rules without actually breaking them.
Bandit slots are another popular type of themed slot machine among gamblers. In addition to the obvious rush of playing the role of the outlaw, you also gain insight into the methods employed by bandits and, of course, obtain some great wealth.
So, if you're interested in trying bandit slot machines, carry on reading, as this article will introduce you to the top 10 bandit slot machines and the best places to play them!
What are Bandit Slots?
The term "bandit slots" refers to slot machines with a robber or outlaw motif.
Bandits are criminals who use force or threats to commit their crimes. They are typically portrayed in the media as bandana-clad horsemen that rob train travelers.
Banditry predates even classical civilizations like Greece, Rome, and China by thousands of years. Bandits back then typically worked in groups, carried weapons, and preyed on passing travelers, robbing and sometimes killing their victims.
Nowadays, there are no bandits in the sense we once knew them. There will always be, however, subcultures that reject authority and operate outside of the law.
Many intriguing slot machine games were created by slot developers using the concept of banditry. The majority of them have generous payout percentages, interesting visuals, and rewarding features.
Top 20 Online UK Casinos to Play Bandit Slots
Top 10 Bandit Slots Ranked
Now that you know what banditry is, let's have a look at the top 10 bandit slots!
#10. Bonus Train Bandits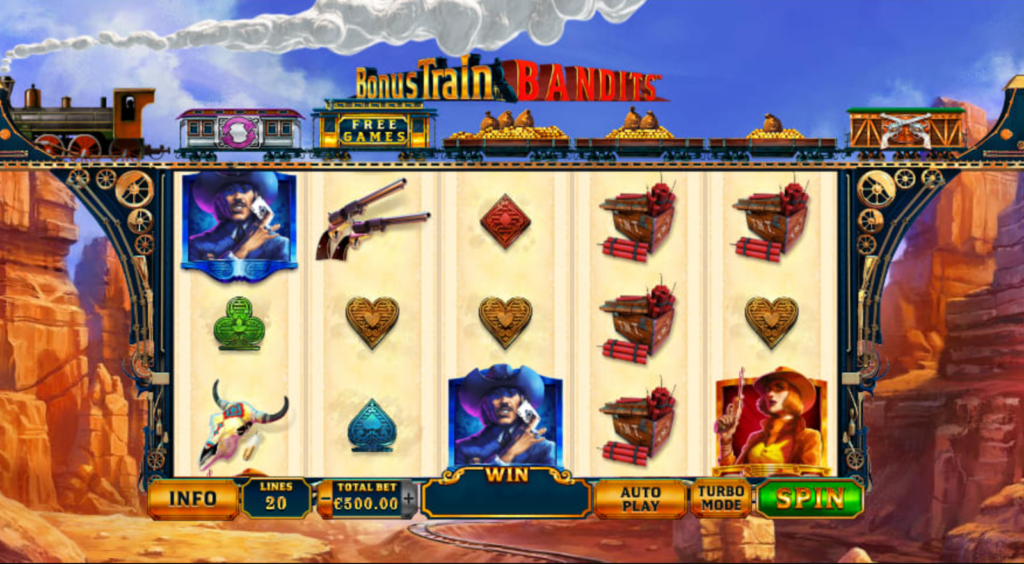 This desert-based Playtech game features a train heist plot with lively graphics and sound effects.
There are 5 reels and 20 paylines in Bonus Train Bandits, and the RTP is 96.12%. In this game, you can win up to 500 times your bet.
The bonus train is the nicest part of Bonus Train Bandits; it moves along the reels and stops above certain reels. When the scatter symbol appears on the same reel as the car, unique bonuses are enabled.
Should this happen, you will be eligible to win one of four prizes.
The first is a cash payout equal to one hundred times your initial bet. Then there are Revolver Wilds, which occur when up to five symbols are substituted with wilds. During Super Spins, every time you land a symbol, you'll receive three free spins and a cash bonus.
The final type of prize is the Mega Multiplier Free Spins, which awards five winnings and a multiplier of up to 21x.
Visit PlayOJO Casino if you're interested in playing Bonus Train Bandits.
#9. Cashbag Bandit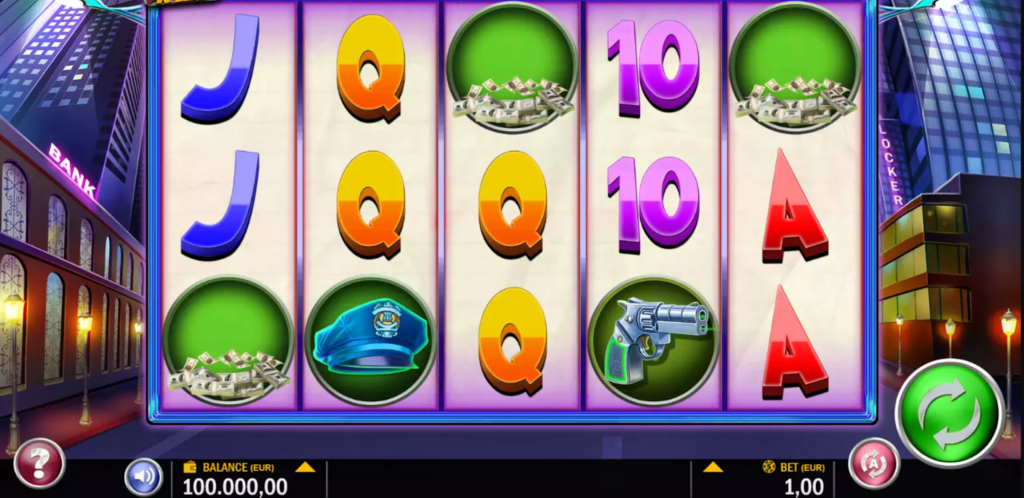 Is a high-stakes chase something you'd enjoy? Then you should check out Games Inc.'s Cashbag Bandit.
There are 5 reels and 20 paylines in this slot machine, with an RTP of 96.04%. The cartoonish visuals add to the overall tone of the robbery and the desire to get off with a large sum of money.
The many thrilling extras in Cashbag Bandit include the Cashbag Prize, Cashbag Bonus, and Heist Spins Bonus.
The Cashbag Bonus is triggered by accumulating six progressive symbols, and it grants three free spins.
To activate the Heist Spins Bonus, you must find three or more bandit symbols. The values will rise, and the symbols will become fixed.
If Cashbag Bandit sounds fun to you, check it out at Videoslots Casino.
#8. Sticky Bandits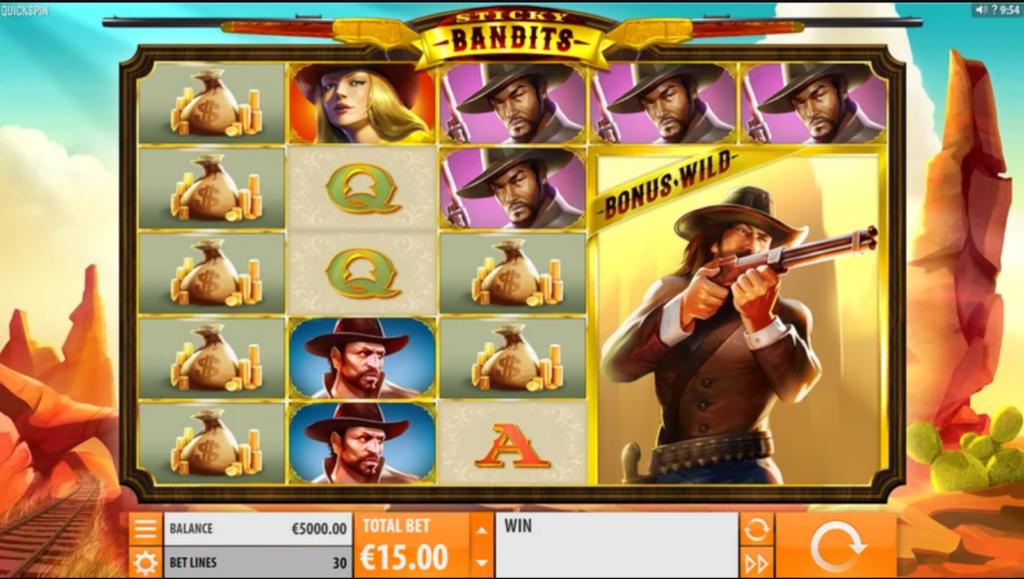 Sticky Bandits is Quickspin's first entry into their Sticky Bandits slot series. It follows a band of outlaws as they attempt to rob a speeding train.
This slot machine has 5 reels and 30 paylines, a 96.58% RTP, and a maximum payout of 739 times your bet per spin.
Extra features include massive wilds and free spins.
The two heist villains stand in for the wild symbols, which can substitute for any other symbol on the reels and trigger a bonus round. These giant wilds can expand across an entire reel, but they pay out generically.
When a reel 1 bonus symbol appears alongside a wild symbol on reels 2 or 4, a free spins bonus round is triggered. If that happens, you get seven spins.
Sounds tempting, right? If you want to try out Sticky Bandits, you can do so at Regent Play Casino!
#7. Sticky Bandits Trail of Blood
The focus of Sticky Bandits: Trail of Blood is the sheriff whose family disappeared. If you want to help him find his family, then you should give this game a go!
This slot machine offers a maximum payout of 17,000x your stake, 5 reels, and 10 paylines with a return-to-player percentage of 96.23%.
When it comes to additional features, this game does not fall short. For example, you get 10, 12, or 15 free spins for triggering 3, 4, or 5 wilds respectively.
The wilds that start the bonus round will get locked in place. Any more wild symbols that appear during the bonus round will adhere to their positions and trigger an additional free spin.
The game also features a buy option, which gives you a choice between two different packages. You can either pay 100x the bet for a round with 3 guaranteed wilds or 400x the bet for a round with 4 wilds.
Mr Play Casino is the place to go if you want to test your luck at this game.
#6. Sticky Bandits Wild Return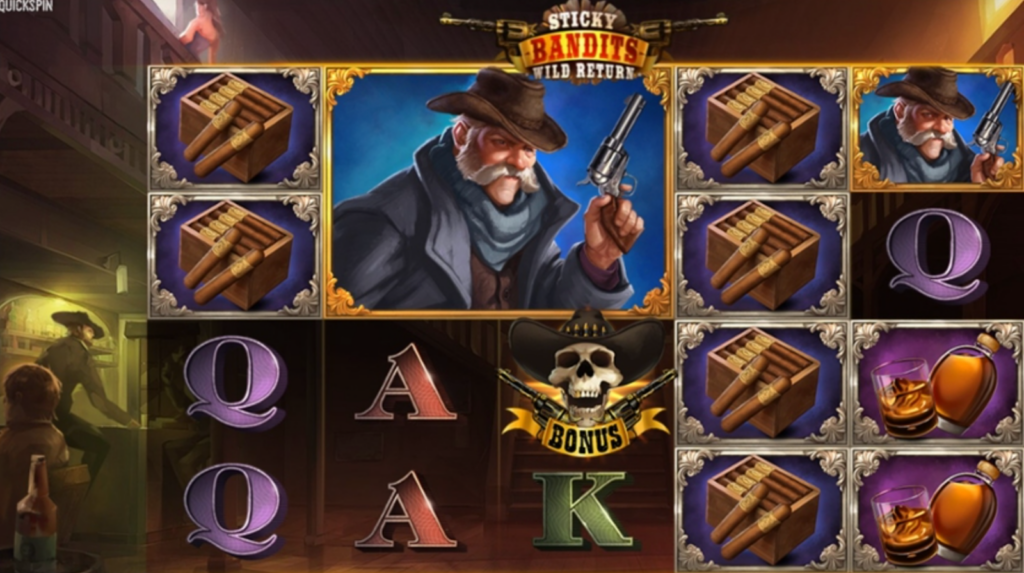 Sticky Bandits: Wild Return is the bandit slot for you if you're curious about the inside of a saloon from the Wild West. This game includes everything from a get-together over drinks and gambling to the planning of a heist.
Sticky Bandits features 5 reels, 40 paylines, and an RTP of 96.28%. The maximum payout from this game is 1145 times your initial wager.
Mega symbols, such as the bandits, might show up as single icons, 2x2s, or 3x3s throughout the game.
If the Quick Slot icon appears on reel 5, the Quick Slot Bonus is triggered. This way, you can gain anywhere from one to three free spins and up to five hundred times your bet.
The Lucky Shot Free Spins bonus in Sticky Bandits should not be overlooked, either. You will receive seven spins once you have collected three bonus scatter symbols.
So visit Mega Casino, follow the bandits as they prepare for the heist, and win some big rewards!
#5. The One Armed Bandit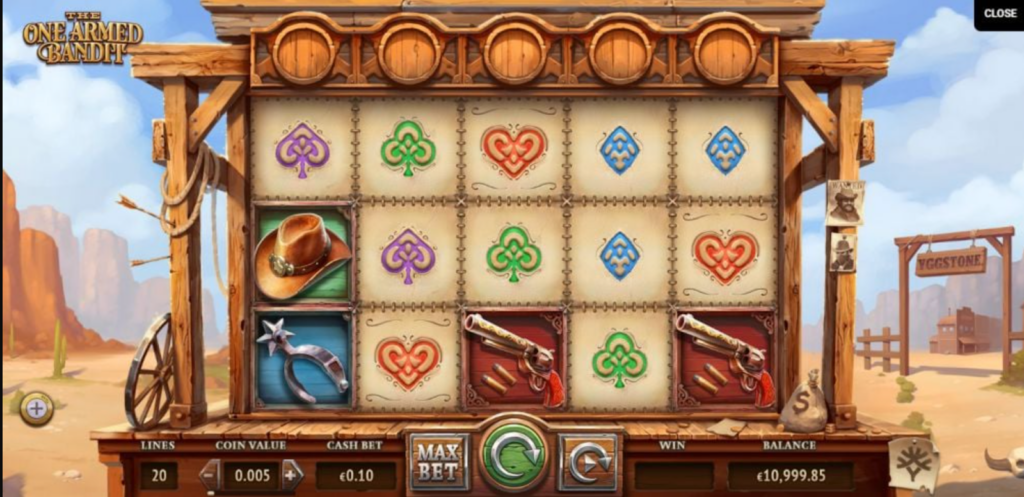 An old-school western slot machine, The One-Armed Bandit, features a group of outlaws and a new sheriff who's out to get them.
This slot by Yggdrasil Gaming has 5 reels and 20 paylines with an RTP of 96.3%. The maximum payout from this game is 11863 times the player's initial bet.
The sheriff's badge is the game's wild symbol, and the masked bandit represents the scatter.
This slot machine comes with a free-spins feature. You must land one scatter on all five reels during the same spin for this feature to kick in. If you do, you'll get 10 spins at a 5x multiplier.
Play The One-Armed Bandit at Betfred Casino if you enjoy the Wild West setting and appreciate the opportunity to win free spins while wagering.
#4. The Bandit and the Baron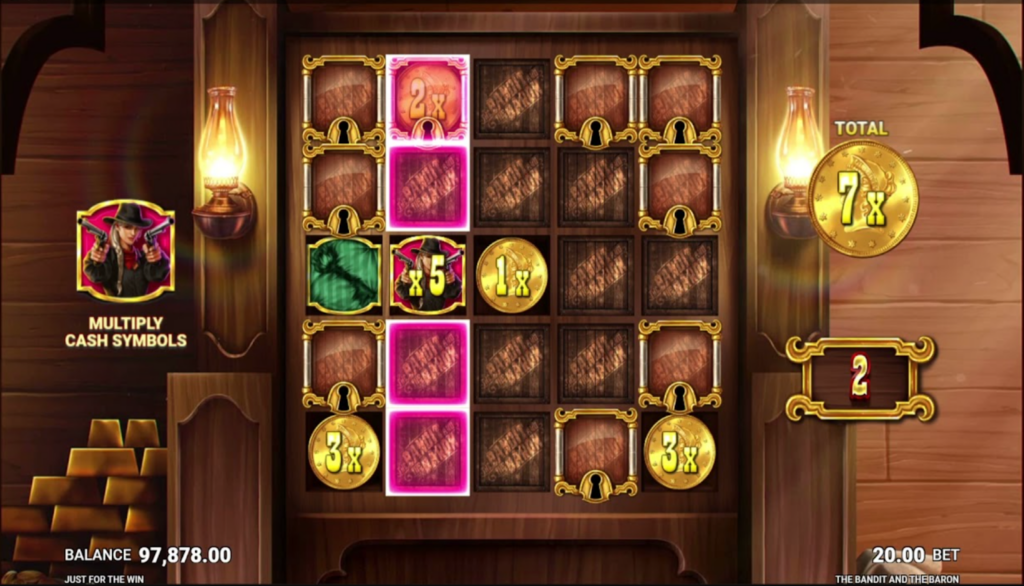 In honor of all the legendary female bandits in history, Just For The Win has released a slot machine with a female outlaw as the main character, The Bandit and the Baron.
This bandit slot features 5 reels and 25 paylines, and on top of that, and has a high RTP of 96.09%. The maximum payout in this game is 25,000 times the size of your initial wager.
Expanding wilds, Bandit Respins, and the Bandit Bonus are just a few of the game's entertaining extras. To enter the bonus round, bonus symbols must appear on reels 1, 3, and 5. You'll be taken to the bank vault, where things get rolling.
A 5×5 grid with 13 open squares and 12 locked squares will be your playing field inside the vault. You get three spins and encounter three distinct sets of icons: cash, keys, and upgrade symbols.
If there are no more available spots, no more spins, or if the maximum payout has been reached, the round will end.
If you feel like trying out The Bandit and the Baron, go to the All British Casino and give it a shot.
#3. Bandits Thunder Link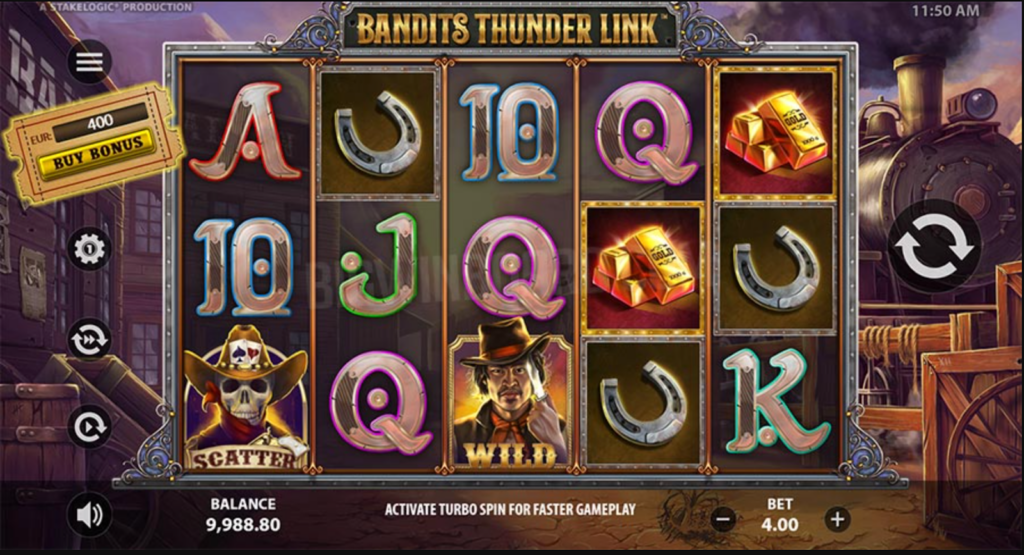 In Bandits Thunder Link, instead of trying to stop the bandits, you join them as you try to win huge payoffs and jackpots.
The game features 5 reels and 10 paylines and pays out at an RTP of 95.60%. You can also earn up to 50,000 times your initial wager.
If you find three or more cowboy scatter symbols, you'll enter a bonus round with three more games.
You can choose Wild Wild Wins as your first option. There are 12 free spins in this game, during which all wild symbols become sticky and multipliers increase by 2.
Then there's the Wild Bonanza. This game likewise features sticky wilds and 12 free spins, but the multiplier increases to 3x instead of the regular 2x.
Thunder Link is the final game option. You get three free spins to start, and each time you land a symbol, you get three more spins. Locks, revolvers, and money hats are just some of the symbols that could act as multipliers or modifiers if you land them on the reels.
Are you interested in further exploring Bandits Thunder Link? If so, we recommend Luckster Casino!
#2. Big Bucks Bandits Megaways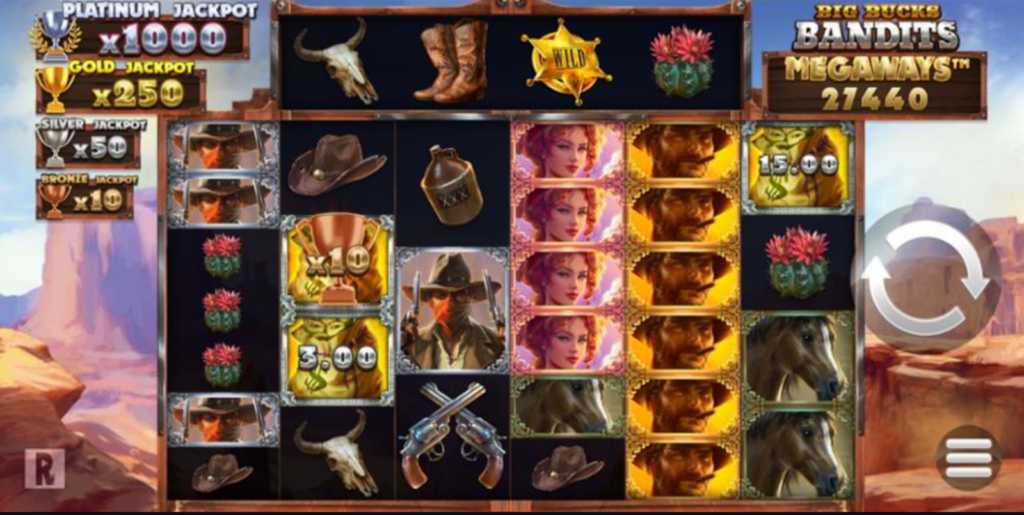 Big Bucks Bandits Megaways, by ReelPlay, is a slot machine with a Western theme that uses the Megaways game engine to great effect.
The slot machine has 6 reels, 117,649 paylines, and an RTP of 96%. In this game, you can win up to 10,000 times your initial bet.
If you get six money bags on the reels, they will get locked. This triggers the Jackpot Heist Respins bonus round, where you'll get 3 free spins, to begin with. Every time you receive a trophy or money bag symbol in Big Bucks Bandits Megaways, you'll be awarded three additional spins.
With the help of a trophy symbol, you can also win a fixed jackpot. It ranges from 10x to 50x to 250x to 1000x for bronze, silver, gold, and platinum, respectively.
After this round, the Double Cross Gamble option will become available. The winners have the choice of taking their winnings or gambling them on a turn of the wheel.
If you like the sound of that, you can give Big Bucks Bandits Megaways a shot at Casushi Casino.
#1. Silver Bullet Bandit: Cash Collect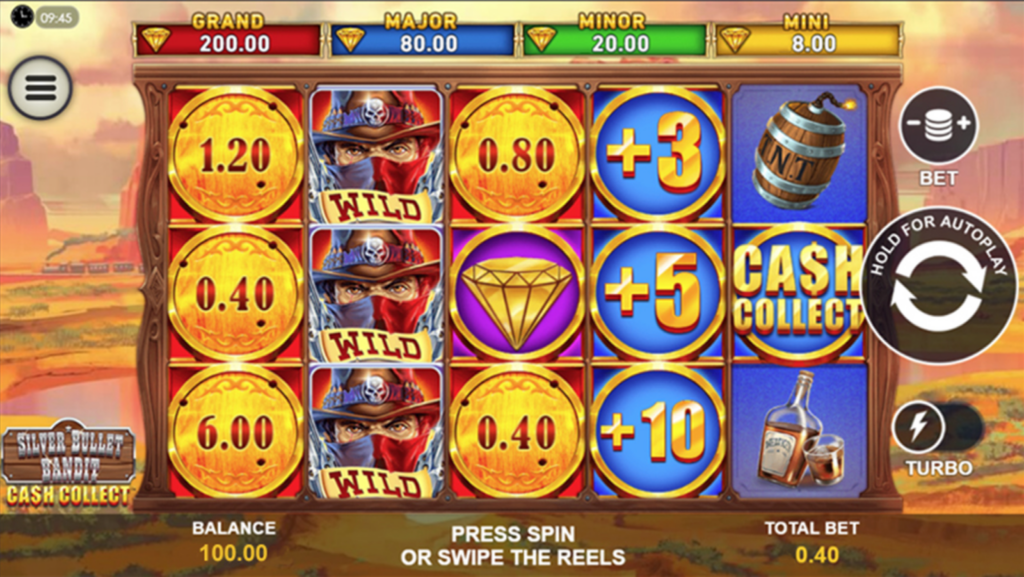 Silver Bullet Bandit: Cash Collect is the perfect game if you've ever dreamed of traveling through the Wild West, robbing banks, and drinking whiskey while smoking cigars.
Playtech's bandit-themed slot machine offers £24k as its top prize over its 5 reels and 30 paylines for an RTP of 87.96%.
There are several enjoyable extras in Silver Bullet Bandit: Cash Collect. Any one of the four jackpots could be yours if you get a cash collect symbol. The maximum payout from the jackpot might be 500 times the wager.
The Silver Bullet bonus round, activated by these cash-collecting symbols, awards 10 free spins. If you're lucky enough to land more free spins symbols during this feature, you'll be awarded more free games.
If you want to try your luck at Silver Bullet Bandit: Cash Collect, be sure to visit William Hill Casino!
Why You Should Play Bandit Slots
Slot machines with a bandit theme are just as much fun as those with an Irish, vampire, or Aztec theme. But what sets bandit slots apart from all these themed slots? Here are a few reasons:
High RTP. Payout percentages for bandit slots can reach 96.58%. Even the lowest RTPs, at 87.96%, are impressively high. Therefore, bandit slots do offer the possibility of steady wins.
Bonus features. Bandit slots, as you probably know, offer a plethora of extras. You will enjoy everything from wilds and scatters to bonus games and progressive jackpots.
Welcome bonuses. Great welcome bonuses can also be found when playing bandit slots. Visit UK online casinos for access to some of the industry's most generous sign-up bonuses.
Safe to play. You can play these slot machines without worrying about the safety of your data and assets. The UK Gambling Commission and the Malta Gaming Authority are some of the regulatory bodies that keep an eye on online casinos based in the UK.
Best Bandit Slots Developers
Here are some of the software developers that offer the best bandit slots:
Quickspin. Quickspin is a Swedish game development studio founded in 2011 and acquired by Playtech in 2016. The company creates high-quality games to provide a thrilling gambling experience for its players. Among its popular games are Sticky Bandits, Ark of Mystery, and The Wild Chase.
PlayTech. Playtech is the industry standard in gambling software. Established in 1999, the company develops software for various gaming and betting industries. The most popular slot machines by Playtech include Bonus Train Bandits, Desert Treasure, and Goblin's Cave.
Yggdrasil. Fredrik Elmqvist started Yggdrasil Gaming in 2013, and since then, it has grown to become a major player in the gaming industry. Titles like Valley of the Gods, Holmes and the Stolen Stones, and The One-Armed Bandit are examples of the high-quality games the company is known for producing.
Key Takeaways
You don't need to search the web for exciting slot games with a bandit theme to have a great time. See for yourself by checking out the top 10 bandit slots listed in this article.
To sum it up:
Bandit slots are slot machines based on a group of outlaws and the various crimes they commit.
The top 10 bandit slots include:

#9. Cashbag Bandit
#8. Sticky Bandits
#7. Sticky Bandits Trail of Blood
#6. Sticky Bandits Wild Return
#5. The One Armed Bandit
#4. The Bandit and the Baron

#3. Bandits Thunder Link
#2. Big Bucks Bandits Megaways
#1. Silver Bullet Bandit: Cash Collect

Bandit slots are popular because of their excellent return-to-player percentages, outstanding security features, generous bonuses, etc.
Quickspin, Playtech, and Yggdrasil Gaming are just a few of the top developers of bandit slots.