Skill Gaming Machines Are Causing Havoc in Pennsylvania
June 2nd, 2020 2.00pm
The latest campaign to have been calling for the removal of skill gaming machines from the state's gambling offering has been organized by the group calling itself Pennsylvanians Against Illegal Gambling (PAIG).
After all 12 casinos operating in Keystone State were closed on Mach 16, skill gaming machines allowed players to continue gambling. It should be noted that the state Lottery was available as well, but saw a decline in revenue during the said period.
Skill gaming machines were easily accessible since they were placed in bars, restaurants, stores and gas stations across the state.
The Pennsylvania Lottery provides benefits for the state's senior residents, through tax rebates, various social programs, and senior centres.
Not Regulated by the State
Around 34% of the revenue coming from regulated slot machines, offered to visitors of licensed casinos, are allocated for property tax relief for all residents of Pennsylvania. Gambling industry also supports horse racing, the state's Economic Development and Tourism Fund, and has a positive impact on local communities.
According to PAIG campaign, skill gaming machines don't provide any benefits for Pennsylvanians, nor do they have an impact on local communities. The reason for this is simple: these gaming devices don't pay taxes since they are not regulated by the states regulatory body, the Pennsylvania Gaming Control Board.
Profits made by skill gaming machines are divided between the establishment where the device is located, manufacturer and supplier. According to an estimate made by PAIG, a total of 20,000 machines are currently operating in Pennsylvania, costing the state around £160 million on a yearly basis.
The detailed information reveals that the Pennsylvania Lottery loses around £1,830 every month – per machine!
They Even Pose a Health Hazard
And while brick and mortar casino in Pennsylvania made a hard, yet a responsible decision to close their doors, in order to protect the health of their patrons, skill gaming machines continue to operate, which can pose a risk as players' interaction with gaming devices could reflect on the current health situation in the state.
In addition to brick and mortar casino, all video lottery terminals (VLTs) placed in truck stops have been also shut down.
In the meantime, the dispute over the legality of skill gaming machines in Pennsylvania continues.
A customer playing a skill gaming machine will wage his stake and spin the reels, which is the case with slot machines. But, unlike slots, a player will need to tap a winning combination to get his payout. This is characterized as the game's "skill" part since paylines in traditional slots automatically award a prize.
Since skill gaming machines are not regulated, there is no information on the payout percentage it has. All regulated slot machines and VGTs are required to have a percent payout rate of at least 85%.
For Governor Tom Wolf, there is no doubt that skill gaming is illegal, and his explanation can be found in the document titled "Life Sustaining Business FAQs".
In this document, Governor Wolf points out that the position the Commonwealth has on Games of Skill is clear: these machines represent illegal devices. Wolf has also explained that skill gaming machines posed a risk problem, as they encourage players to congregate. He also states that any business offering these gaming machines should be closed.
Police seizures of these gaming devices has been halted by a number of lawsuits. Superior Court Judge Patricia McCullough ruled earlier this year that skill gaming maches weren not subject to the state's Gaming Act.
PAIG wants to urge lawmakers to introduce legislation that would return skill gaming devices under the authority of the Gaming Act.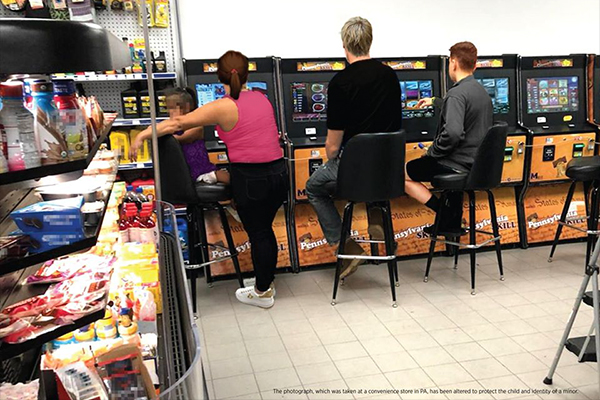 One of the images posted by PAIG on Facebook.