Meta Score – 927.2
• Fully customisable user area
• Easy bonus system
• Great loyalty programme and gifts
100% 1st deposit bonus up to£100t&c apply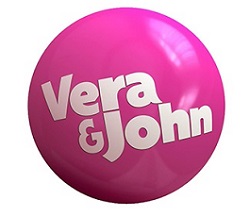 Established in 2011, Vera&John casino is one of the most popular online casinos in today's gaming market. And this popularity is not without reason.
Vera&John casino offers an enormous collection of slots, daily promotions, and a great online gaming experience for all types of players. It also has a live casino, excellent customer service, a welcome bonus, and many other features and rewards we'll be reviewing today.
So, without further ado, let's dive into our expert Vera and John casino review.
Vera&John Overview
When you arrive at the Vera&John online casino site, you're greeted with a bright yellow sign welcoming you to the casino, and a tab that redirects you to the site's registration form (or to the login form, if you're already a member).
One thing we love most about the Vera&John casino site is its transparency and neat organization. If you scroll down the front page, you can find every detail about Vera&John.
The site clearly displays important information regarding its games, payment methods, customer reviews, customer support, loyalty program, safety measures, and mobile casino.
You even have the option to choose from a number of demo slot games to get a feel of the gaming experience at the Vera&John casino. This saves you the trouble of having to sign up for access to detailed information.
Now let's move to the casino's game selection and promotions.
We found that Vera&John casino offers over 1300 games with plenty of themes, formats, styles, and bonus features from great online casino software providers.
Some of their most notable software providers include:
NetEnt
BetSoft
NextGen
IGT
Quickspin
Thunderkick
Once you sign up, you'll get a 200% bonus for your first deposit and free spins, such as 10x for Stickers and 10x for Sparks.
Vera&John also has an original feature, called the player's room, which is a graphic animation that looks like a room. You can personalize this "room" with your favorite games.
Games at Vera&John Casino
As we've already mentioned in this Vera and John casino review, we found that the casino has more than 1300 exciting games from a variety of categories, including progressive jackpots, table games, video slots, and more.
Progressive Jackpots
A progressive jackpot slot is a slot game where the jackpot increases each time you (and other players) play the game but don't win.
Vera&John casino offers some big jackpot game titles, such as Hall of Gods, Mega Moolah, and Mega Fortune. It also has some fantastic mid and low-weight games, including Bell of Fortune, Wow!Pot, and Cosmic Fortune.
A big advantage of the Vera&John casino is that it is very transparent with its progressive jackpot. They show the jackpot amount below each thumbnail, allowing you to easily see which game is offering the highest or lowest winnings at any moment.
Video Slots
During our casino Vera and John casino review, we counted 459 video slots, which is the biggest variety of slots we've ever seen at any online casino.
The video slot section offers a fantastic selection of games, ranging from old-school fruit machine games to ultra-modern games, like Dragon's Temple.
And the best part is that these slots suit all budgets, meaning you can play no matter whether you only have a few pence left to play or want to spend £100+ on a single spin.
Looking for the best high payout slots available today? You can check out the list we've compiled of the top 10 high payout online slots. 
Live Casinos
Vera&John casino offers two live casino rooms, Casino Cosmopolitan and Casino Paris. Each is supplied by different game providers and therefore offers distinct playing experiences.
Let's take a closer look at each one:
NetEnt's Casino Cosmopolitan is smaller than Casino Paris. It only offers 8 games, all of which are either Blackjack or Roulette. If you're a high roller, however, you will love Casino Cosmopolitan as you can make bets of up to £75,000. 
Evolution Gaming's Casino Paris offers far more games. Specifically, there are  7 roulette games, 30 Blackjack games, 3 Baccarat games, 1 Texas Hold'Em, and 1 Three-Card Poker. 
If you're just learning how to play blackjack or don't want to spend a lot of money on online casinos, you can check out our list of the top low-stakes blackjack casinos in 2022. 
Table Games
In total Vera&John casino offers 78 different table games, including Baccarat, Poker, Blackjack, and Roulette.
Among the most popular game titles, you can find Pontoon, 3-wheel roulette, Red Dog poker, Oasis poker, 10-play draw poker, and Monopoly Roulette.
Do you want to play poker at safe & reliable online casinos? Go to our list of the best online poker sites for the most trusted and profitable poker sites in 2022.  
Other Games
Last but not least, Vera&John has an "Other Games" section.
This section includes games such as Leapin´ Leprechauns, where you can use a leprechaun avatar to jump from cloud to cloud, collecting objects such as horseshoes and four-leafed clovers.
Vera&John Casino Rewards
One thing that we immediately noticed during our Vera and John casino review was their substantial reward and bonus structure.
Let's check out what they offer.
Loyalty Programme
The first thing to take note of is their loyalty programme. Through a loyalty programme, you receive rewards as you make your way around the site and play games. These rewards are in the form of coins, which you can later spend in their shop.
You can earn coins for all sorts of activities: when you first deposit, when you change your screen name (first time only), when you play a single game for a particular duration, and so on.
For more detailed information on how to earn these coins and what you can use them for, visit the site.
Bonus Structure
New players that sign up to Vera&John online casino are offered a very generous welcoming package – the first deposit made in Vera&John gets immediately doubled.
Besides the welcome bonus, you can claim all sorts of other great bonuses on a daily basis, such as free spins, super spins, trigger spins, and deposit bonuses.
If you like bonuses, read our hand-picked list of the best 100 bonus casinos in 2022.  
Desktop Version Vs Mobile Version of Vera&John Casino
Vera&John casino offers both a mobile and desktop version of their site.
Let's get a feel of how the play experience varies between the two.
Mobile Version
In our experience, the video slots are better on a mobile/tablet device (at least when using Android). The games load better, the graphics look more attractive, and plenty of games, such as Hugo, take you on cool little adventures that don't happen on the desktop versions.
Navigation, however, is harder on mobile simply because they don't have a search function on the front page. This means you have to scroll through hundreds of video slots before you find the one you're looking for.
It's not all bad, though, as they do have some navigation options. You can, for example, choose the area of the site you want to visit, such as "Slots", "Favorites", "All Games", and so forth.
Desktop Version
In contrast to the mobile version, the desktop version of Vera&John casino offers a greater range of games. In fact, the live casino section is entirely missing in the mobile version.
So, here's our recommendation: if you love playing video slots and progressive jackpots, the mobile will suit you best. However, if you want to play live casino games, then the desktop site is your best option.
Customer Service at Vera&John
Vera&John casino has multiple customer support options.
Should you ever need to contact the customer support team at Vera&John casino, you can reach out to them through a call at 02036080424, or send them an email at [email protected]. 
There's also a live chat option on their site, as well as help center with an in-depth FAQ section that might have the answer to any potential issues that may arise. 
During our Vera and John casino review, we tried out all of these customer service options and unfortunately, the live chat option wasn't very responsive. It took around 15 minutes for them to respond to a fairly simple and straightforward question.
Vera&John casino also provides safe gambling tools, if you ever become concerned about your gambling habits. You can choose and set limits on how much you deposit, wager, or lose, and how much time you spend in the casino.
Payment Methods at Vera&John
Vera&John casino supports various payment methods, such as:
Visa
Mastercard
American Express
ecoPayz
Venus Point
On top of that, you can even pay with Bitcoin. 
Vera&John casino has a payout percentage of 97.42% and a maximum jackpot of $6 million.
Vera&John Final Verdict
After doing our in-depth expert Vera and John casino review, we can conclude that Vera&John is definitely worth a shot if you're looking for a new casino to play at.
Besides being fully legal and licensed, the casino is well-known and widely used by gamers. Not to mention, it offers over 1300 games from great software providers.
During your stay at the site, you can win numerous bonuses and rewards, pay and withdraw cash from a variety of payment methods, and get help from strong gambling awareness sources (in case you'll ever need it).
What's there not to love?